15 Ideas for Indoor Home Basketball Courts
We are certain that basketball lovers out there will love this list especially if you are aiming to have your own basketball court in your house. We are actually happy to find these spaces because it is rare and only a few homes have one. Well, some of them are small but would be enough for a family basketball fun time. Some of them are also designed for kids which is a good way to train your little ones to be future basketball stars.
So we collated interiors of basketball courts in homes. You will be surprised how they were located. There are some that turned the garage into a basketball court, some are basements, some are below the mezzanine and others. If you have a spare room, you can also turn that into a basketball court. Now, let us take a look at some interiors where you and your family can spend time for sports. This will surely give you a break from facing the computer or the television. It pays to stretch some muscles too!
Other Spaces Court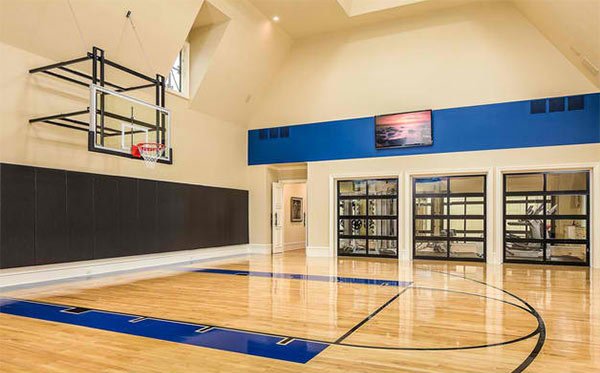 What a neat basketball court! Just beside it is a home gym that is separated from the area with tall framed glass windows.
Lower Level
It is a good idea to add some logos of your fave sports team in this athletic spot in your home!
21974 Garage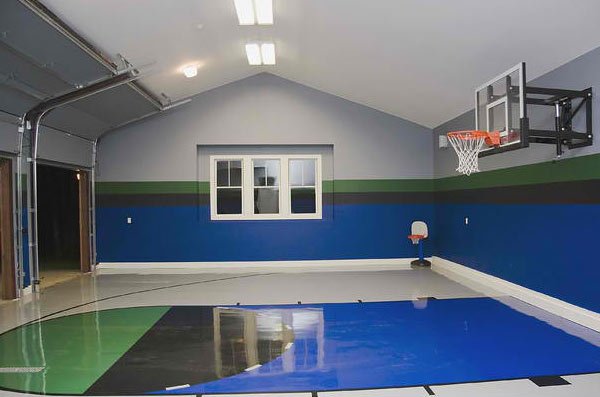 This is a garage and a basketball court in one. It has Polyaspartic floor surface which makes it perfect for game time.
Remodeled Homes Court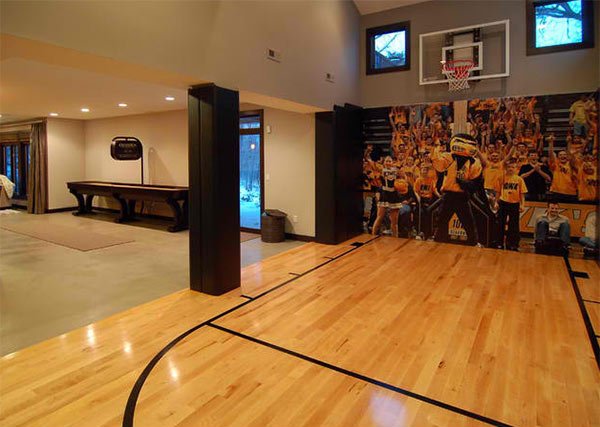 Adding a mural of cheering fans will make you feel like they are cheering for you too!
Bloomfield Renovation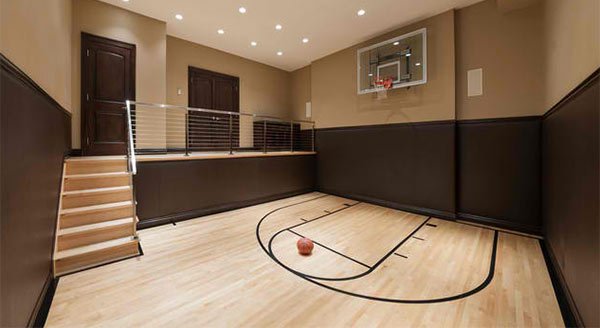 Maple floor with a natural finish is used for this one. Looks good right? And it will also be good for your shoes too.
Sports Court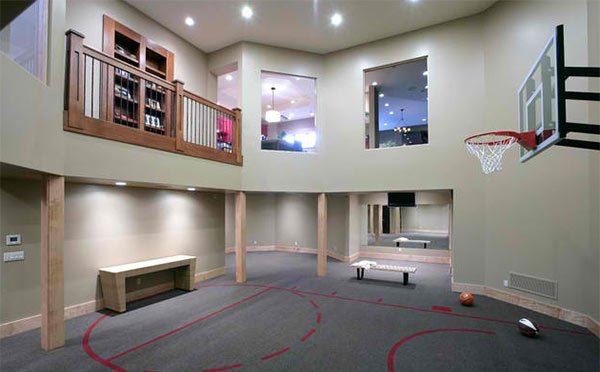 Whatever is the shape of your spare space in the house, it will still be good for a basketball court. The flooring of this one is carpeted.
315 Essex, Kenilworth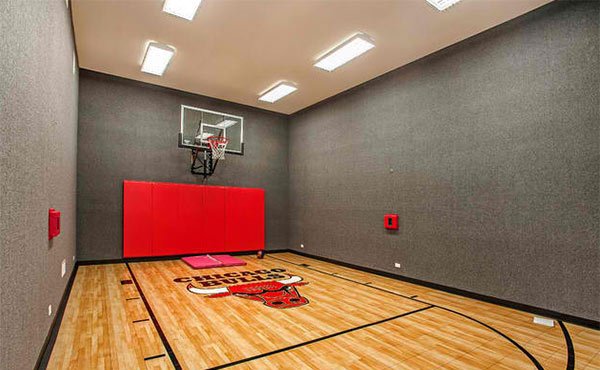 Wall pads were added to the wall to ensure safety to those who are playing. We like the logo on the floor too!
Design Build Renovation in Potomac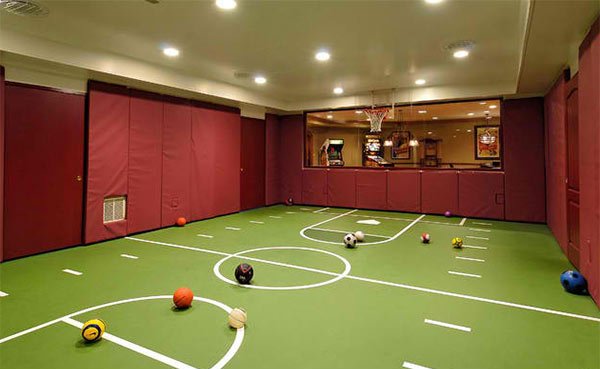 The basement of a house was turned into an exciting and varied entertainment space for the whole family. This area doesn't just have an indoor sports court but also a dance studio, craft area and Murphy beds for sleepovers.
Oxford Development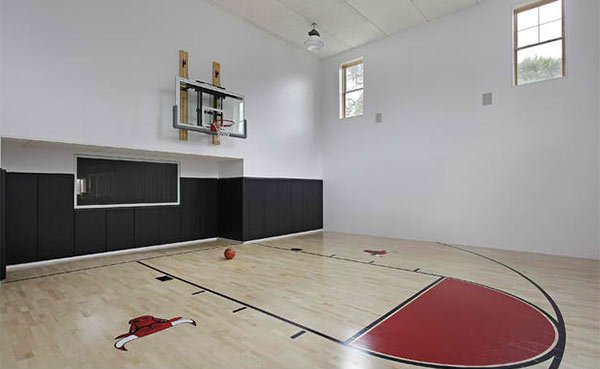 This one has Bulls logo on the floor. The color of the space is limited to red, white and black which is a good idea too.
Indoor Sport Court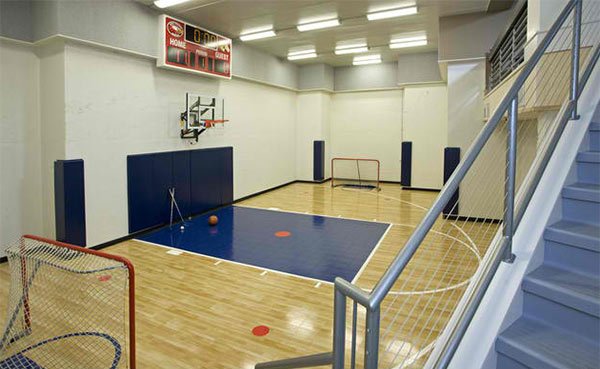 We think there isn't a rule in colors for the flooring of a basketball court. This one is in blue and have used blue for the pads on the walls and columns too.
Hinsdale House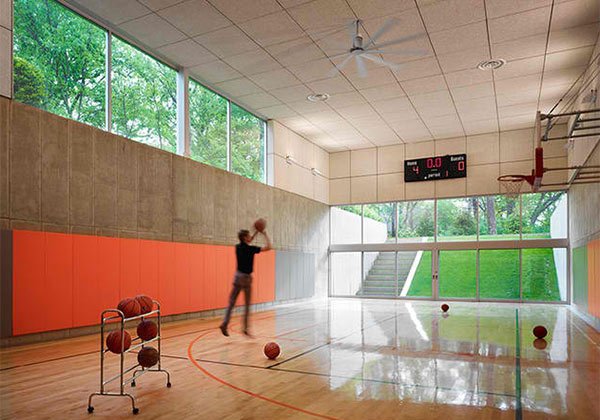 This court retained the concrete finish in the wall giving it an industrial look. Orange pads were placed on the wall for safety.
Basketball Indoor Court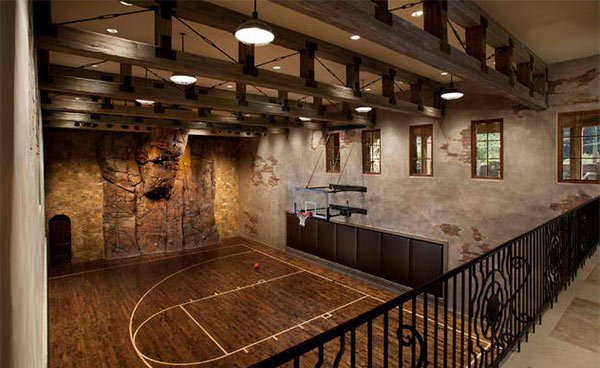 Who says a basketball court could not get that rustic feel? Well, this one does!
Westchester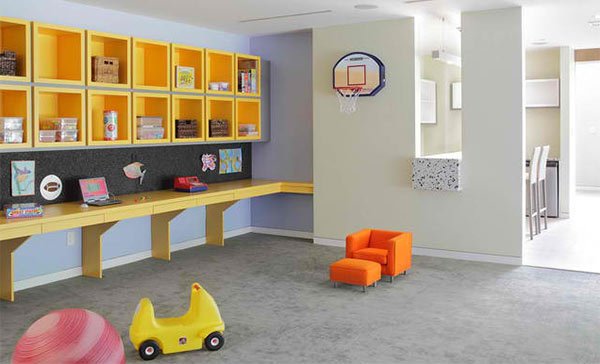 A play area for kids that used carpet tile from Tandus for the flooring. Isn't this cute?
B&A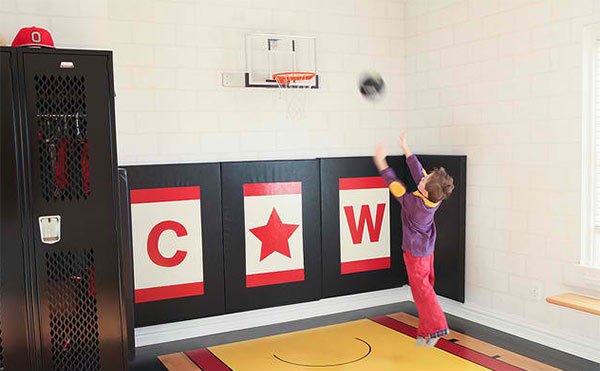 Setting up a basketball hoop for your kids will help improve hand-eye coordination and learning to count.
Basement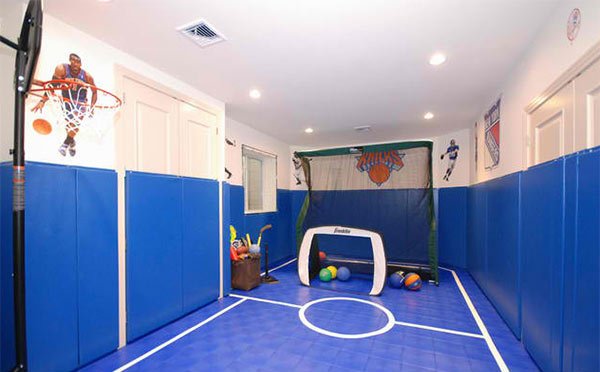 This court is cute and we'd guess it isn't just for basketball for even for hockey! Great spot for kid's playtime!
The home indoor basketball courts you have seen above can certainly give a different level of entertainment to the kids as well as the family. If you get tired spending time in your own bedrooms or working in the home office or watching movies in the entertainment area, then go to the basketball court and play ball. And if you are really that sports lover, you can also create a sports-themed bedroom for your kid. Or if you want to add some area for more muscle stretching, then a home gym will be a good idea!