A Small Apartment for Style-Seeking Travelers in Budapest
A small apartment features an impressive pegboard shelving and elevated bed.
No matter how small a space is, we can always do something about it. It is just a matter of intelligent design in order to make use of a space as a home. I know you will agree with this because we have seen so many small apartment spaces as well as some tiny homes that really have an impressive use of space. This shows us that you can actually do a lot about whatever area you have as long as the layout is done well and if you also put in mind the colors, materials and storage to make sure that the interior will get a lovely design that is also functional at the same time.
What we are going to feature today is a tiny apartment in Budapest that is designed by the POSITION Collective. It was created for the purpose of "providing a memorable accommodation experience for travelers." The design is simple, but it has everything one needs when travelling like a bed, open closet, kitchen, dining nook and bathroom. The highlight of the space is an eye-catching elevated level solution for storage that was built only with the use of plywood. The wall storage doesn't merely bring a natural touch to the interior but it also seems to appear like a "functional puzzle game involving the double bed, the storages and all the kitchen equipment." All in all the modern chic design of the apartment is very interesting!
Location: Budapest, Hungary
Designer: POSITION Collective
Style: Modern
Number of Levels: Single-storey
Unique feature: A home built 80 years ago was updated with a modern design to fit to the needs and lifestyle of a young family. It features brick walls and a custom-made concrete bench that wraps the interior.
Similar House: A Small Apartment Owned by Toy Collectors in Taiwan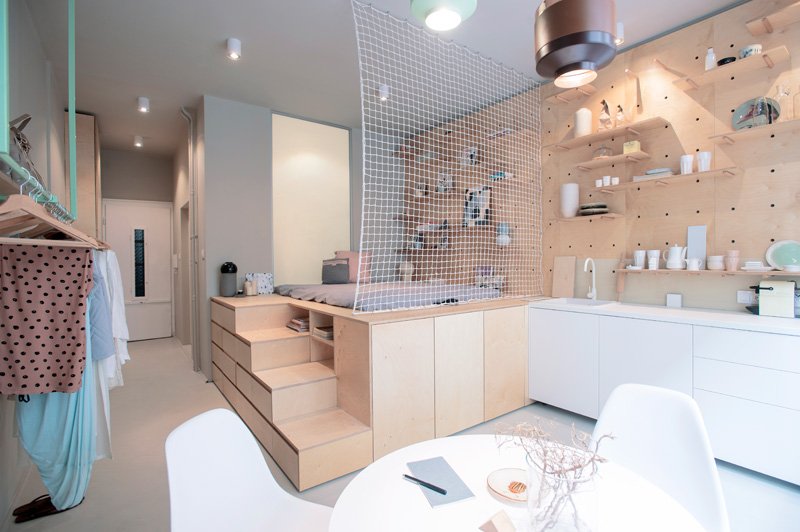 This is the apartment. Yes, it is very tiny indeed but it has a bedroom, kitchen, bathroom and even a dining area. It has everything you need for a home. With one's beautiful wood work, this can be achieves. Notice that the elevated portion provides drawers and cabinets for storage while the upper part is the bed.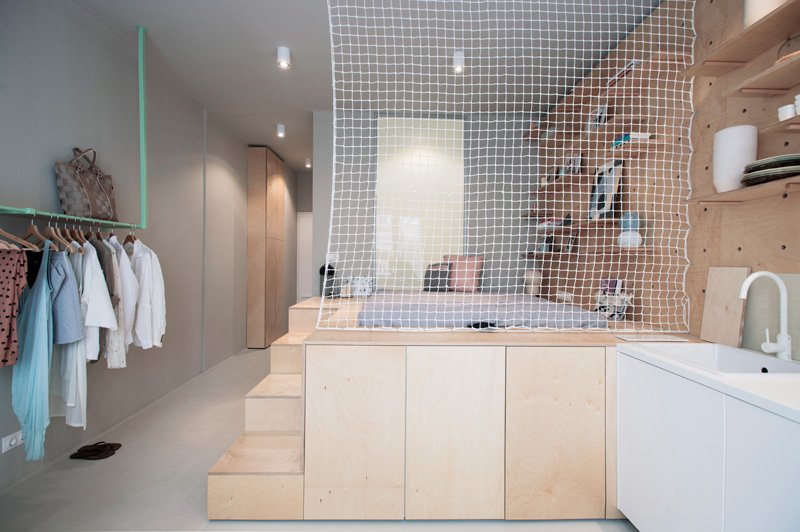 Using wooden finish gives it a natural look which is a good idea for a small space since it can extend warmth to the area. There is also a glass wall from the bathroom that allows light to scatter in the interior. I also find it interesting that a net is used as a partition.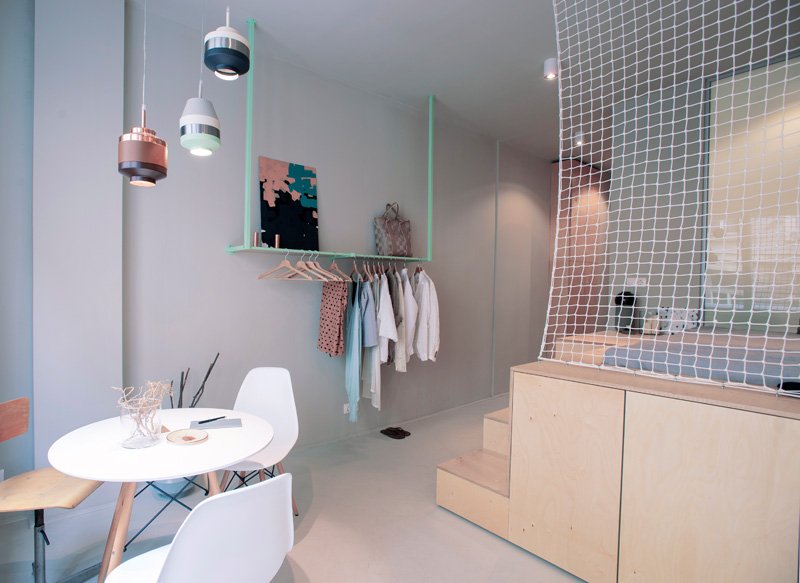 You can also use that idea for hanging clothes. Aside from that part where you put hangers, you can also add a shelf too for displays and others. I also like the pendant lights here which have lovely modern colors. It is nice to have brass and silver for the pendant lights with some blue and green accents. I guess these are customized too.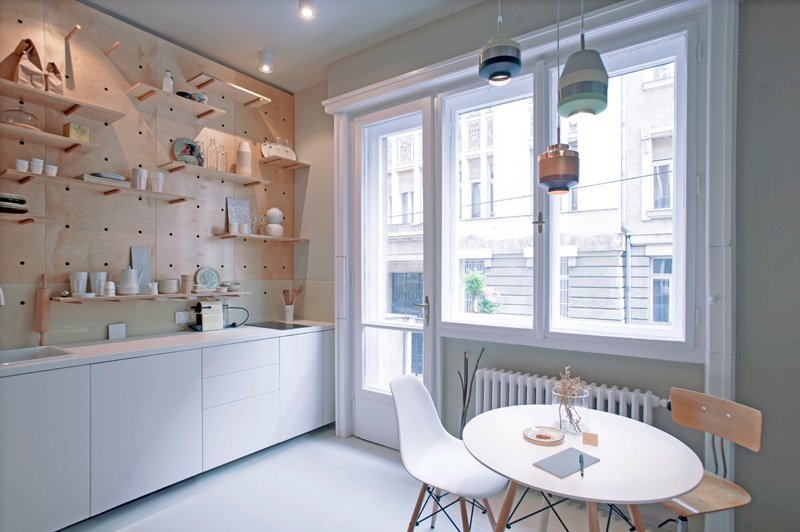 There is a small balcony off the kitchen and dining area. The use of glass for the door and windows allow natural light to get into the interior and make it appear more spacious. Notice that the interior used white colors which make it look larger as well.
Read Also: Apartment Kiev: A Serene Abode in the City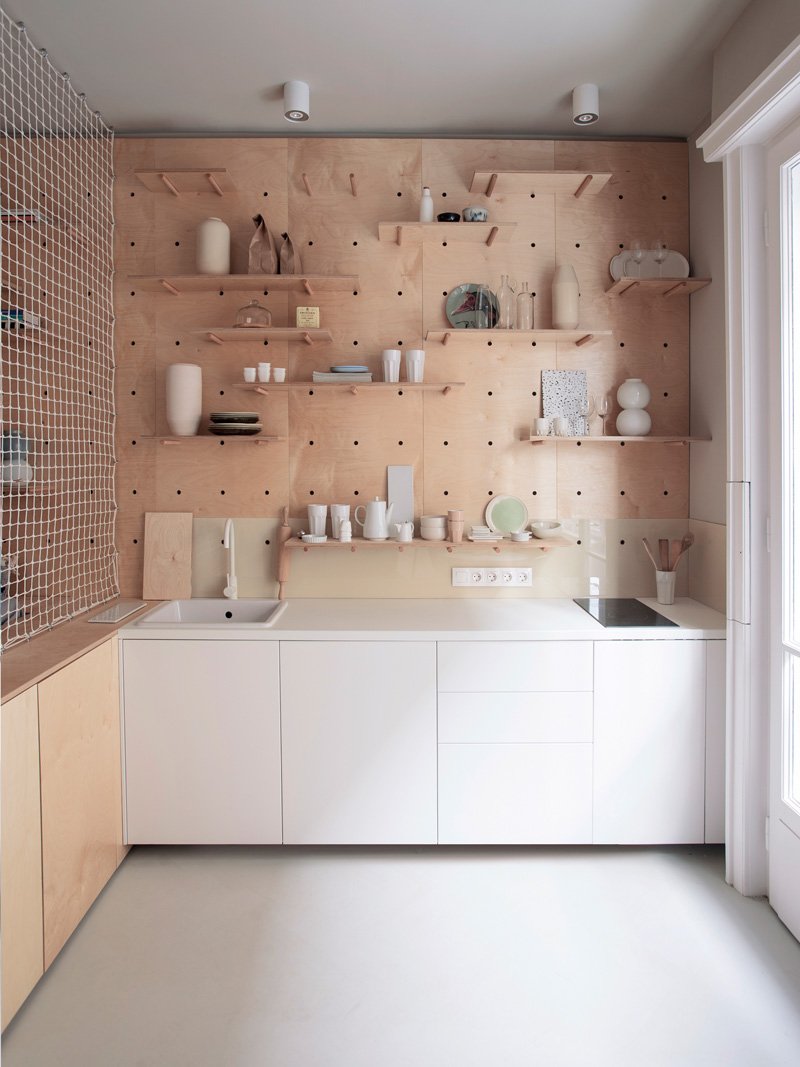 The centerpiece of the kitchen is an open pegboard shelving that can be adjusted. The pegs can be transferred from one hole to another for the shelves. Apparently, this is inspired by the pegboard. Instead of adding colors to it, the texture of the plywood is retained which also looks nice with the white kitchen.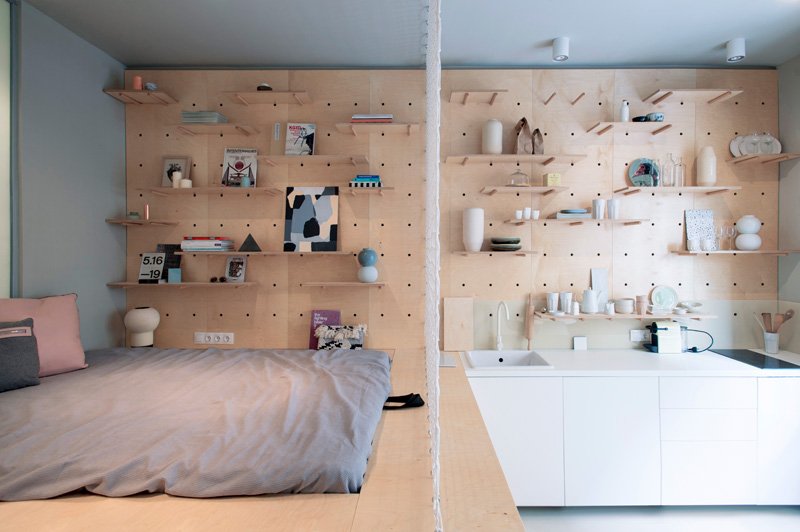 The highlight of the entire space is an elevated bed that was built with plywood. The pegboard shelving is also extended to the bed area as well. You can notice that on this side, books and other display items were added to it while on the other side are kitchenware. That net divided the spaces.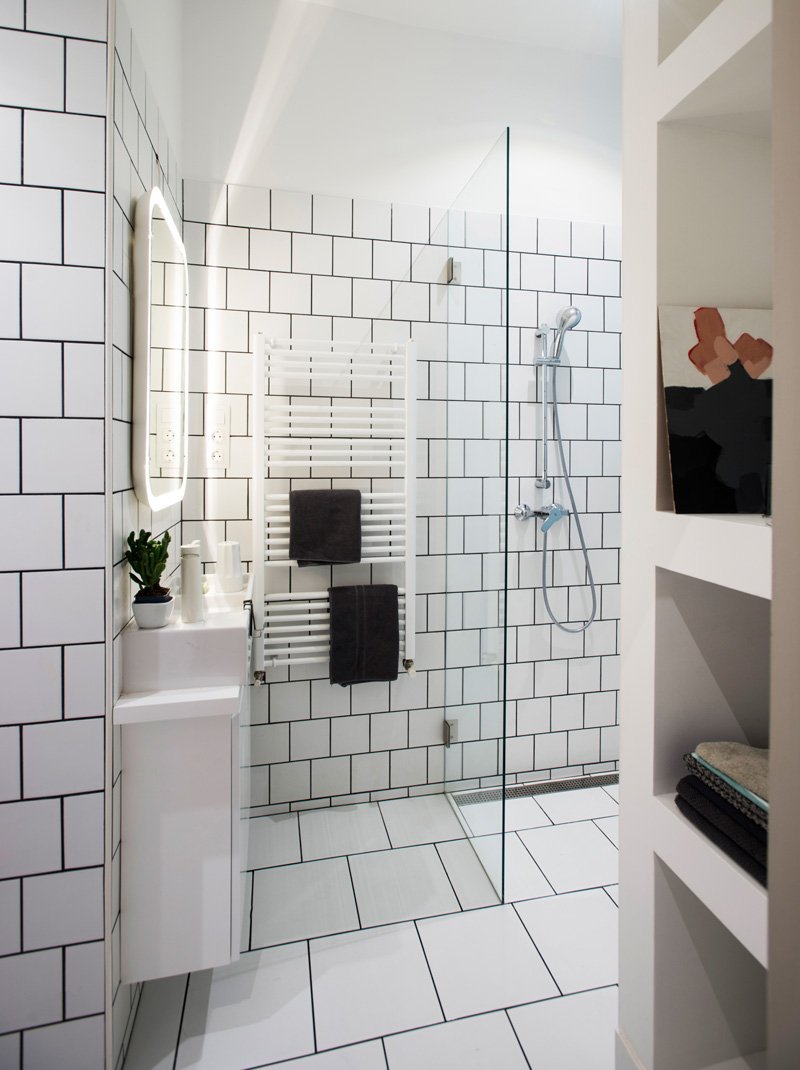 The bathroom of the small apartment features a white tile with black grout. The appearance has a subtle classic appeal because of the tiles. Despite the small space, it was able to accommodate a glass enclosure for the shower. There is also a small vanity too with a white lighted mirror.
The floor plan of the apartment is shown here as well as an elevation of the bed with storage area. You can see that it is indeed small but it was able to accommodate everything that is necessary for living.
The design of this apartment shows us that even if it is this small, you can do a lot with your space if it is designed well. Notice the beautiful and organized layout of the apartment. Aside from that, I also like the colors used here too. This space is designed by POSITION Collective and it indeed has everything that one needs for a home. And I like the peg board inspired wall wherein you can transfer your shelves anytime you want. Lovely, right? And the thing is, you can make that for your home because it is merely made of plywood. Now that made it even cooler!