A Small Apartment Owned by Toy Collectors in Taiwan
An impressive design of a small apartment featuring the owner's toy collection.
There are people who are very serious about their collections and most likely include them in their homes. We have seen some homes that showcase different collections stored in cabinets and other display areas. But some homes design their interiors based on the number of collections they have and on the type of interest they have. I can recall that there was a home owned by an artist and it has its own gallery or exhibit area for his art works. This is one way to present one's interest and collection in their house. But what we are going to show you today is a home that is owned by toy collectors.
In Taipei, Taiwan is an apartment that is designed by KC Design Studio for a couple who both work in graphic design and fashion. With that, you will know that they have some amazing design preference and style. Aside from that, their hobby is to collect toy figures which are seen in their apartment. Their space may not be huge but they were able to integrate an area for their hobby. Instead of being a nuisance or being an added mess to the home like how our kid's play room's look like, the apartment looked beautiful, fun, and creative with all the toys arranged in it. It is like you are in a toy store only that in here, you are not allowed to take home anything even if you pay for it because it is part of the couple's huge to collection. Let us take a look at the home below.
Location: Taipei, Taiwan
Designer: KC Design Studio
Style: Modern
Type of Space: Apartment
Unique feature: A modern apartment owned by a couple who collects toys. In the space, you can see how the toys are creatively arranged adding beauty and appeal to the apartment. Doing this show guests the fun personality of the owners.
Similar House: Interior DI: Small Yet Functional Apartment in Russia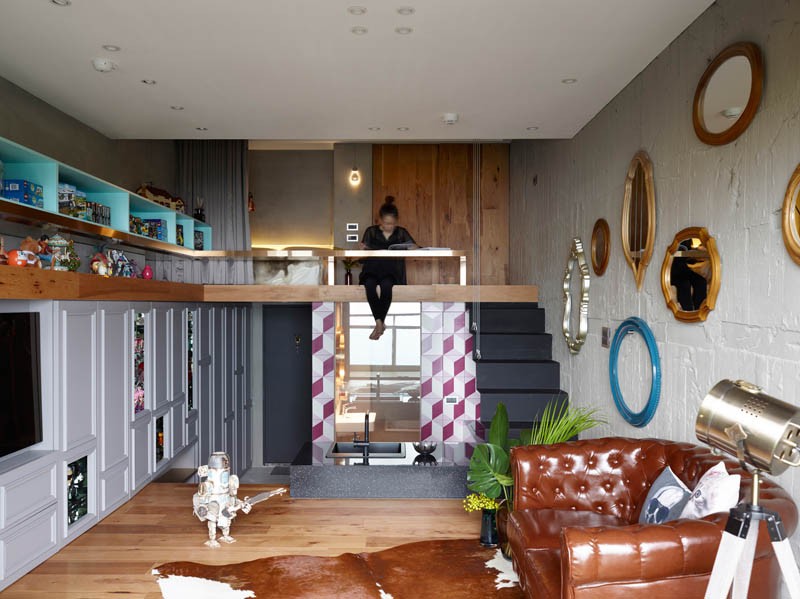 What I noticed immediately here is the elevated space from the living room. it is a good way to add an area to work on or to display items. This mezzanine is something small rooms definitely needs!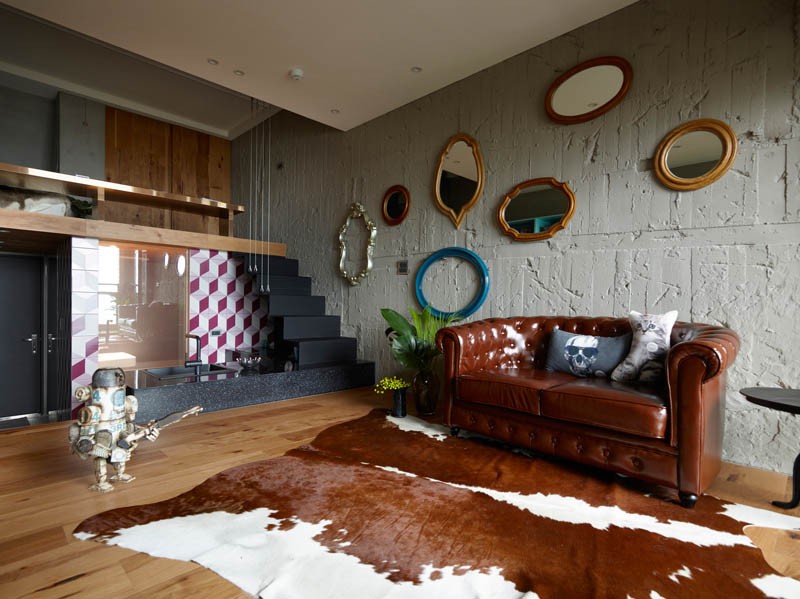 Aside from the mezzanine, the geometric purple wall under it adds style to the area as well as the mirrors and frames of various design and colors. You can also see here a toy display on the floor as well as cowhide that matches the brown leather sofa.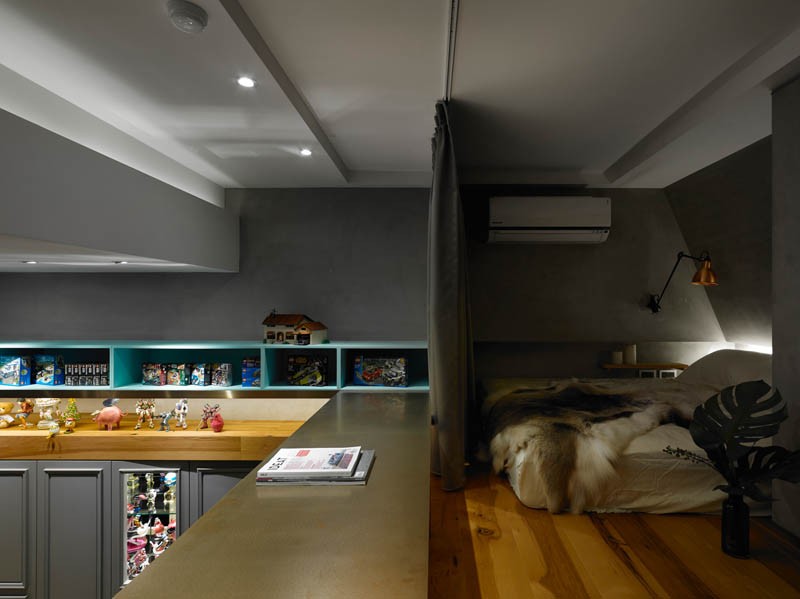 And if you think the mezzanine is just that and all that, you are wrong. It is actually a bedroom too! Such a great idea for adding a bedroom in a small apartment. And you can see that there are open shelves where the toys can be displayed.
A photo take from the bedroom shows the view of the apartment from outside and in the living room as well. This shows us that even a small area can actually look gorgeous even with an unfinished wall! Notice that concrete wall? It added a creative flare to the apartment.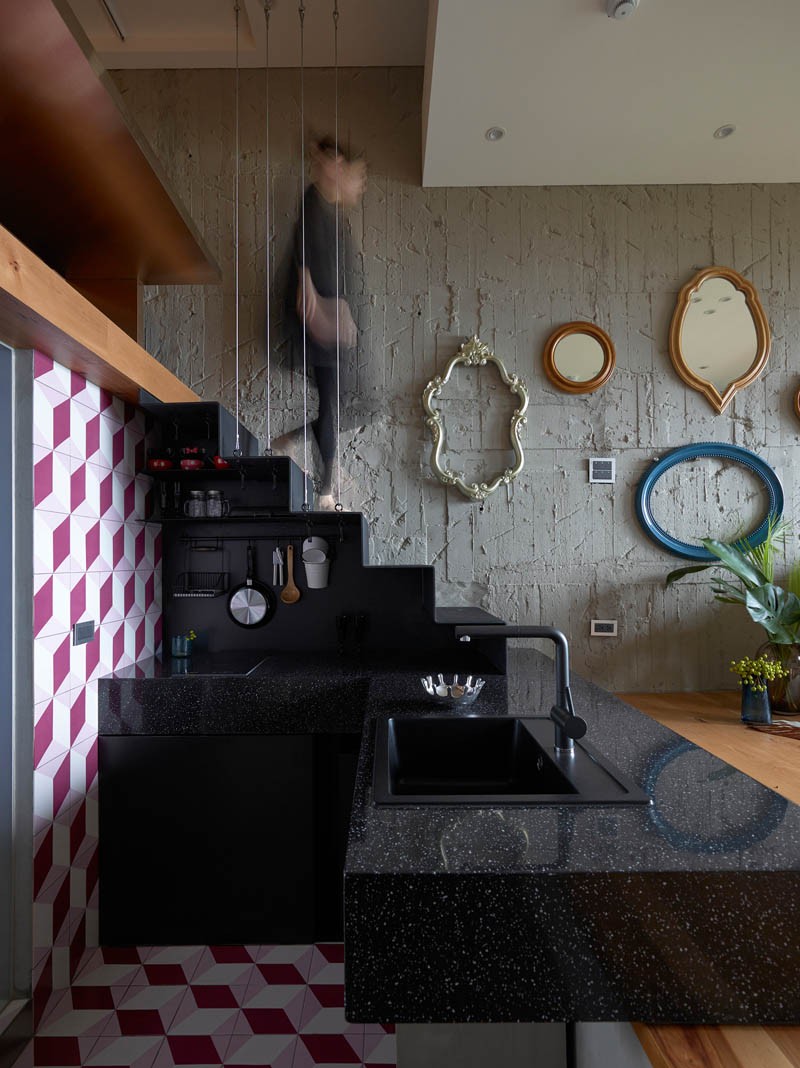 Just under the staircase is the kitchen. I so love this design! The way they saved space looks really nice especially with the added mezzanine and this kitchen! No matter how small it is, it is still complete with everything one needs to prepare food. The designer totally nailed this one!
Read Also: Father and Son Apartment in Paris: Full of Creative Surprises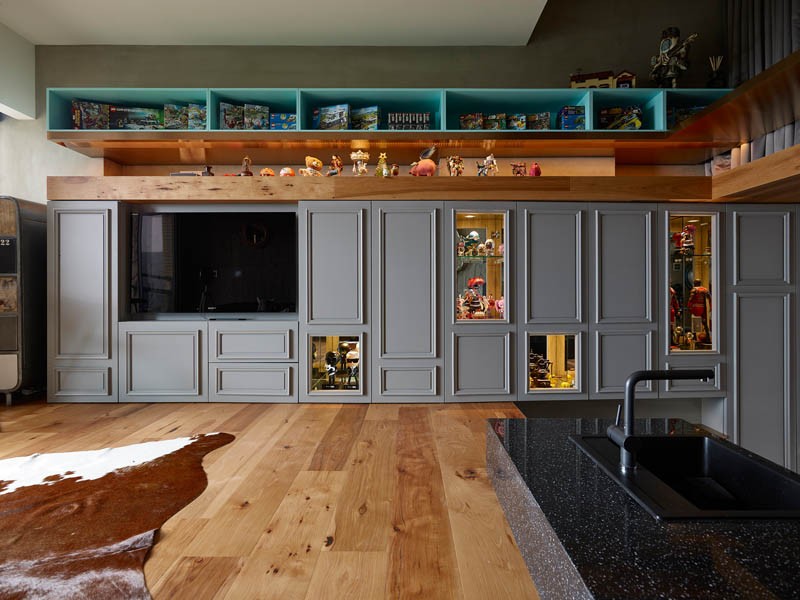 Aside from the open hanging shelves, it also has a tall cabinet where it stores some items as well as toys that are exposed with glass doors. I don't know if there are more toys in the cabinet as well! Notice also how nice the wood and looks paired with the gray cabinet.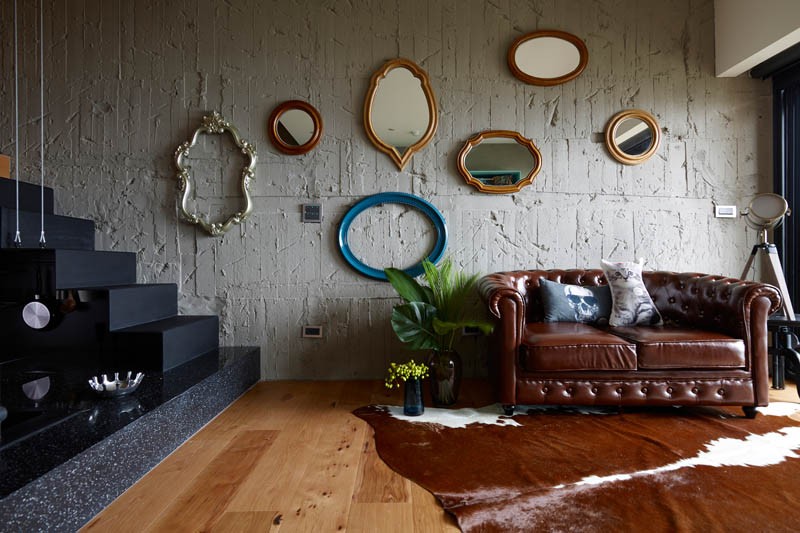 This wall brings a subtle industrial touch to the small apartment. And the mirrors and frames look very nice on the walls as well. There are also plants in the interior too that add freshness to the feel of the space.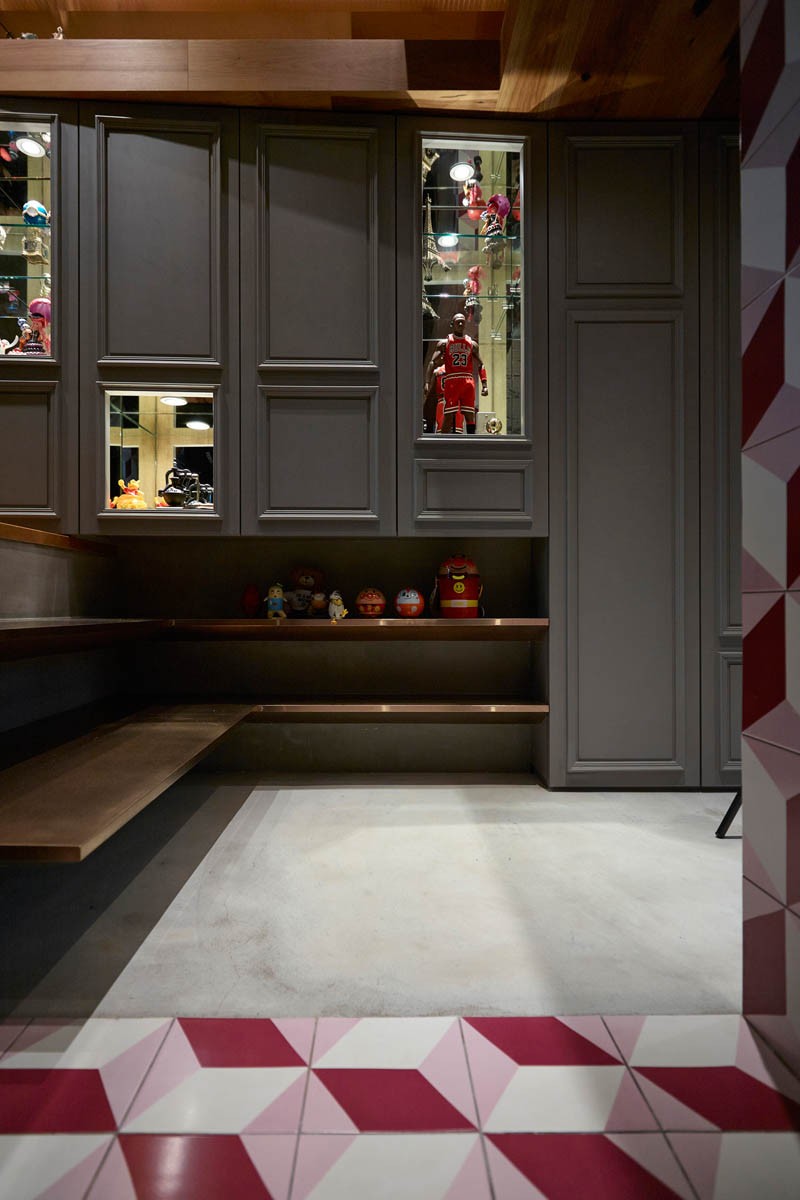 A tall cabinet stores different toys and you can see that there is still more space under it with open shelves. Well, obviously, the couple still intends to add more to their collection and they don't need to worry because there are still shelves to fill in.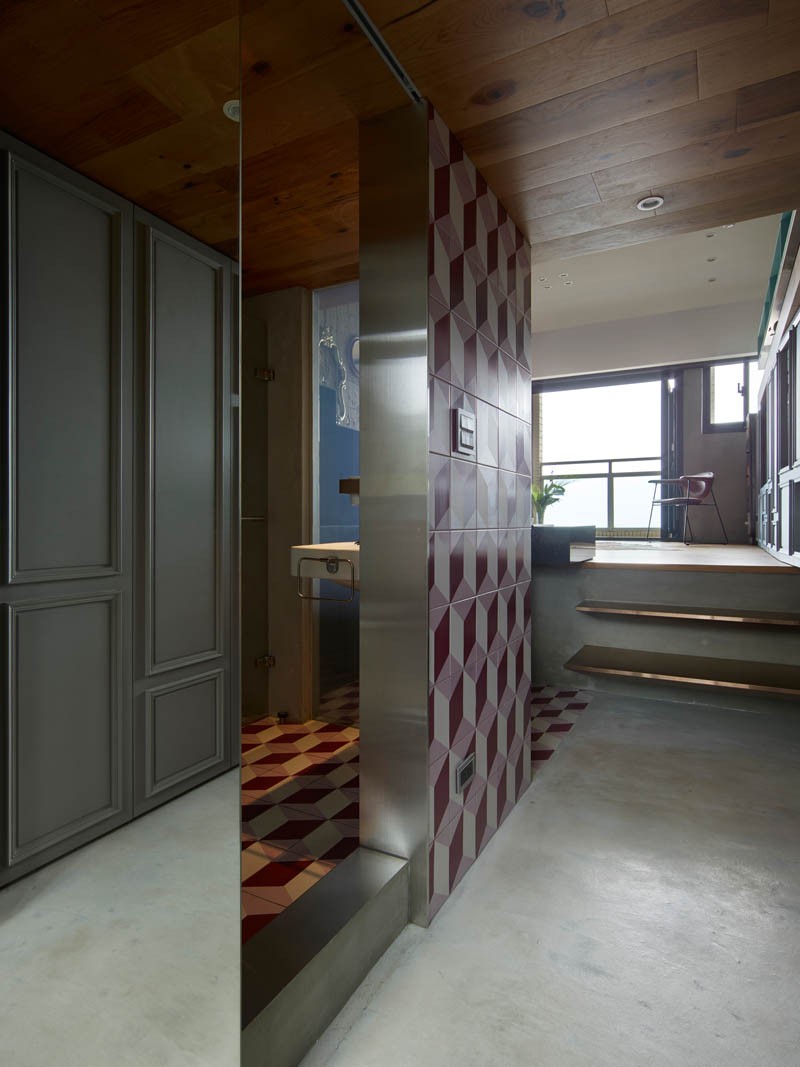 In the sunken area just near the kitchen and under the mezzanine is the bathroom. That geometric wall is actually wall tiles that lead to the bathroom with the same tile on the flooring. It is indeed a lovely design for a small apartment!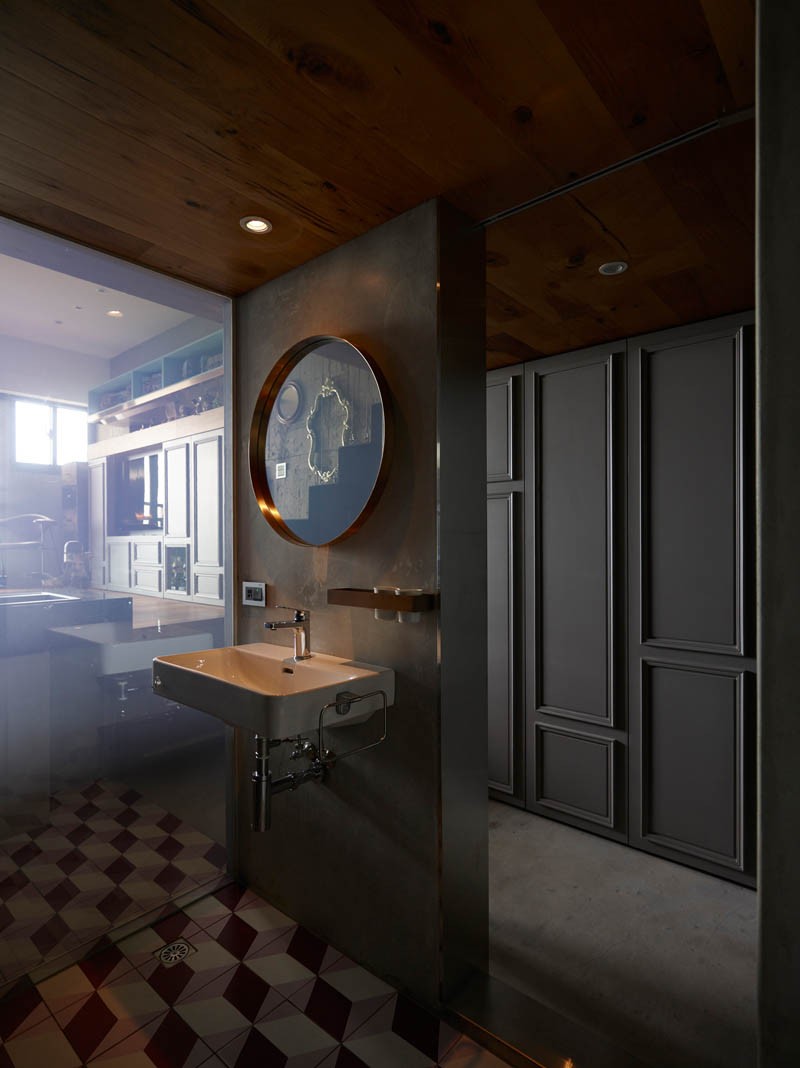 And this is how the interior of the bathroom looks like. It has a sink attached to the wall to save space. And it has glass partition too which allows more light into the area.
After seeing this apartment, you might be inspired to add your own collection into your home. If you have a card collection, why not frame them or put them in a creative case and display them? Others have silverware or ceramic collections which could also be added to a space in a creative manner. But this apartment really looks interesting since it showcased toys. I can say that the KC Design Studio did a good job in designing the home because aside from making sure it functions well and looks nice, it was able to integrate the couple's toy collection into it without overdoing and without making it look messy. Instead, the space looked fun and very creative. How about you, do you have your own collection too? Did you display it in your house? In what manner? Share to us your room design in the comment section below!