Sunshine Canyon Residence: Rising From a House Loss to a Glorious Home
There are unfortunate instances when a home undergoes an event that destroys it. It could be a bad storm, an earthquake, a fire and other catastrophes. That would be a heartbreaking event but most people would still opt to return to their homes because of it has a high value to them even after being damaged. This is what happened to our featured home today. The owners have lost their previous home in a forest fire. But they decided to go back to the burned area and purchased a steep site which was also burned in fire three years ago. Although they did not built a new house of the same exact location, they are still having in the same area with an elevation of 7500 feet.
This 2200 square feet house is designed by THA Architecture located in Boulder, Colorado. The house is hovers over the slope to get a good view of its surrounding. It has two slotted openings on the north side which drives light into the main living space and the wall of the master bedroom. Another way to bring in light to the home is through a sky light in the hallway to the bedrooms from the living room. Before we tell you what you will see on the south side, let us take a look at the house first.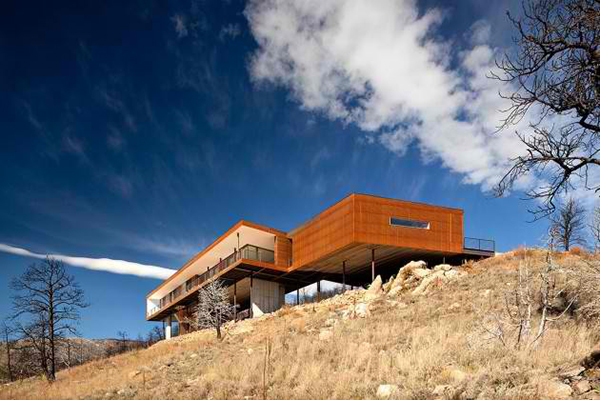 What I love about this house is how it played with geometry turning it into a masterpiece of architecture.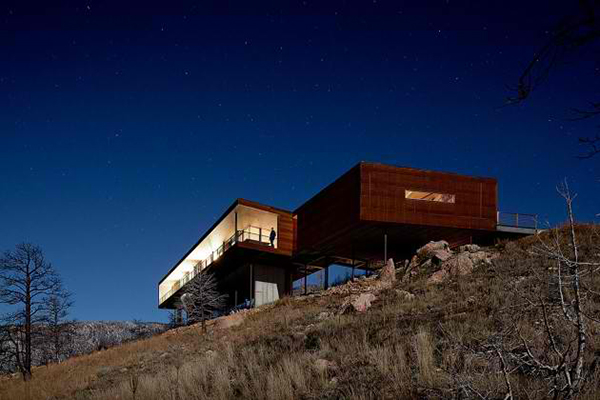 This reminds me of a doll house made from boxes. But no, this is no doll house at all. Look at how stunning it is with the lights on. Say hi to that guy standing on the terrace. Lol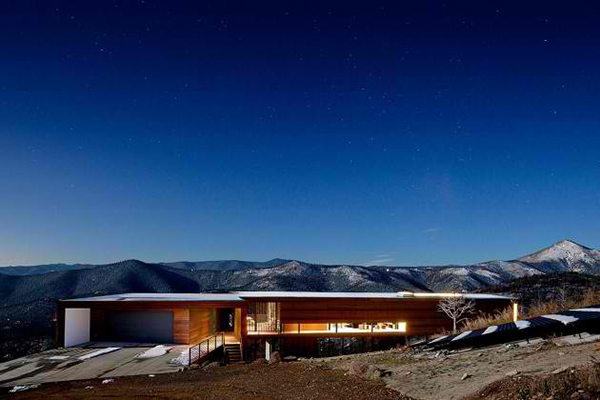 Who said that a slope could hinder in creating a lovely home like this? Forget the slope. Go for a cantilevered flooring.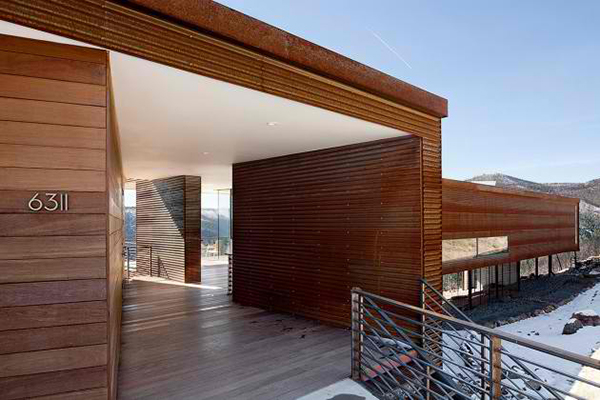 The wooden siding it used for the walls is something to fall in love with. It is just so nature-ish!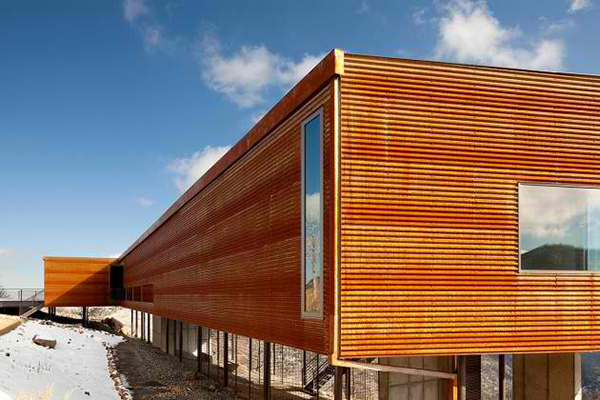 Did I just talk about the exterior walls? Well, there are windows too and with the looks of it, I guess the ones you see here are fixed..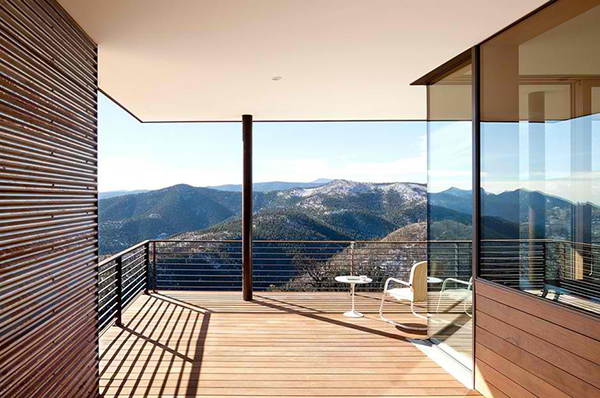 The mountain view is something I won't exchange for anything. I don't wonder why the the couple opted to go back here.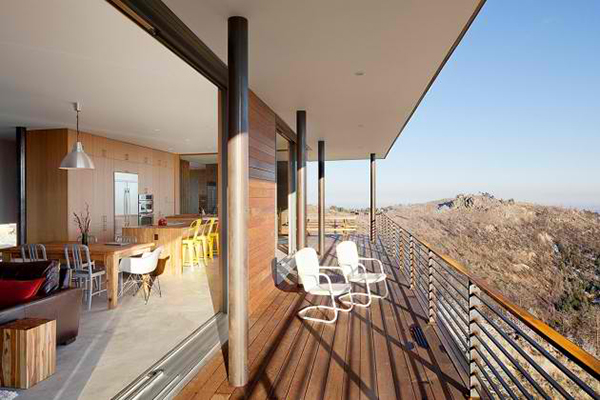 The sun really shines in this house from every corner because aside from this terrace, it has skylights too. I guess that is why it's called Sunshine Canyon? Not sure, though.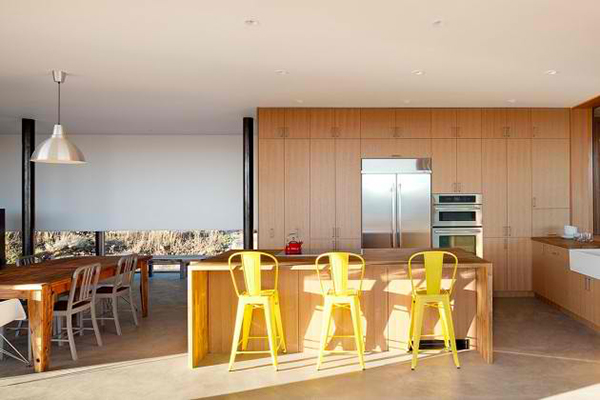 Tada! The dining area and kitchen with a bar. Actually, it's the yellow chairs that got my attention and I don't need to explain why.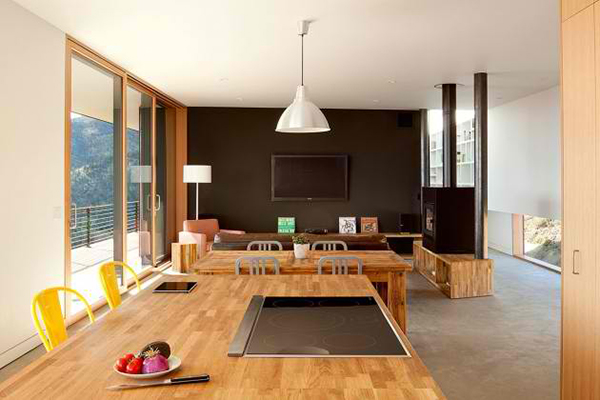 Even in this angle, it is still the yellow chair that got my attention. Lol. Of course, that would happen because it is the only bold color in this space. Well, that black wall is kind of bold too. Looks more of a chalkboard to me!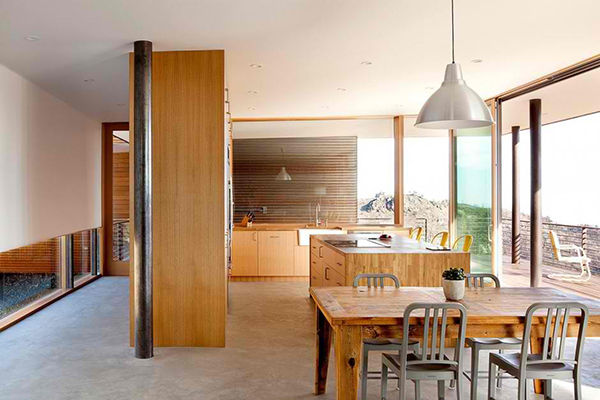 Beautiful. The layout of the home's interior is just beautiful and airy and cozy and all!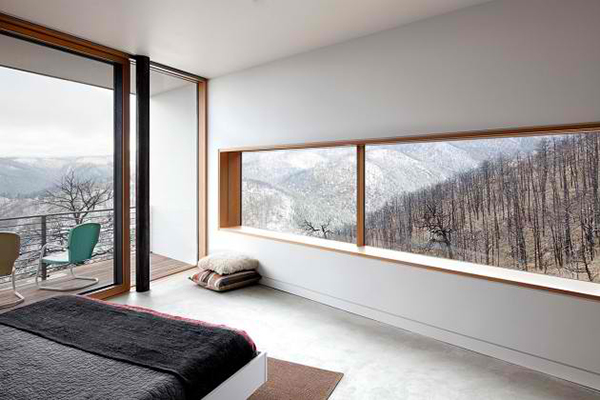 OMG! Look! Look at that view? It is just so relaxing to look at nature's beauty (just don't let a fire eat this place again) especially form the bedroom.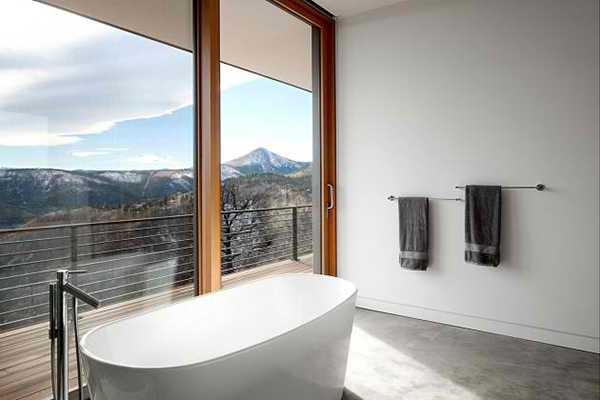 Or even from the bathroom! What a neat and simple bathroom this is!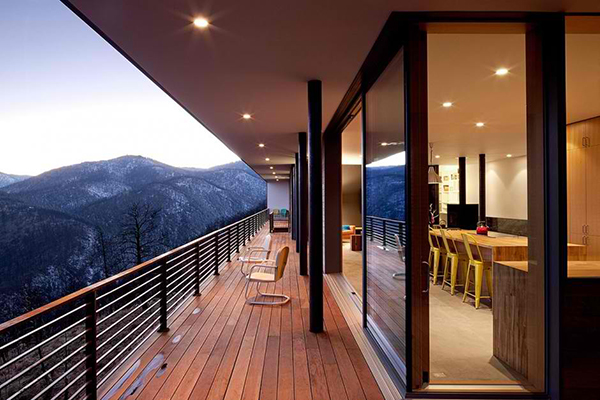 This.is.stunning. I would love to live in a place with a breathtaking view like this and of course in a house as gorgeous as this! I.am.envious.
As promised, we will tell you further about the design of the house. On the south side, it is almost completely glazed. This allows the abundant winter sun to heat the concrete mass floor. The house also has a geothermal heat pump that provides heat. It sure is sustainable especially with the "8KW PV array that offsets the electrical use to bring the house close to net zero energy performance." Brilliant design, right? Hooray for THA Architecture! I can tell that once the family is in this house, they will not recall the forest fire that once burned their house because of how cozy and relaxing the dwelling is!