Starlight Room: A Small Cabin with a Lovely View of the Mountains and the Stars
If you think you can't sleep in a tiny rectangular wooden dwelling, you are wrong!
All of us enjoy the comforts of our own home but sometimes, we also seek for something different and adventurous when it comes to a resting place or sleeping area. Sometimes, we would love to sleep on the grass while the wind blows on our hair and you lay down under the vast blue skies because it gives us a very comfortable and relaxing feeling. We have seen many lovely and comfy looking homes that we have featured here on Home Design Lover. They all vary in design and size and would have certain distinct features in them. But aside from that, there are small homes or tiny homes which already have everything we need in order to live. Still others would create a small shed for sleeping and other small spaced areas that can pass as a dwelling.
Today, we are going to show you a small house which is located in the northeastern Italy, at an altitude of 6742 feet (or 2,055 meters). In this area, one can see a single cabin that stand on skis where one can stay overnight. This Starlight Room situated near Cortina, Italy, offers guests a rare chance to sleep in the mountains while enjoying the lovely view of the area since it is surrounded by glass. When you are here, it is not just getting some sleep that you would think of but also getting a good view of nature around you. Even if the cabin is small, it seems to offer you the entire world. Let us take a look at the images of the Starlight Room below.
Location:Cortina, Italy
Style: Contemporary
Type of Space: Tiny House
Unique feature: A small wooden bedroom surrounded with glass that provides a good view of the mountain and the stars.
Similar House: The Tiny Tack House- A Couple's Perfect Mobile Home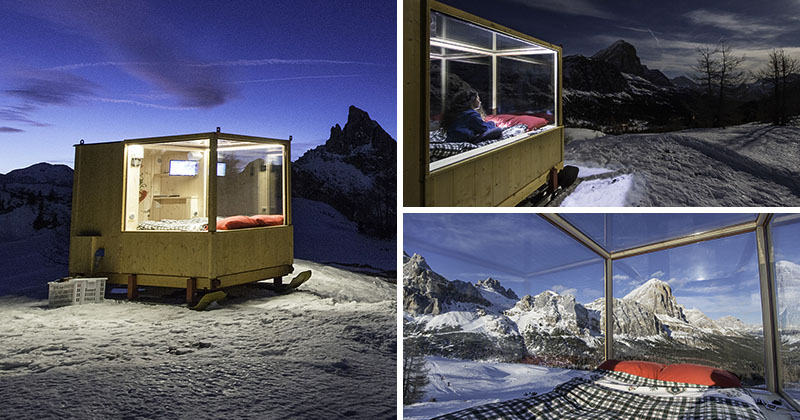 See this small rectangular box? It is actually a sleeping cabin. Yes, you can indeed sleep here! During the night, you will be treated with the lovely blue sky filled with stars while during the day, you will be awakened by the sunlight from the morning sun. Very nice right?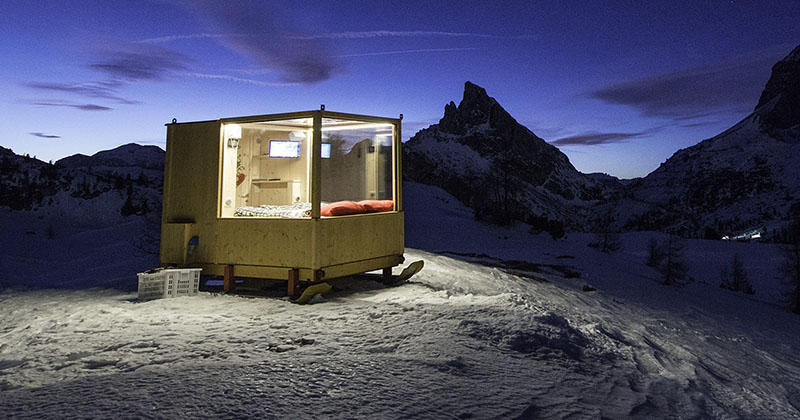 This small cabin is called the Starlight Room which has a front row view of the Dolomite mountain range. Just imagine how beautiful this looks like in actual because even in the photos, it looks very magical. For sure, you will be able to appreciate God's creation after seeing all this!
If you look around, there are no homes here or structures because I can tell that it is not allowed to build one in the area to preserve nature. But there are of course nearby hotels, restaurants and others. But then again, if you want a unique experience that you can never forget, then try sleeping in the mountains in this room that has glass surrounding the bed.
Read Also: Tiny Brooklyn Garden Studio: Perfect Escape in Your Own Backyard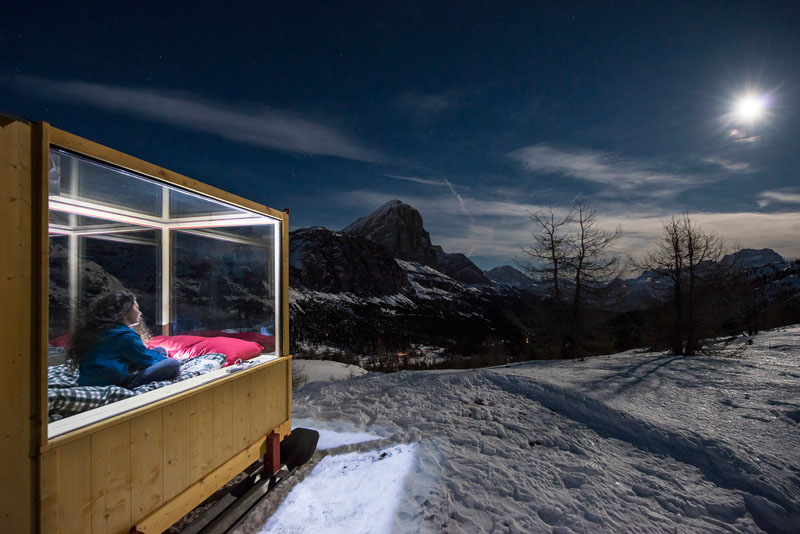 The cabin is just made of wood and has sleigh as legs so that it is easy to transport it on the snow. With its glass exterior, one can look around. And it has lights inside it as well as comfy bedding set. See that mountain? You can stare at that all night! I think if you are here, you would surely end up writing a poem, making a drawing or do something really nice because of too much inspiration and positive feeling you get from the view.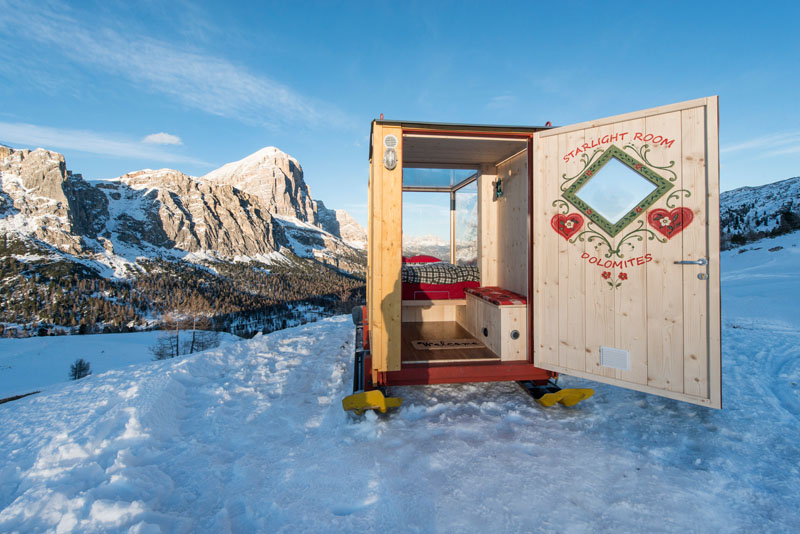 The little cabin was made by local artisans with local materials comprised of wood, metal and glass. You can see that aside from the bed, it has small built-in bench at the back. Also notice the design of the window that makes you feel like you are in a tiny cottage because of its colors, floral swirls and hearts.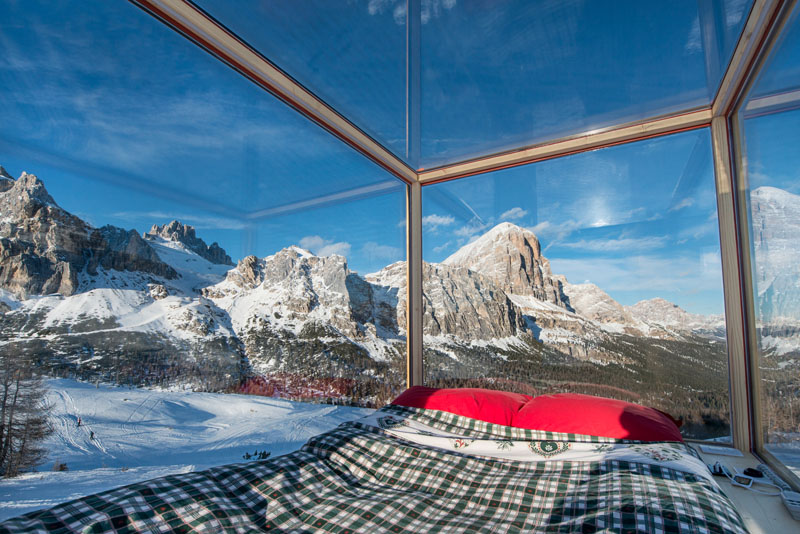 Inside the small cabin is an adjustable bed where you can sit up and enjoy the view before lying down to rest and enjoy the stars at night. Its choice of fabric colors for the beddings complements with its cottage feel. And it does look really comfy!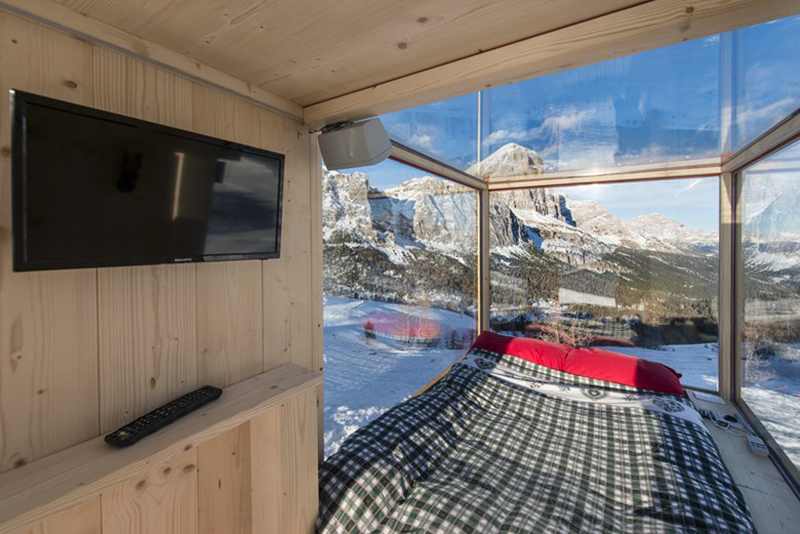 But you can't say that you will feel bored in here because if you are done looking at the view, you can watch time-lapse images of the Dolomites on a flat screen television. I am not sure if you are allowed to play other movies here. And if it gets cold, there is a heater in here as well.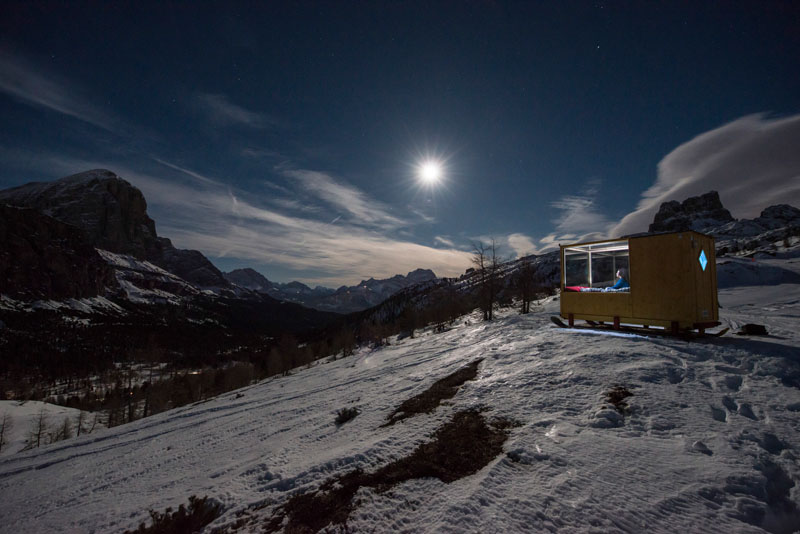 The Starlight Room can be reached by riding a snowmobile or snowshoe. It is actually for rent with a price of 300 Euro per night good for two people. And hey, it includes dinner and breakfast already which means you will not feel hungry while in here.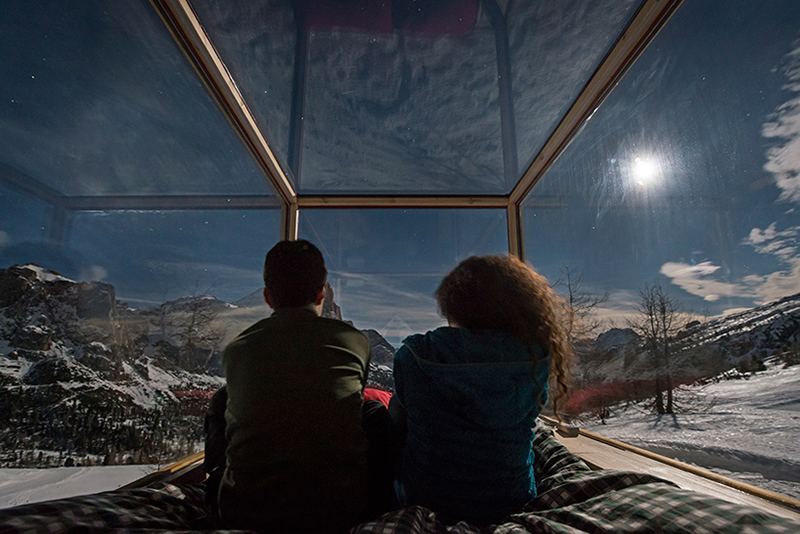 Seen here are guests who enjoy a panoramic perspective of the mountainous setting. Such a nice way to spend the night, right? And yes, it is indeed romantic!
Isn't this a lovely space even if it is small? Well of course you can't cook dinner in here but you will surely be blessed to see the beautiful view of the mountains and even of the stars. The Starlight Room can be found in Cortina which is surrounded by many hotels and nice places to stay. You can also do many activities here like skiing and exploring the area around you. And of course, you can also enjoy different kinds of entertainment as well as some wellness and spa. I guess if you are in this area, you would feel really relaxed with nature around you!