Experience Tranquility in Residence EV06 in Thailand
It is always said and believed that there are series of stories that lies behind every construction of homes and buildings. Just like what we have for today, which is owned by a family who moved from Hong Kong who wants to enjoy new memories with a new house built at the top of a cliff. Yes, you heard it right; at the top of a cliff! We may think if this can be possible, well for this family who believes in the saying that "There's no place like home", for them of course with the help of an architect it is not impossible.
Residence EV06 is a private residence plotted in a land of steady slope cliff in Phuket, Thailand. The architecture was meant to hide from the frontal road; aside from it is a personal choice of the client, the purpose is to experience a wide-angle view of Andaman Ocean and also to have an enigmatic effect to it. And also, the owners wanted that the design would be incorporated with the nature. For this to happen, majority of the areas and rooms of this house was used with woods and combined with glass to maintain the transparency of the views. This is a three-storey house outlining geometrical features with a modern vocabulary of design.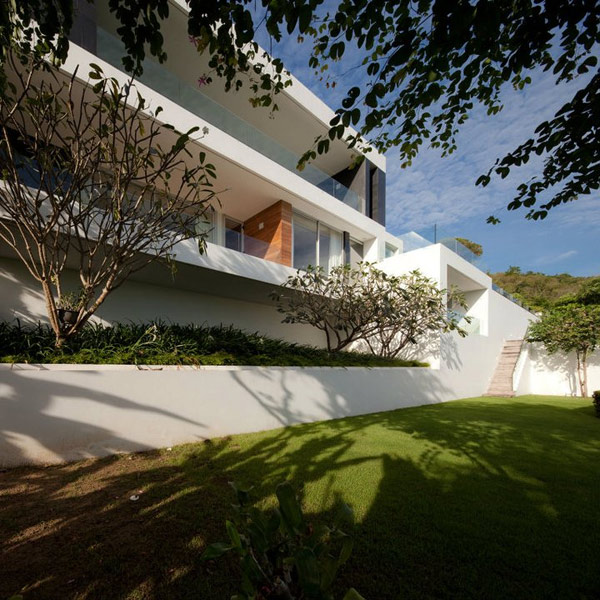 This residence features a geometrical outlines that outstand the construction of this edifice.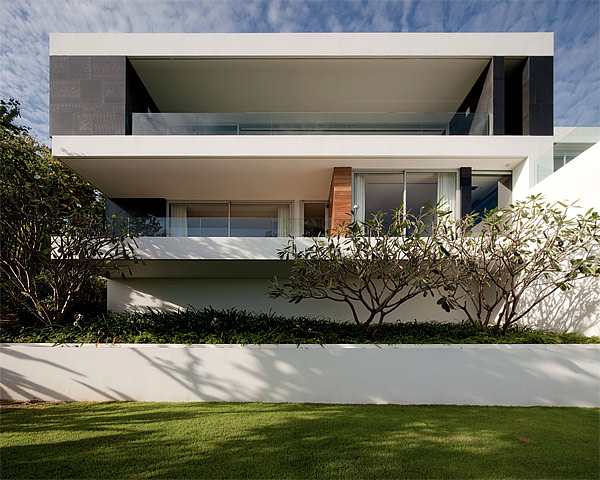 Spaces that are adorned with lots of trees gives a warm sense of environment.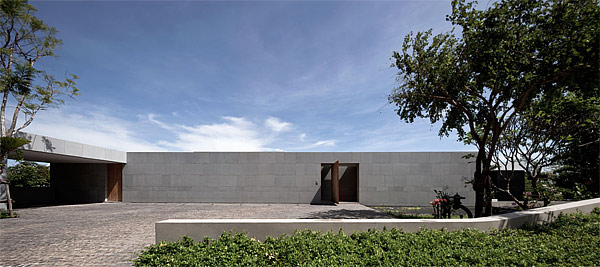 This front yard showcases a wide area to experience the warmth of the environment; the extensive concrete wall hides a paradise behind.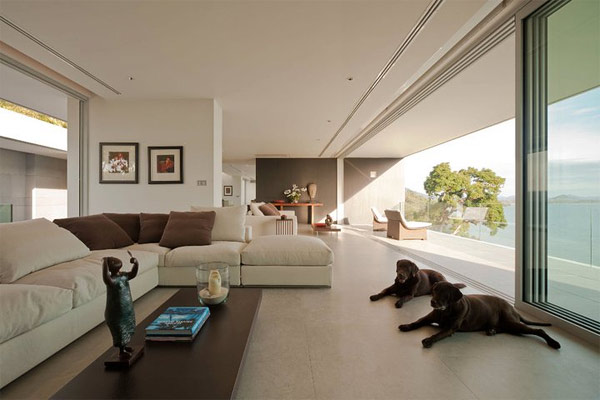 The long couch is an accent for the living room where you can enjoy the view of the sea.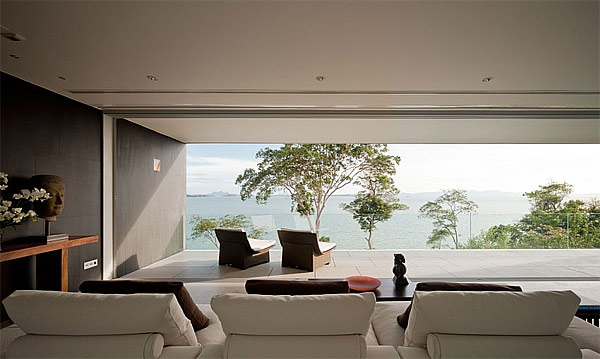 Add more lounge chairs to areas where perfect view of the sea is an easy access.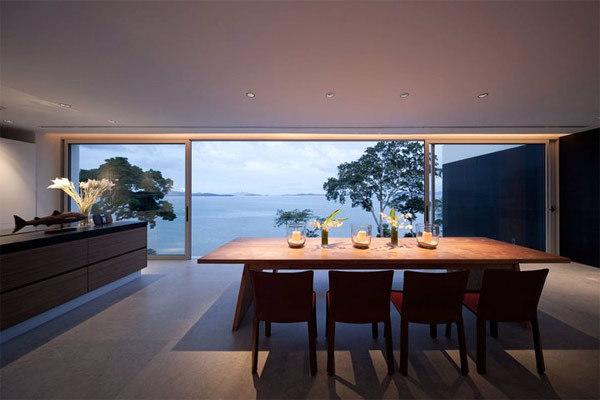 The long wooden table is perfect furniture for the dining area, is then placed facing the ocean.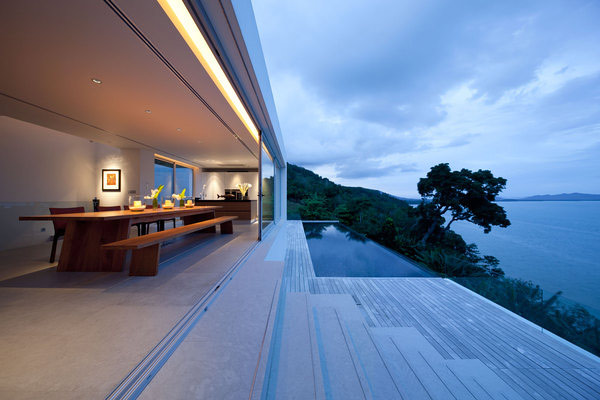 The glass door can be opened if necessary to allow more natural air to go inside.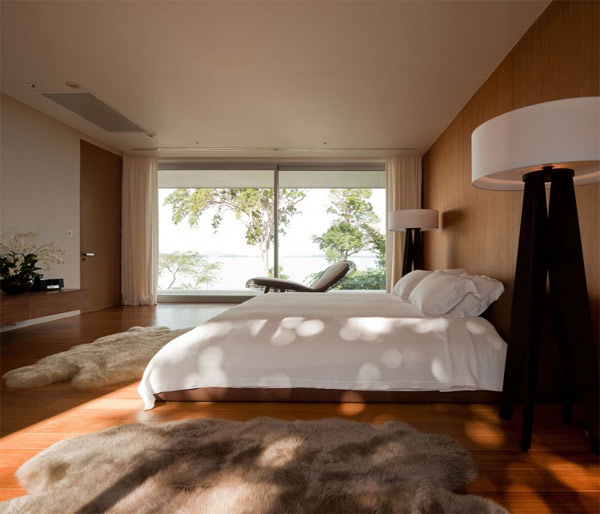 I wonder how beautiful it would be if those side lamps are lighted during night accented with lounge a chair that adds a drama.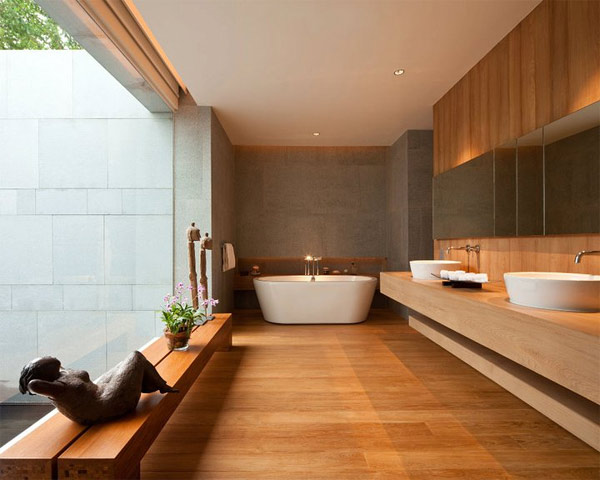 The bathroom just shows the primary material that is being used all throughout the space, woods mixed well with good lightings gives an elegant glow.
A unique design of master bath, the small size pool takes like a sense of serenity just like in a spa.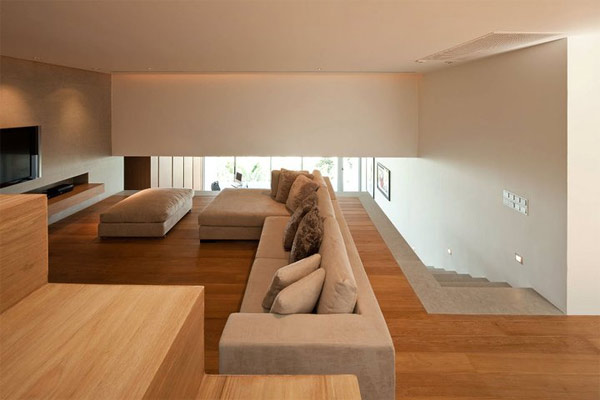 Long and soft-fabricated couches are very inviting; it'll be very comfortable to sit on it.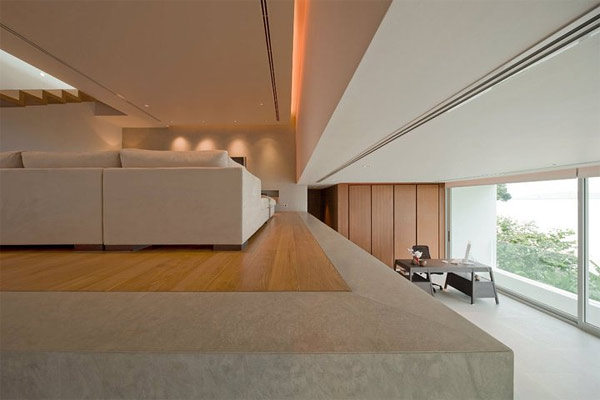 Giving you a comfortable place to work, table placed in a sea view.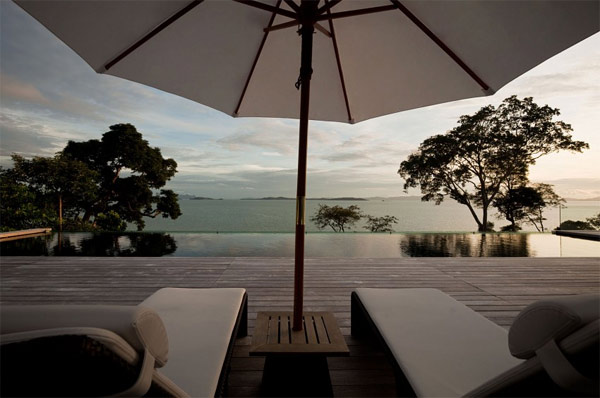 I love the spot! Perfect place to hang-out after a long tiring day!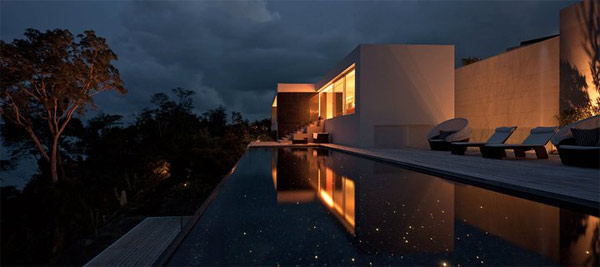 Splendid! Wonderful tiles idea for pools, by seeing this, it just looks like glittering stars from up above.
A wide open space allows more light to inside and making the spaces well-ventilated.
Surely, at this moment, the family living on this house is experiencing a wide range of calmness and peacefulness. This is a best place where you can always feel that you are welcomed, soothed and comfortable in living. This outstanding residential project made by Duangrit Bunnag Architect Limited (DBALP) simplifies a true essence of a dream house.