Issaquah House in Squak Mountain With Modern Cottage Features
Do you want to live in a house that gives you the feeling of being in a cottage while residing in the modern setting? Take a look at our house feature for today. It is a house that combines sustainable materials and features while giving the homeowners a modern living. The Issaquah House is located at the base of the Squak Mountain. It has three bedrooms, three bathrooms, a home office and a media room.
The exterior of the house has stone and wood finishes allowing it to blend well with its unspoiled environment. It has a deck that gives the homeowners a good view of Mt. Rainier which also serves as an extension of the living room. What gives the house a cottage feel is its use of wood and brick combined. The interior also has wooden stairs, pillars and exposed beams giving it a cottage look. The designer also opted to have minimal decorations and furniture to drive the attention towards the outdoor beauty.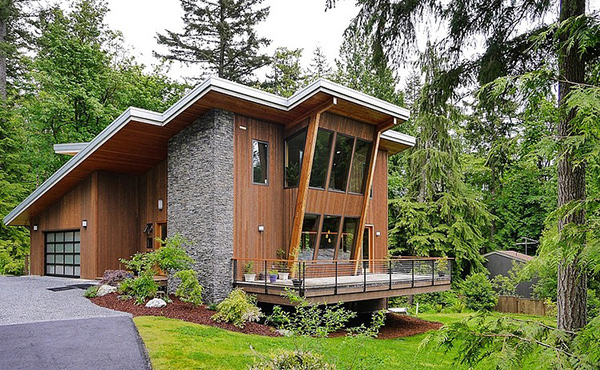 The large deck is one good feature of this modern cottage with wood and stones in its exterior. You can see how it silently sits in the middle of trees and bushes.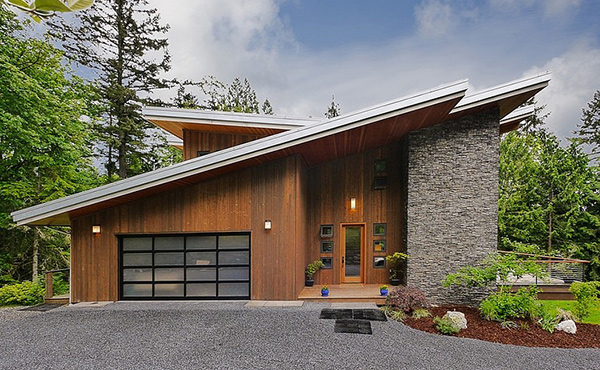 The facade of the house is simple but beautiful. Its inclined roofing give it a unique style.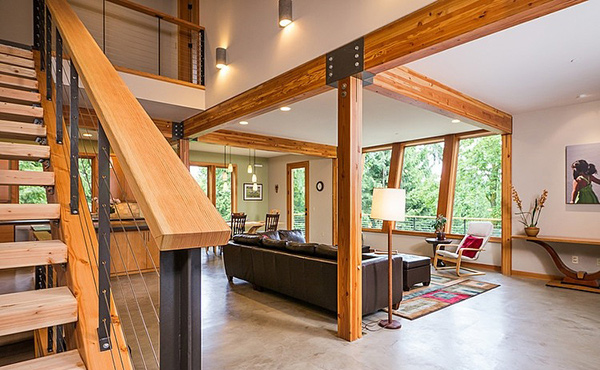 The use of wood for the interior as well as exposing the beams give it a more cottage feel.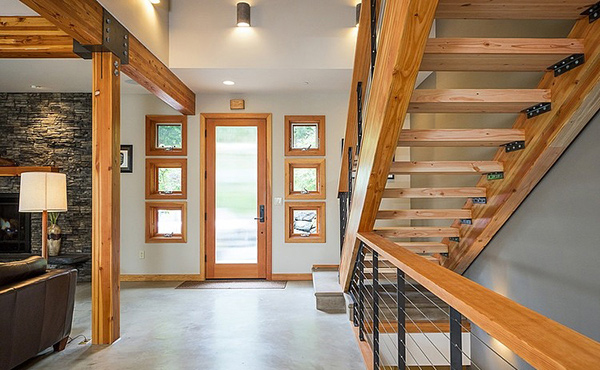 You can see here the custom staircase made from reclaimed wood. The doors and windows also have wooden frames.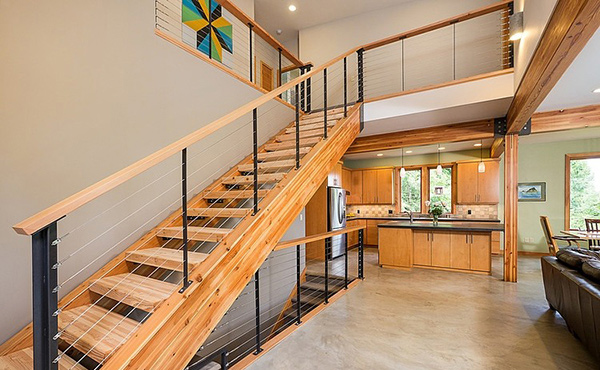 Wooden texture was retained to give it a cottage look and it looked stunning combined with the flooring, white walls and black accents.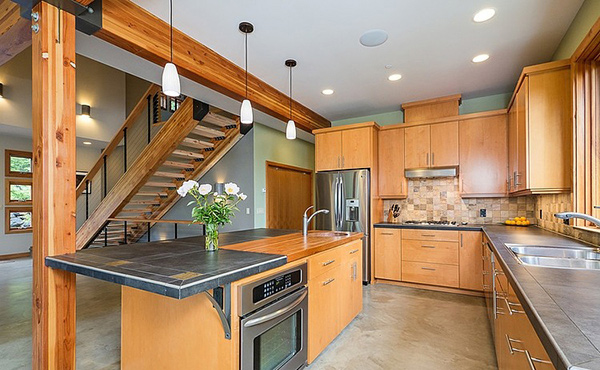 A beautiful kitchen that has maple cabinetry with slate & salvaged wood counters.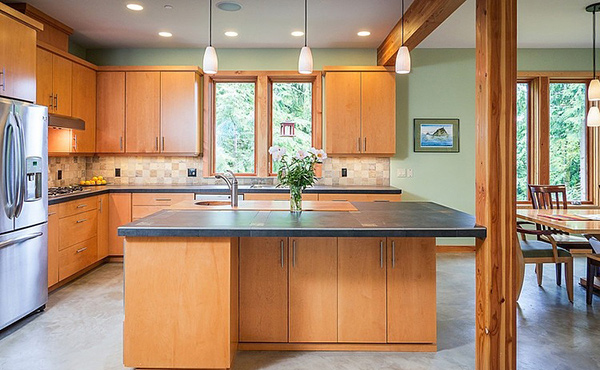 Modern fixtures were used in this kitchen as well as lovely modern lightings.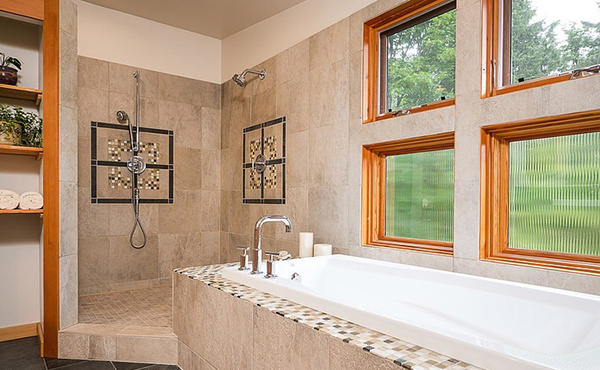 The bathroom has a separate shower area with mosaic tiles in it.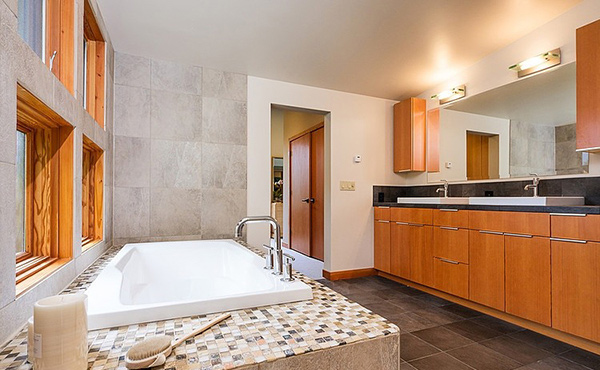 Wood is also used for the cabinets and vanity of the bathroom.
The beautiful Eldorado Stone Fireplace is indeed a stunning addition to the home.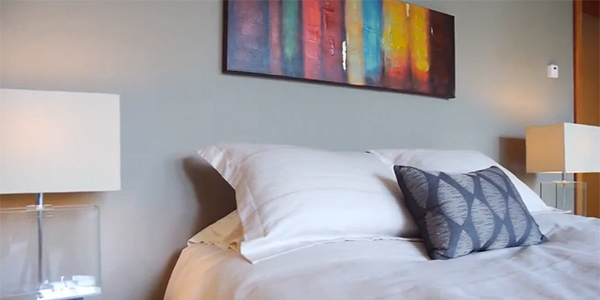 The master suite has a yoga room and custom built-in cabinets. You can see how it used white for a minimal look.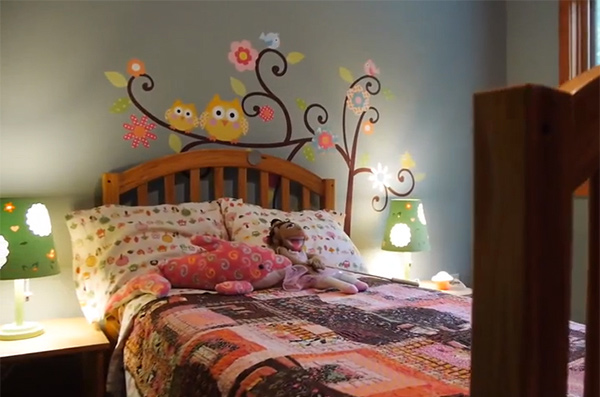 A bedroom for a young user with an owl themed wall decal and colorful beddings.
Take a tour at the Issaquah House through this video:
Stone is used in the exterior of the house as well as in its interior as seen in an accent wall behind the sofa. As you have taken a brief tour the home's interior, we are certain that you too got that cottage feeling in a modern setting while looking at the home's design. Steve Moe Design did well in designing this 3,540 square feet house. The house is located in the neighborhood and community of High Valley which includes a private neighborhood park with basketball court, tennis court, playground equipment, and play field.