A Gorgeous Hollywood Hills Wood Clad Home
Another stunning home clad in wood. You'll surely love this!
One material that is commonly used for the home is wood. What makes wood really nice is that it can be utilized for the exterior, interior, furniture and others. Aside from the fact that it can be used anywhere, it is also available anywhere and is sturdy. But I do hope that people are planting trees too in exchange of those that they cut. We have seen many homes that used wood for construction or added wood for their home's architectural design. And they all look impressive. Today, we have another home that uses wood. This time, you can see it in the exterior as well as in the interior.
This wood clad home is hidden away at the end of a cul-de-sac in the Hollywood Hills of Los Angeles. It made use of wood, stone and glass to create a relaxing and calm living environment. The home is designed by SPACE International featuring a green roof, outdoor spaces and a pool. Aside from that, it also has a large living room that shares the space with the dining area. A wood ceiling flows from the outside of the home to the interior, joining the two areas to create a single cohesive look. The facade of the house is also very beautiful and attractive. Let us take a look at the design of the house below.
Location: Hollywood Hills, Los Angeles
Designer: SPACE International
Style: Contemporary
Number of Levels: Two-storey
Unique feature: You'd be delighted with the design of this home clad in wood featuring a green roof, a pool and many outdoor areas.
Similar House: A Classy Transformation of a Warehouse into a Residential House in Australia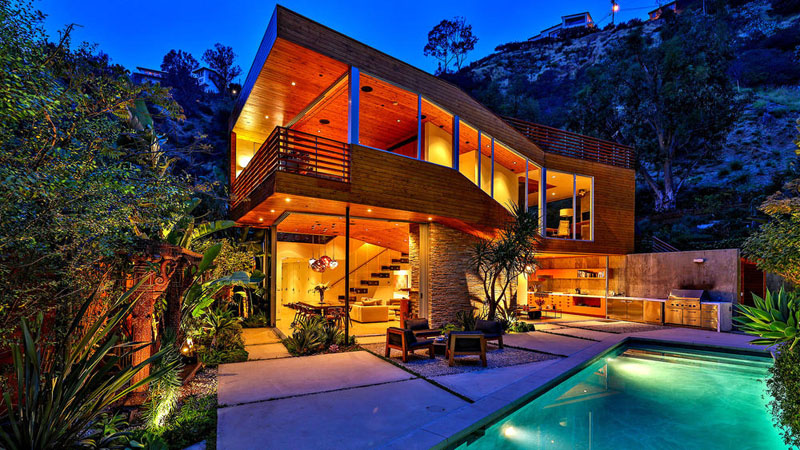 Isn't this very beautiful? It sure is! Just look at how the wooden house is lighted. It added a dramatic and romantic feel to the home both in the interior and exterior. Also, you can see that its outdoor area looks very dramatic as well with all the lights and plants in it. In the outdoor space, there is an outdoor kitchen, outdoor dining area and even an grill.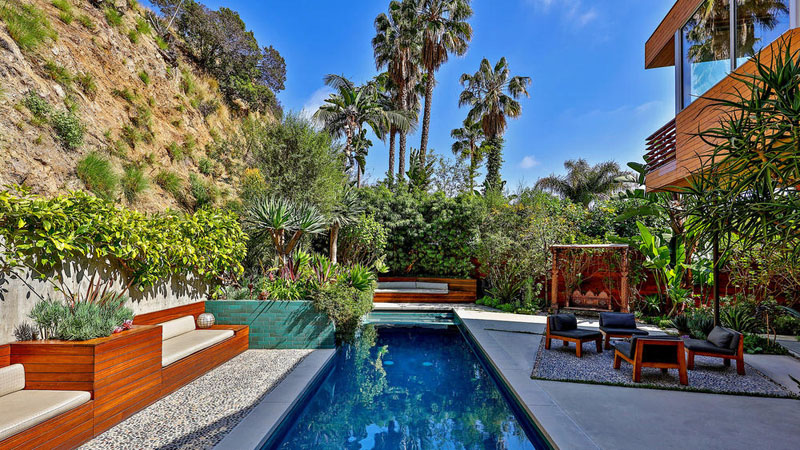 The house is located near a sloped area that has many plants and trees. This pool area is very beautiful too but what I like most about it is the built-in wooden benches with upholstered pads. This could be a simple pool but it sure is very relaxing.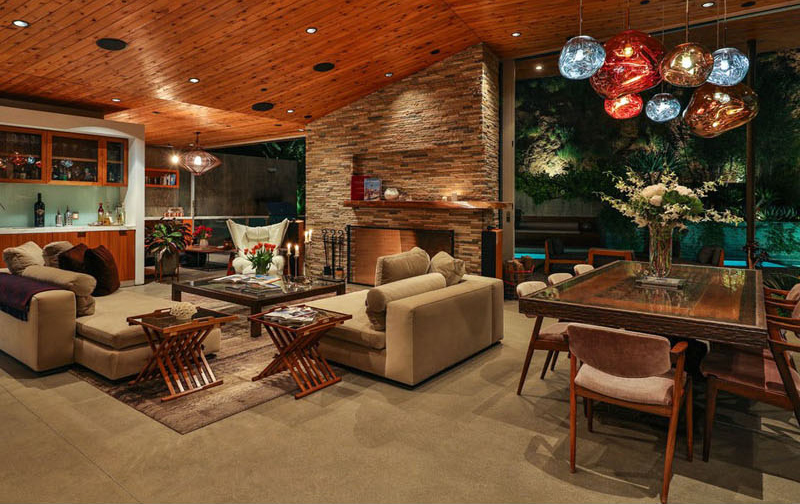 This is the living area wherein you can see various textures and a mix of materials in it. That glass lights above the dining space is very beautiful and attractive. Comfy contemporary furniture are used for the interior of this home.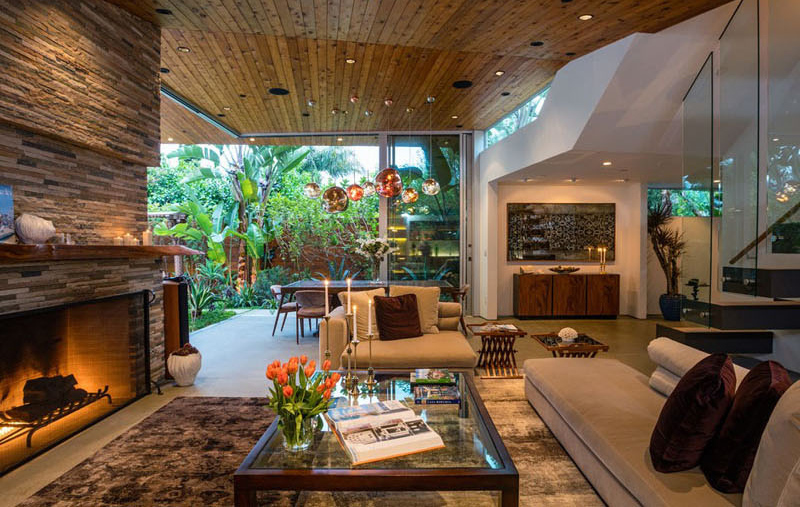 The interior is graced with a mix of wooden ceiling and bricks but it is balanced with the use of white walls and glass. it is also nice that the interior seamlessly opens to the garden to create a connection between the indoor and outdoor spaces.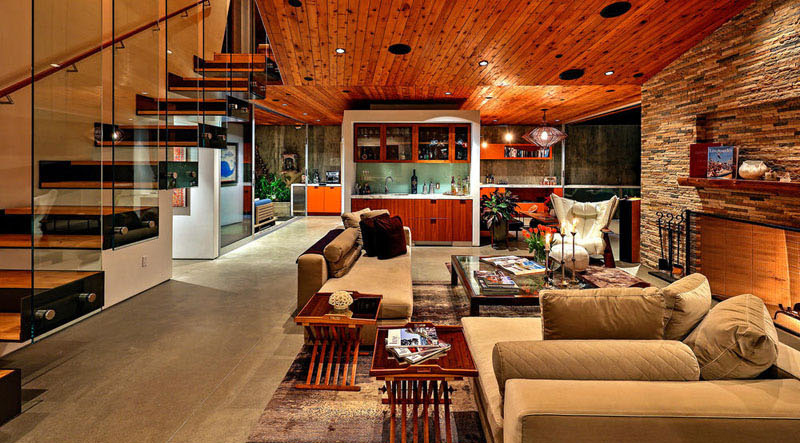 Another look at the interior of the house which has floating treads for the stairs. But I like it that instead of just letting the stairs float, glass railings were added to it as well. You can also see here that there is a bar in this open space layout of the home.
Read Also: Talisman Building Apartment: Converted Warehouse with Vaulted Ceilings in UK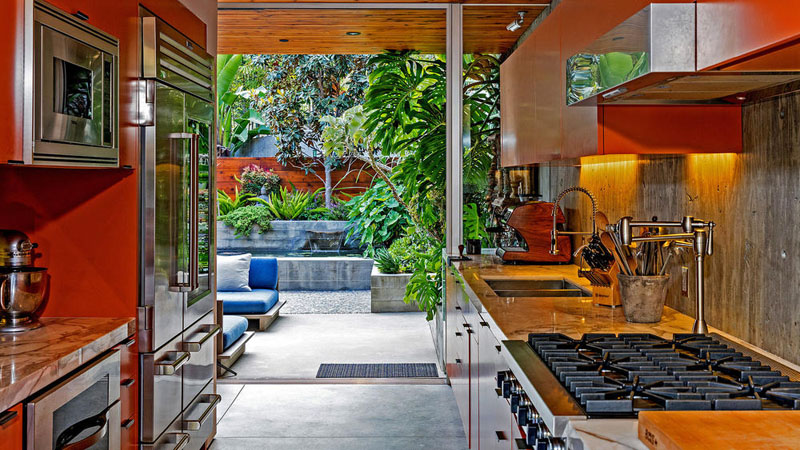 Behind the living area is the kitchen, that opens up to a small patio area. This kitchen has stainless steel appliances with red cabinets that compliments with the wooden elements in the area.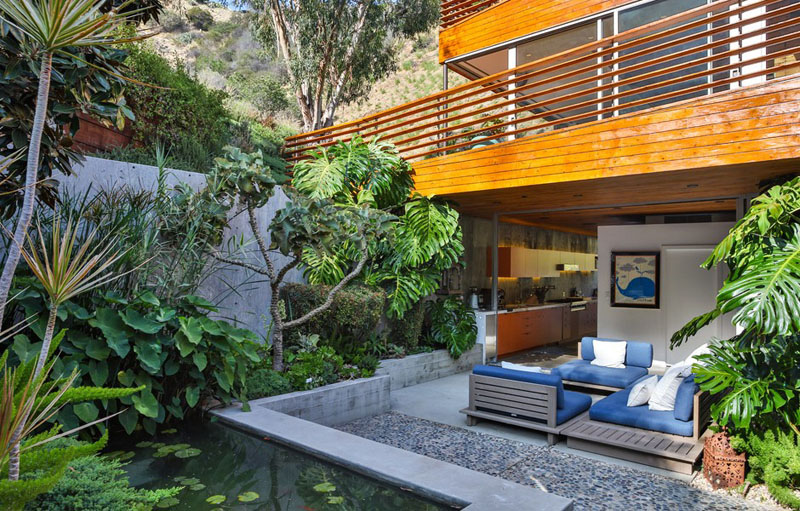 The private patio is also beautifully designed with a comfortable lounge area for relaxing. Aside from that, it also has a koi pond and it is surrounded with beautiful plants and bushes.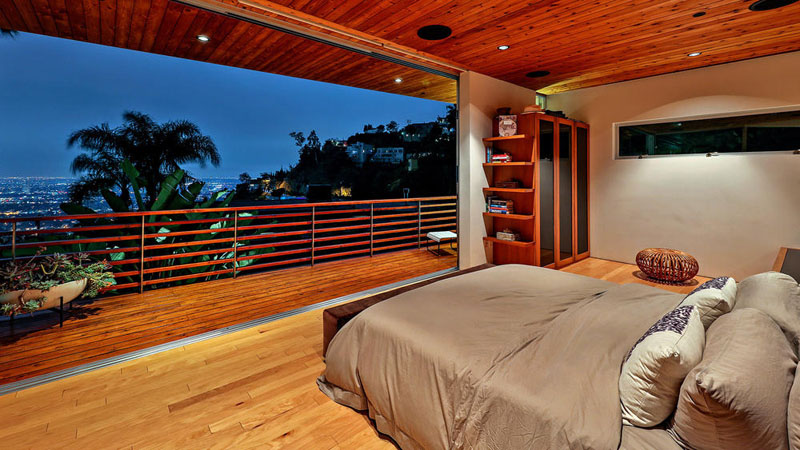 Heading upstairs, there is a bedroom that opens up to a private balcony with views of the city in the distance. Just imagine how romantic it would be to stay in this area with a good view of the city and the beach. Of course, you can also close this part if you want privacy.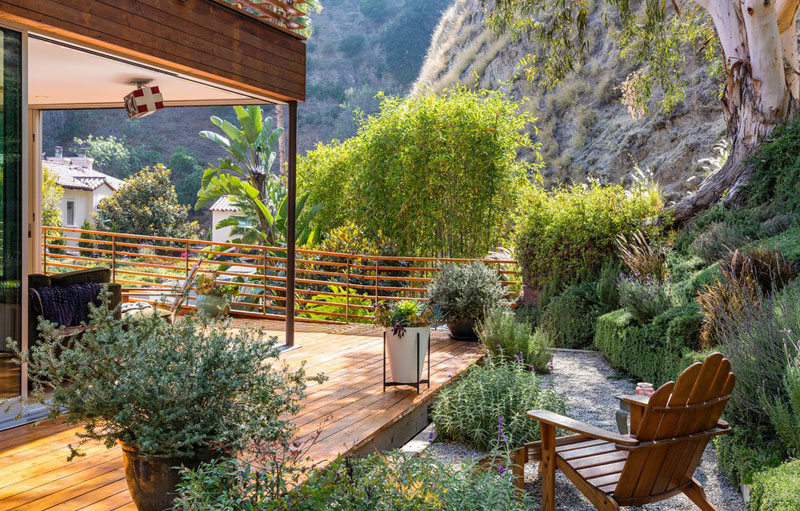 In addition to the pool and the private patio, there are other small outdoor areas around the house where one can also relax in as well just like this one in the image. Just look at how relaxing it is! It is indeed nice to have plants and trees in a home's surroundings.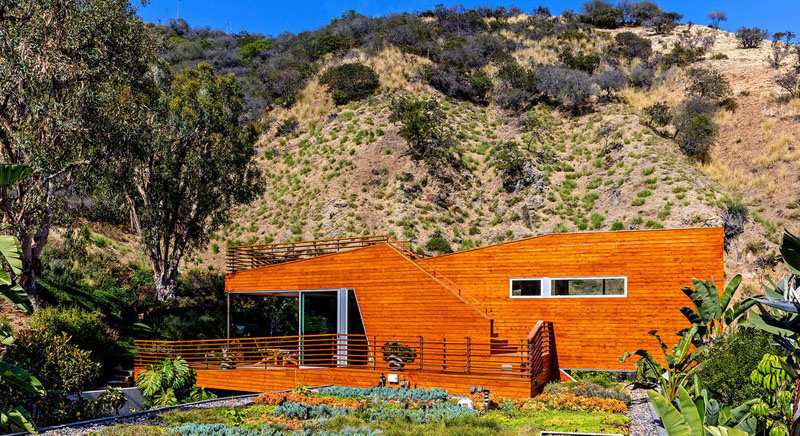 The home also features a green roof that can be viewed from the second-floor balcony. Yes, you are looking at one side of the house and the green roof that has various types of plants in it.
If you believed in the beauty of wood before, this house design by SPACE International will surely make you believe in its appeal even more! The exterior design of the house is indeed stunning but you will also see that the rest of the home's design is very impressive too. The layout is well done and it creates a seamless connection between the home's interior and exterior. What I love about this house is its outdoor spaces. it is just nice that you'll be able to rest in many different spots around the house.