20 Beautiful Curved Kitchen Bars
Add soft curves to your kitchen through its island bars.
In picking a modular kitchen or in even choosing a design you'd want for your kitchen – we usually choose the rectangular design, but then, designers thought about creating a more flexible, sexy and fashionable way of creating kitchen bars that would add charm and beauty to your space – they thought about using curves in their designs. Incorporating curves makes these designs really slender and sophisticated which makes it rather amusing and interesting.
Below is a list of 20 Beautiful Curved Kitchen Bars that are not only interesting and amusing but also really fancy. The designs range from traditional ones to the most contemporary which I think some of you would really want. The beautiful kitchen spaces are made prettier because of their bar designs, check them out below.
1. Artika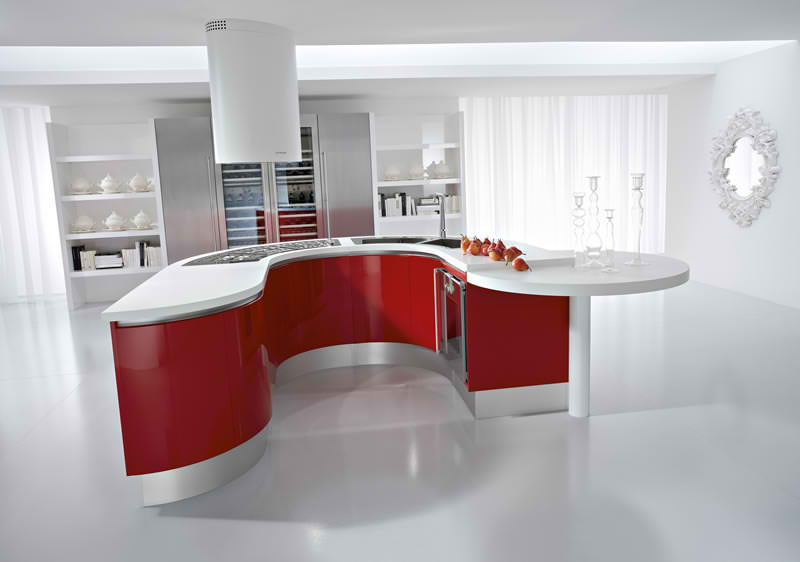 First stop is a red Artika modular kitchen model from Pendini. This design is not only perfect for this white space but for any space that has this contemporary feel. What's great about this space is that it actually makes this kitchen bar the center of attention – which it actually should.
2. Bar in Hampshire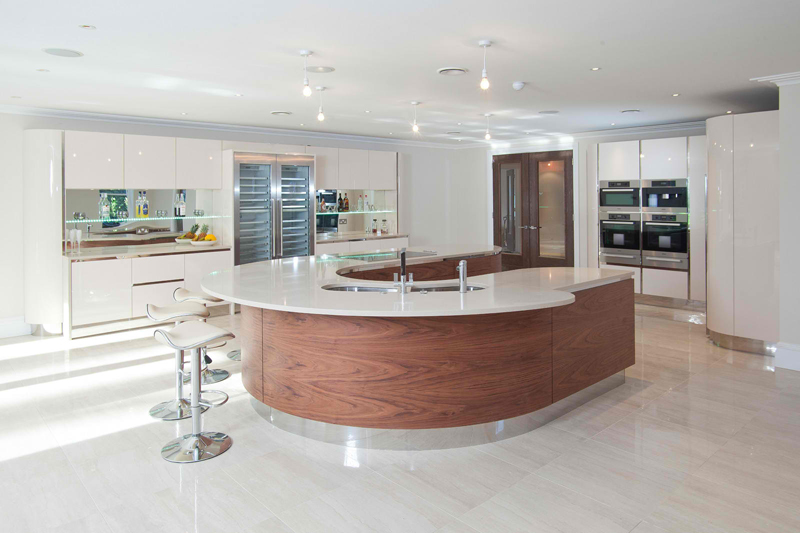 Second is this beautiful bar in Hampshire which has a neat finish on its body; the white countertops are pretty which contrasts with the body of the kitchen island and it sure made this space rather appealing – aside from being contemporary, this kitchen is quite a charmer.
3. Contemporary Kitchen Remodel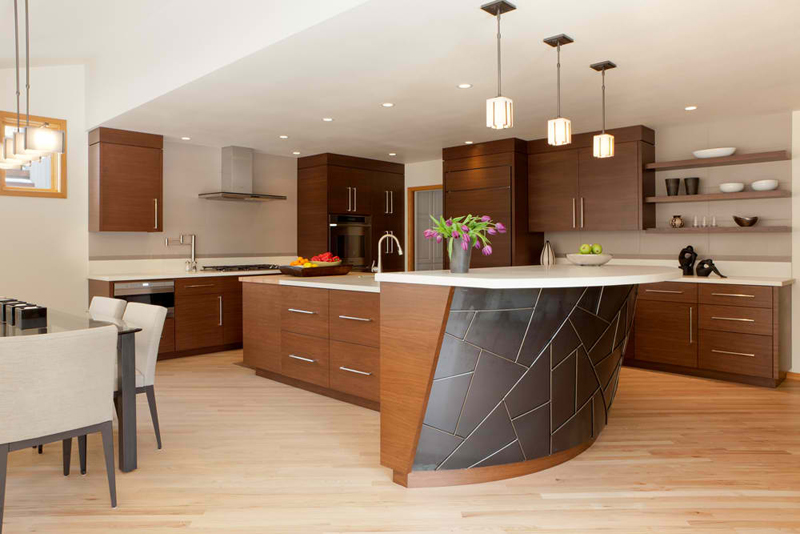 This kitchen bar has the most fun finish on its body. The color is pretty far from the entire thing which is basically covered in wood. The bar is in white which is ideal, especially if you fancy cleanliness and tidiness. The cute pendant lights contrasts with the size of the bar.
4. Denver Loft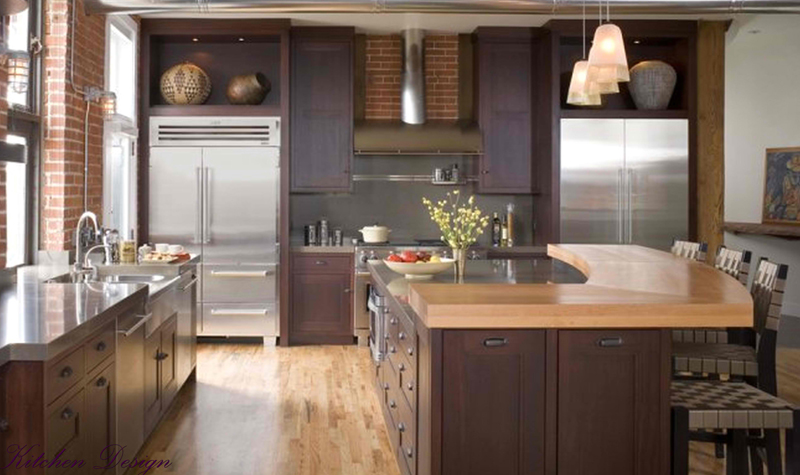 This Denver loft's kitchen has a very masculine look to it. The colors are nice and neutral which makes it rather Earthy and nice. As much as this space looks masculine, it could also pass for a space for both men and women. The curve of this bar is minimal, but it sure contrasts with the straight lines of the cabinets and counters.
5. Deramore Park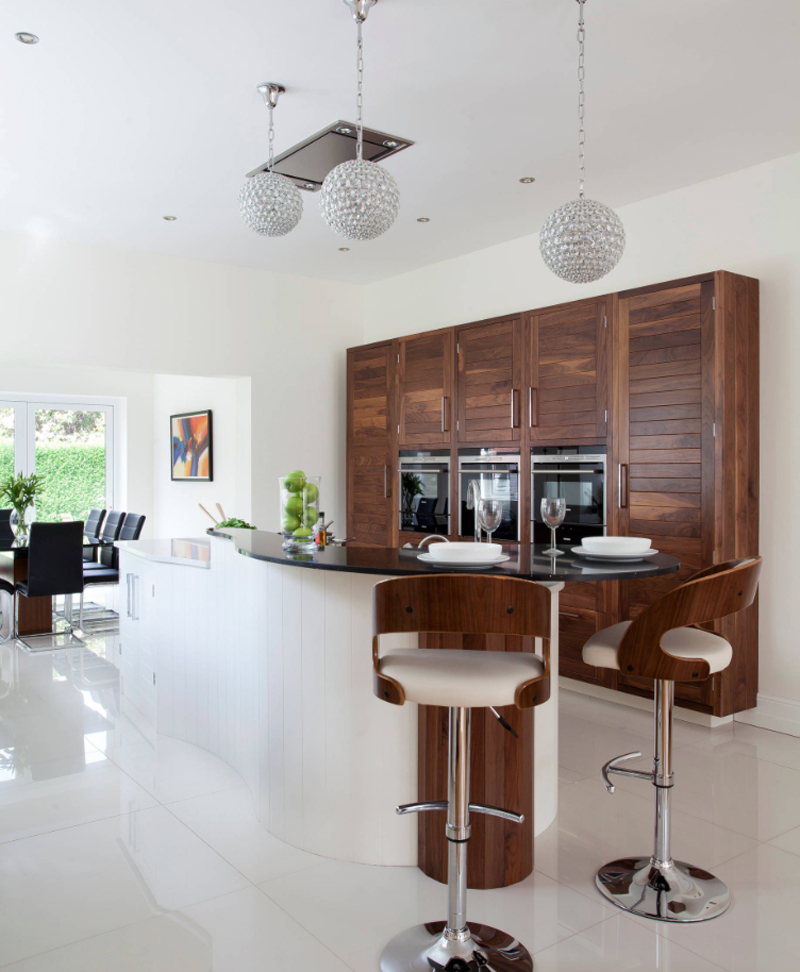 White, brown and black – this color combination sure works well for this beautiful kitchen. Even when this kitchen bar is minimal and even looks like a decorative space, this is still one of the prettiest kitchens there is.
6. Dune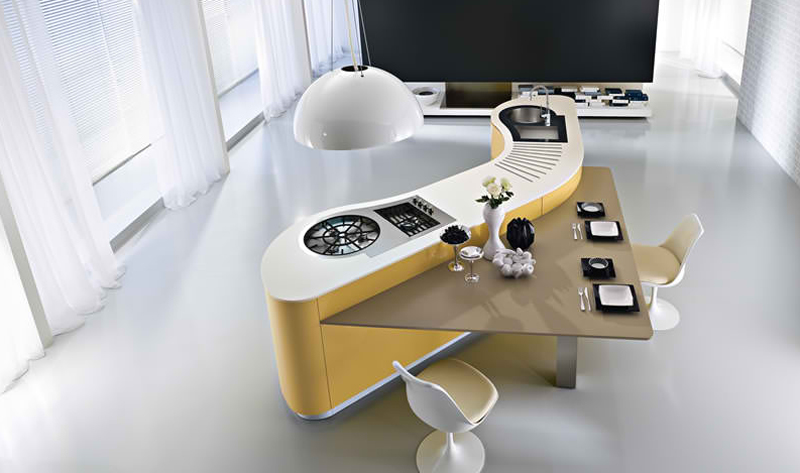 The kitchen in itself is curved and the bar/table has quite a minimal curve in it, but sure complies with the requirements that this list have. The color of the modular kitchen is just an attention grabber and it sure is stunning!
7. Home on Pemaquid Pond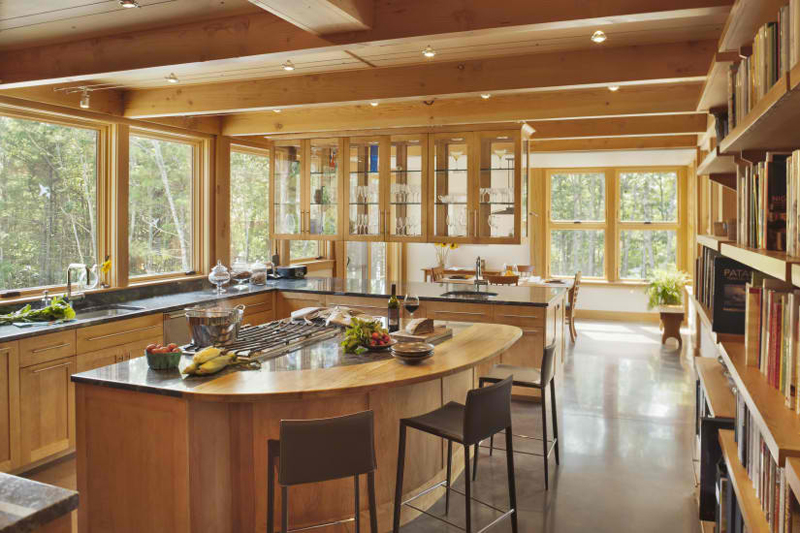 This cabin home sure looks really beautiful and close to Mother Nature. The design of the interiors is quite simple but making sure that traffic is considered well that they made sure there are tons of walk space in here. The large windows of this home just completes the look of the entire space.
8. Integra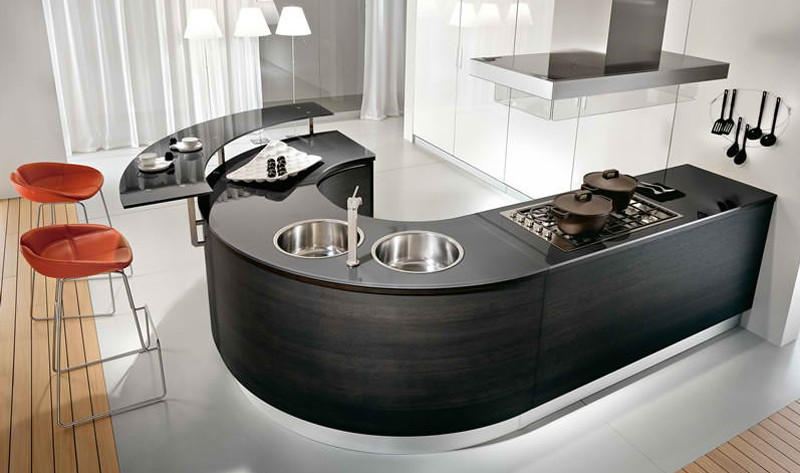 I enjoy quite a bit the designs that are available with modular kitchens. The color and design of this counter is something I would actually want for my own house in the future. It looks really classy, sophisticated and fancy!
9. Kelly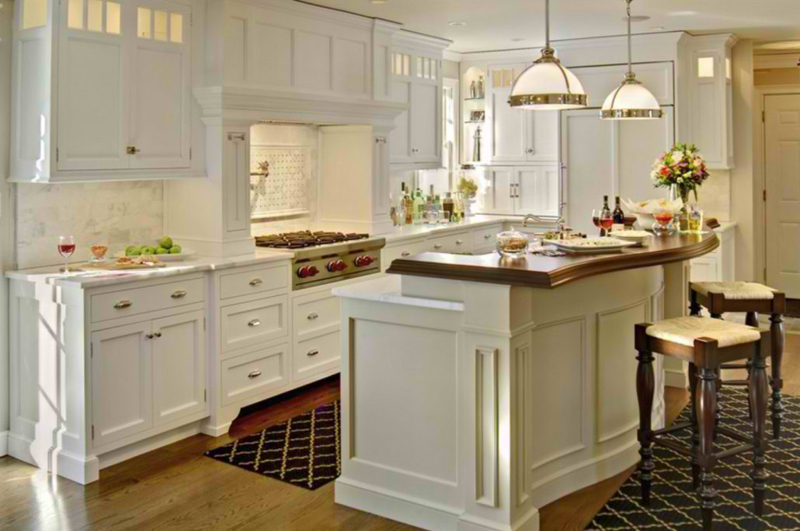 Here is a traditional design that you might also want to check out. The design of the wood work of this kitchen looks old but you can't deny how much this design actually looks really classic. The brown counter for the bar looks like something originally paired with the materials used for the stools in this space.
10. Kentfield Contemporary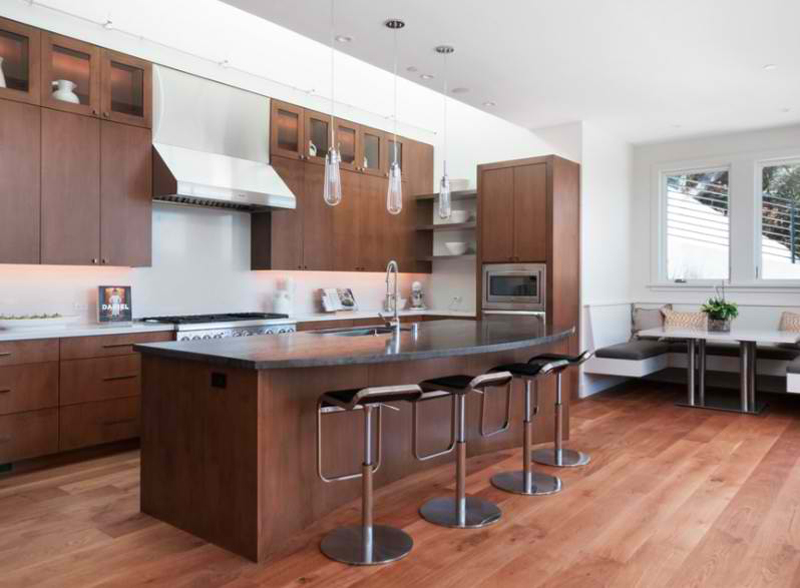 The dark wood used for the entire kitchen cabinets and drawers is really pretty. I think that this color is similar to maple – a hint of red and brown paired together. The stools used here is something you can easily pick in the home depot closest to you.
11. Lexington Residence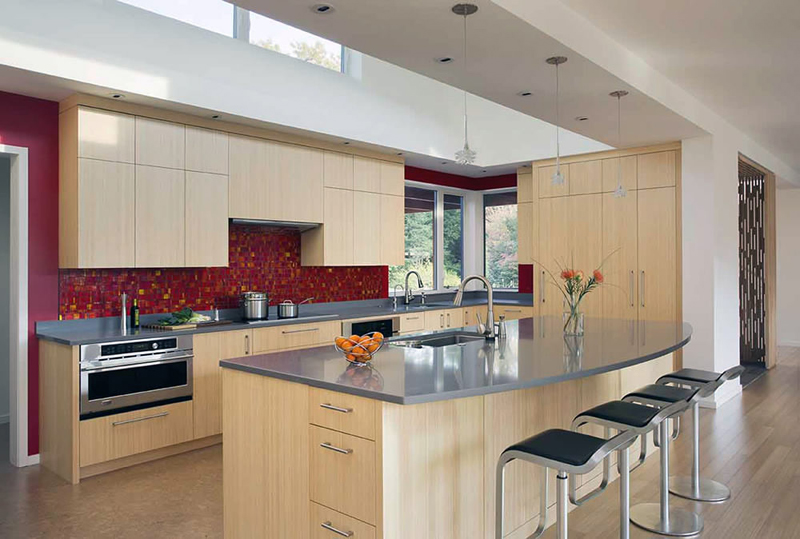 Here is a lighter look as to how the previous kitchen could actually look like if it had a different colored material for the wood works. The counters are almost similar with the previous one – only lighter; even the kitchen stools are the same! What a stroke of luck!
12. Luxury House on Wentworth Estate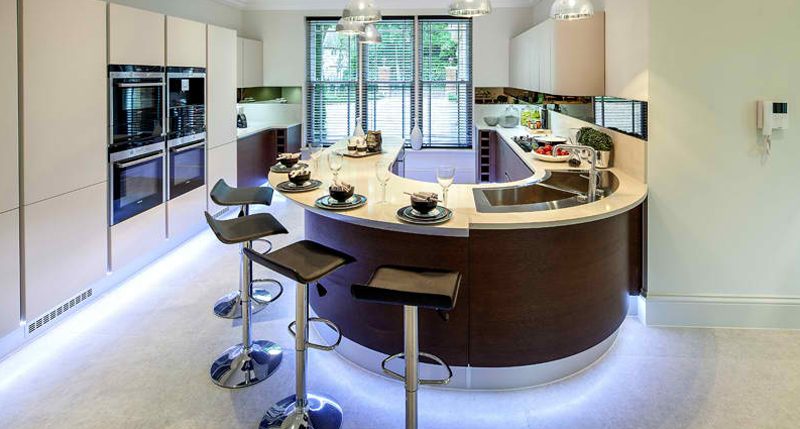 A beautiful kitchen design from Lida Cucina! This type of modular kitchen is created and ideal for kitchen that has minimal space. The color of this modular kitchen is just perfect for the entire look of this kitchen. I think this is something you'd want for your kitchen too!
13. Modern Edge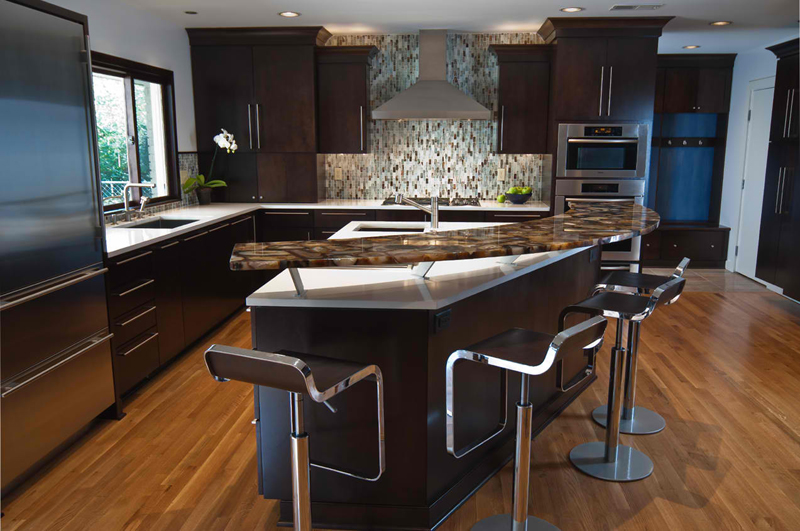 Here is a cool way to create a bar for your kitchen island – raise it with stilts that could hold both the counter and the things you put on it. The detail on the counter somehow resemble that of a leopard print and I think it's perfect!
14. Mountain Bliss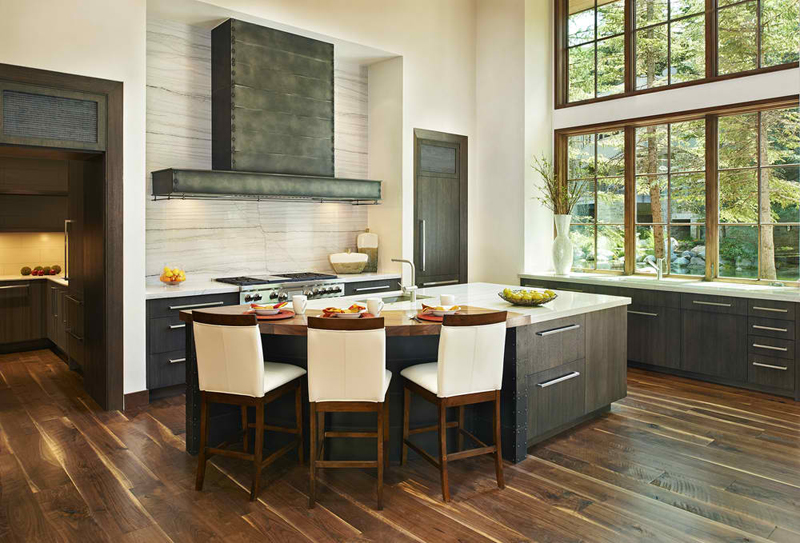 I love it when designers combine materials – like in this case, the kitchen island has wood for the body (because of the cabinets and drawers) and the counter that they used is granite – then they connected a curved piece of slab to serve as a bar for this kitchen. What do you think of that?
15. Old Victoria Mill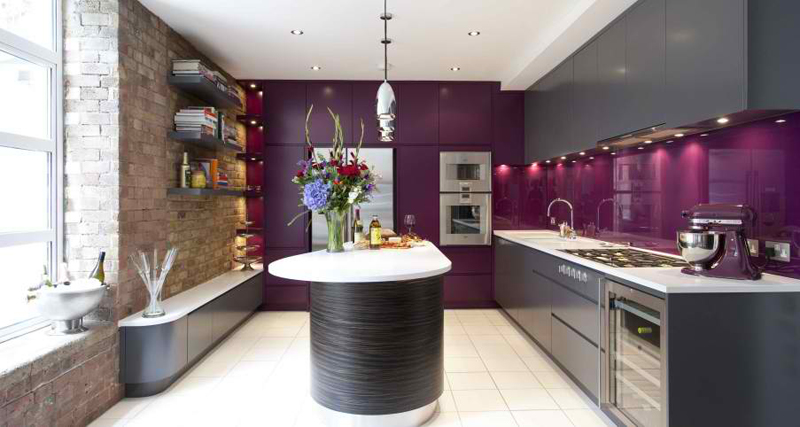 This kitchen sure looks stunning in purple! We all know that purple is pretty much the color associated to royalty and I think this place is one. I love the black and purple combination and I think you do too!
16. Organic West Coast Fusion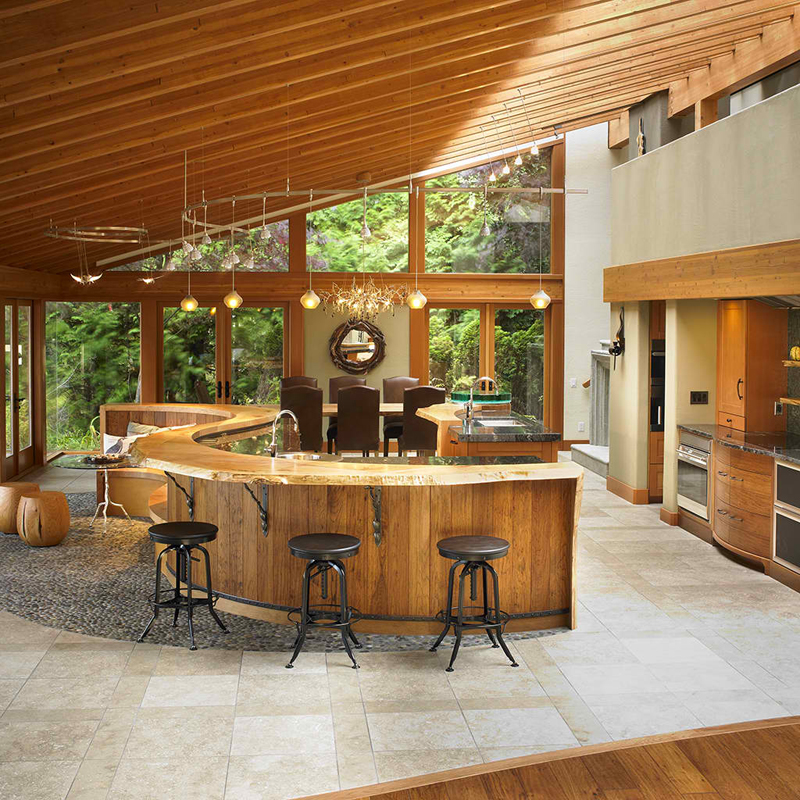 What about that! A very long kitchen bar! It connects the kitchen bar that has chairs in front of it and a nice seating area ideal for small talks and tea! Plus if you are a lot in the family – one can occupy a certain area in here and another one occupies another.
17. Sweeping Statement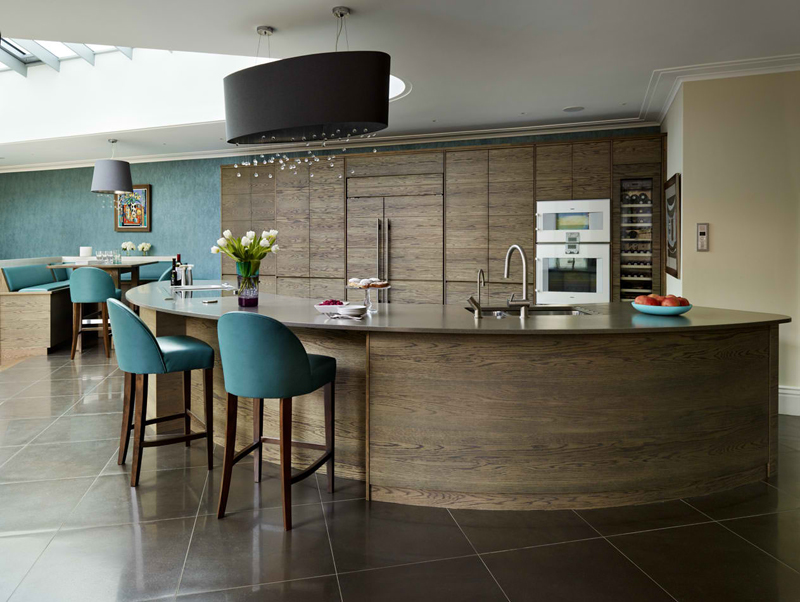 I love how large this entire space is. In most residential spaces I've seen, kitchen bars are not as large or long as this one. Well, the more, the merrier, right? The color of the kitchen stools matches those of the dining set. I love the color of these chairs and the pendant light too!
18. Time for a Change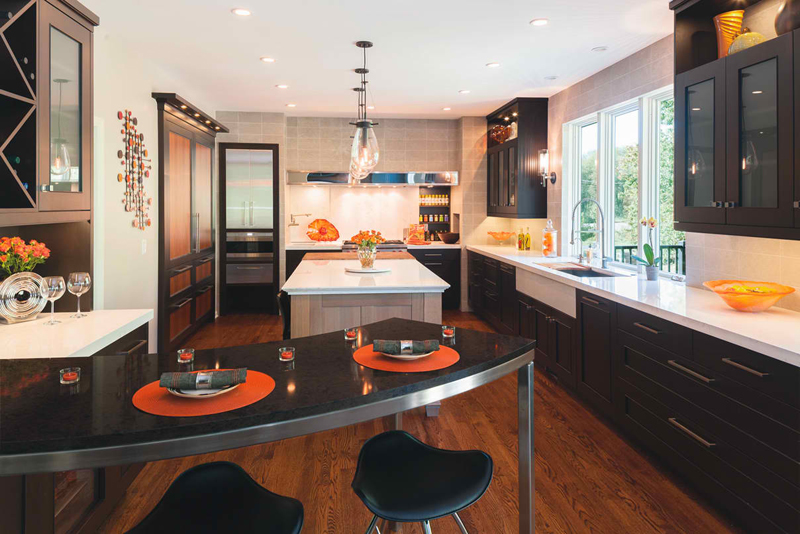 The black kitchen bar in here pretty much looks like a raised table – but since it connects with the counters on the side, I think it makes more sense. I think it's nice how it breaks the space in here and how the black and white combination looks real good in here.
19. Tomba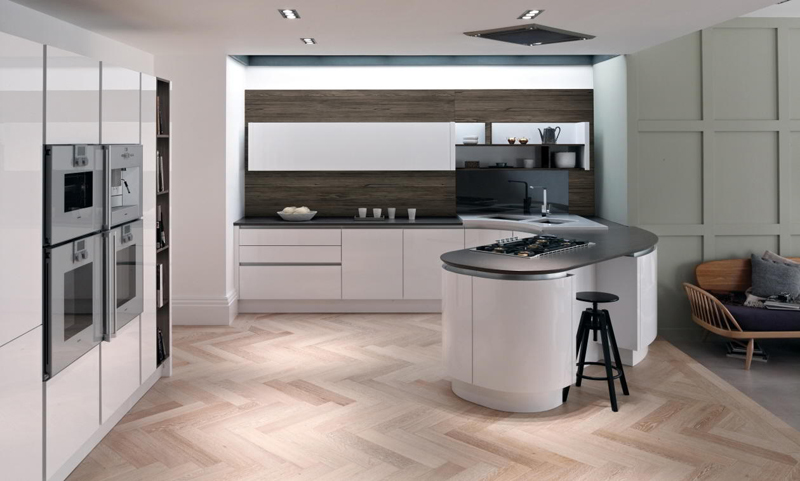 What a beautiful to be in! To be able to actually eat and drink in here would be the best ideal all week. The design of this kitchen is something so beautiful, I think that cooking or baking would be something anyone would be doing or learning to do because they'd want to stay in the kitchen longer than usual.
20. Wandsworth Home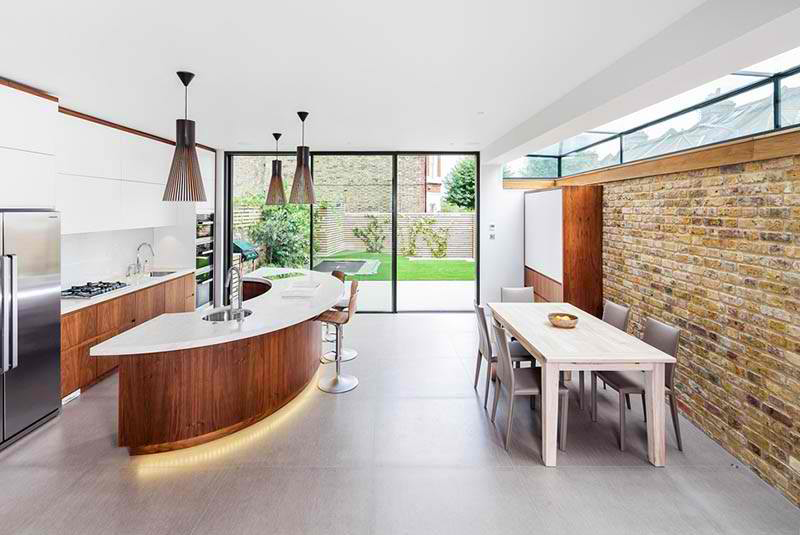 Last but definitely not the least, is this lovely Wandsworth home from Inspired Dwellings. I wanted to really include this space because of how nice the kitchen bar is and how neat the accent brick wall on the opposite side is! It sure is captivating to say the least!
If you have seen the list we have created a while back, the 20 Modern and Functional Kitchen Bar Designs, I think that you'd find this list of 20 Beautiful Curved Kitchen Bars as charming and interesting. They both have similar stunning kitchens that are both great inspiration for those designs you want to do in your own homes.