Before and After: A Horse Stable is Transformed into a Home
Check out how a horse stable is turned into a studio and a guest house!
It is news for us when we hear about spaces that are transformed to a better dwelling. We have seen factories, barns, schools, offices and others that were turned into homes and apparently, they all look impressive. This actually makes us realize that we can really change a space into whatever we want it to be as long as we have the budget and the strong willpower to achieve the transformation! Today, we are going to show you another space that is transformed from being a horse barn to a beautiful modern dwelling.
Yes, we really don't often see stables that are turned into homes or studio spaces but that are what we will see in this feature today. A horse stable located in Kirkland, Washington was transformed into a home. Before, it was just a detached stable and garage which was no longer in use. It was transformed into a studio space with a kitchen and bedroom. This space is designed by SHED Architecture & Design and they made sure that everything will be placed well inside the home. The homeowner is a painter and a digital designer who wanted to enclose and convert the stable into a flexible studio space for working and painting and also turn it into a guest space for visiting family. Scroll down and take a look at the before and after images of the horse stable.
Location: Kirkland, Washington
Designer: SHED Architecture & Design
Style: Modern
Number of Levels: One-storey
Unique feature: Once a horse stable, it was transformed into a home that can be used as a studio and a guest space for visitors.
Similar House: Before and After: A Loft Apartment Transformation in San Francisco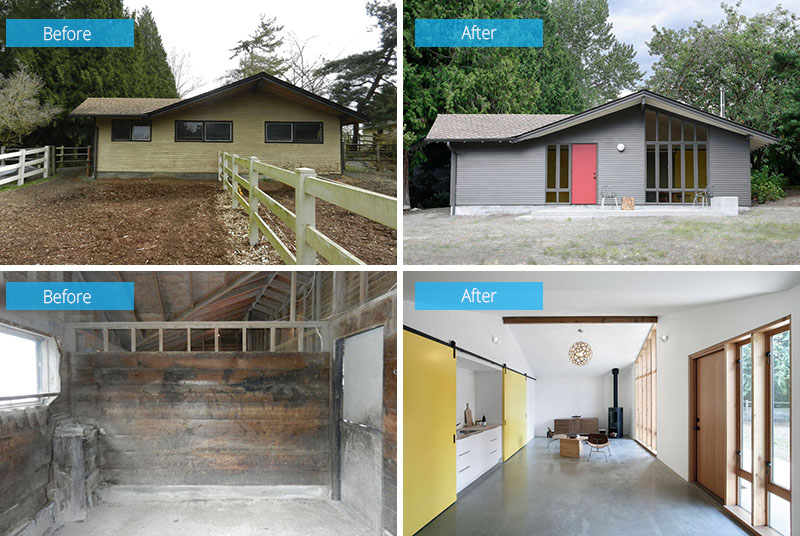 Here is a look at the stable before and after the transformation. Before, it really has a look of a horse stable but it was updated and renovated turning the space into something beautiful, usable and functional.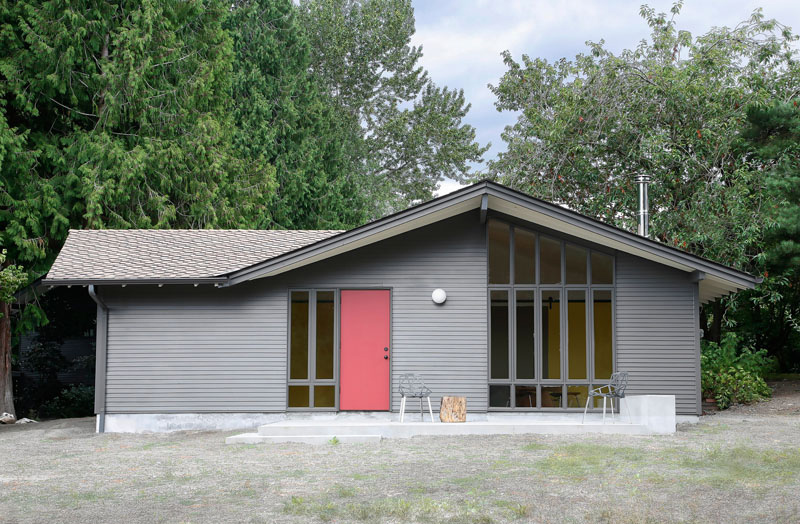 This is the facade of the studio space with gray wooden sidings. What made it even more modern in design are the windows and that red door. But I guess, they can still do better on this exterior.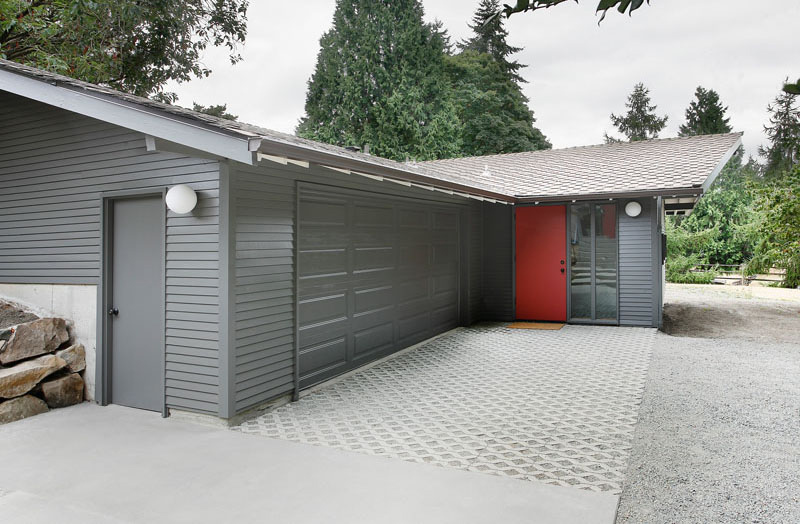 Seen here is the other sides of the studio which area all painted in gray. Like the facade, there is also a red door on one side and a tall floor to ceiling window. If I am not mistaken, maybe this area has a garage.
Read Also: Before and After Transformation of a 1968 Bland Looking House in Connecticut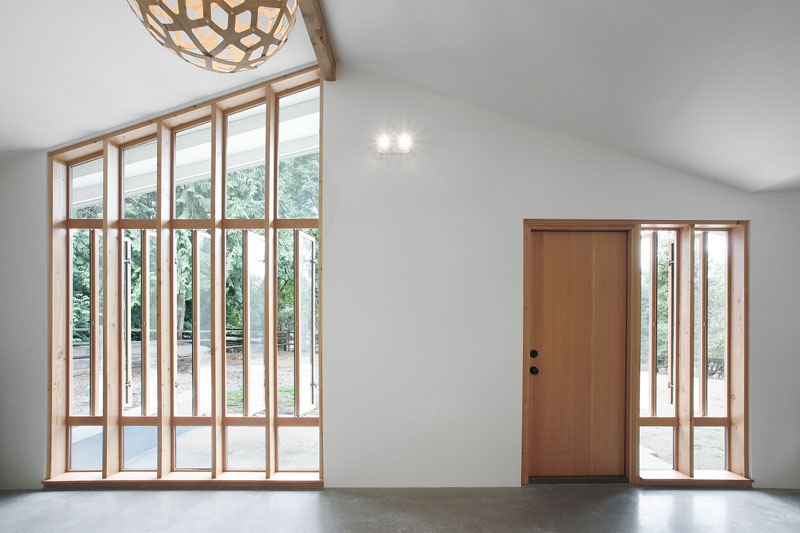 This is what you can see inside with white walls and ceiling, touches of wood, concrete floors and a pop of yellow make up the interior color palette. It is also nice that the windows are designed this way since it also adds beauty to the interior.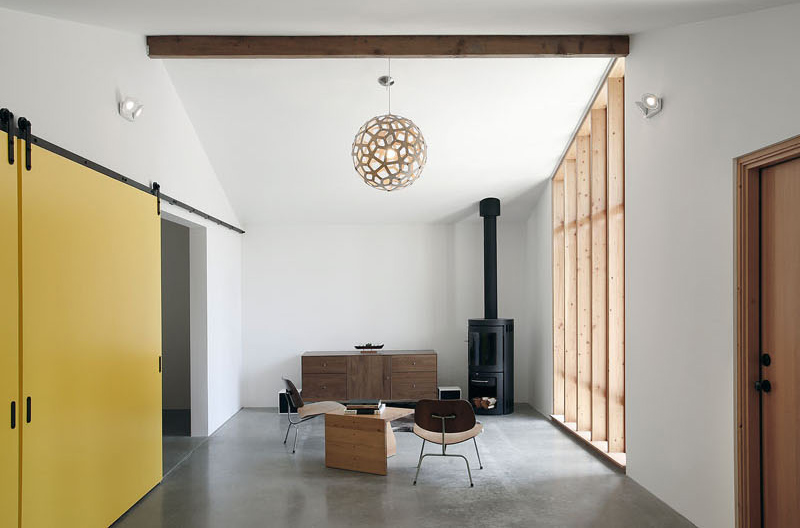 The main studio area has a small kitchen and a sitting room with fireplace. The yellow sliding barn doors run the length of the space, allowing sections to be closed off when required.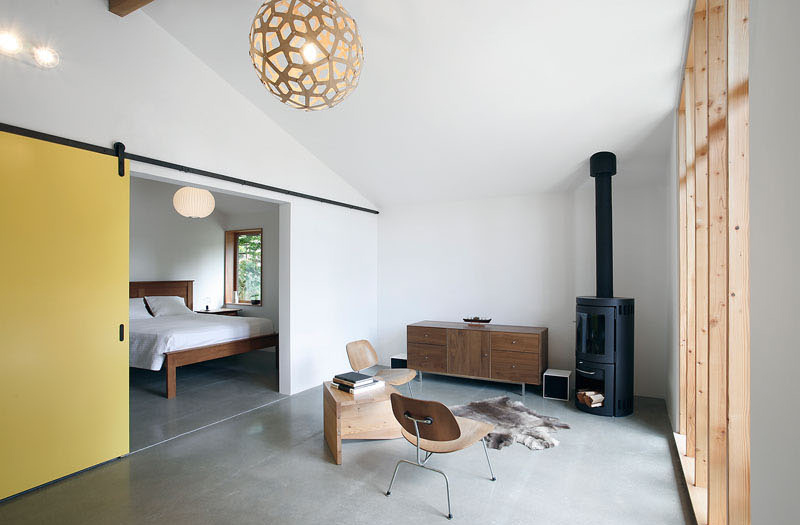 Just off the living area is the bedroom which can be hidden using the yellow barn door. Well, using a barn door is a good idea and seems to give the space a "horse stable" touch in it, reminding the owners of the area's origin.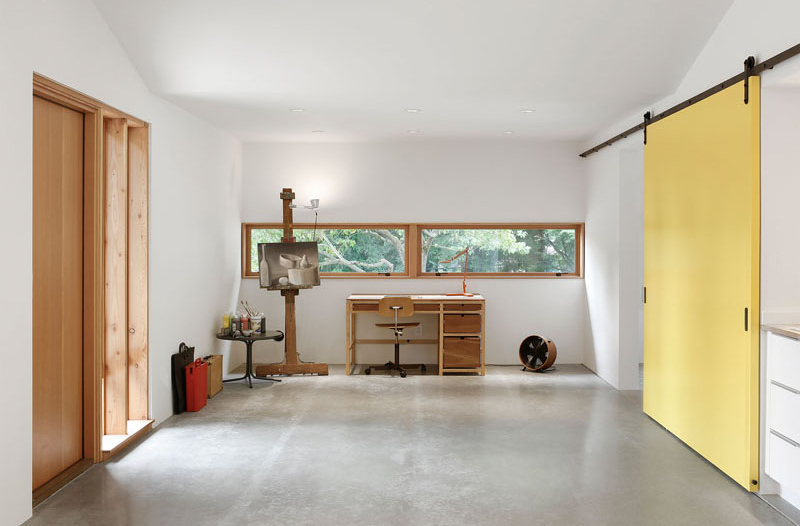 You can see here the studio area where the owner does his painting and others works since the home office table is also located there. It would really be nice to have a space like this merely intended for working.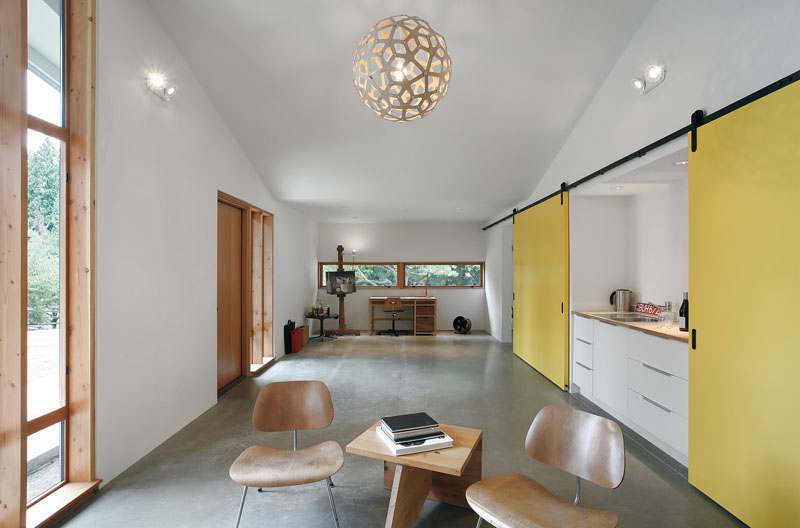 At the other end of the space is the artist studio area, with windows that provide views of the surrounding nature. You can see how the sliding barn doors continue to hide the mudroom while adding beauty to the space with its yellow paint for the doors.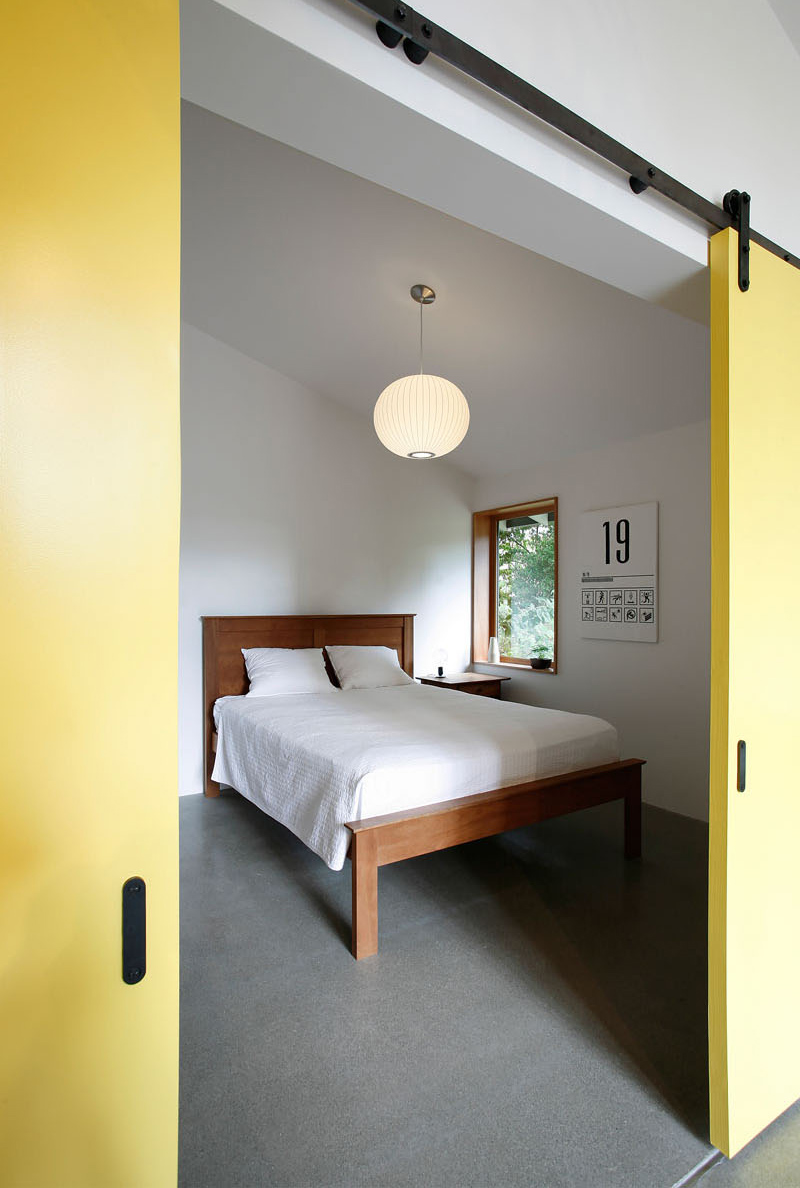 This is the bedroom in the studio which has a simple design using a wooden bed with white bed covers. One can also take a look at the beauty of the outdoor area through the glass window just near the bed.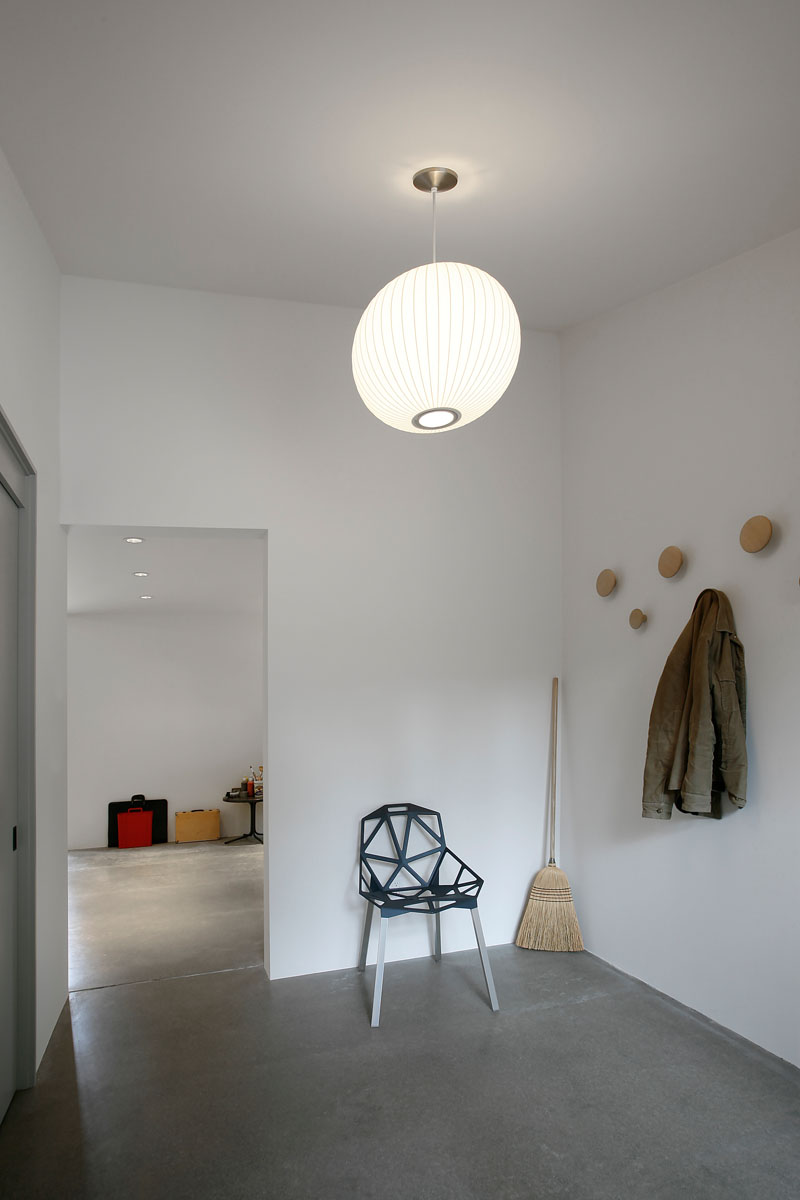 Located just off the studio area is the mudroom. It is interesting to noted that the hooks were coats and other stuffs can be hanged are shaped in circles for a modern touch.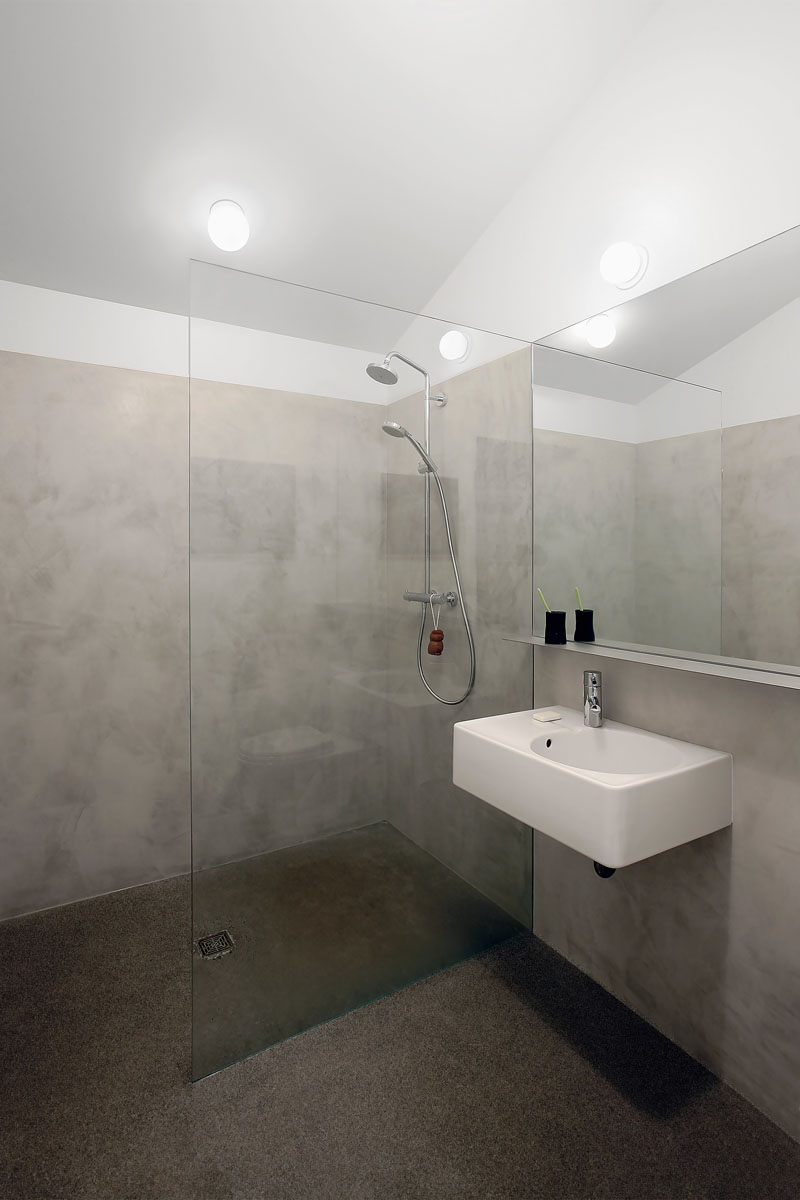 And this is the bathroom which is apparently small but it has its own shower area that is enclosed in glass to separate it from the toilet and sink.
Well, we did not expect to see this! Who would have thought that a horse stable can actually turn into a house? This space is designed by SHED Architecture & Design and the result of the renovation is indeed impressive. Don't worry, there is no more smell of horse manure in here. The way I see it, the place is well-designed with a modern touch and yes, it does look totally neat. Guess won't even expect that this is actually a horse stable but to be honest, I think they can still do better for the exterior to make it look a lot more unique, attractive and extraordinary.