An Ageless Modern Architectural Design of 65BTP House in Singapore
Would you believe that outdoor landscape has to do with the total design of your homes? Yes, having a well-designed outdoor would make experience a sanctuary which is very cozy and comfortable. A house surrounded with trees or designed tropically creates a pleasing atmosphere and can bring a positive vibe all throughout the living space. Moreover, a tree provides a healthy environment and gives us a nature ambience. Let us see how would it look like and what will be the feeling if your house presents an extensive area of garden filled with trees.
The 65BTP house is found in a good-looking state of Singapore. This contemporary masterwork covers an area of 15,575 square feet and exemplifies a nature-loving ambience wherein it is surrounded by an extensive garden that features an old pre-war rain tree. The house suggests a tight connection to the striking al fresco by means of utilizing a series of floor-to-ceiling glass windows. Along the entrance is an outsized wall of granite that features vertical holes which provides a foretaste into the garden without revealing its overall magnificence. The main living space permits a faultless connection to the outdoor space like the garden and the lap pool. This floor is then attached to the second floor by a striking design of a vertical staircase. Living spaces of this house offers an enormous option of functional activities and also its living arrangement is private and pleasant.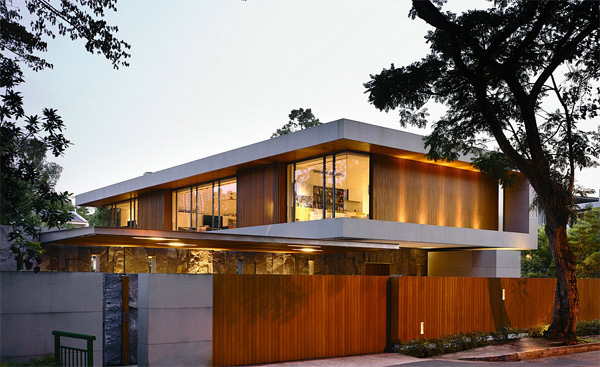 This house outlines a clean and detailed geometric feature which looks very attractive.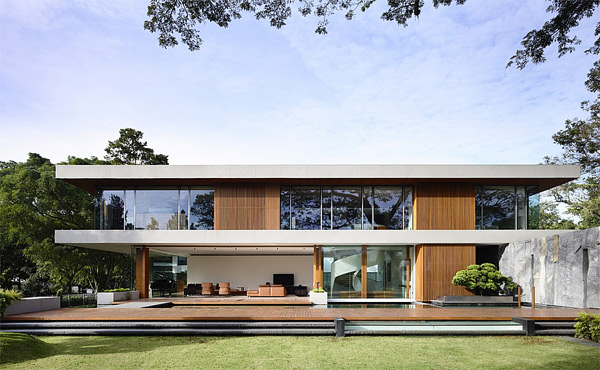 To fully experience the view, installing a floor-to-ceiling transparent wall is a brilliant idea.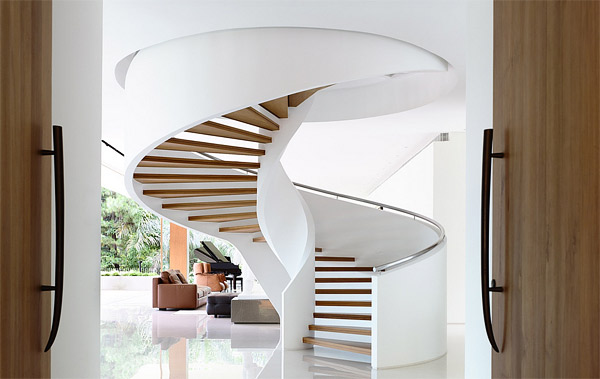 This stunning spiral staircase is the one that welcomes you when you open the entrance door.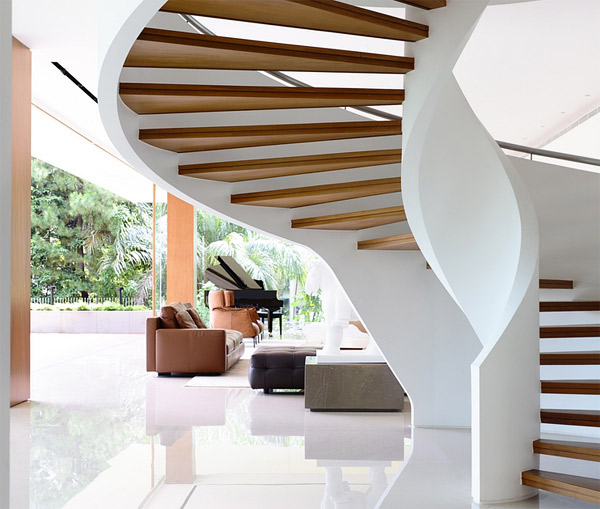 With a closer look, the staircase is made up of a concrete wall or rail incorporated with wooden steps.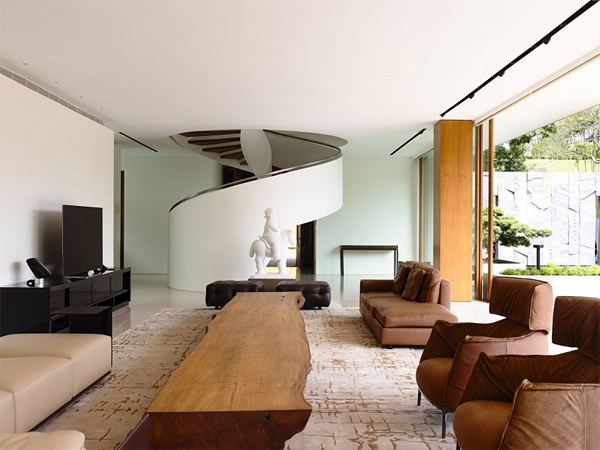 The living room gets a rustic look with the long wooden table and the chairs that match appropriately.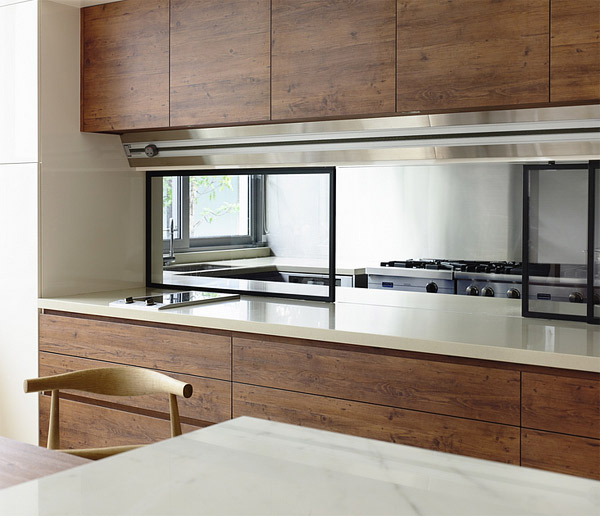 Wooden walls and the idea of sliding windows separate the kitchen from the dining area.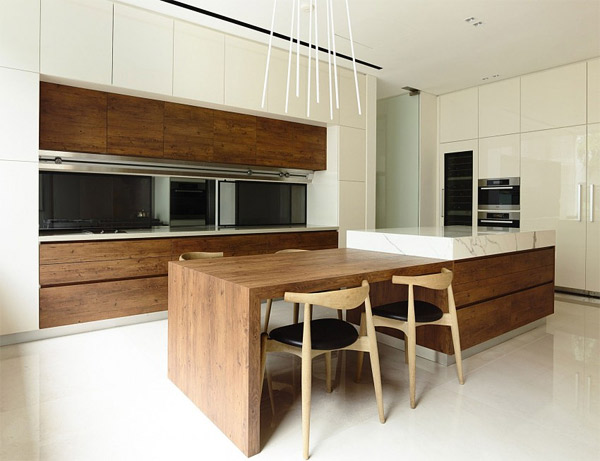 The island counter table serves as the dining area. The wooden table has a marble countertop.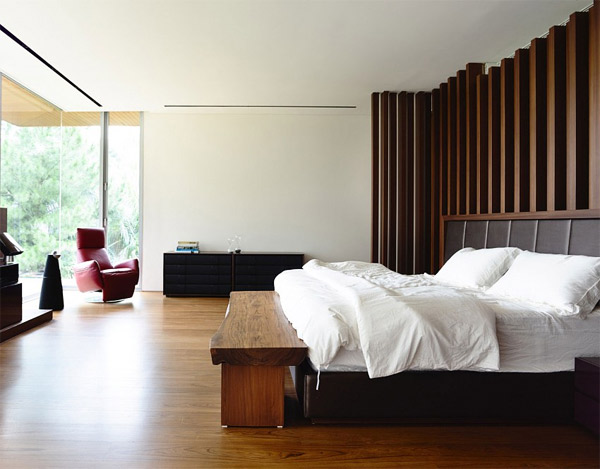 This is a very spacious master bedroom, designed with woods from hard to softer shades giving a clean look.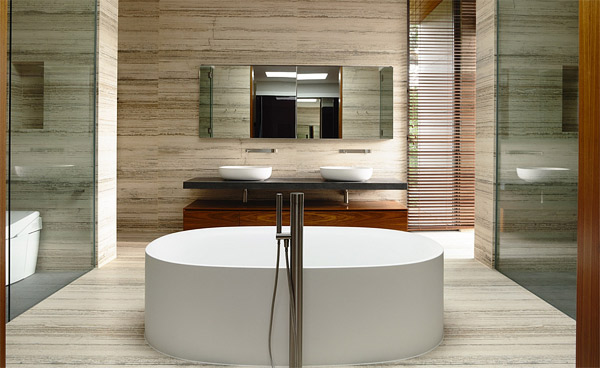 The bathroom got a luxurious appeal! The bathroom sinks and the bathtub is very modern in style.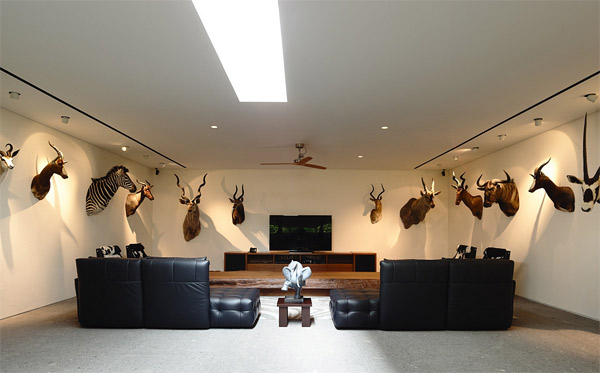 Welcome to the theater room! It feels like you're inside a zoo with the different head display of animals.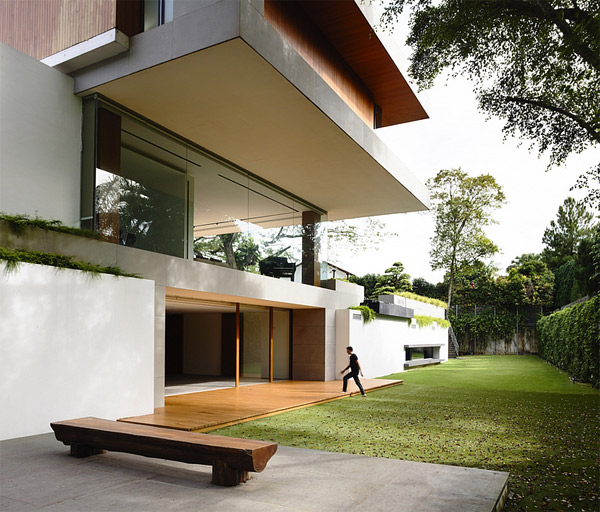 The backyard got a tropical landscape which is surrounded with green plants and grasses.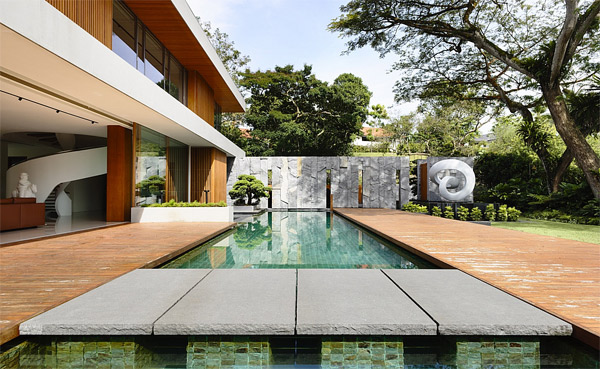 This lap pool is very long, it seems like everyone's got to enjoy their swimming sessions here.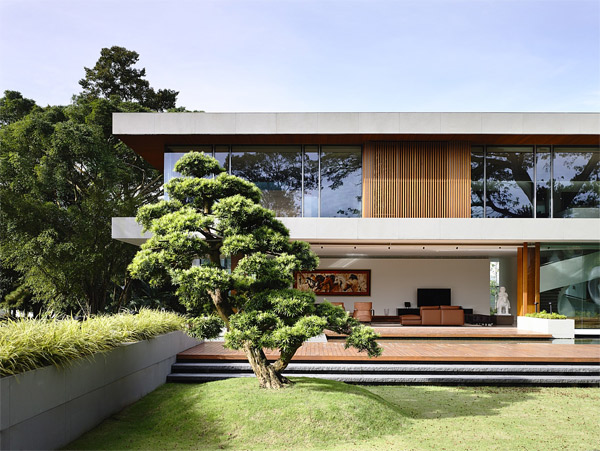 This tree is positioned perfectly in a courtyard with a very clean and organized landscape.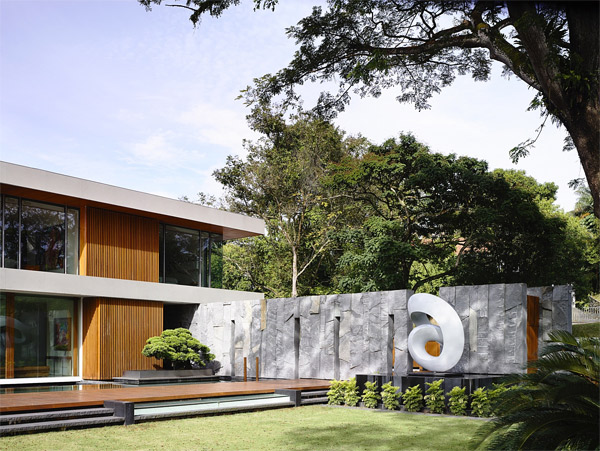 In the garden, you will see beautifully designed sculptures and other landscape structures.
This contemporary house was outlined and completed in 2013 by ONG&ONG Pte Ltd. They see to it that the rain tree can be noticed even from the basement through the use of skylights that guarantees an immense flow of natural light. Even if you just get to see this house through pictures, it clearly shows an invigorating atmosphere.