The Tire Shop: A Living and Working Space in Canada
Not all homes are actually dwellings from the start. Some are factories, shops, warehouses and others. This is actually an intelligent and creative leap because instead of totally demolishing a structure, its interior is just revised to fit for a home. This will also mean that materials and a huge amount of money is saved. Why turn down a structure when it is still usable and structurally stable? That is why some homes use an existing building whatever is its original usage is just like this home we are going to show you today. This house also showcase a fusion of working and living too. Yes, it is possible!
In Verdun, Quebec, Canada is a home and working space in one that was once a tire shop. Thus it is called that way because of the previous function of the space. But instead of grease and all the tire shop stuffs, what you will see in this home are beautiful and artistic decors and furnishings that fills the space. The functions are fitted for a designers working and living needs. It even houses a La Facade Art + Architecture gallery where you can see an exhibition of contemporary art and experimental architecture.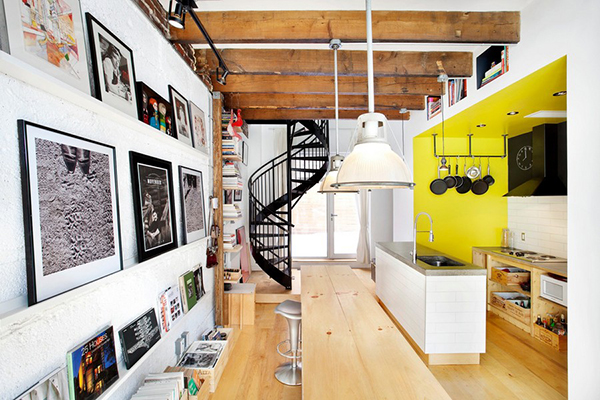 Looking at this interior made me wonder if this is really a space for working or for living because of the functions of the area.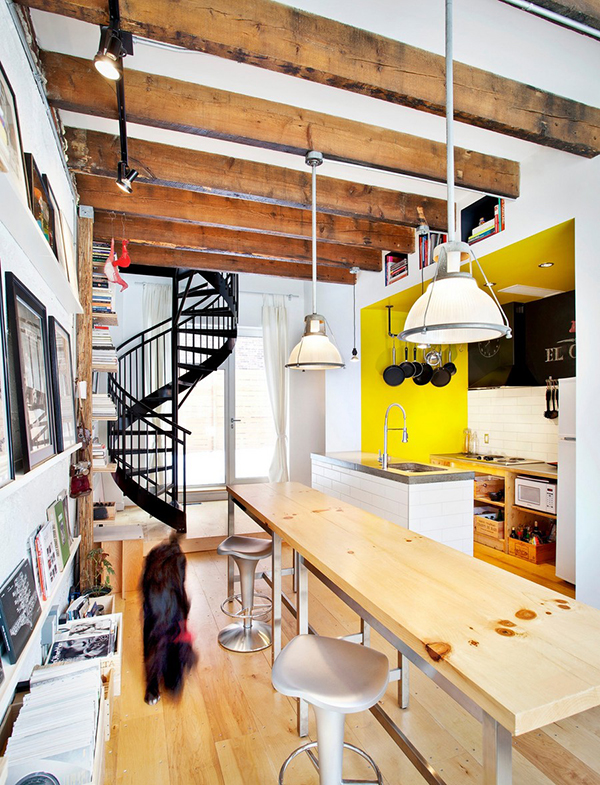 Then I realized it is for both. It sure is a stunning home and working area in one with lively yellow color on the kitchen area.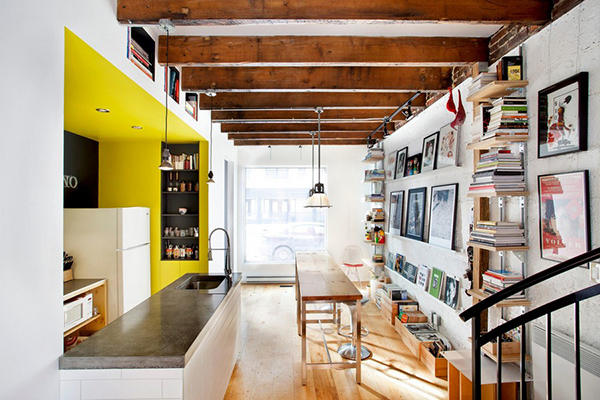 I like how they utilized the space with wall shelves and other displays too.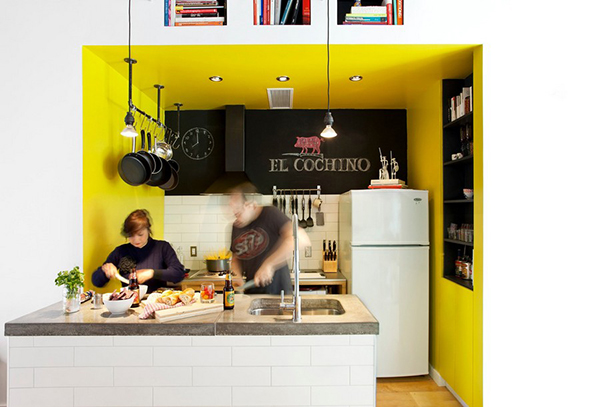 The kitchen is small and compact but is very functional. Like how they designed it too.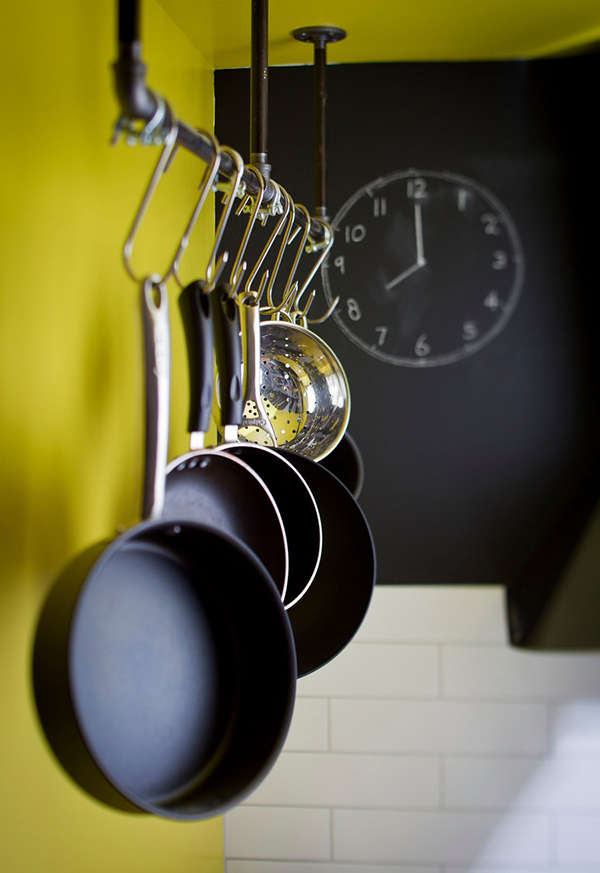 One secret for dwelling in a small space is proper storage just like how they stored these pans.
Even if the space is small, it is full of beautiful decors and colors that will capture our vision.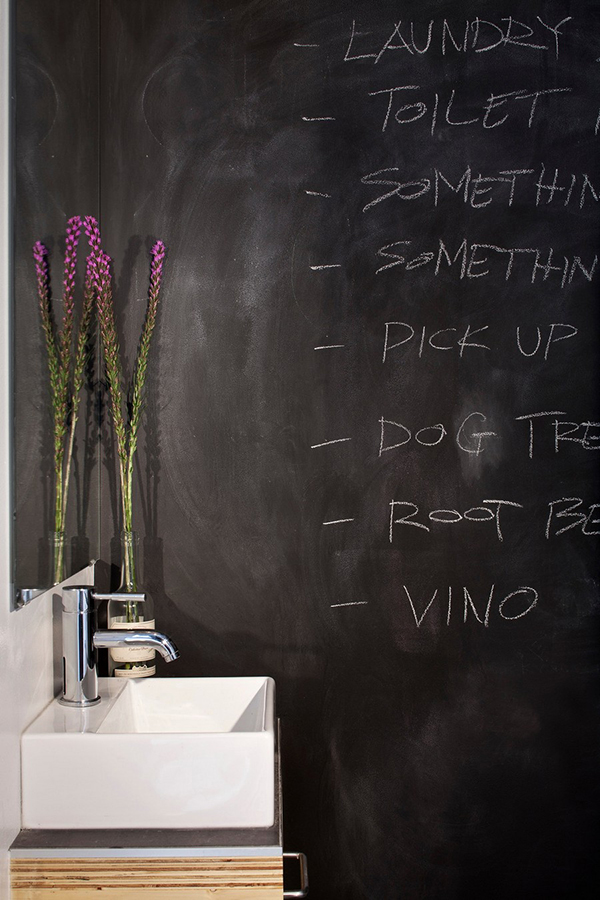 Blackboard paint was used for this side of the kitchen where they can also write whatever they need to be reminded of.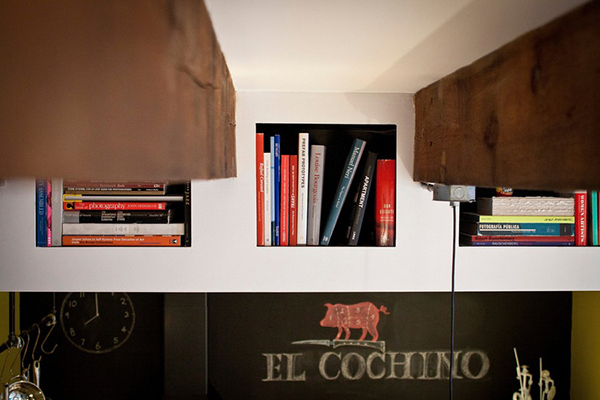 Above the kitchen are voids that also serve as a storage for books.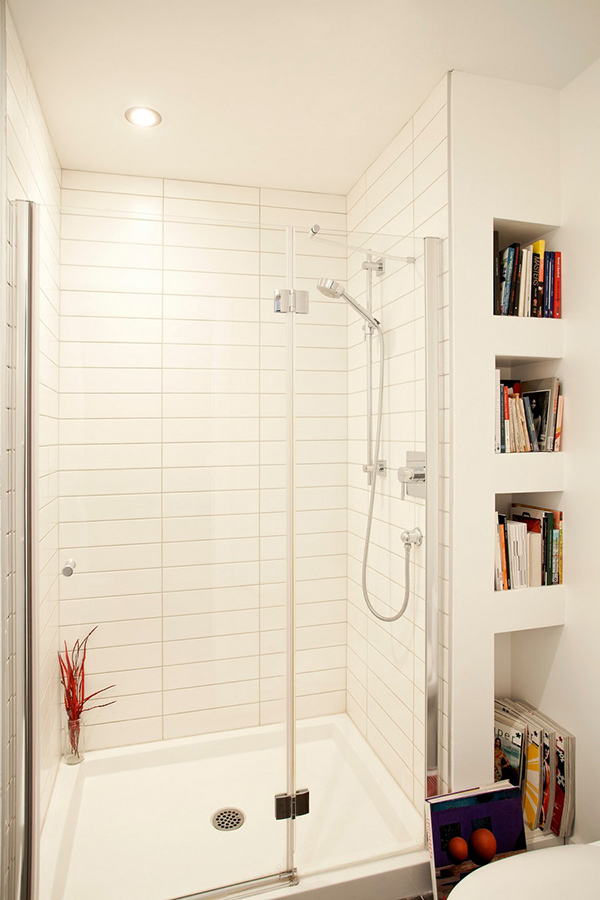 This is a small shower area in white tiles. The sides were utilized for storing books too.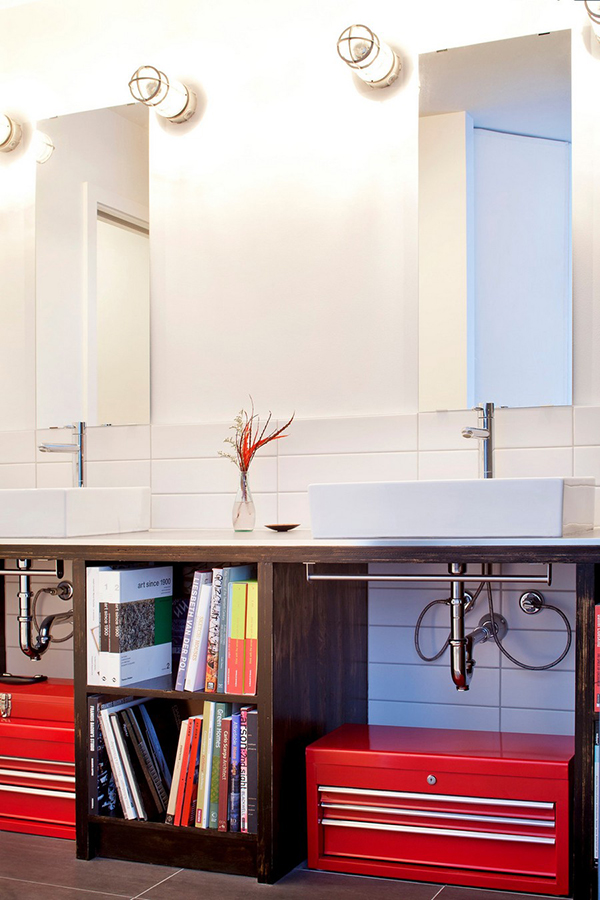 Now look at the vanity area. Yes, more books below it too and some steel storage in red were placed under it. No space in this home is ever wasted!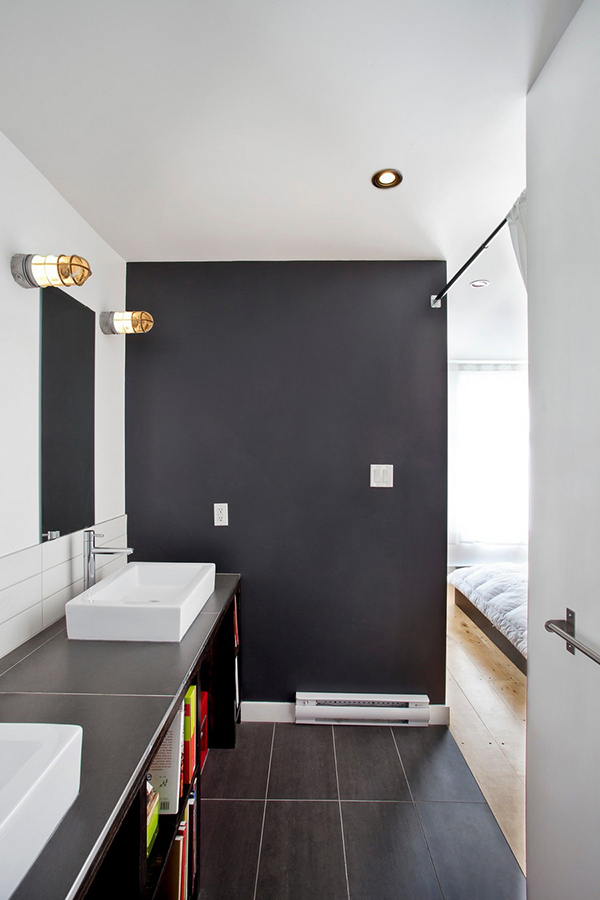 I can tell that this one is from the upper level with a master bedroom.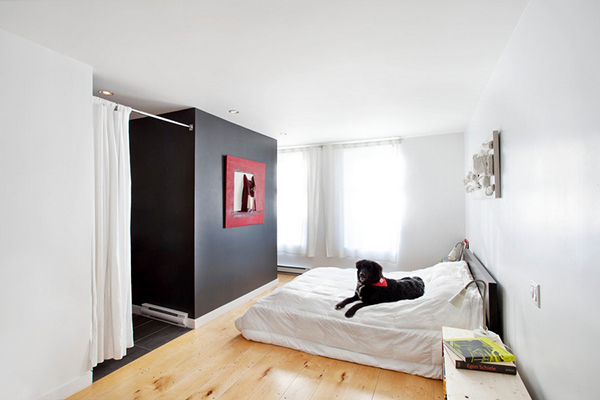 The bathroom that we save above an in the previous images can be accessed through this master bedroom with wooden flooring.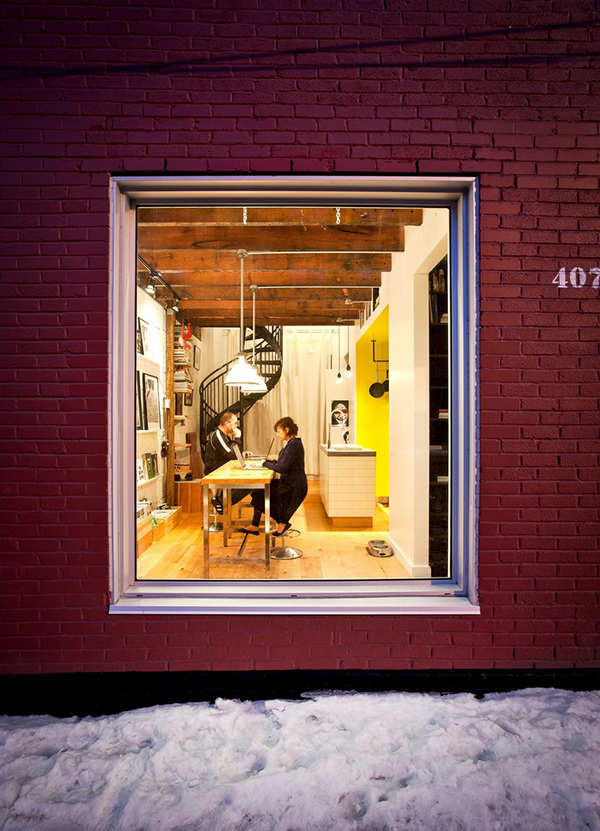 You can see that the dining area becomes a working area too. When work is done, laptops are kept and food are now welcome on the table.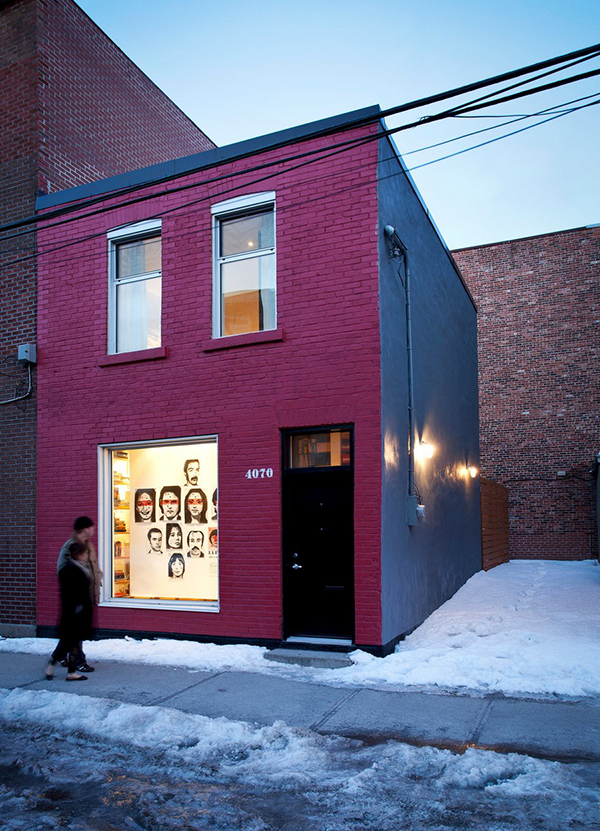 This is how the exterior of the Tire Shop looks like. A two story 800 square feet space that has amazing functions in it!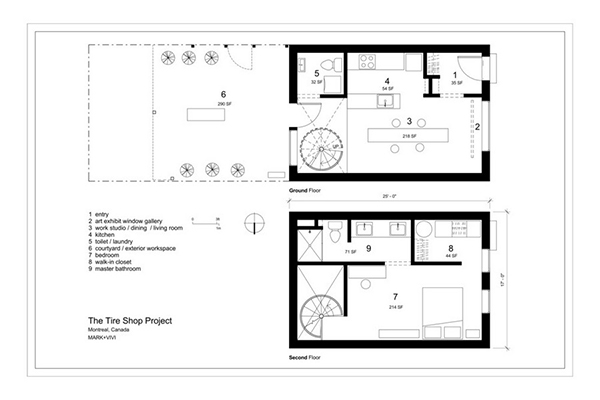 While this is the layout of the house. Good thing they showed this to us. We can definitely get ideas from this one.
Due to the compact size of the home, only a small amount of heat and cool energy is needed. It utilized light extensively with large windows. This home designed by Mark+Vivi is intended as a creative hub. They owners wanted to have a home which also serves as a catalyst for the design community. This sure is a small dwelling but it can do a lot for the people around them! Have you thought of having a place for both living and working?