A Remarkable Interior Remodel of a House in Plateau Mont Royal
Renovations are very common and these are done due to varying reasons. It is either the owners need a more updated and comfortable place to live in, they acquire an old home and want to make it look new or their needs have changed overtime. But whatever the reasons are, a renovation could surely create a huge change to a home just like what you have seen in some remodels we have featured. Today, we are going to show you an interior remodel of a home that turned out pretty remarkable.
The project is a remodel of the third floor single family dwelling that was designed by L. McComber Architects, located in Plateau Mont-Royal, Montreal, Quebec, Canada. The existing building had multiple layers added to one another over time resulting into a compressed living space since 1880. Designers discovered that the current flat roof of the attic was built on top of a former sloped roof which resulted into a thickness of over five feet mixed in with layers of tar. They subtracted some areas and installed new joists creating an additional 5 feet of space for the ceiling area. It sure added height to the space. It is said that "the floor is organized around a small volume wrapped by hemlock shelves obtained through the careful deconstruction of the roof structure. The patina of the aged wood is preserved and highlighted by contrast as the surrounding are composed of abstract white surfaces. The shelves winding around the volume seem to protect a secret". Let us take a look at the house below.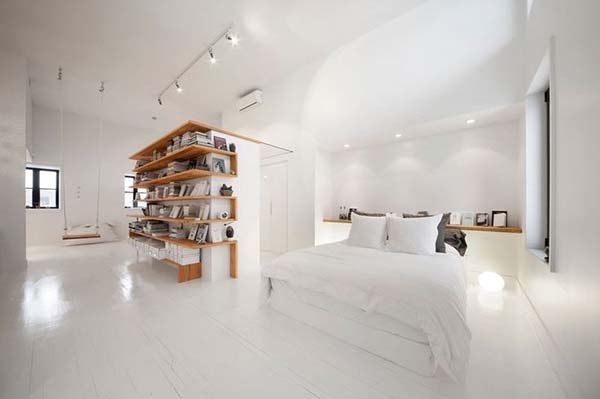 Yes, the interior has an open layout that looked even more spacious with the use of white.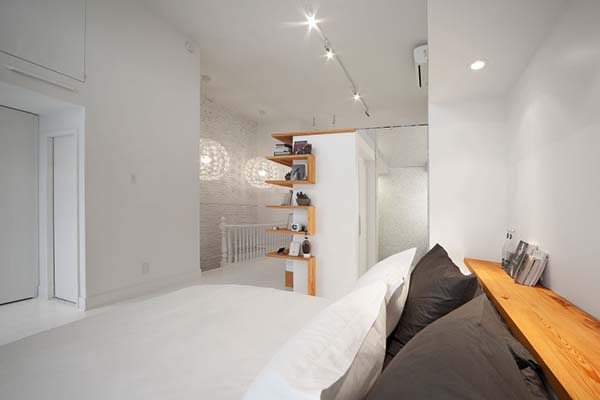 The bedroom can be immediately seen in the space.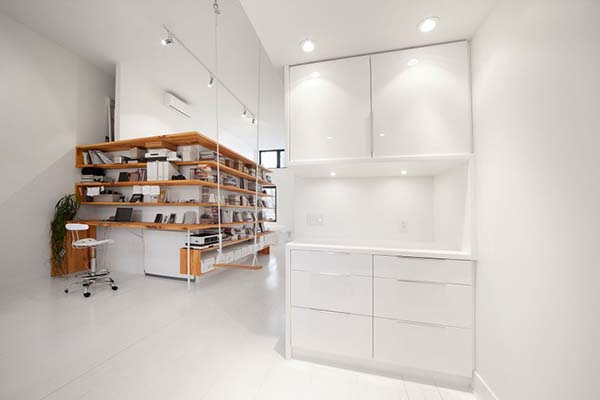 The shelves are one of the features of the house that will get your attention.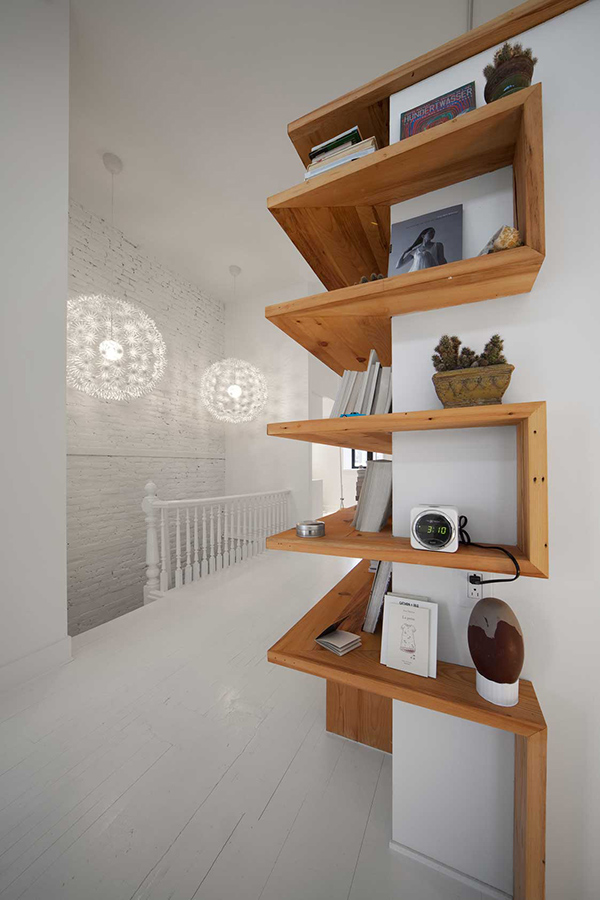 Using wood for the shelves highlight it from the white backdrop.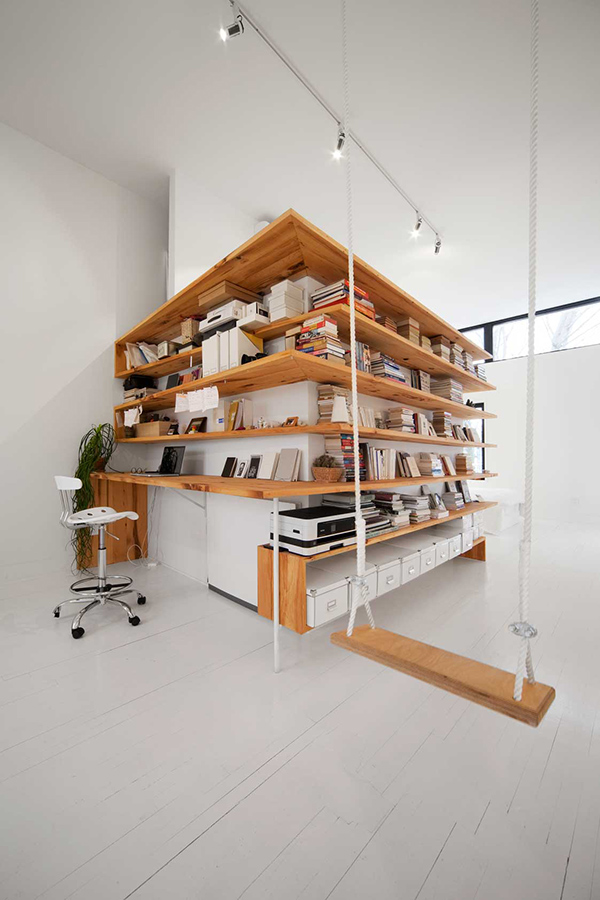 Aside from the shelves, this wooden swing is something I love giving the space a subtle childish touch.
Windows and doors are framed in black emphasizing it from the whiteness of the interior.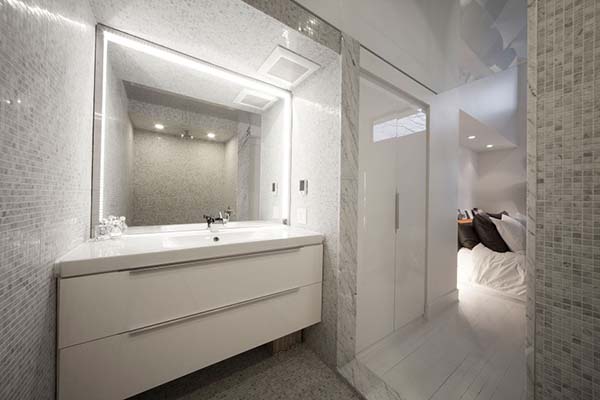 The bathroom also used the same color but added gray tiles for the walls and floors.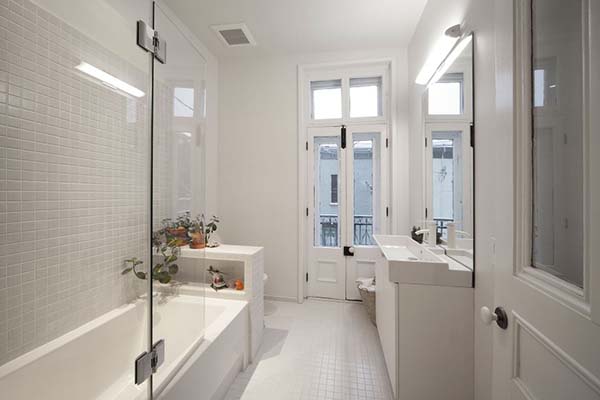 Another bathroom in the house that used glass for the bath tub.
The living area of the house with white sofa and lighting is revealed here.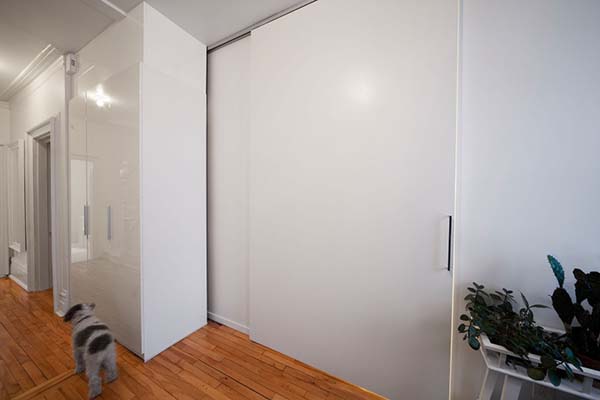 A pocket door opens to that area of the house. Everything is definitely white and wooden!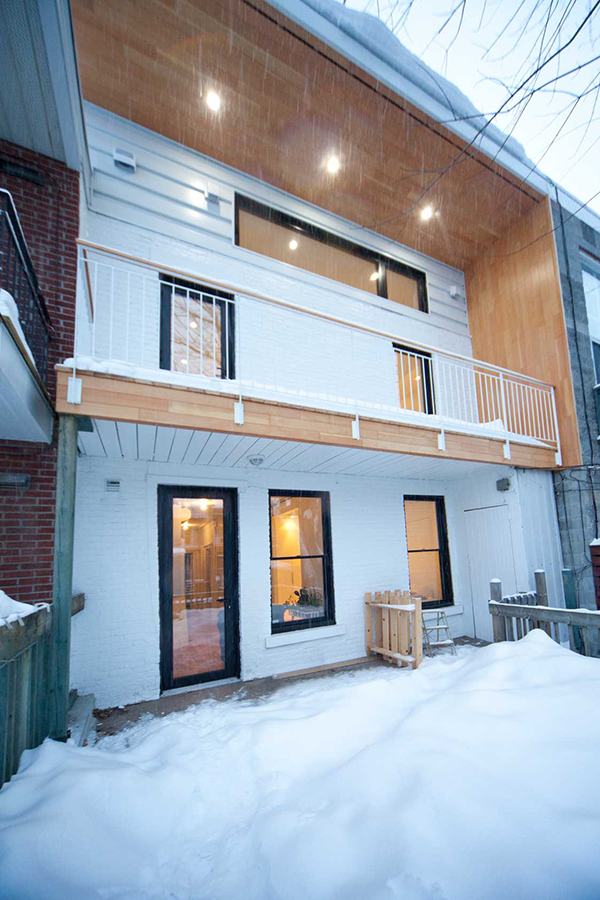 If ever you wonder, this is the exterior of the house with the same color scheme.
Lovely, right? I like the look of this home when it used white for the interior and wood for most of its furniture. I am pretty sure you found it pleasing too. It also appeared even cozier. This interior remodel is designed by Juliette Aux Combles who sure did an awesome job the way the home turned out. Agree?