Stunning Eclectic Residence in San Francisco, California
Nothing could beat a stunning and cozy interior. It makes one feel like going home all the time. With the different interior types that one can choose from, one might get confused on which one to apply for his own home. If that's the case, an eclectic space would be better since you can put in things that you like without worrying about that not fitting in to a certain theme.
We will feature a house with a beautiful interior located in San Francisco, California. The interior has a mid-century and eclectic design which doesn't fall behind the modern and contemporary trends. You will see what we mean once you take a look at the images below. After seeing it, you will surely give applause for Janel Holiday Interior Design for an impressive job!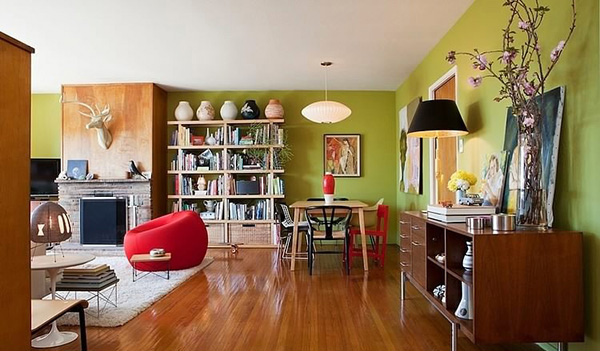 The interior of the house is inviting and warm with wooden elements everywhere.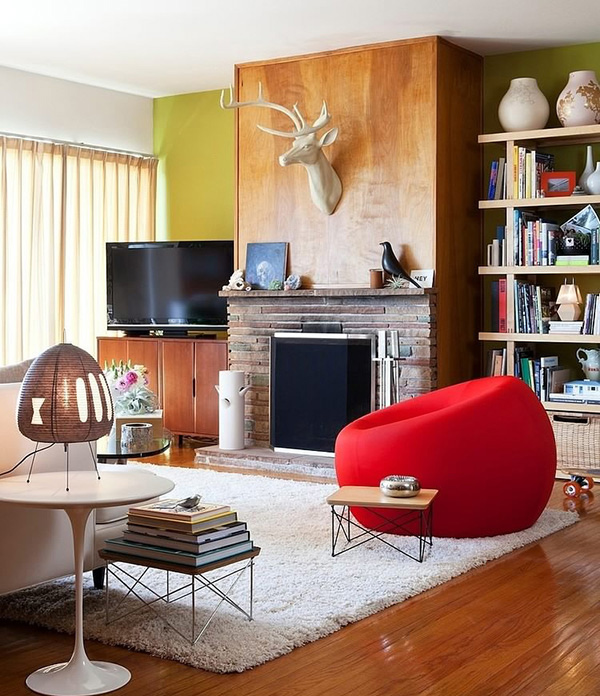 Adding a red chair gives this living area a bold accent. Note the animal decors that are in this space and the brick fireplace that wraps the area with nature's touch.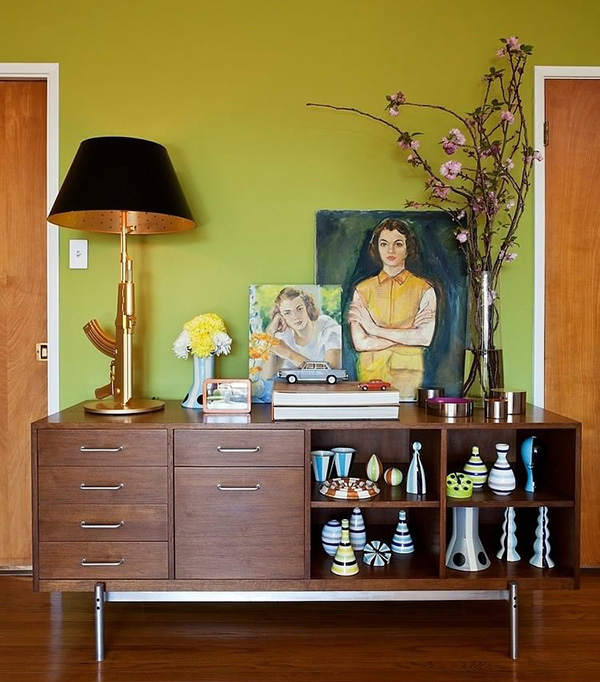 We could tell that the homeowner is an artist or an art lover because of the displays we can see here. Look at that table lamp, very unique isn't it?
You can catch different pops of colors in the space especially that from the shelves.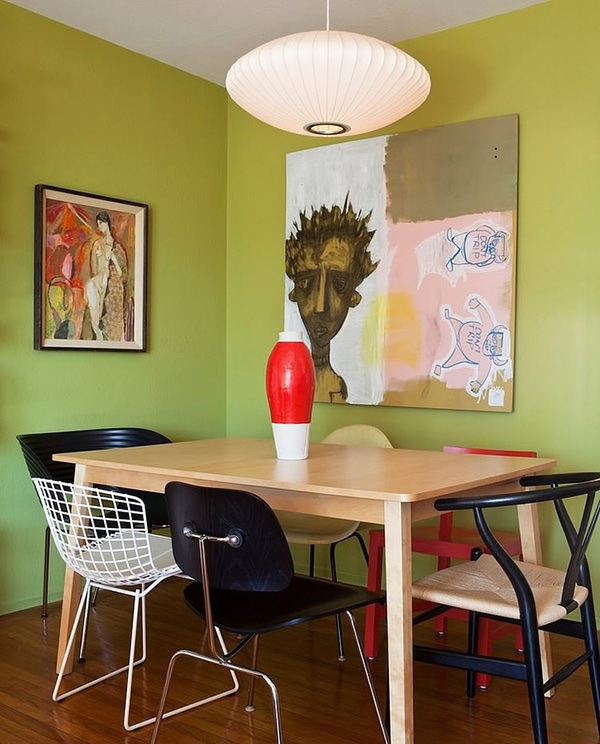 Adding mismatched chairs to the dining area is indeed an eclectic move!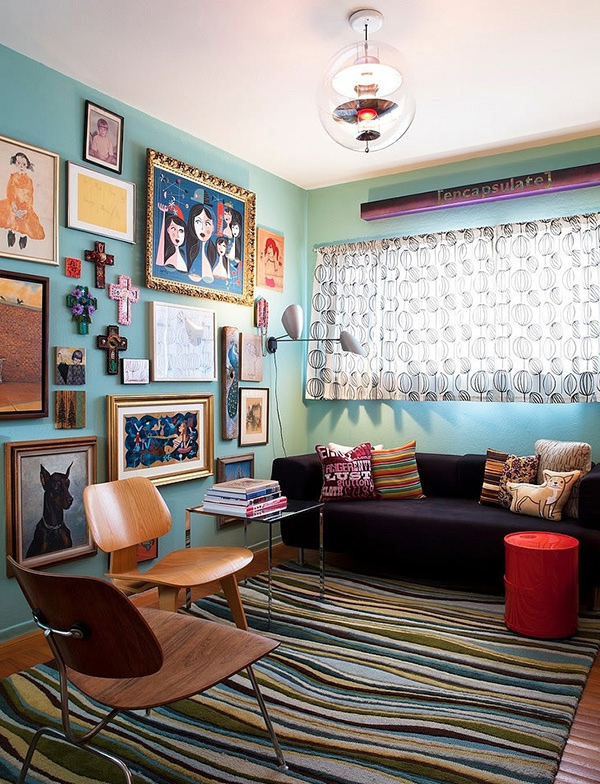 More wall arts are seen in this spot with an area rug that creates an illusion of depth.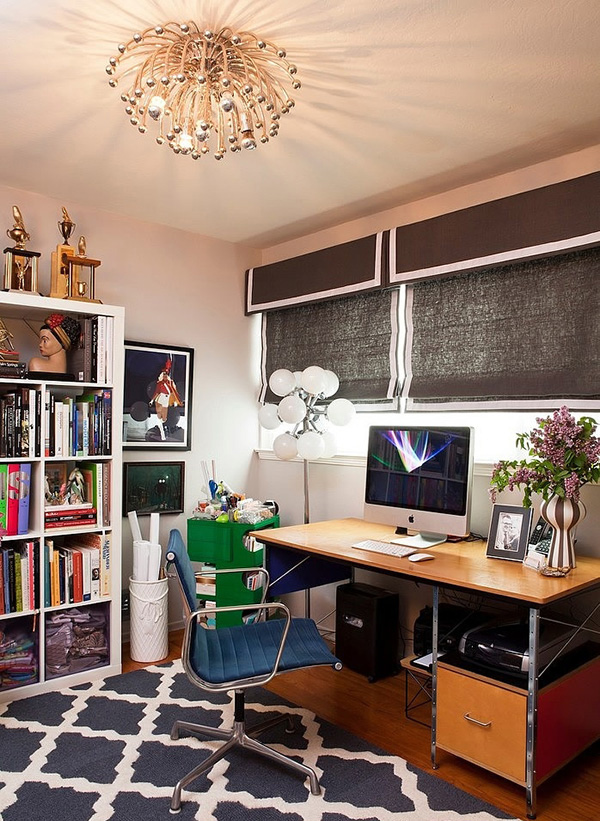 A working area that faces the window with shades and has a patterned carpet in blue.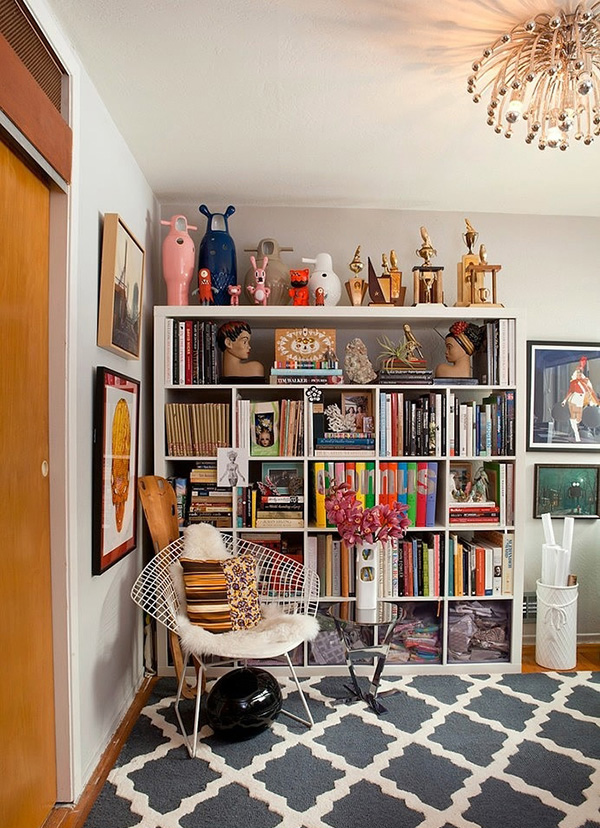 Well seeing all these stuff will make you think that the homeowner is indeed an ultimate collector! We love that chair which best fits for reading time.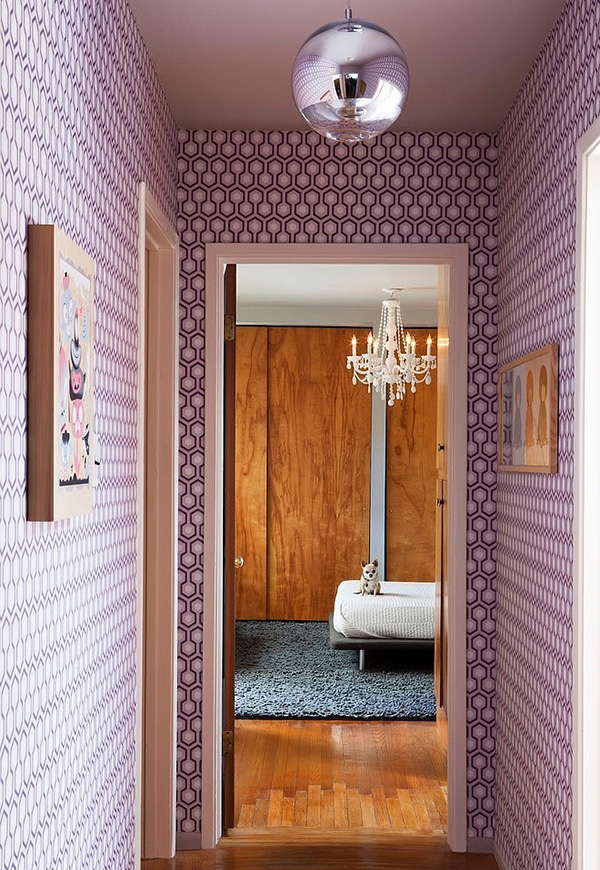 Violet patterns cover the wall of this hallway which is another great eclectic move.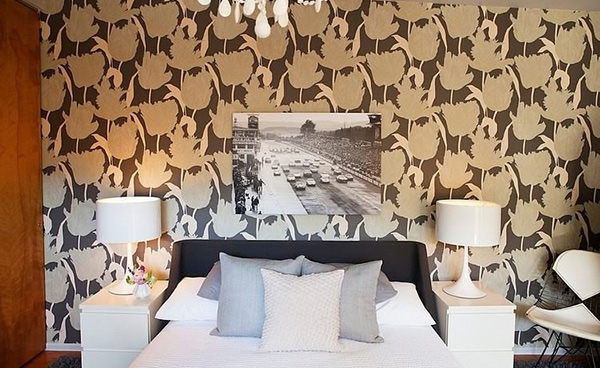 When we get to the bedroom, different wallpaper is used showing silhouettes of plants and flowers. The black and white wall art is a good choice for this wall.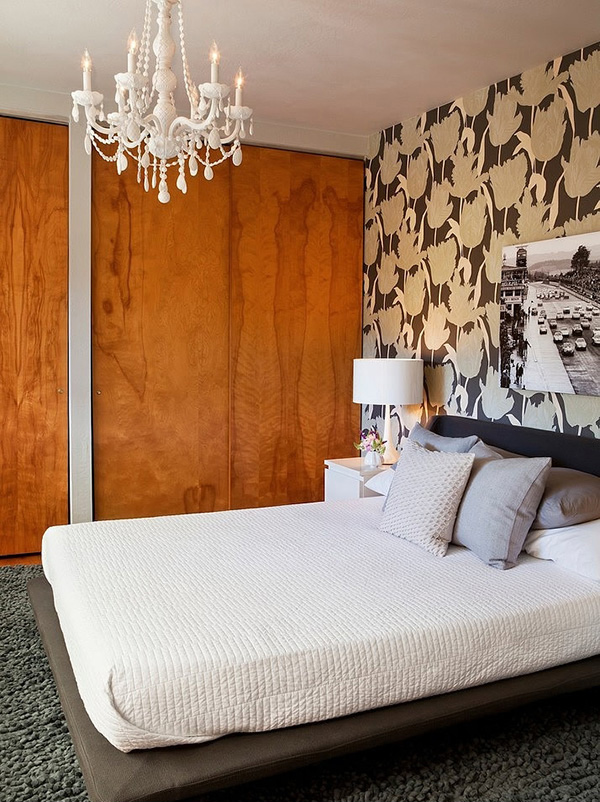 A chandelier really adds drama to a bedroom just like this white crystal chandelier.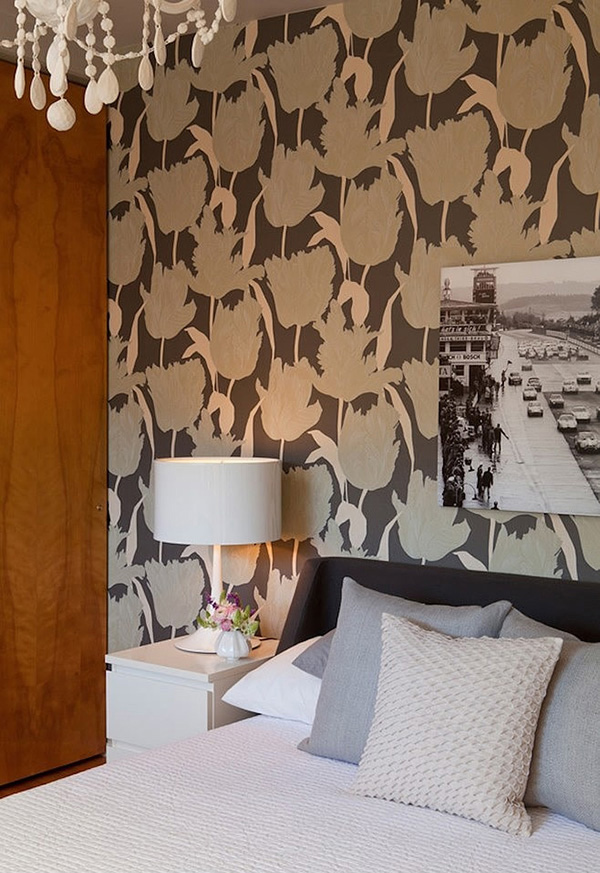 Light gray tones are used for the pillow covers that complements with the wall and the headboard color.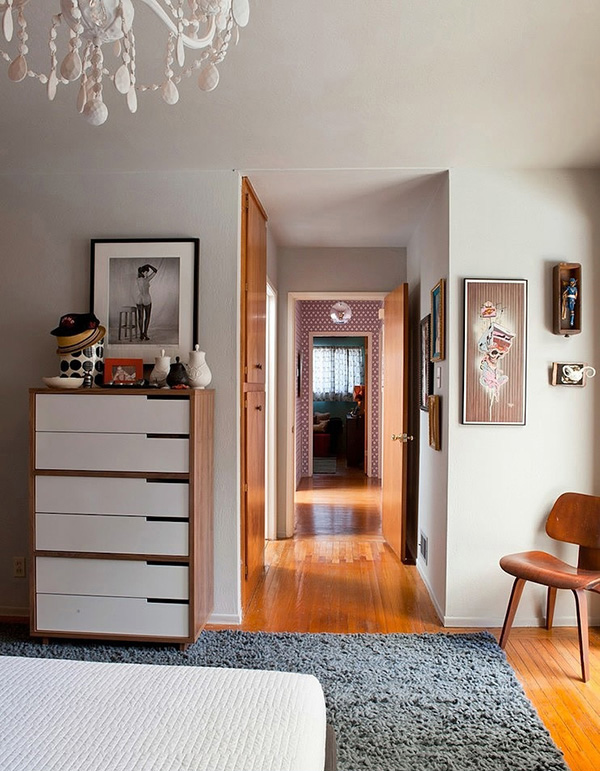 Notice that there also other wall arts in the bedroom which we can see here as it opens to the lobby with wooden flooring.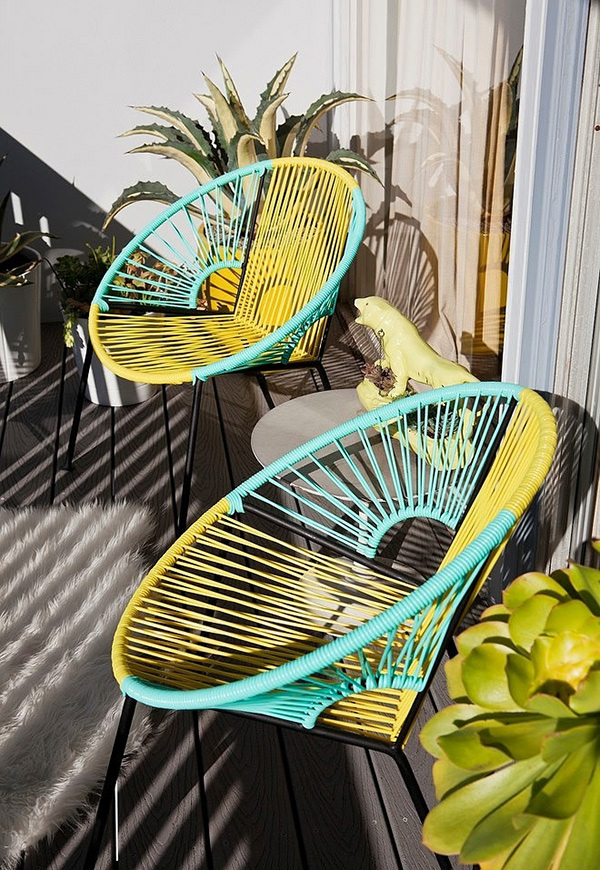 The outdoor space will not be out of place because it is also well-decorated with these outdoor seating in lively colors.
What can you say about the interior above? It sure is beautiful right? We love how Janel Holiday Interior Design placed all the items together in the space especially in the living areas. You can also clearly see the mid-century look in it through the use of wood and its open layout. Even the artistic elements in the house are very pretty too!