A Contemporary Small Loft Apartment in Taiwan
This small apartment has a lofted bedroom with a beautiful design.
No matter how small a space is, it can be used as a residence for as long as it is complete with everything that one needs. That is why tiny homes exist because one can really live in it even if it has a small area. Aside from tiny homes, there are also small interior spaces like a condominium or an apartment. People do not need to worry about small spaces anymore because they know that there is a solution to that as featured in many existing apartment spaces. You will just be amazed on how they do it like adding a lofted part for a bedroom or a home office. Still others have many transforming storage spaces and furniture in it.
Today, we are going to feature an apartment located in like Taipei, Taiwan. In this place, housing prices are high while the living space that young people can afford has become smaller and smaller. Because of that, creative design decisions are needed in order to maximize the space and integrate everything that one needs for a home. With that, the home owners worked with A Little Design in order to transform their old apartment that measures just 236 square feet (or 22sqm) into a space that would be spacious as well as have everything they need.
Location: Taipei, Taiwan
Designer: A Little Design
Style: Contemporary
Type of Space: Apartment
Unique feature: A small loft apartment has a clever design that is complete with everything they home owners need.
Similar House: A Classy Transformation of a Warehouse into a Residential House in Australia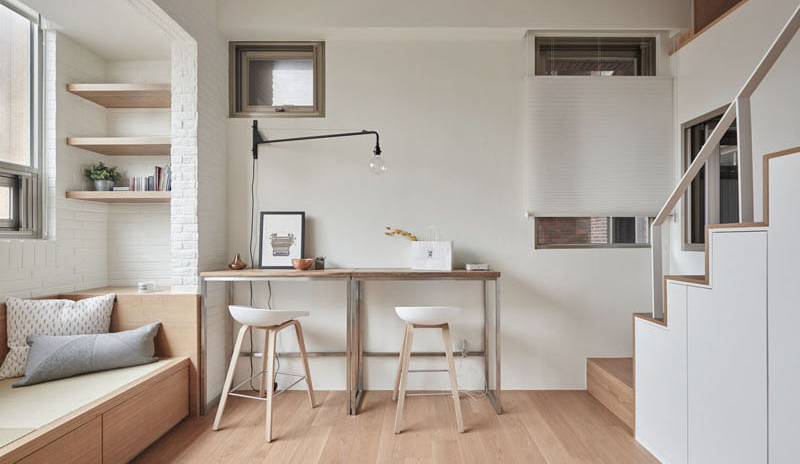 Despite being small, the apartment has a bedroom, dining area, kitchen , bathroom, and living area. You can see here a part of the living and dining space. A wooden bench sits near the window where white brick walls can be seen. Also spotted here is a table that is fitted in the corner that would be enough for dining.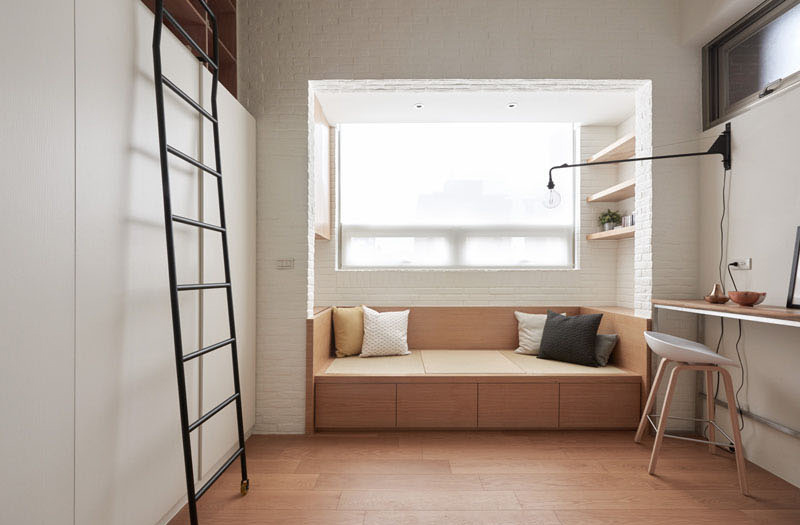 There is also a small built-in desk area, and above the wardrobe there are exposed shelves for additional storage. Although the apartment is small, it looks bit big because of the glass windows and the white colors of the walls.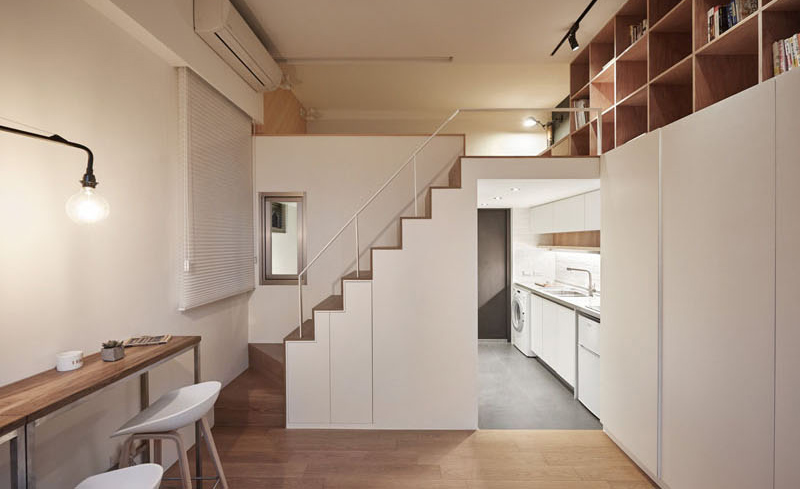 At the end of the kitchen, the apartment opens up into the main living area. A built-in sofa provides comfortable seating, and bar tables has been placed against the wall to be used as a desk or counter area. When needed, the tables can be moved into the center of the room and act as a dining table.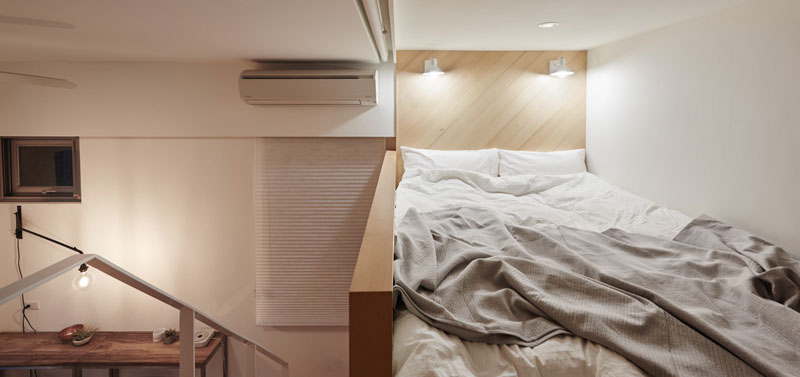 The loft bedroom is located above the bathroom. It may be not too high but it sure is enough to sleep and take a rest. Notice that the bed has a wooden headboard where two wall lights are installed.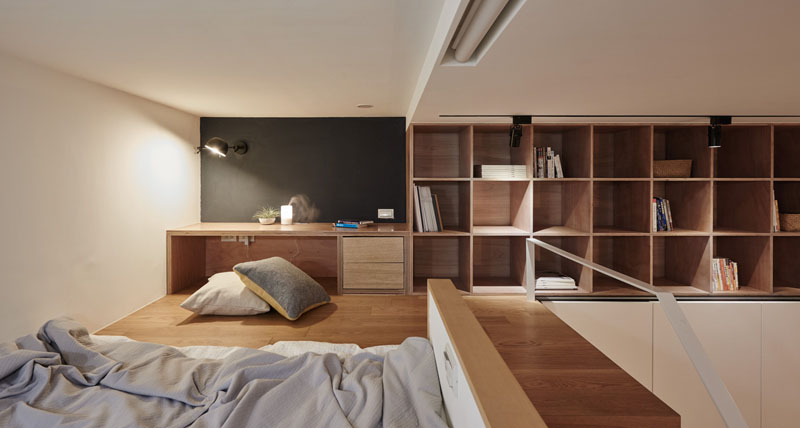 The apartment doesn't have much height which has only 10ft and 10in or 3.3m and it doesn't provide for a lot of vertical space in the loft. But despite that, it does work well for the area. One can't stand on the loft bed but it works for sleeping and sitting.
Read Also: Talisman Building Apartment: Converted Warehouse with Vaulted Ceilings in UK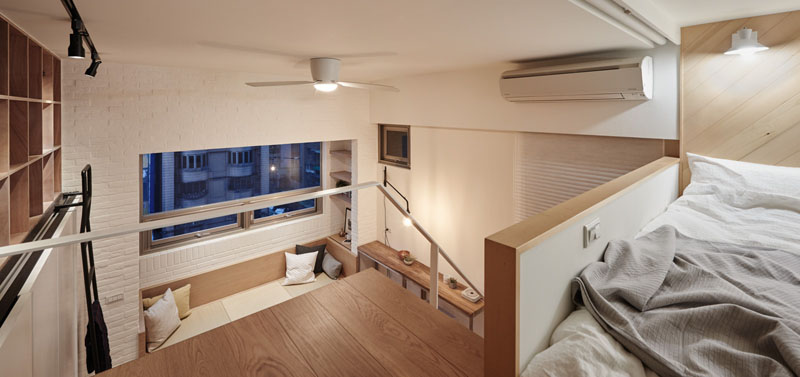 The combination of white and wood for the interior of the apartment is really nice and it added to make it visually spacious. You can see here that the apartment also has ceiling lights and even a wall mounted air conditioned unit.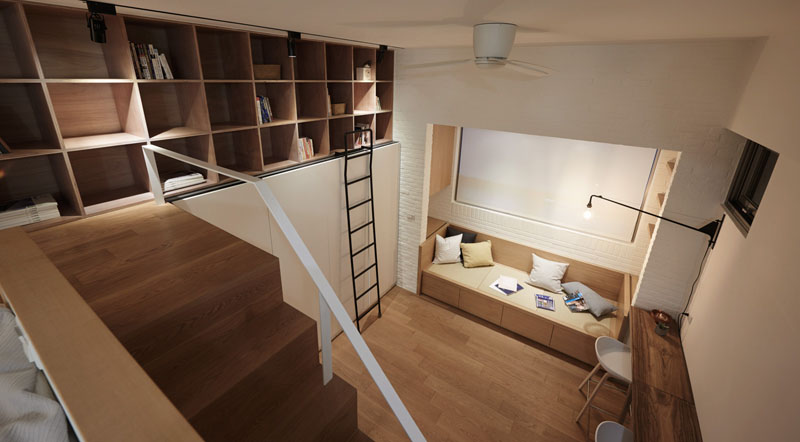 A few steps will lead you up and down the lofted bedroom. There are also open cubby shelves just above the wardrobe where some books and other items are stored. In order to reach the area, there is a steel ladder. You can also spot the built-in sofa here as well as the small yet functional dining space.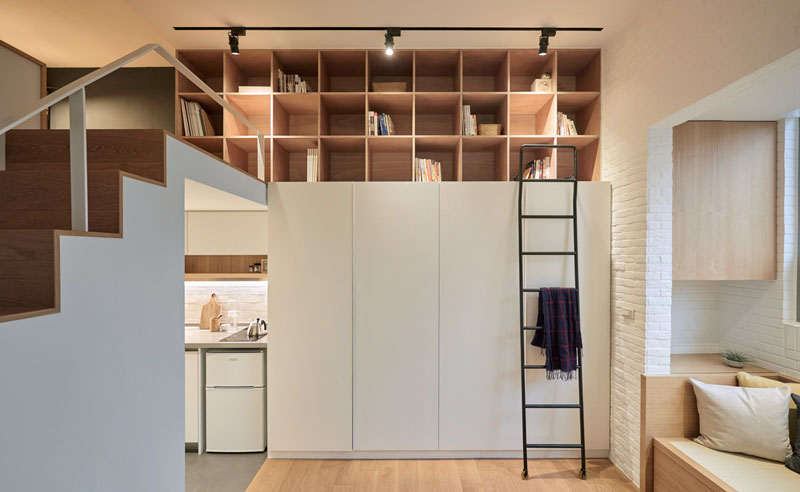 Although the overall space of the apartment is limited, there's still enough natural light and ventilation, and the main colors used, white and oak, help to make the space brighter.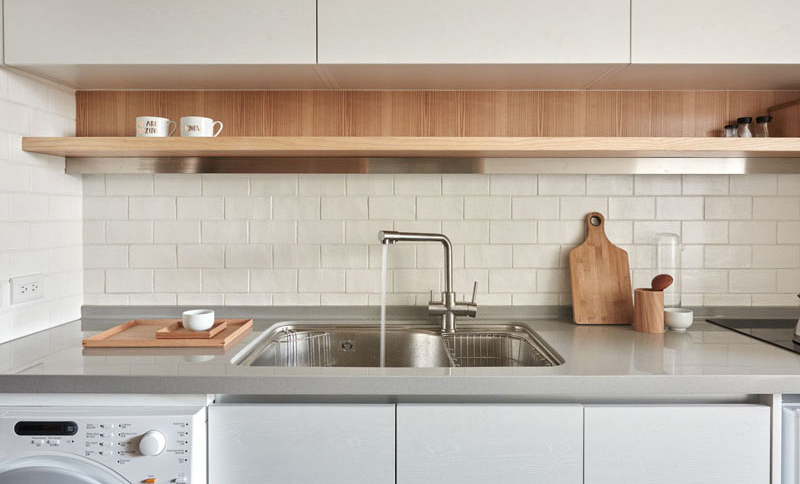 In the kitchen, it also used the same combination of materials and it has a gray countertop. Under it, one can see a washing machine and some cabinets for storage. Stainless steel elements bring beauty to the area as well.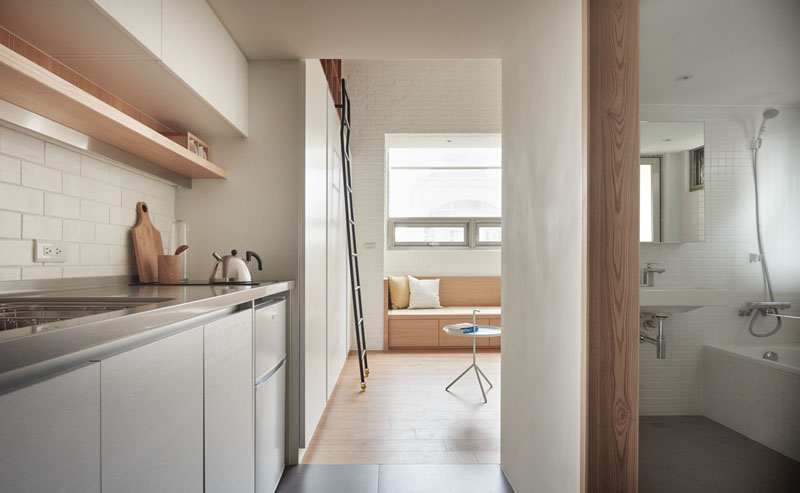 Upon entering the apartment, one will walk straight into an entrance hallway. From that area, one will see the kitchen which is tucked away on the left, and the bathroom on the right.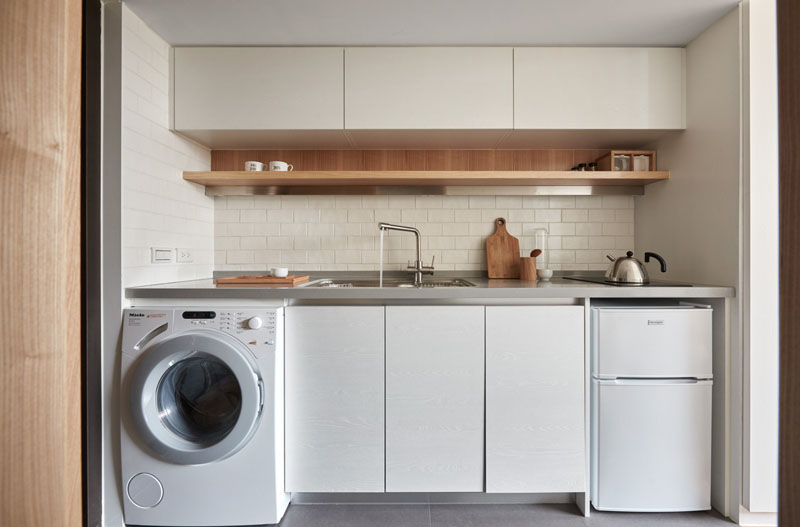 The kitchen features a small cook top, mini-fridge, washer/dryer, and some storage. Don't you love how these items are being arranged under the counter?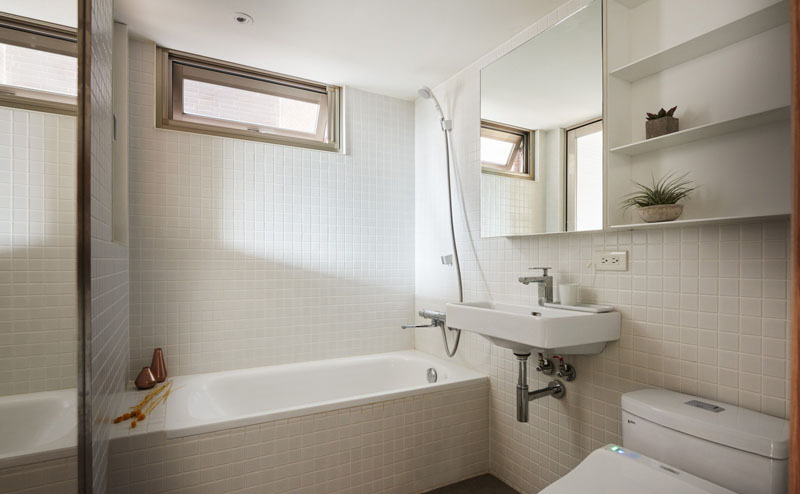 And this is the bathroom with white tiles that are the key design element of the area. It helps to keep the space bright and airy. Two mirrors also help to reflect the light, and make the space appear larger than it is.
I know that this isn't the first time that you saw an apartment with a loft because we have featured a lot of them here on Home Design Lover but of course, each one has a different design. And the design would depend on the personality of those who live in the area and of course their design preference. So, whatever look you want for your home, you will be able to get some inspiration from the loft apartments that we have already featured just like the one we have today. This apartment is a project of A Little Design who made sure that the design of the space will fit into the kind of lifestyle of its homeowners. Also, they see to it that the available space will be maximized.