20 Attractive Wooden Staircase Design
Wooden staircases are classy and add a touch of the outdoors.
They complement the look of old or new homes because of their natural look. Wood also has the natural tendency of looking more beautiful as time passes by, especially with proper care and handling. They are mostly hand-made, adding great value to the home.
Wood is also durable with less construction time, and they can be easily cleaned and maintained, and they can also be coated or varnished for added protection from the usual wear and tear of everyday use.
For this article, we are featuring 20 Attractive Wooden Staircase Design for your inspiration. Wood as a natural material is perfect for those who prefer a "touch of nature" to their home. They are made with different designs, styles and types. Whichever style you prefer, take a look below and take your pick.
Apple Farm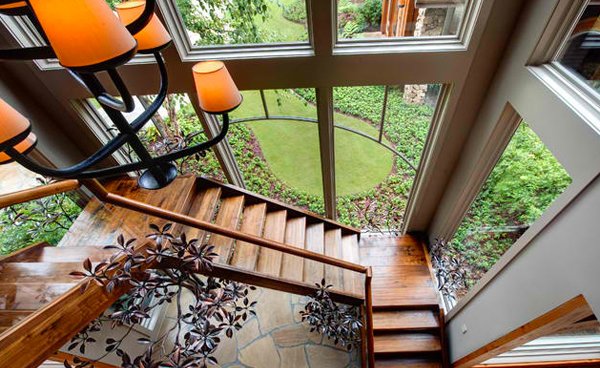 This beautiful wooden staircase with wide treads and wide planks is near the window for a nice view of the outside.
Craftsman Style in Burlingame Stair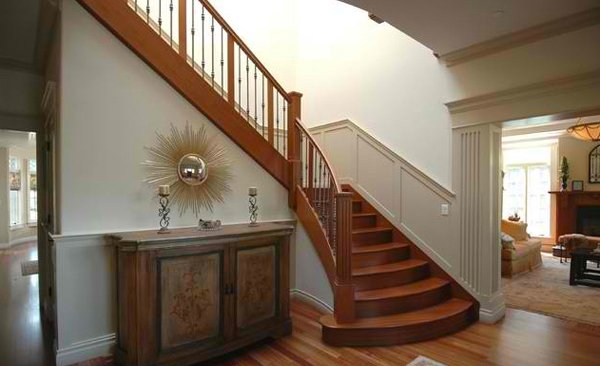 This beautiful traditional staircase has a classic look to it. The wide final step, white walls and wooden stairs combination is classy.
Bryant Remodel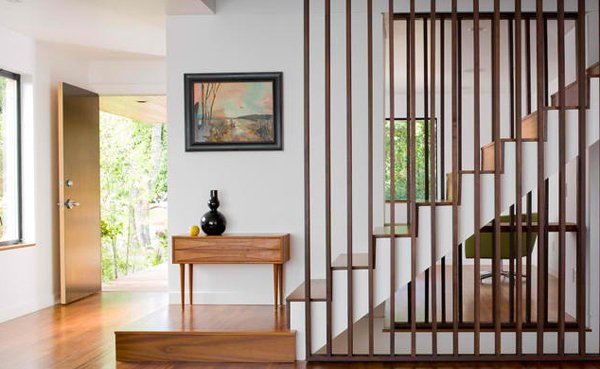 Another beautiful yet simple wooden staircase. The open wood rails, and vertical wood slats gives it a contemporary look.
Willoughby Way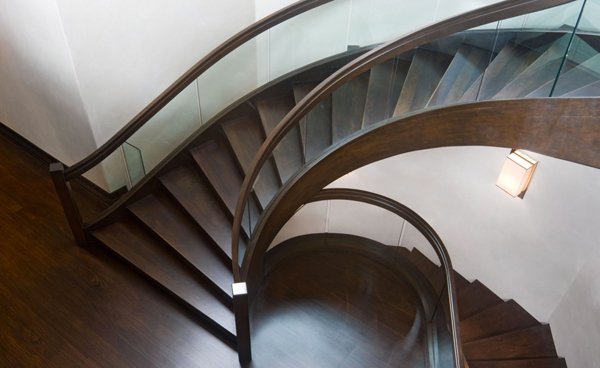 This chocolate coloured contemporary staircase is elegant as well as simple. With its dark wood floors, nice curves and glass railings is surely perfect for a traditional inspired home.
Walnut Residence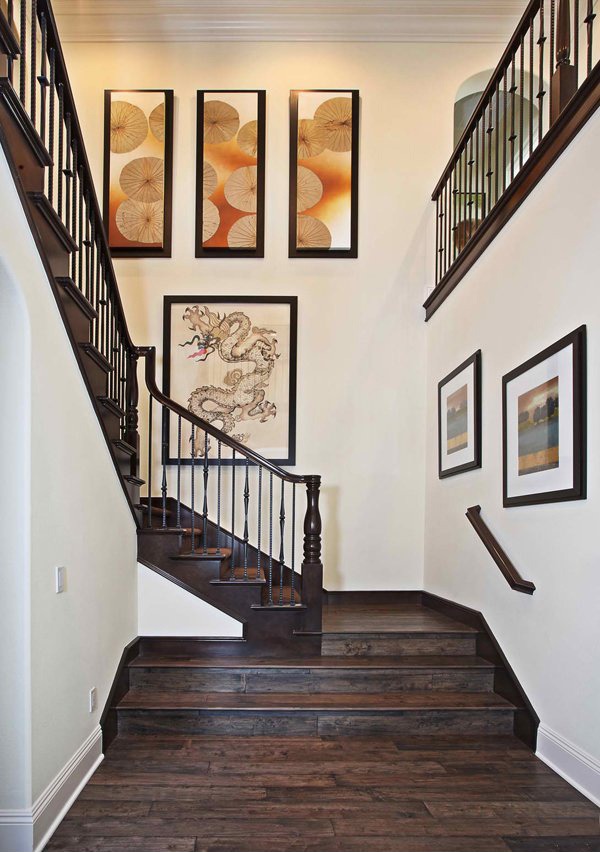 This staircase is for a home designed by International Custom Design. The hardwood banisters, dark wood and white walls combined is simple yet attractive.
Entry Foyer/Hallway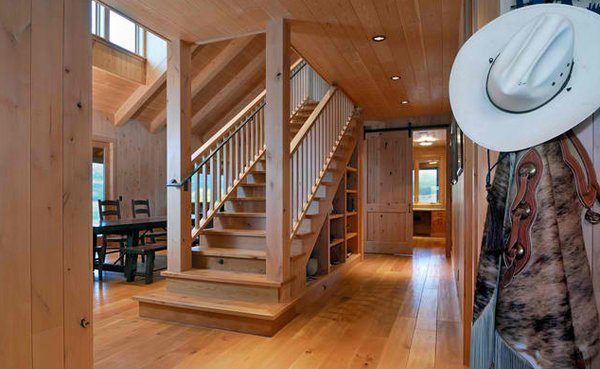 This simple yet beautiful wooden staircase is simply pretty and perfect for a barn or a cottage. The shelves under the stairs are perfect for storing items as well.
Belvedere Avenue Residence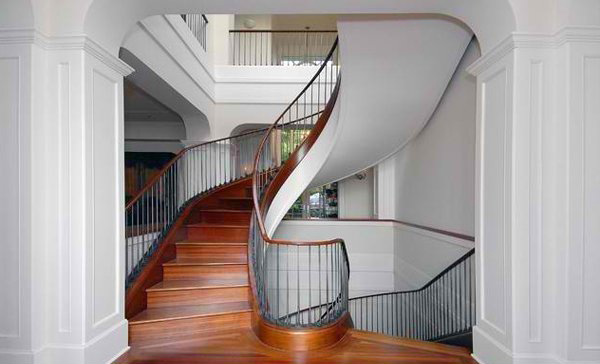 This grand staircase was the center of the whole interior design for this home. The white walls and hardwood provides a great look and contemporary look to the home.
Goodwin Project- Phase 1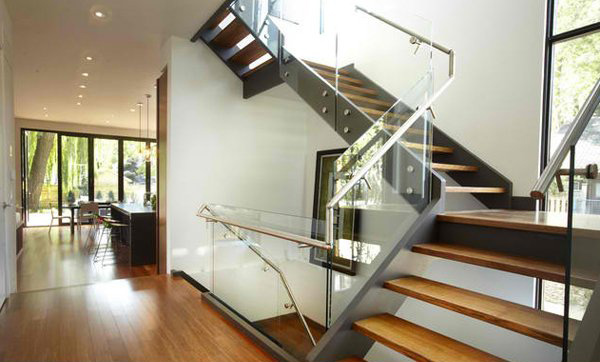 A space-saving modern staircase is unique and perfect for small interiors because it has a landing and changes direction to fit the profile of the home.
Tietjen Foyer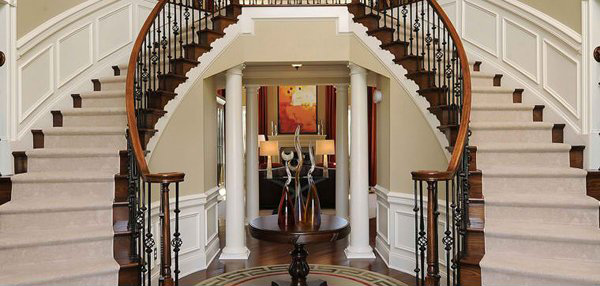 This grand traditional staircase is perfect for a grand-entrance. The double stairs and Brazilian cherry wood floors gives it the traditional elegance suited for the home.
Wolfram-Foyer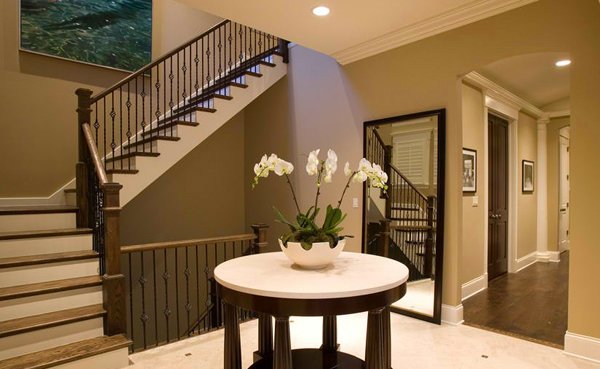 Another traditional staircase with neutral colours is warm to eyes but still manages to be elegant.
Getty Residence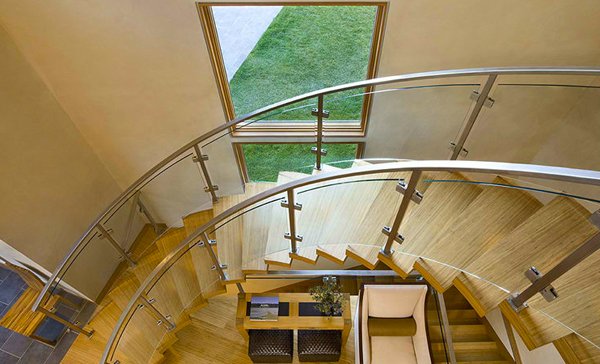 This elegant and charming curved customize staircase actually has bamboo as treads, supported by steal with glass railings. Isn't it charming?
Sweeping Stair Case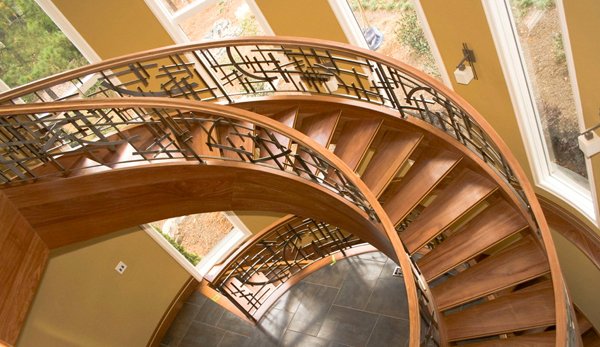 Another traditional staircase with dark wood floors and hand forged interior railings providing originality to the home.
Tropical Craftsman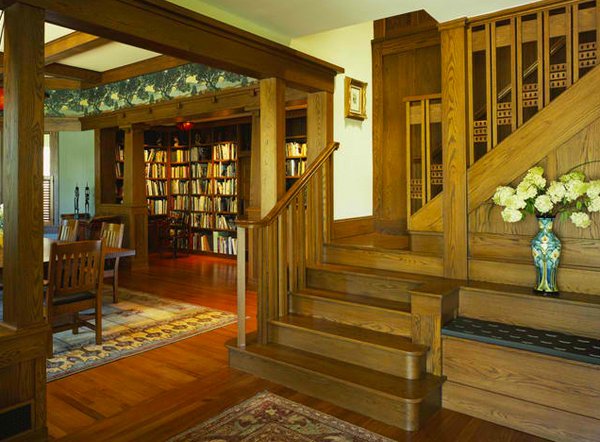 This traditional wood staircase is charming yet simple. This is designed by Gardner Mohr Architects.
Dhulipala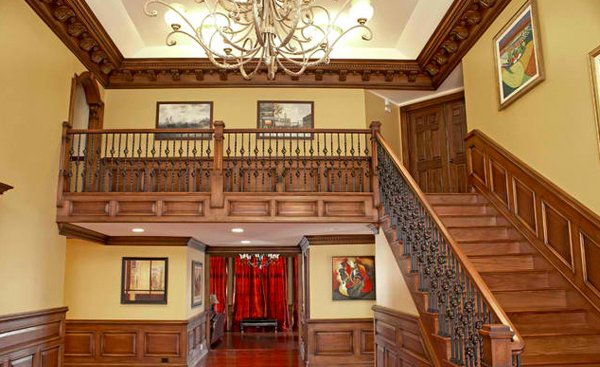 This traditional staircase can be an alternative for lower height homes that like the elegant looking staircases. It is mostly made of oak so it lasts long and easy to maintain.
Interiors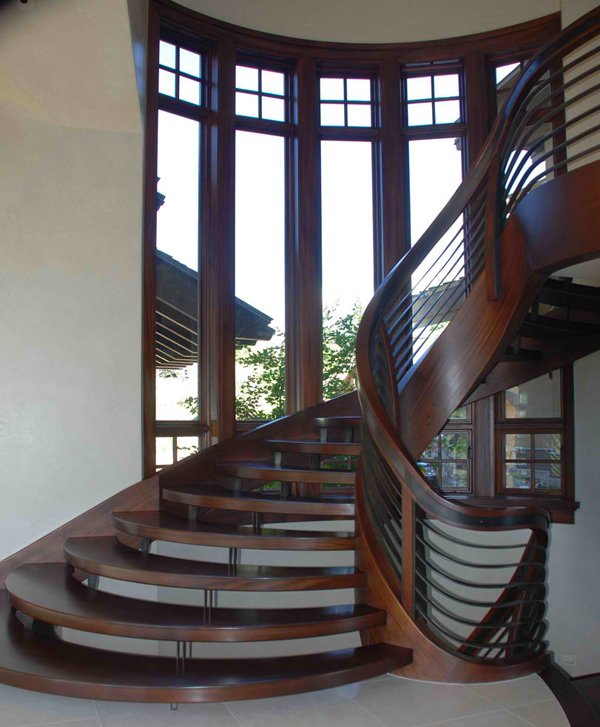 This intricately done contemporary staircase is a beauty. The entry looks welcoming because it looks wider than the rest of the treads and it is also very stylish.
Flyway Drive Residence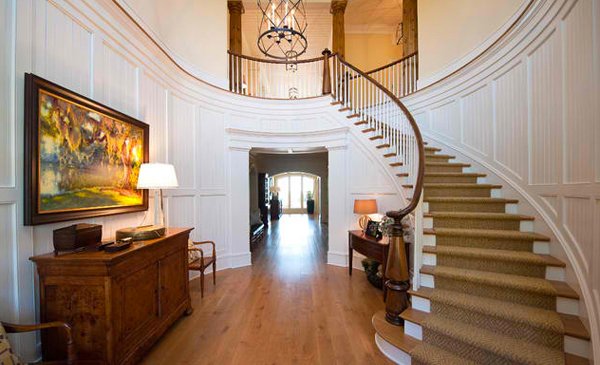 This traditional staircase is mostly made of wood and traditional in every sense. The white wood moulding and paneling combined with the brown wooden treads makes it as elegant as ever.
Lobster Boat Residence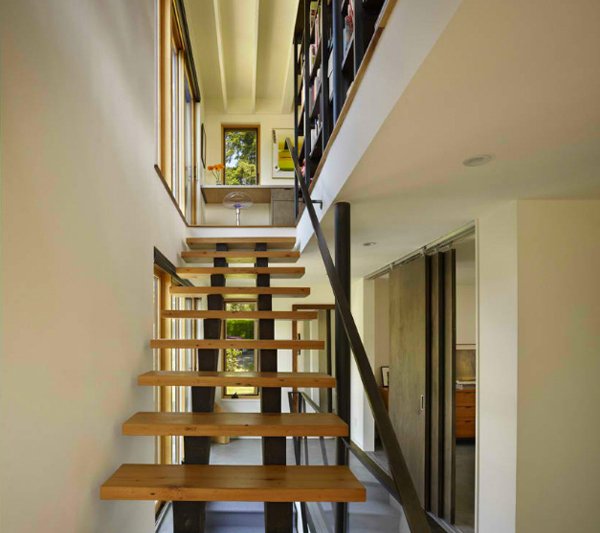 Another simple modern staircase that is custom made with floating treads and bar supporting the open wooden treads.
Santa Monica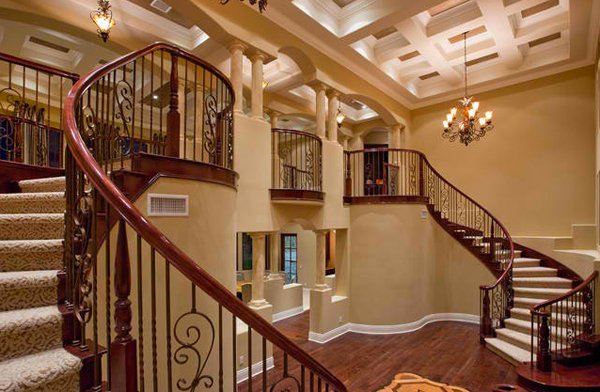 Another double traditional staircase yells elegance and class. It is custom made to fit the home's entrance.
Pentagon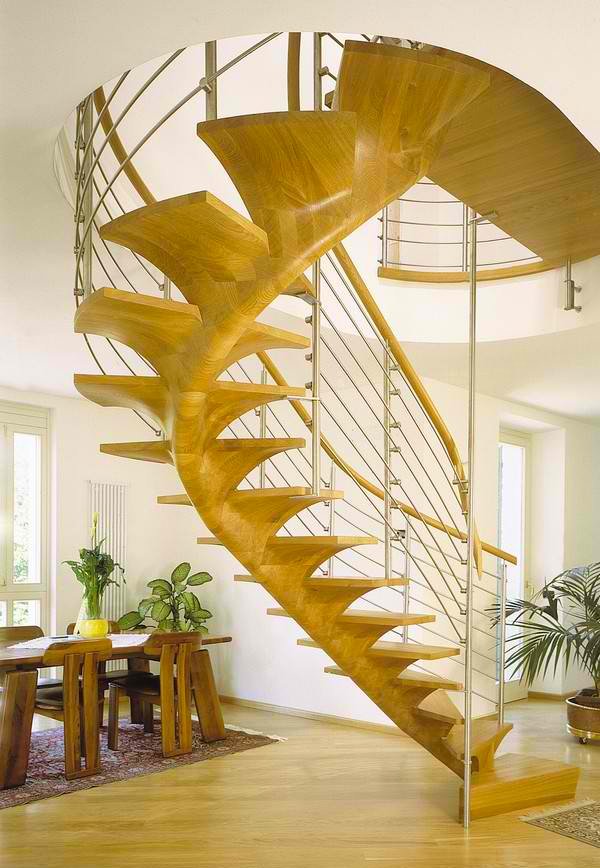 Hand-made wood helical staircase perfect for small spaces yet gives elegance due to its unusual shape.
Wooden Steps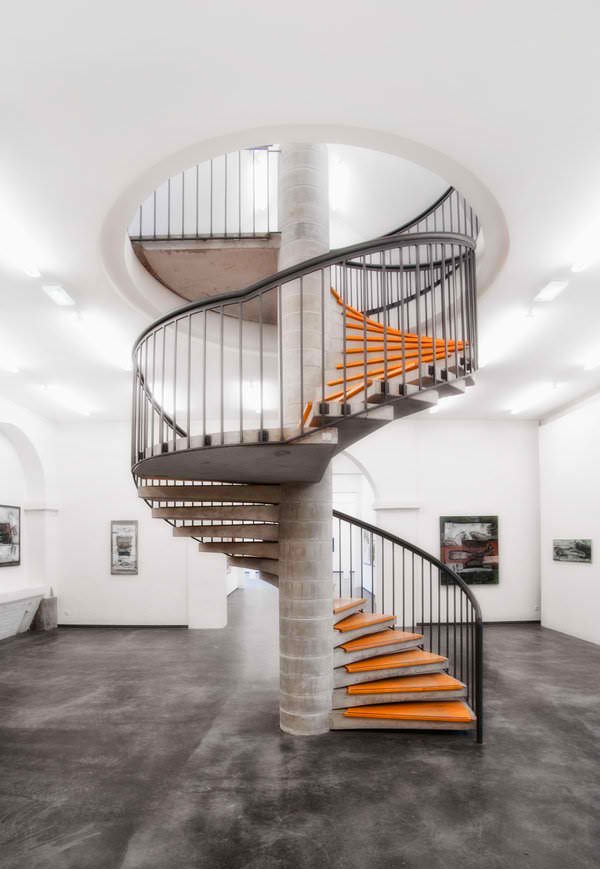 A helical staircase with wooden steps. The colour of the steps blends well with the whole look of this beautiful staircase.
As featured above, those wooden staircase design are a beauty. They provide elegance and beauty even to simple homes. Wood as a medium for construction is widely used because of the artistry applied in creating that stairway that is perfect for the home.