20 Elegant Designs of Victorian Dining Rooms
If we go back to the Victorian era, we can see that everything is indulged in grand excess of ornament. It isn't just seen in their clothing but even to the interiors of homes, furniture, decorative arts and others. Victorian design is a mix of influence from the middle east and Asia. You can see intricate design everywhere whenever you hear of a Victorian space. Today, we will show you how Victorian Dining Rooms look like.
Dining rooms with a Victorian design has furniture with complex carvings and gold trimmings. It would have comfy upholstery for the chairs which may be plain or printed. Floral are a trend when it comes to fabrics for the curtains and even for carpets or area rugs. Well, there is no better way to show this design than the pictures of the dining rooms!
1. Victorian Dining Room Alexandra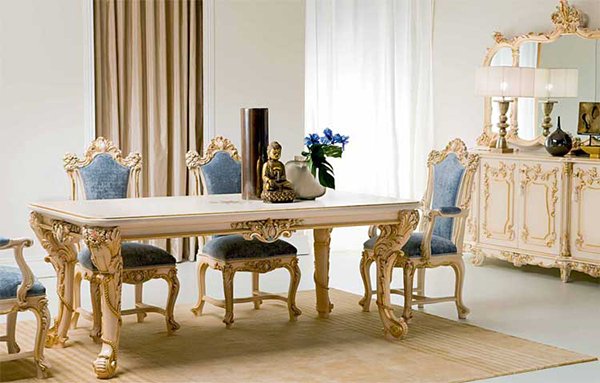 I love the look of this space. Even it is Victorian, it added a Zen feel with flowers and a Buddha. The back cushion and seats have a denim color that any woman can fall in love with!
2. Alexander Formal Dining Room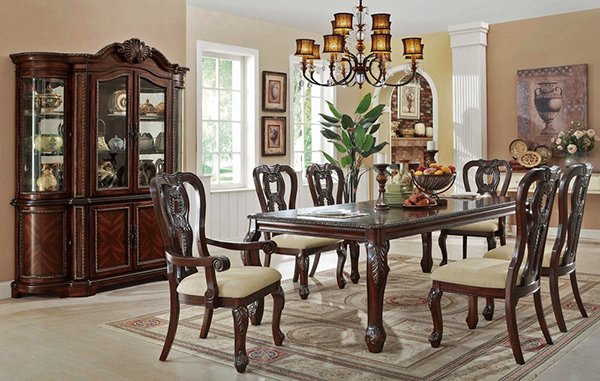 Antique dark Brown finish are used for the table with four side chairs. These are crafted from select hardwoods and burl veneers. This sure is a dining room for all occasions!
3. Traditional Victorian Dining Area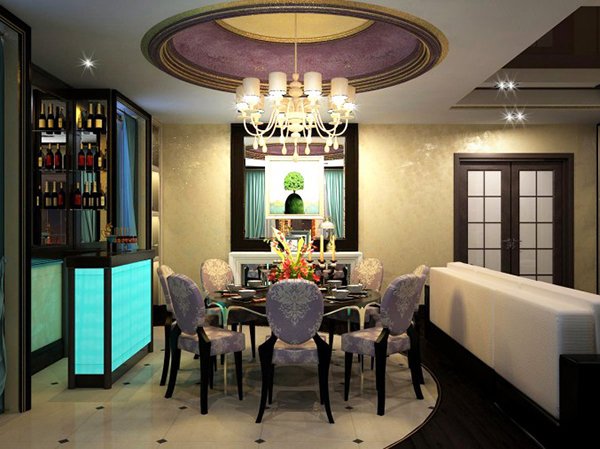 A modern take on a Victorian dining room with damask prints on the purple chairs. Look up and you will surely adore the ceiling!
4. Dining Area Victorian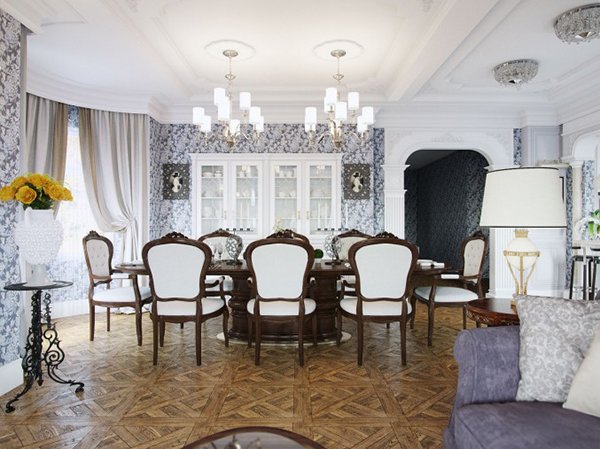 The walls have floral patterns in black and white. So it won't look busy, the chairs are just plain but tufted.
5. D758 Dining Set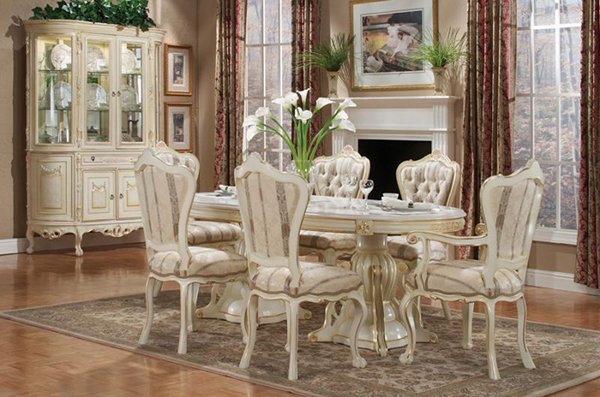 Tufted chairs and table with gold trimmings are really a trend for a Victorian space. A flowers and plants will add freshness to the area.
6. Dining Area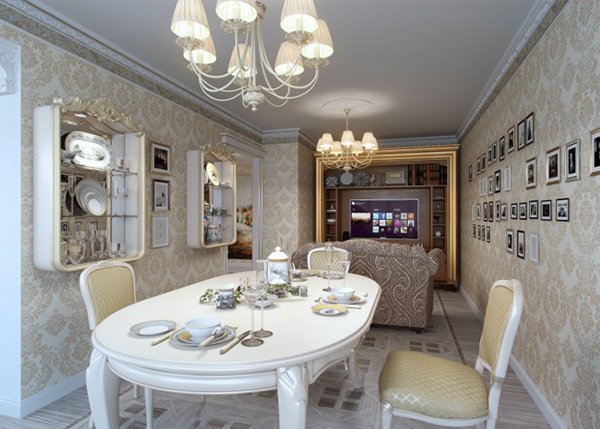 Go for damask wallpapers in your dining area and pair it with chairs like this and some lovely chandeliers.
7. Appollonia Dining Set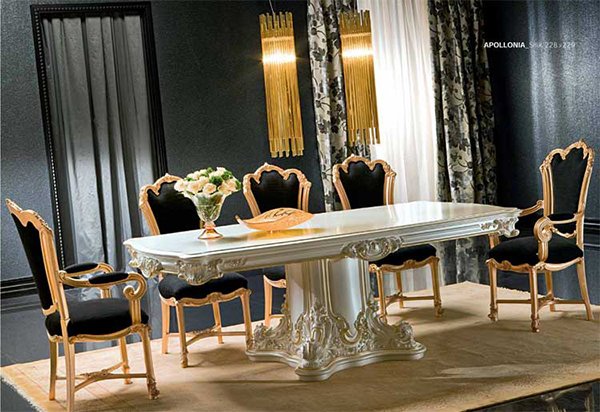 Combining black and gold looks fierce, timeless and elegant. Would love to have a dining area like this?
8. Earl Court Dining Room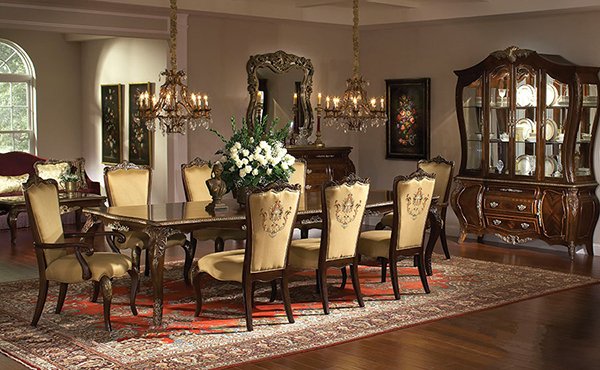 This dining area is both regal and romantic. Walnut and Rosewood veneers, marquetry wood inlays border some tops and it has a beautiful dark Chestnut stain.
9. Thurmont Victorian Formal Dining Table Set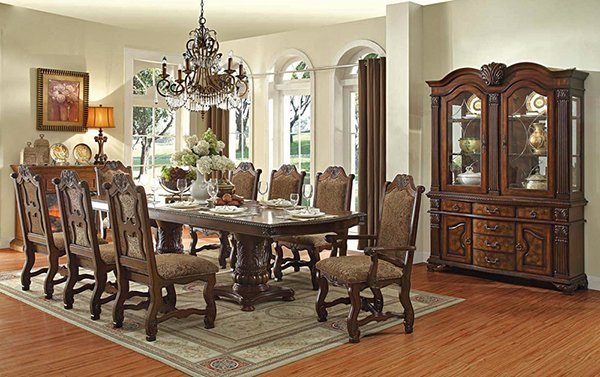 An elegant dining room that is the perfect setting for holiday dinners and family gathering. Its furniture is made of solid wood and veneers in antique brown finish.
10. D752 Dining Set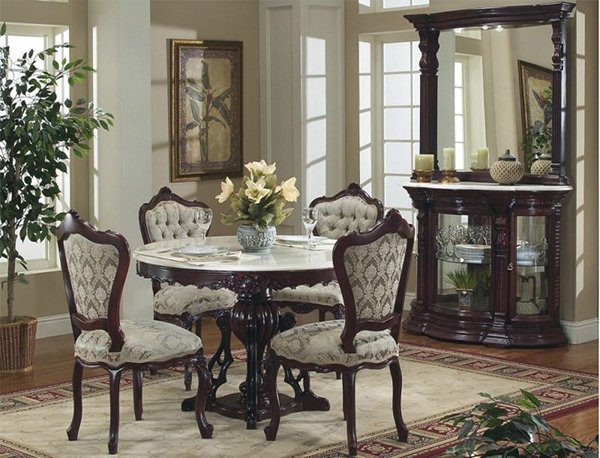 Love the patterns on the seat and back cushions! It stand out in this dining room.
11. Victorian Dining Room Furniture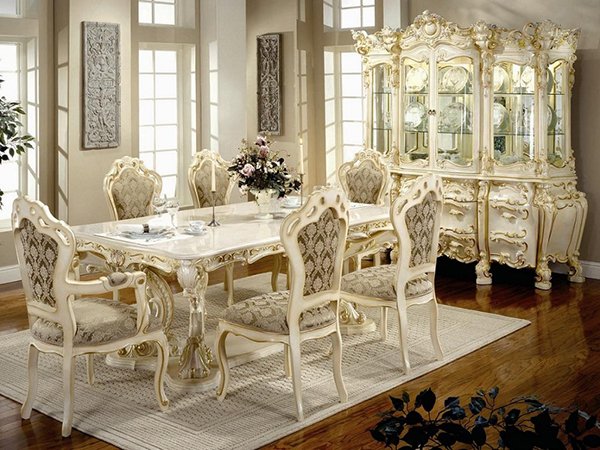 As usual, gold and white is lovely. The cabinet is a stunning part of the dining area with glass around it.
12. Deborah Victorian Dining Table Set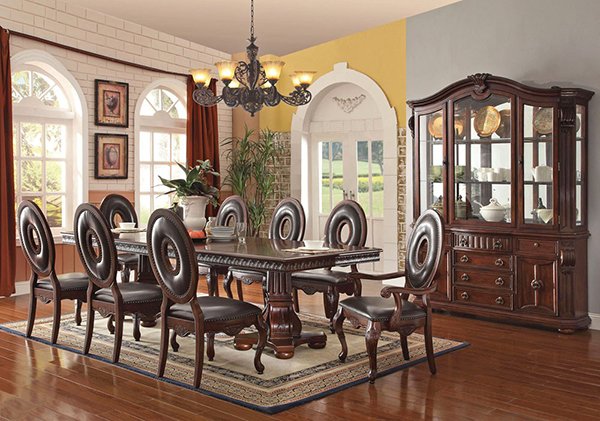 The furniture here have Cherry finish with chairs upholstered in dark brown color leatherette seat and back cushions. The chandelier is a good match to the dining set and it is nice to see white brick walls too.
13. Victorian Dining Room Talia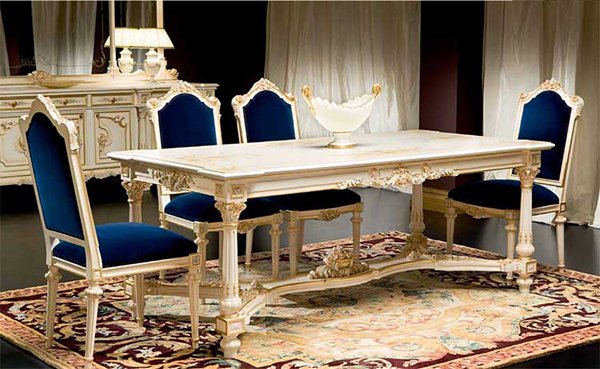 Blue with gold is stunning! The area rug also add some lovely details too.
14. Victorian Round Dining Table Dafne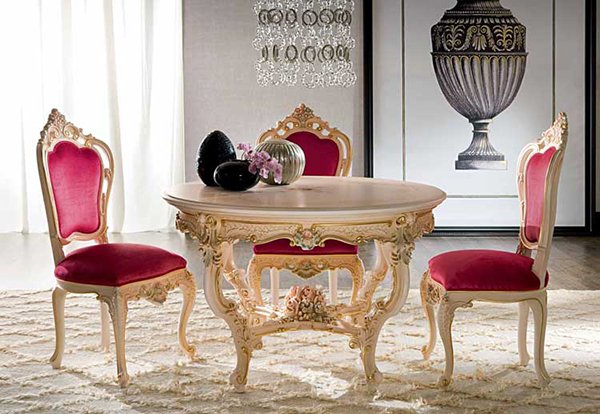 Pretty red chairs surround this lovely round table. Putting them on a carpet gives more charm to the space.
15. Render Victorian Dine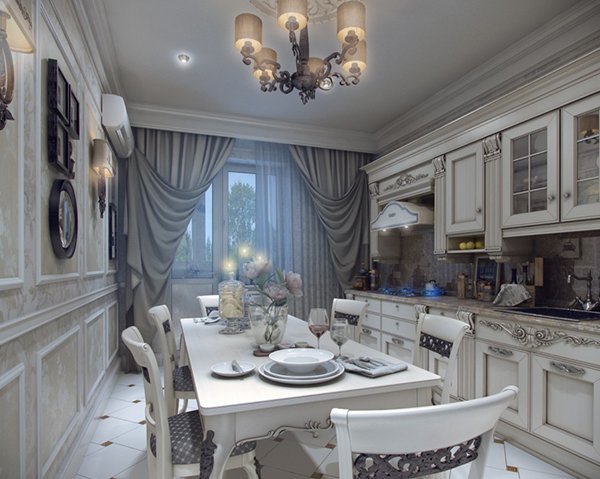 The dining chairs are beautiful because it isn't overly done. This dining area is also located in the kitchen as well which has intricate details on the cabinets too.
16. Gorgeous Victorian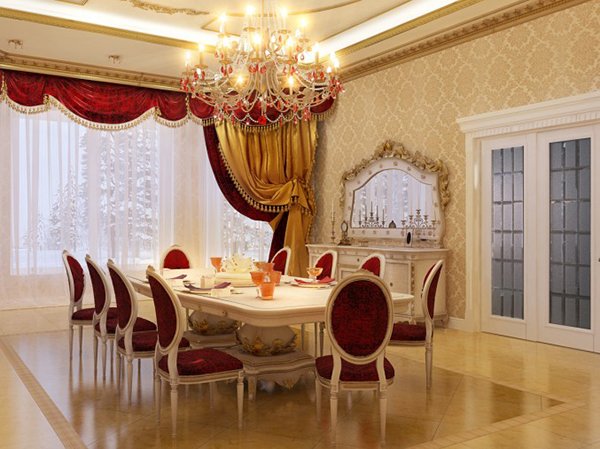 A gorgeous dining area with gold and red drapes matched with red chairs and a dramatic chandelier that has gold accents too!
17. Traditional Dining Room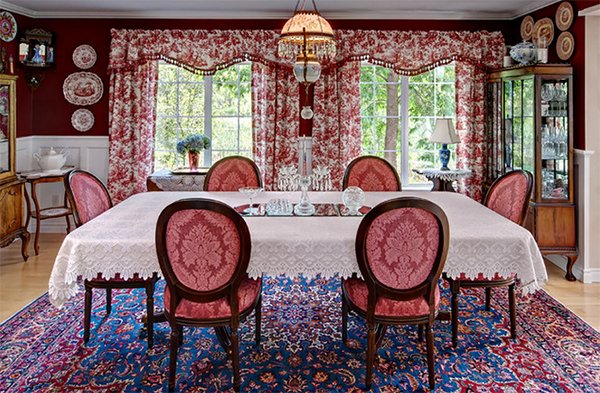 Florals everywhere! This bedroom sure looks a bit crowded with patterns but that is how Victorian decor look. Love the plates on the wall!
18. D755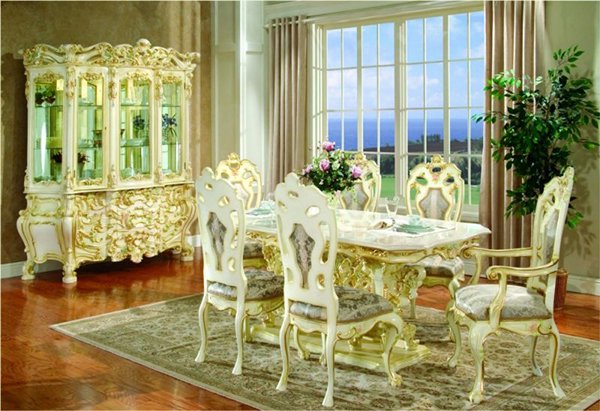 This set really looks expensive with all the golds in it and the floral pattern too.
19. Evelyn Victorian Formal Dining Table Set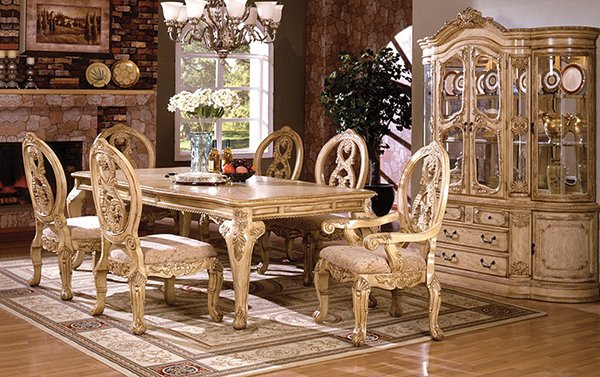 The antique white wash finish uniquely highlights the intricate carvings of the table, chairs and china cabinet. These are made from birch solids and cherry veneers in a refined white wash finish.
20. Victorian Round dining Table Minerva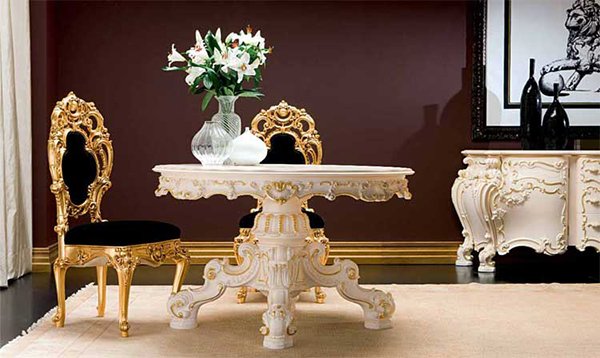 The round table is a stunning piece with gold trimming and intricate details around it. And yes, the chair look even more beautiful with black seat.
I know that for some of you, this doesn't won't be appealing but for lovers of intricate interiors that look luxurious and elegant, this would be a style for you. The dining rooms above are fit for a royal family and will make you feel like you are really special. But of course, you don't just need to have a dining space like that to feel special. As long as the space feels comfortable and looks beautiful and if the food is especially prepared for you, then that will make you even more special!