Luxurious Modern Design of Sonoma Barn in California
Living in barns nowadays is not a typical choice for others especially in this modern era. But some would still choose to live a discreet place to enjoy its tranquility and to maintain an environment close to countryside. But because of the refined skills of some architect it can happen that there can be a house in an area like this same as the Sonoma Valley that was built with a jaw-dropping contemporary design. Sonoma Valley is located in south-eastern Sonoma County in California. Its rich soil marks the birthplace of California's wine industry. This valley comprises a land of vineyards, picturesque farms and acres of scenic grassland.
This modern barn is built in the middle of the Old Lawrence Hot Spring Spa site covering an area of more than 5000 square feet. The barn is configured as an L shape with open spaces creating chains of outdoor terraces to revel in the beauty of the environment plus enjoying the view of The Historic Sonoma Square in San Francisco, CA. The urbane modern style was achieved by combining a rustic contemporary architecture with timeworn inspiration giving a luxury outcome. The house attributes many remarkable features; having a beautiful matured landscape, vaulted oak wood ceilings, reclaimed oak wood flooring and cabinets, glistening pool and spa, and a 100-year-old original rock made of very rare blue stone. Have a tour inside this luxurious barn house.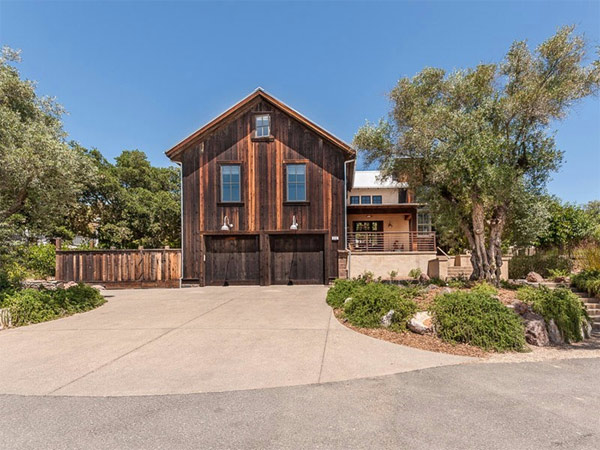 This is the front view of Sonoma Modern Barn Residence attached with a garage that is made of woods.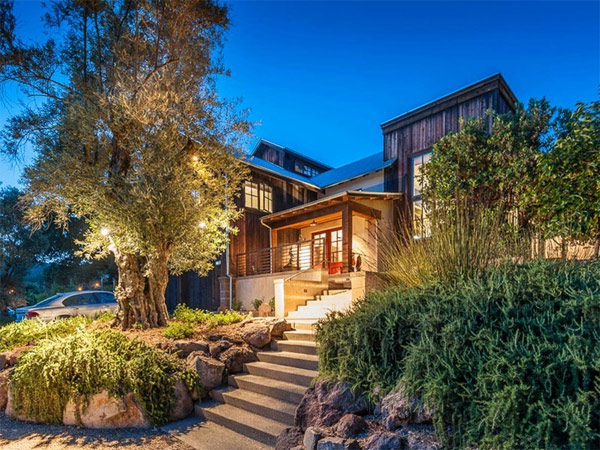 An elevated landscape is surrounded with oak trees and plants to feel the atmosphere of nature.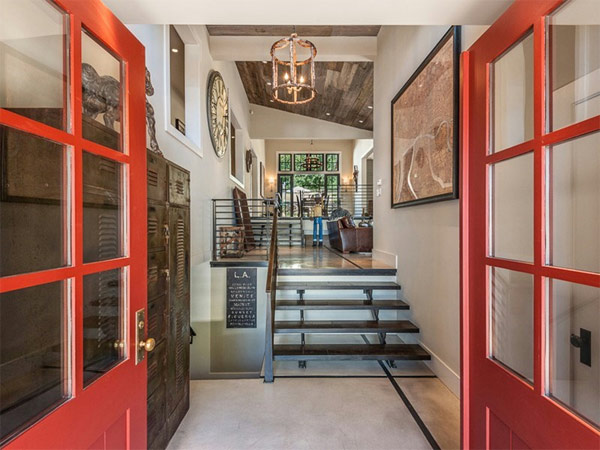 This is the entrance hallway of this residence with a very vibrant interior and beautiful decorations.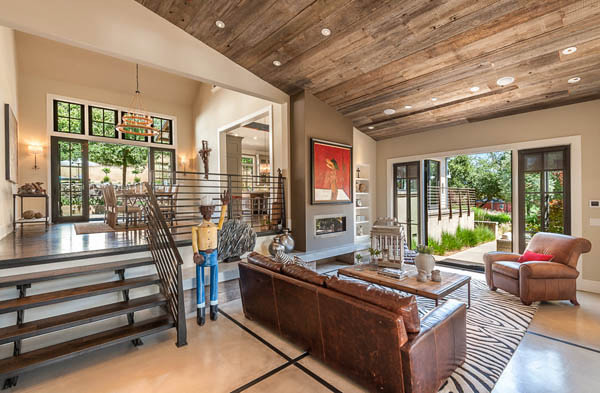 The reclaimed pieces of wood that was used as the ceiling gives a barn-like atmosphere contrast with modern glass fireplace.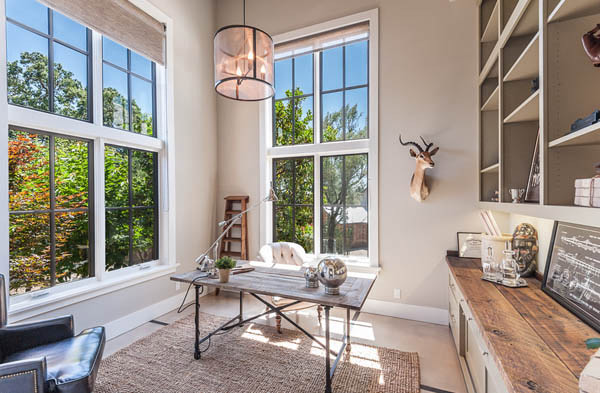 The office is adjacent to the living room inspired by woods to maintain the barn atmosphere.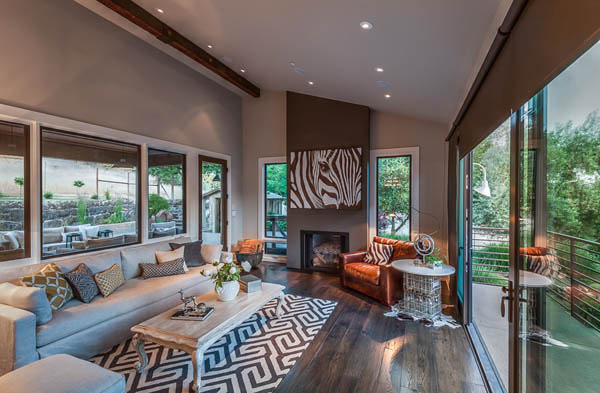 This open living room is an additional space of the house attached with an open balcony to enjoy more of the calming views of the barn.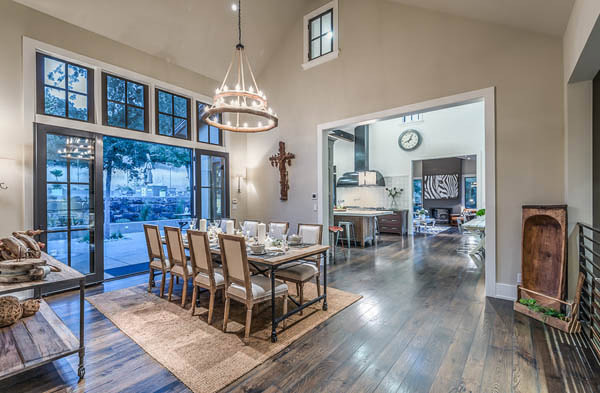 The dining room shows a formal sense with that vaulted ceiling design and matched with hardwood floors of a white oak tree that was tinted with an earth hue.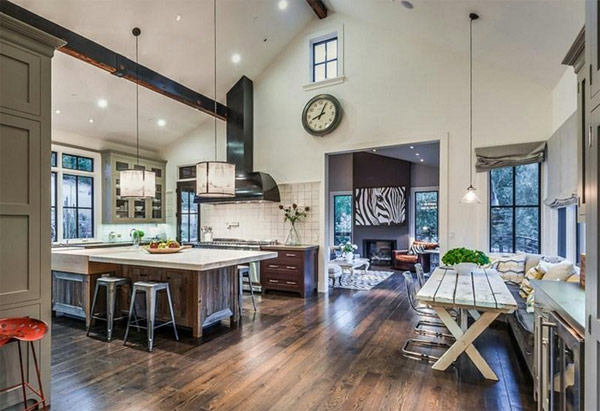 The kitchen shows a very spacious space added with a breakfast table at the side.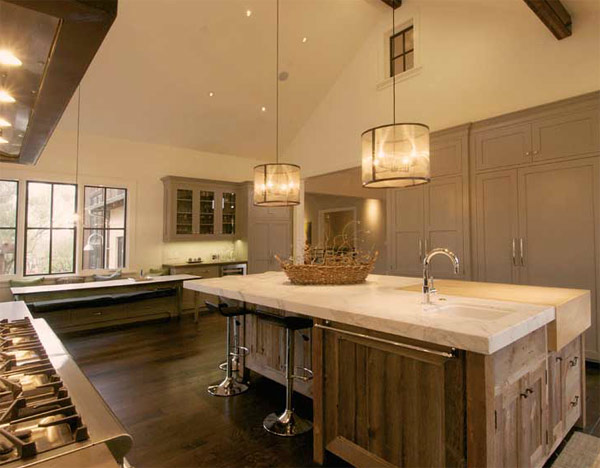 The Calcutta marble with a wood as the base and a 10 burner gas range serves as the masterpiece of the chef's kitchen.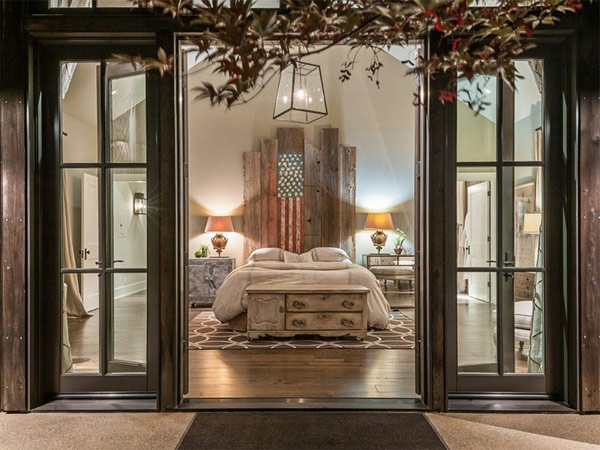 The master's bedroom is designed with ceiling-to-floor frames of glassed window.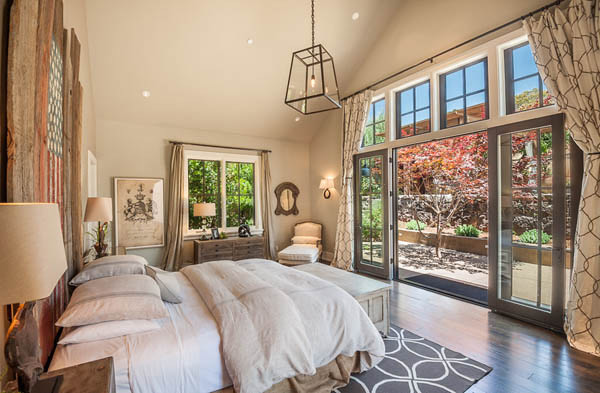 The open window design of this master bedroom allow the owners to enjoy a wonderful view outside.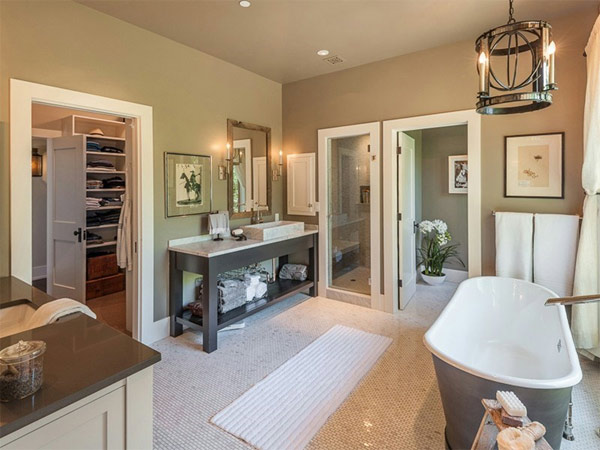 The master bathroom of course is designed with elegance, adorned with luxurious chandeliers, vanity and a glassed door shower room.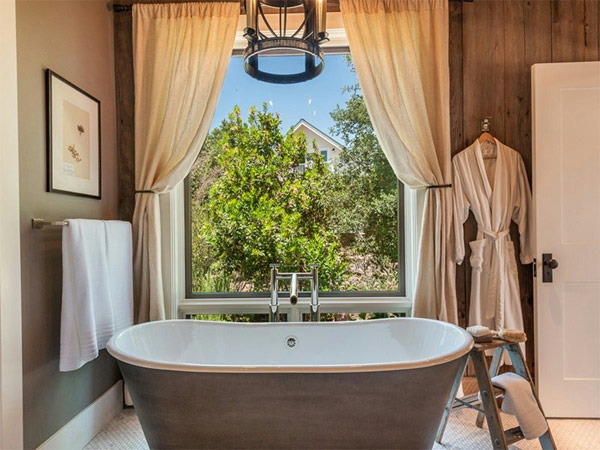 This standing tub with a modern waterfall fixture is perfectly placed behind those tall windows that offer an outstanding view.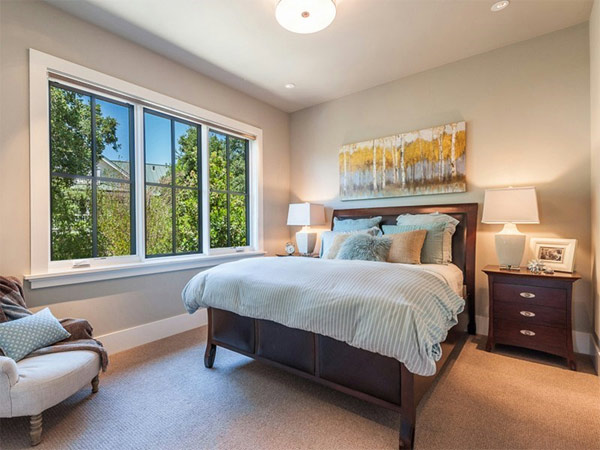 This serves as the guest room which has a simple tint of warm colors that brings a dramatic feeling.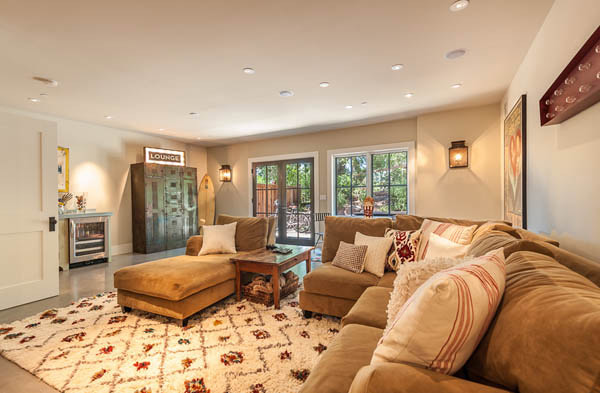 This residence has to be very big that they managed to have a lounge room which serves as media room or a home theater.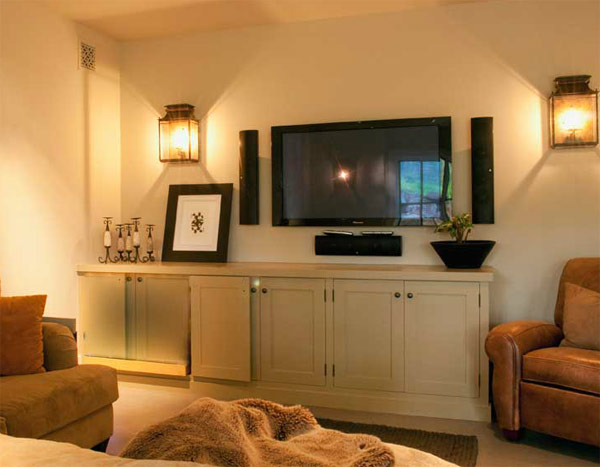 The lounge is embellished with soft sofas and this wall mounted flat screen television for some relaxing hours.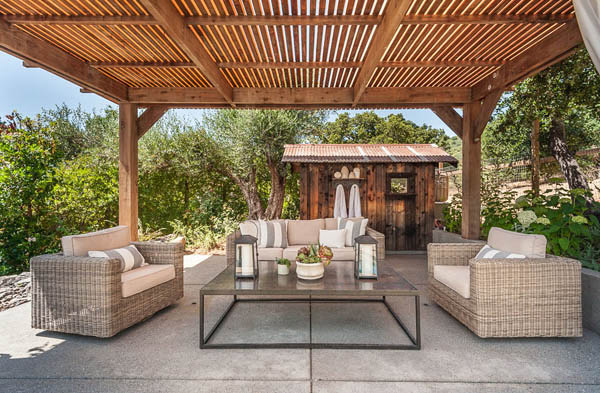 To have comfortable time to unwind, this patio with a cover is situated near the swimming pool with a shower room at the back.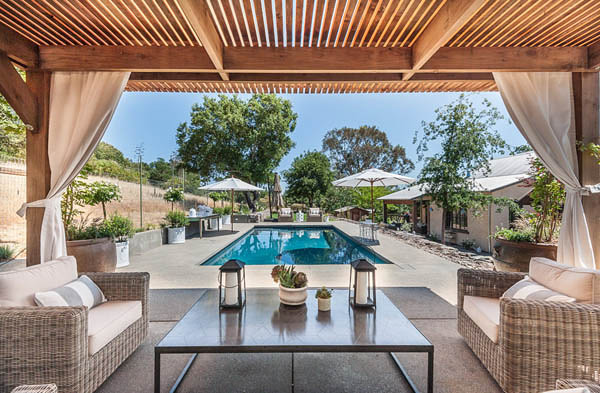 Really it brings a quiet moment enjoying a sea-side feeling.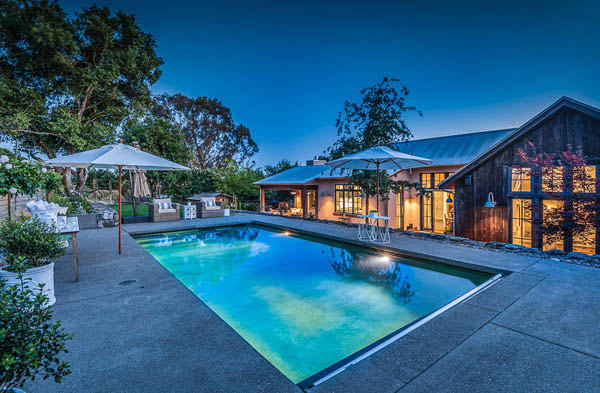 The area is guarded with a 100-year old rare blue stone wall, the backyard and the pool blend into the scenery and hills beyond.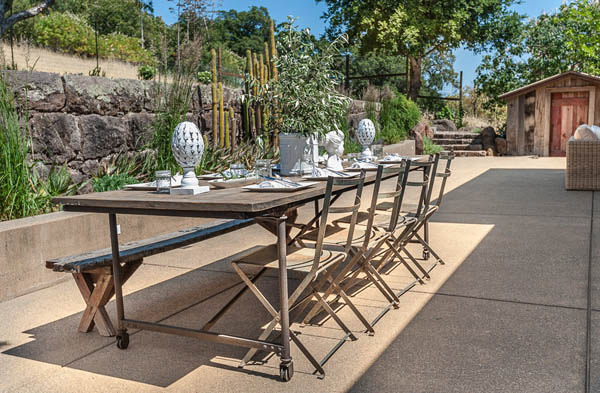 This outdoor wood table offers barn-style meals.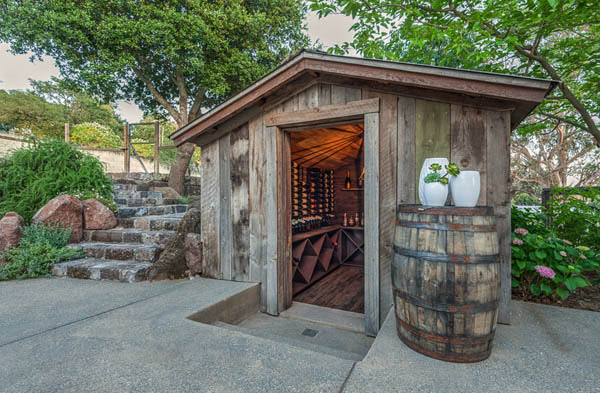 Certainly a wine cellar is a need for an area surrounded with vineyards.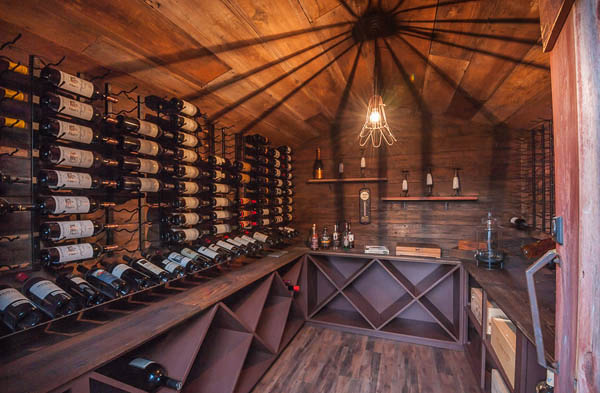 A lot of choices of liquors and wines during chilling times.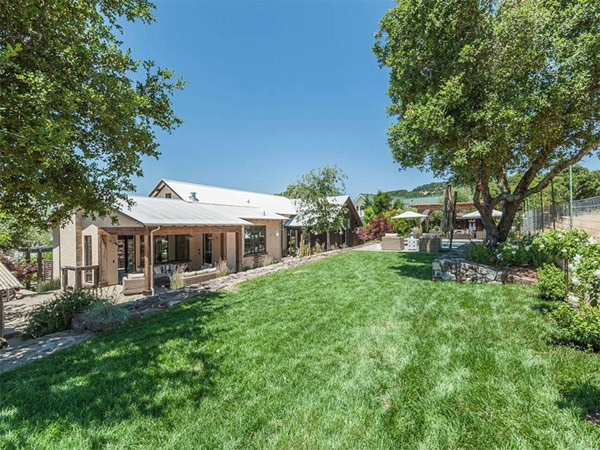 This wide courtyard with those green grasses, trees and plants really fulfill the barn-atmosphere.
The lightings for the house was carefully chosen to embrace the style of the home from steel and mesh pendants in the kitchen, 2 tier drift wood chandeliers in the dining room, and tin lanterns down the hallway. The magnificent design of this barn was made by Daniel Castor of Castor Architecture together with Jen B for its interior design and decorations. This team work hand in hand accordingly to achieve a not too modern and not too traditional style so that anyone can feel the presence of home.