House of Rolf: A Lovely Home That Was Once An Old Coach
You'd surely be impressed on how an old coach looks like now!
Home transformations are not new to us. We have seen a lot of them already and we would end up impressed because of how they look like. Of course, traces of the old structure will always be seen in the home's interior and exterior. This way, those living in it will be reminded of what their home looked like before. This will also make guests appreciate the structure even more. We have featured many home transformations. Although not all of them have before and after images, we are surely blown away by how they turned out. Surprisingly, it would totally look like a new structure when in fact only the interior was changed. This gives us the idea that interior design has a great impact to a home, whatever it may look like. Today, we are going to feature a house that was once an old coach.
The house called House of Rolf is actually owned and designed by Rolf Bruggink together with Niek Wagemans. It is where he lives and works at the same time. Its unique interior is made up of materials from a demolished building beside it. You can tell that he was able to save a lot of money in designing this house. The interior is done by Niek Wagemans. The project is a transformation of a late nineteenth century coach house to a unique home and workspace located in Utrecht, the Netherlands. The look has a combination of modern and industrial. Over all, I can sense a strong masculine feel in its design. Let us take a look at the house below.
Location: Utrecht, the Netherlands
Designer: Pad Studio
Style: Contemporary
Number of Levels: One-Storey
Unique feature: A one-storey home transformation with an impressive mezzanine. Before the renovation, it was an old century coach home.
Similar House: A Compact Mobile Home and Office Called #dojowheels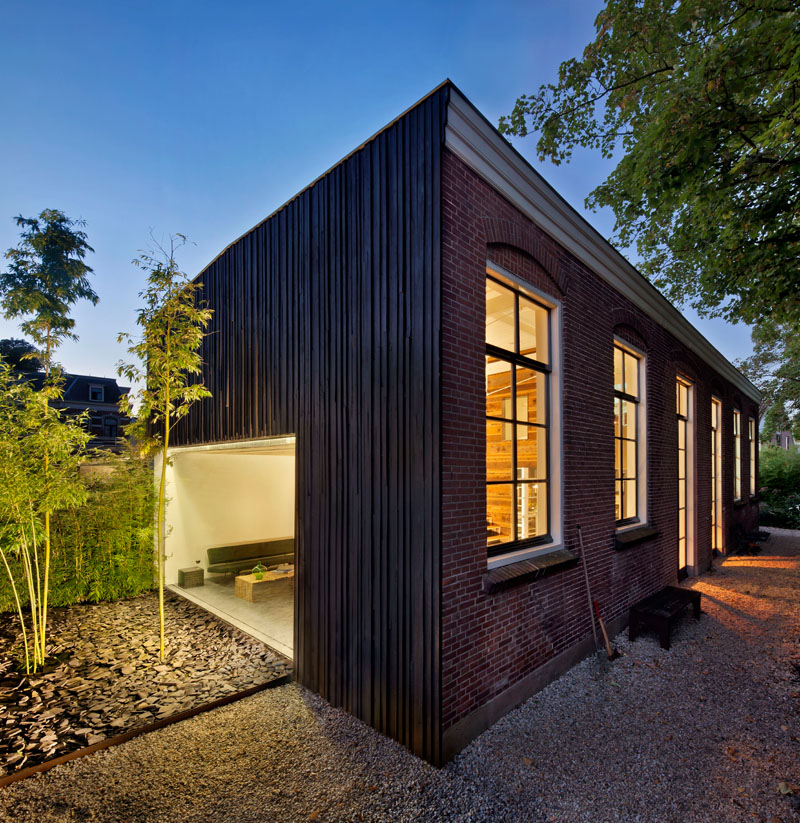 All of the materials used to transform the house are from a demolished office building that was located next to the coach house. With the looks of it, it doesn't appear like it is merely made from scrap!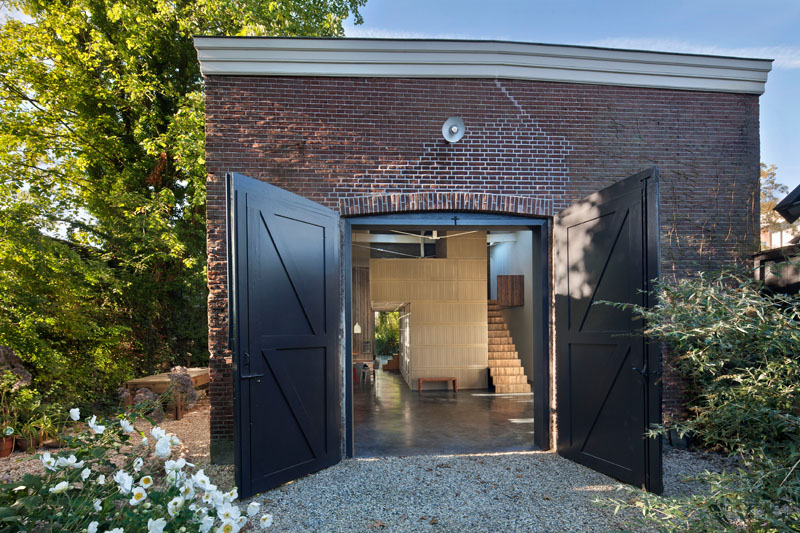 The former coach house was originally built in 1895 in the back garden of a wealthy aristocrat's home. Well, today, it does have traces of the old coach house but it now looks really beautiful especially in the inside.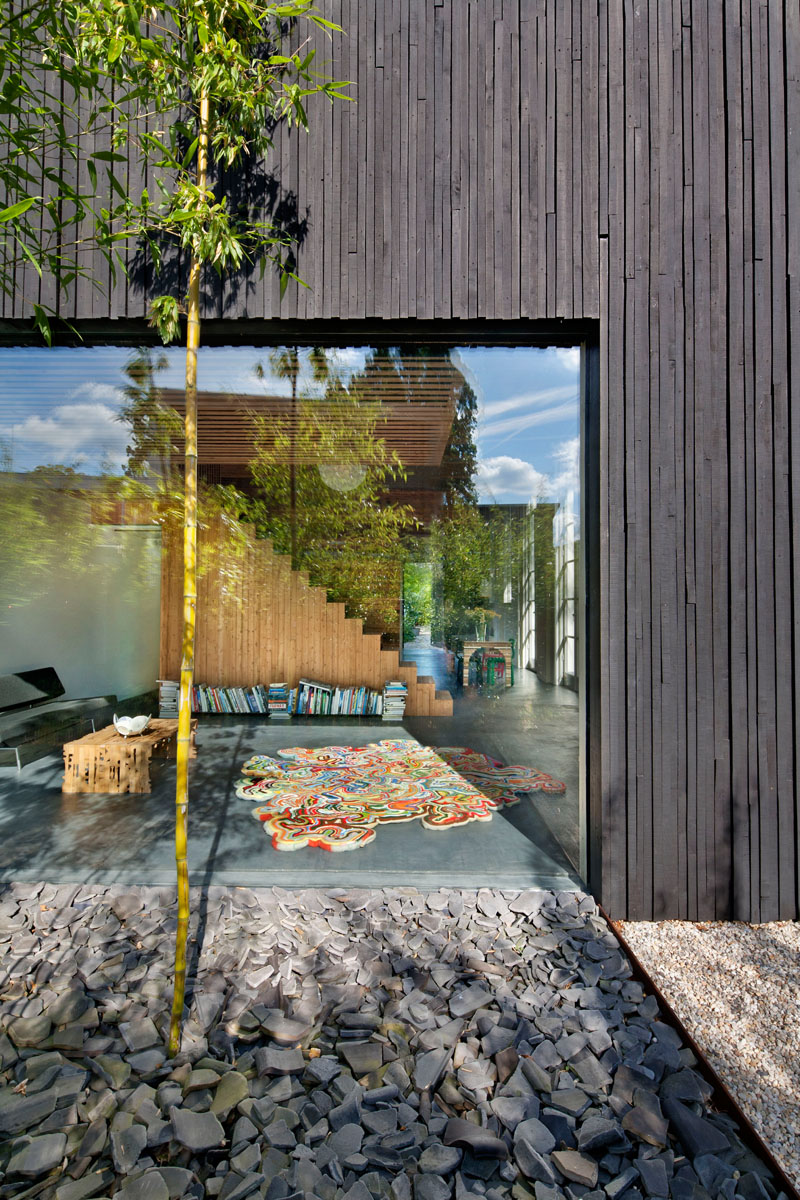 One thing that I noticed in the house is its usage of various materials from the interior to the exterior. Seen in this image is the floor to ceiling window that brings natural light into the home.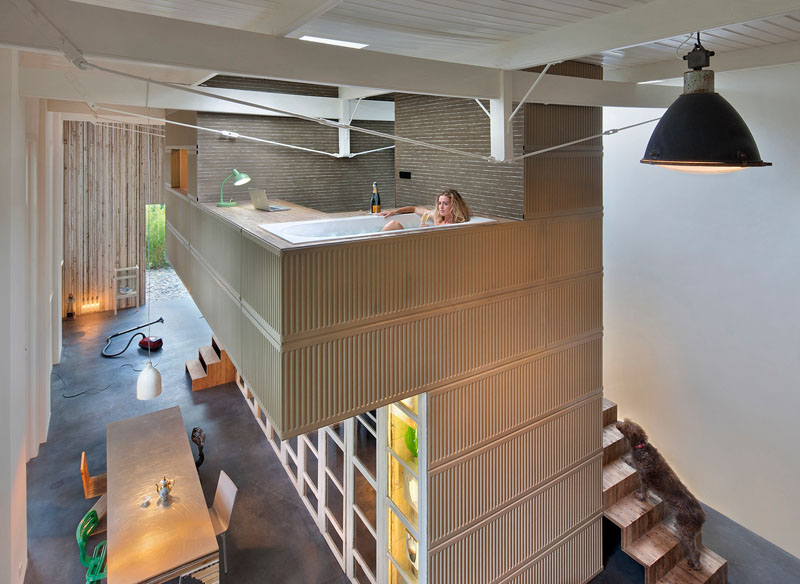 Inside the home, you will see many interesting items. On the ground floor is a sculptural living space that houses a kitchen, toilet, and technical space. It also features a large mezzanine which has a shower room, bedroom, walk-in closet, and an office with bath.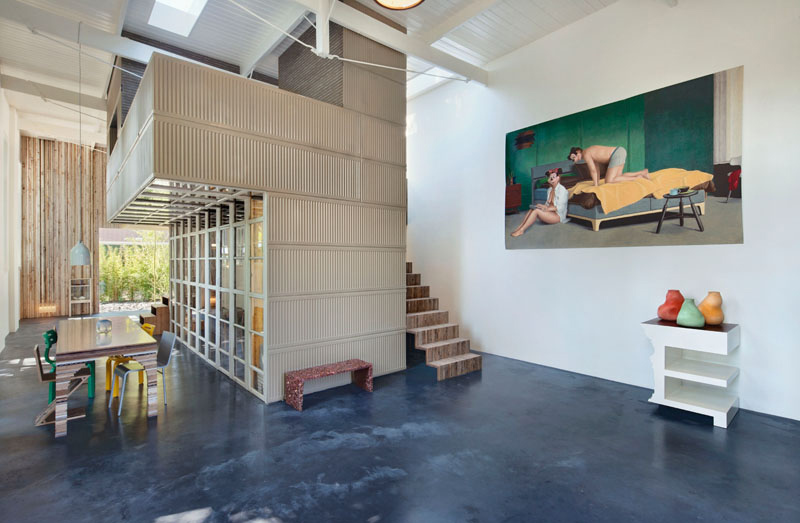 Throughout the home, there are different art pieces that are featured in various places. It has a large artwork seen in the photo above by Jans Muskee, as well as sculptures by Handmade Industrials. But I really find that structure in the middle of the home really interesting.
Read Also: The Tiny Tack House- A Couple's Perfect Mobile Home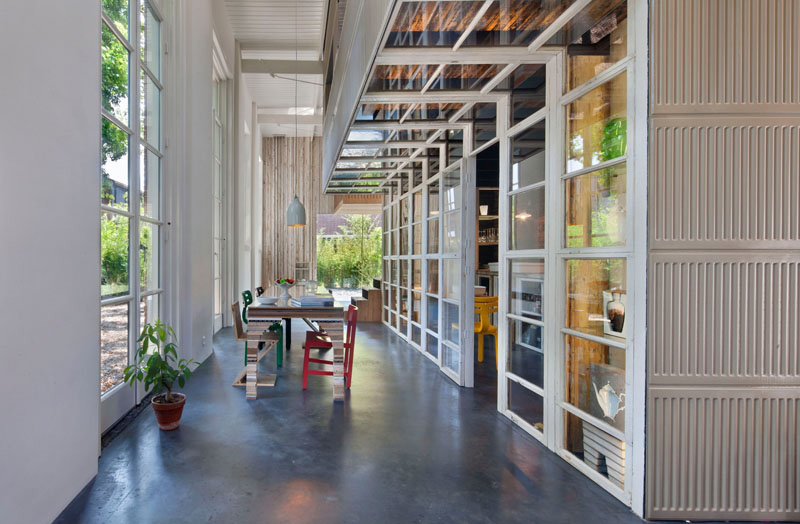 Under the office of the house is a dining area and a glass enclosed kitchen. It looks really nice, right? What made it even lovelier are the French windows around it.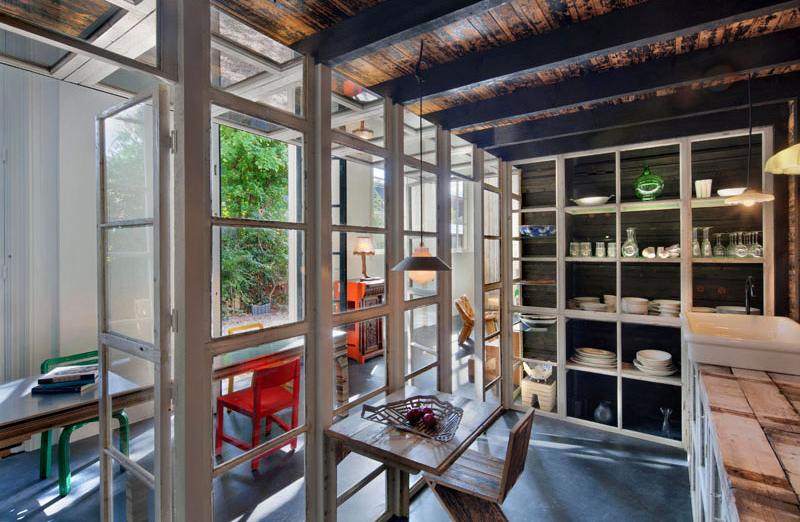 And this is the kitchen. I so love how this one turned out! Notice that there is an open shelf where the kitchenware is added. I also like the lighting on it as well as how it exudes a unique vintage appeal.
Around the corner from the kitchen is the living area. One item here that will surely attract your attention is the artistic rug that is made out of old blankets. It also features a large window that provides views of the garden outside.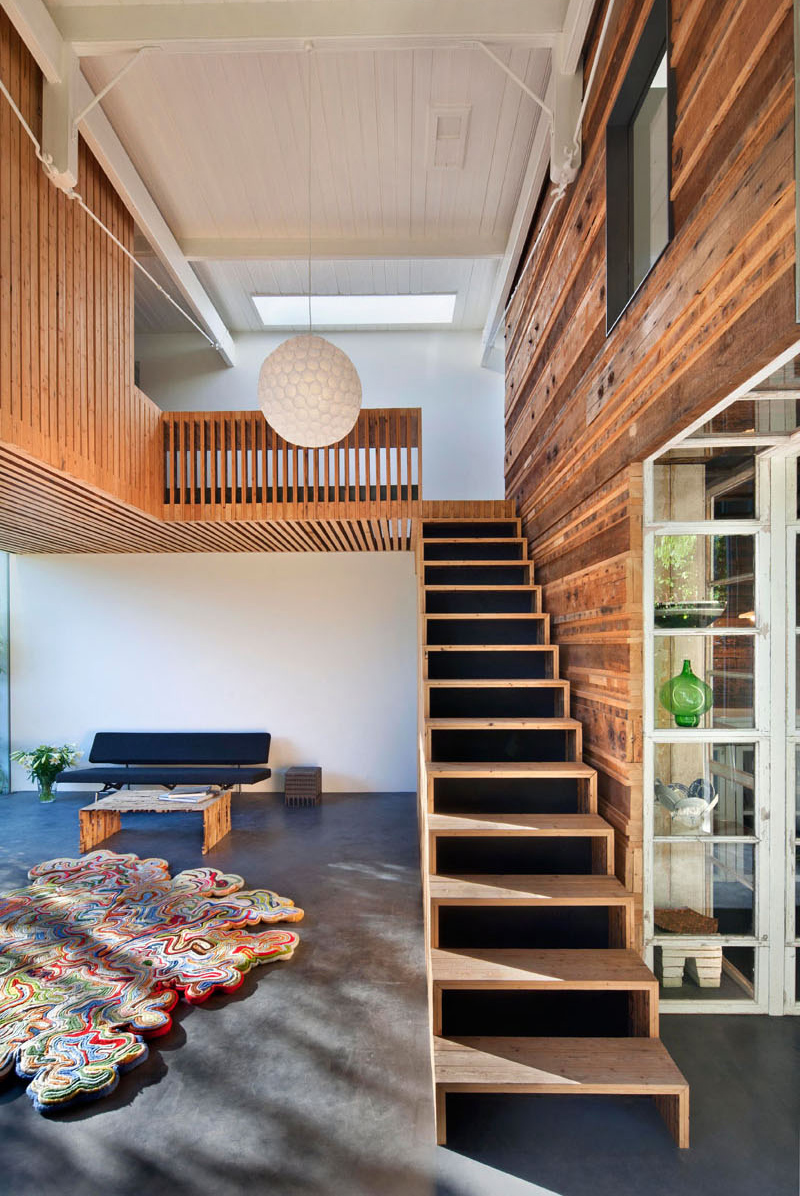 A closer look at the lovely and unique rug in the house. This one is made by Atelier Remy&Veenhuizen. This made me curious on how it was made. But this is indeed pretty cool and is a stunning accessory to the interior.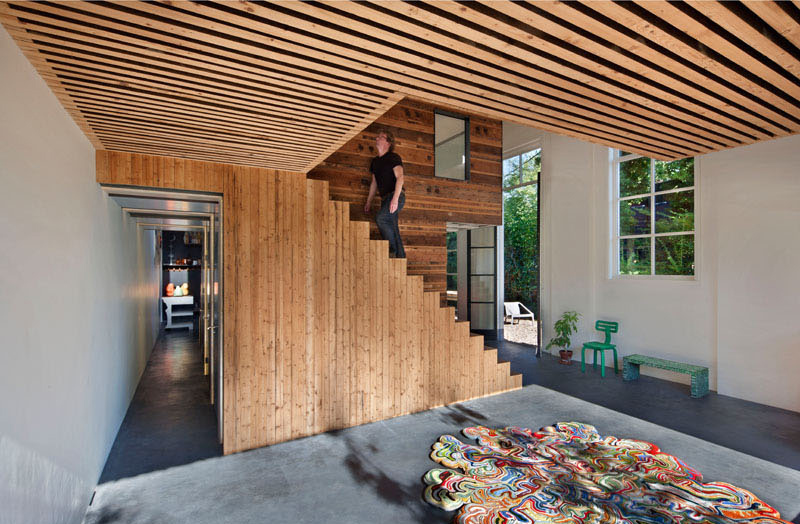 This is another set of stairs give you a second option for reaching the upper floor of the home.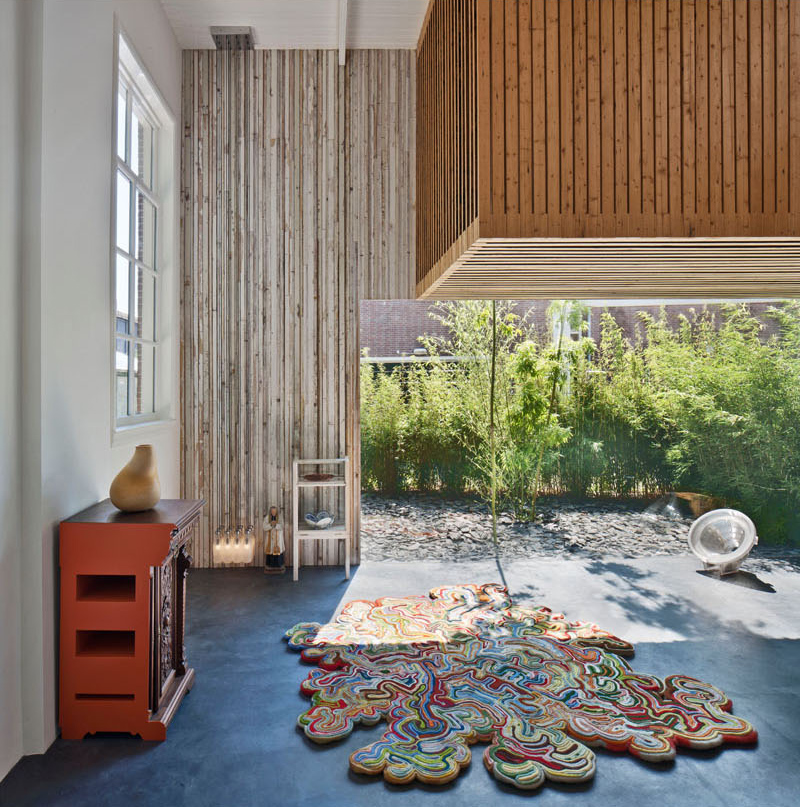 Notice that one side of the wall used reclaimed wood creating a nice accent wall that compliments with the wooden mezzanine and staircase. If you want to see more of the House of Rofl, then take a look at the video below:
House of Rolf from rolf bruggink on Vimeo.
So what can you say? With the looks of it, it is really obvious that someone with a creative mind is living in it. We can see that in the manner the interior is being done. I also like it the idea that they merely used the materials from an old house to create the sign. But I can tell that they have also bought some materials of course. I also like the choice of furniture that they used in here as well as its arrangement. This home is owned and designed by Rofl Architecture. He worked with his friend Niek Wagemans for the interior. Apparently, they have a great partnership because of how the house turned out. It really looked very beautiful both inside and out! How about you, can you tell me what certain features of this house do you love the most?