A Home on a Mountain in South Africa Intended for Entertainment
Although all homes are designed to be a dwelling for the family, there would always be another purpose for it.
Like others also use it as their office while others consider it as a place to entertain guests.
Yes, that's right!
Even out own homes can be the best spot to entertain our family and friends. You can see that in the house that we will feature today.
This home is designed by Greg Wright Architects which is located in Cape Town, South Africa. It sits at the foot of the mountain and has been designed for entertaining.
Curious about how this house looks like?
Well, scroll down and take a look!
Location: Cape Town, South Africa
Designer: Greg Wright Architects
Style: Modern
Number of Floors: Two
Unique feature: This modern house has a beautiful interior and architectural design which is designed for entertainment.
Similar House: Lovely Contemporary Home on Di Lido Island in Miami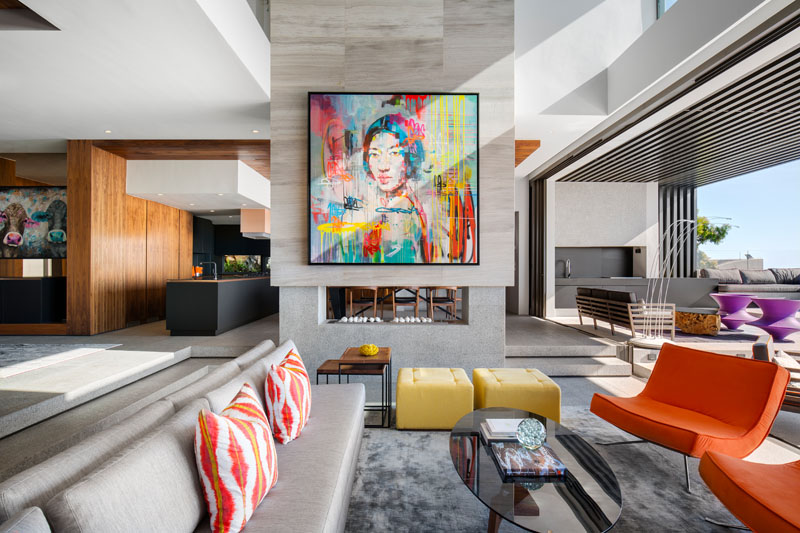 In the living room, there's a double-sided fireplace with a bright colorful piece of artwork to draw your attention. This also compliments the other brightly colored furnishings in the space.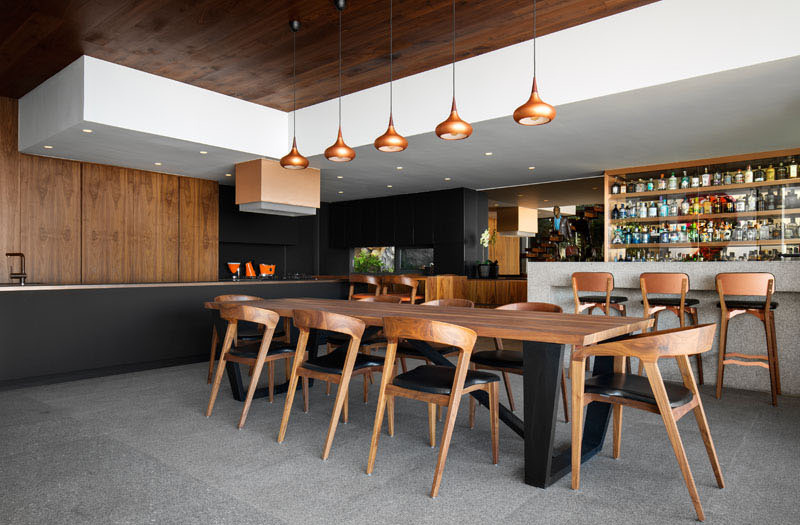 Back inside and on the other side of the living room fireplace, is the dining room. A long wood dining table with a black base is surrounded by matching chairs. Behind the dining table is a bar with seating.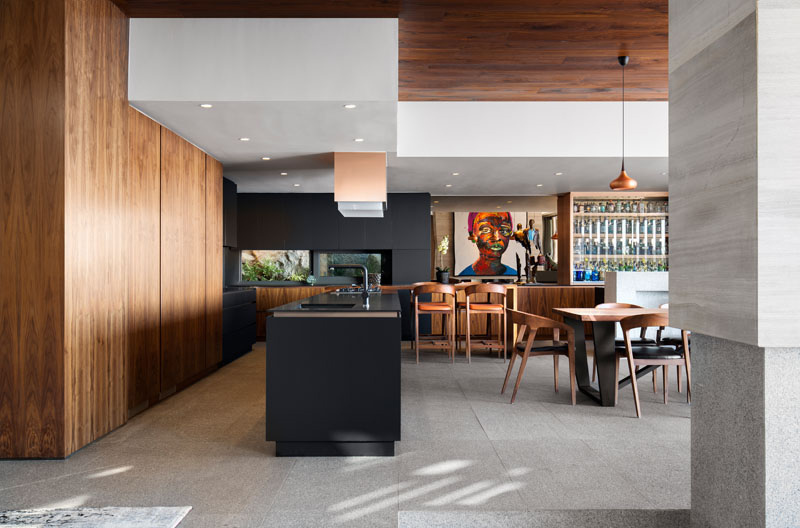 Next to the dining table is the kitchen. The wood and black theme of the dining area is used again in the kitchen, with black countertops, black and wood cabinets and a long black island.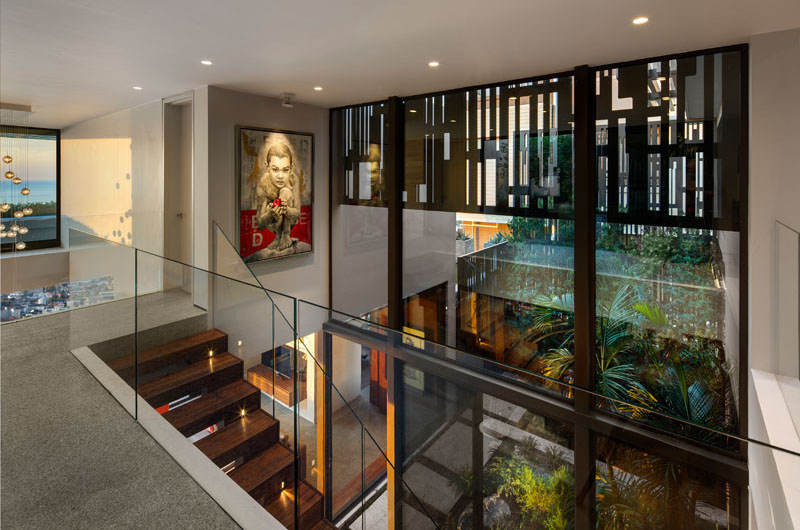 At the top of the stairs, there's a landing that overlooks the living room and courtyard below.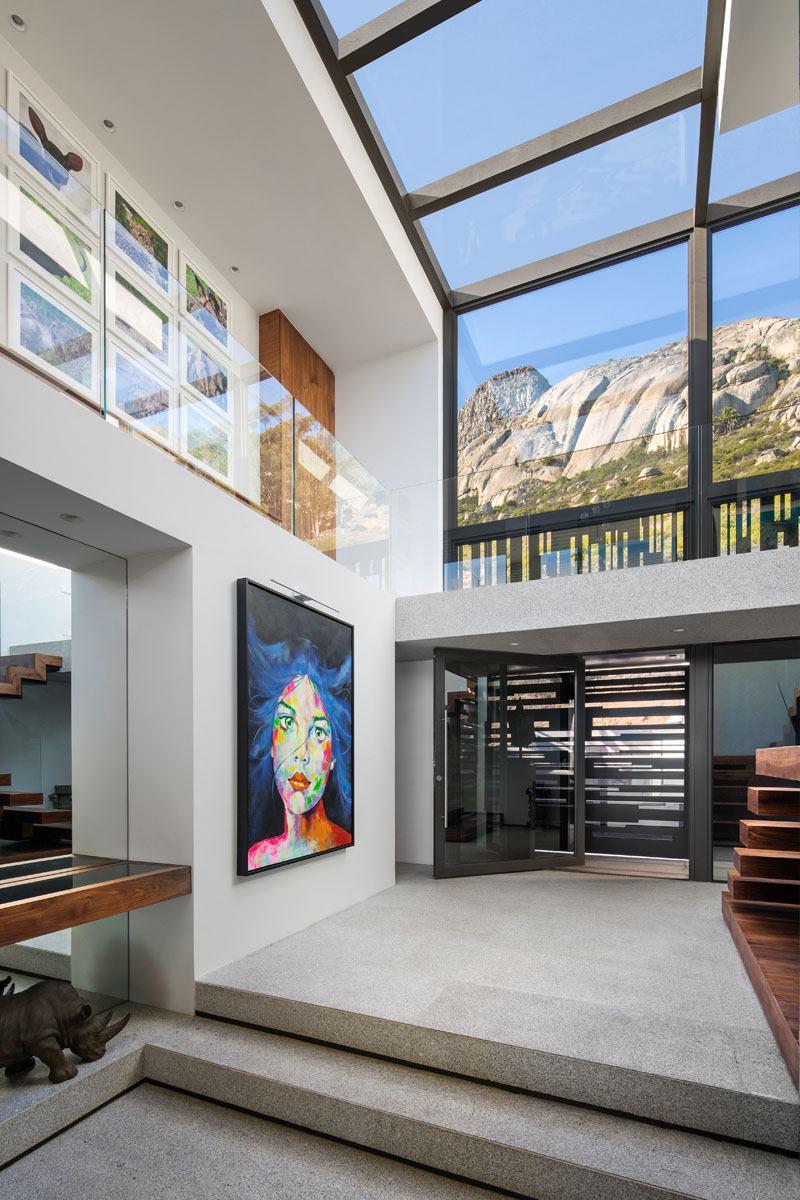 Stepping inside, double-height ceilings and windows that wrap around from the wall to the ceiling create a sense of openness and a dramatic entryway.
Read Also: The Pond House at Ten Oaks Farm: Angled Sustainable and Energy-Efficient House in Louisiana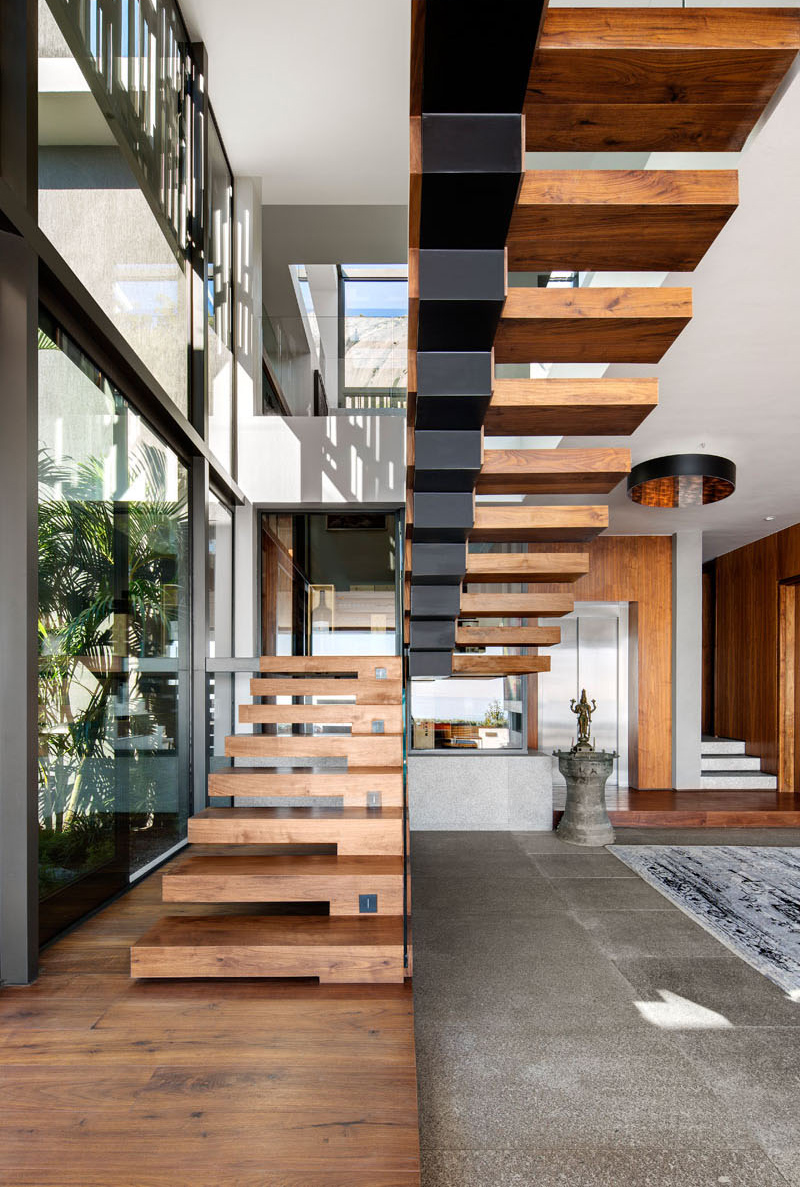 Back inside, wood and black metal stairs lead up to the upper floor of the home, while glass railings appear invisible and allow the view of the courtyard to be uninterrupted.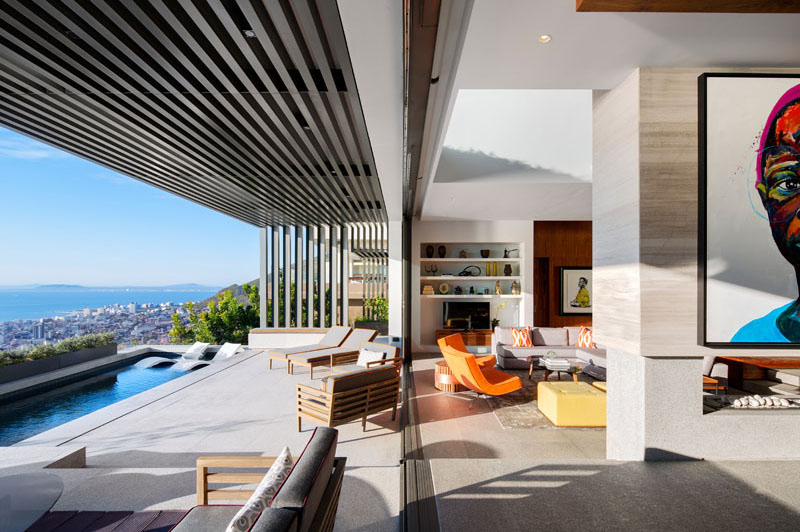 The living room opens to a covered outdoor space with a bar area, lounge and a plunge pool.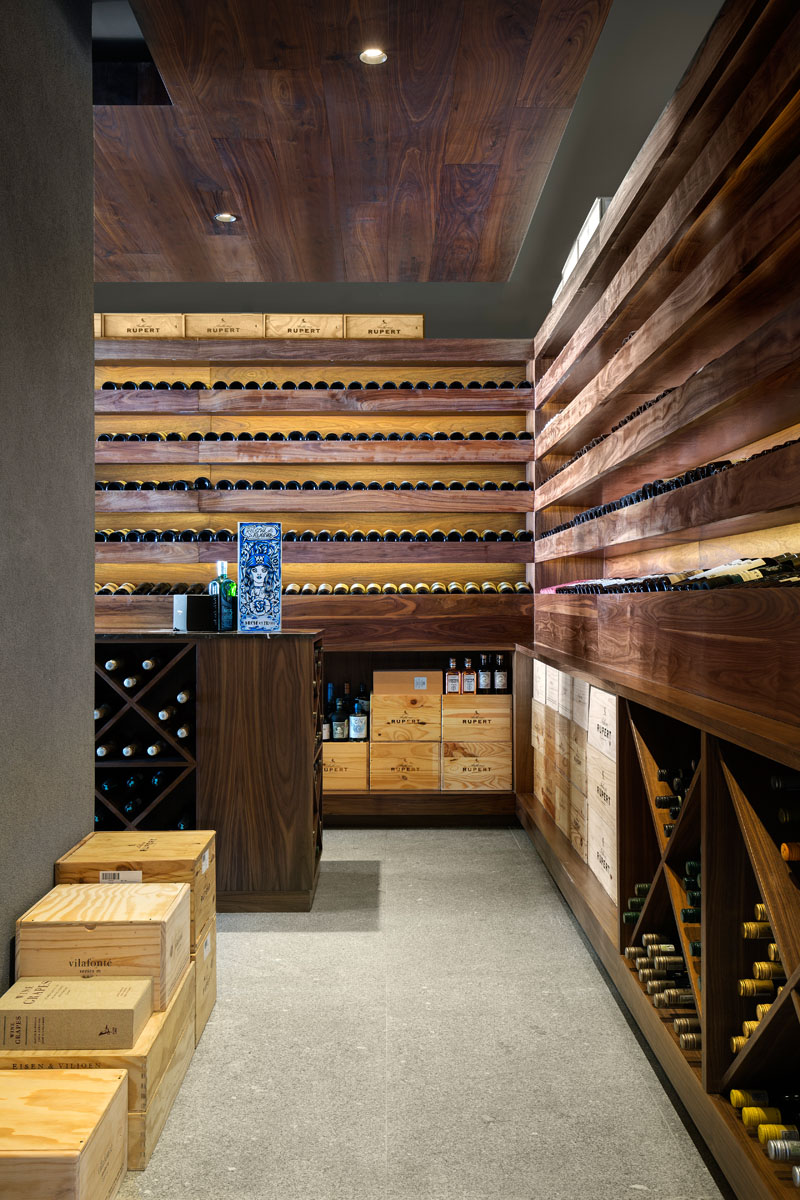 As the home is all about entertaining, there's also a personal wine cellar, with wooden shelves specifically designed to show off the home owner's wine collection.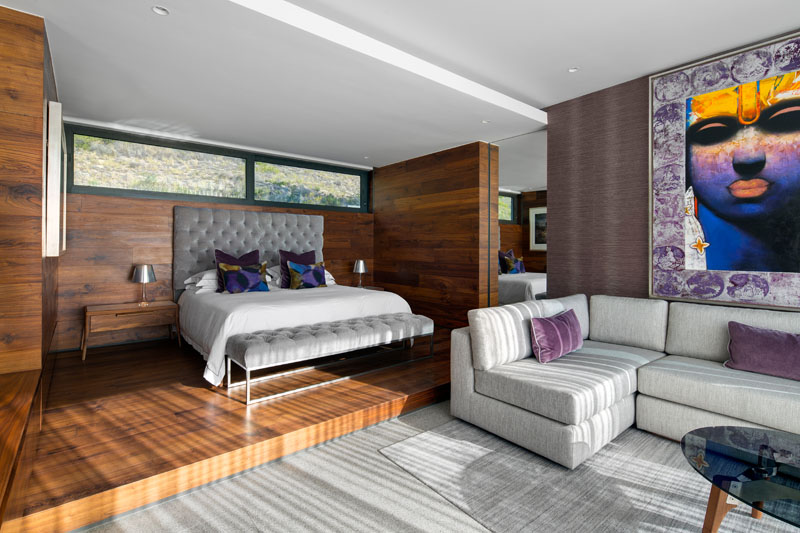 In the master bedroom, the bed sits slightly raised on a wood platform, which a grey couch provides a nice spot to relax.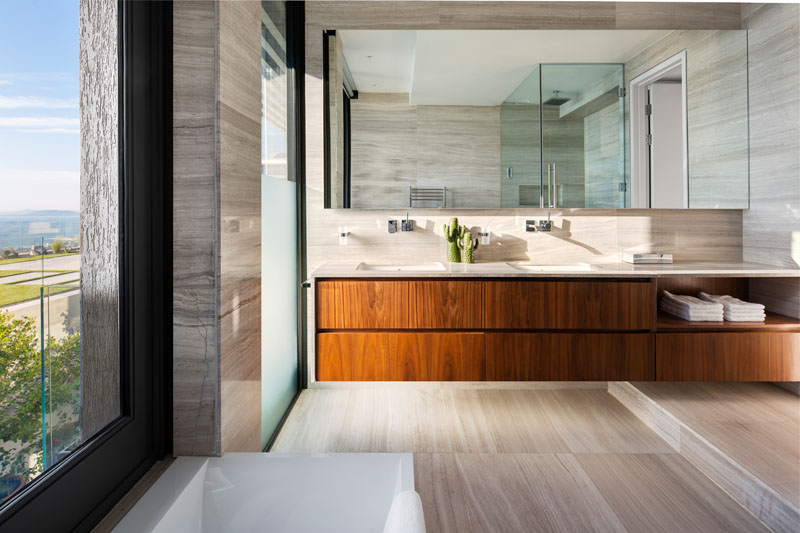 In the master bathroom, a long wood floating vanity with dual sinks provides storage, while windows provide water views.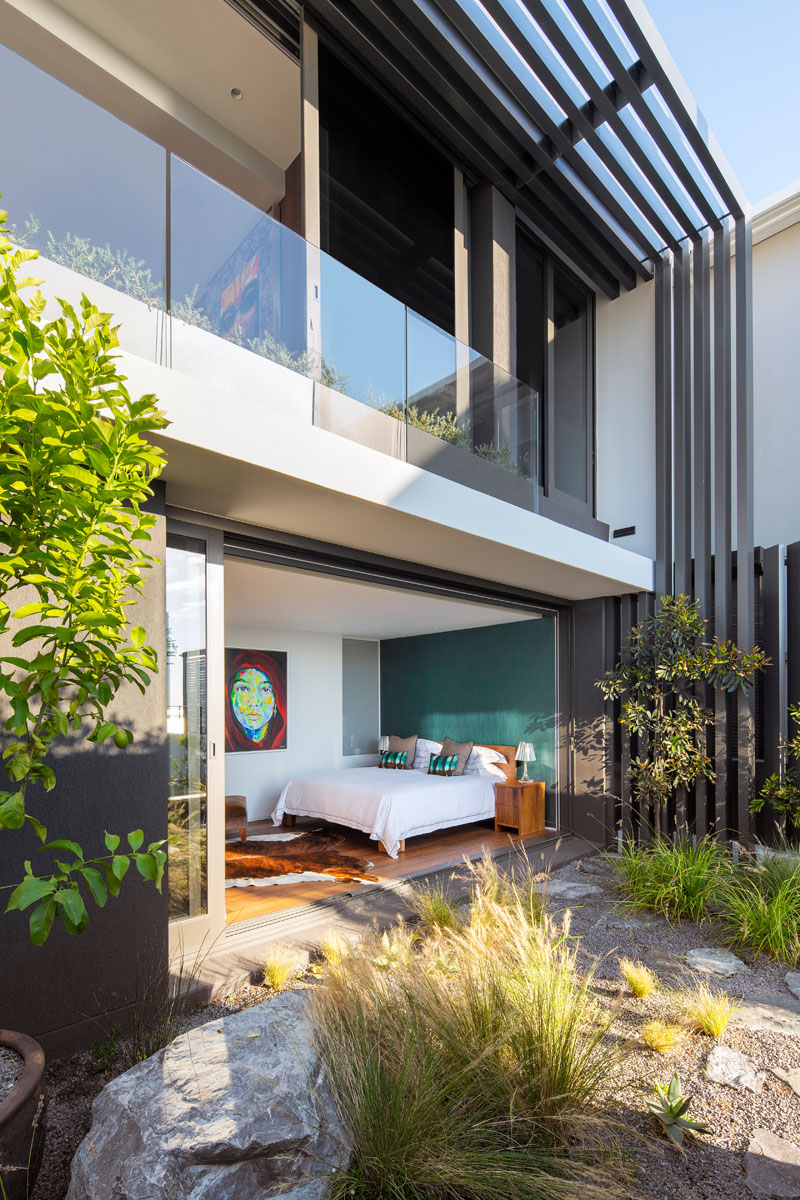 Underneath the master bedroom is another bedroom on a lower floor. This bedroom opens up to a small private garden.
This image gives us a closer look of the home where we can see a wooden fencing and a balcony with glass railings.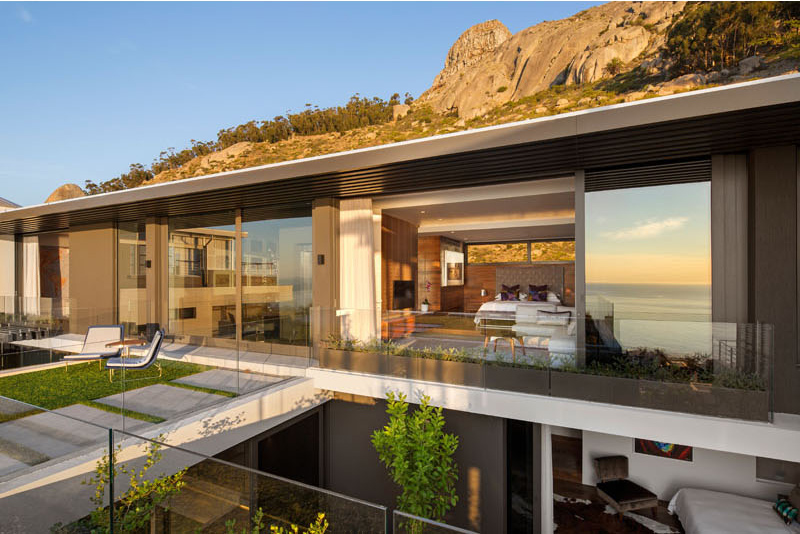 Next to the master bedroom is a two-person office. Both the master bedroom and the office have large sliding glass walls and there's access to a rooftop garden with a couple of chairs.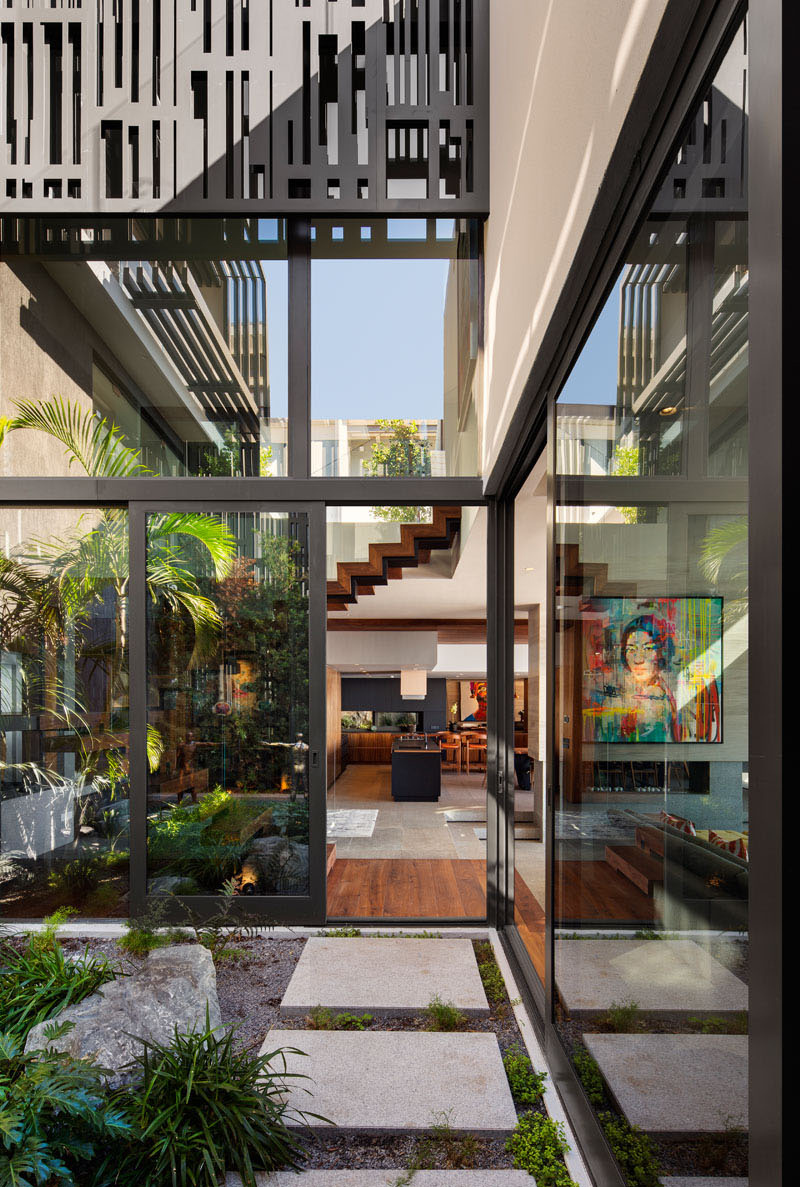 Off to the side of the kitchen is a small courtyard area with a garden and water feature.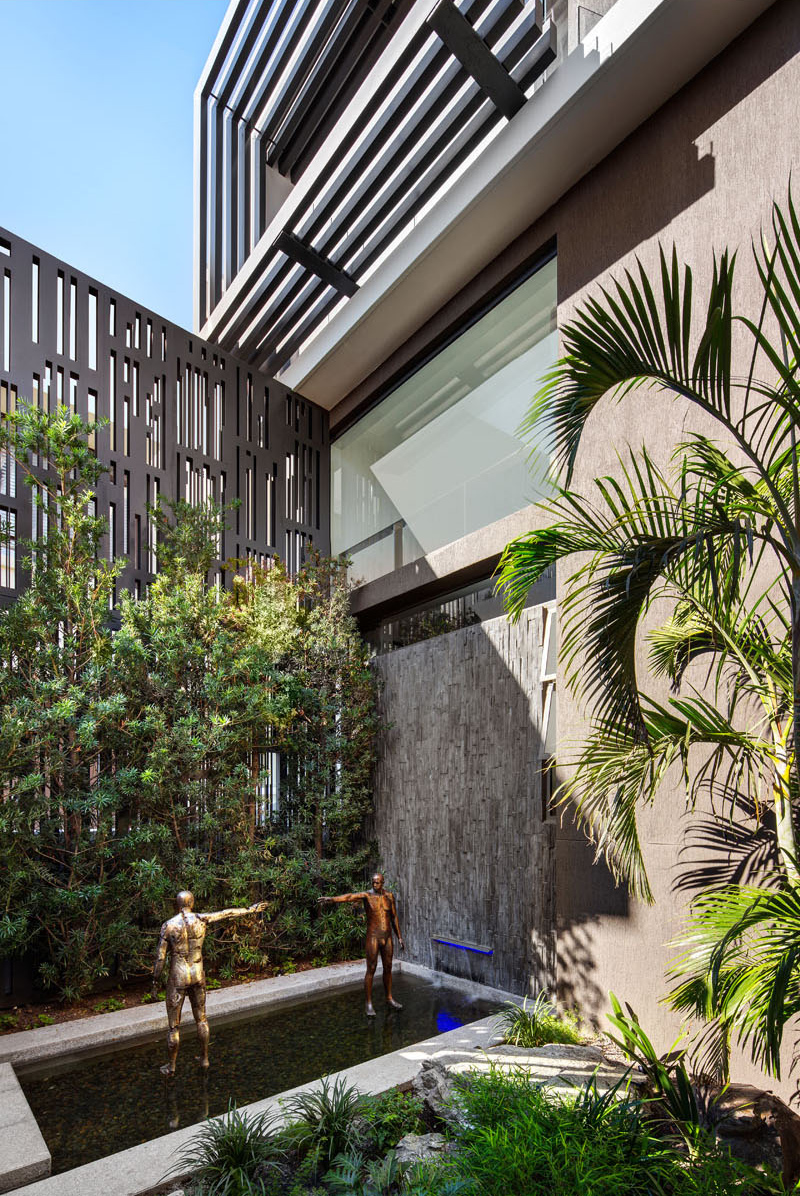 These are interesting sculptures in the garden's water feature. What movie can you think of when you saw this?
Don't you love the look of this house? Aside from the beautiful interiors, what I like here are the wall decors! Those creative colorful portraits are so beautiful that it makes me feel like making one similar to it. But really, homes like this are really astounding not just in terms of design but also in function. Notice that it has everything they need to entertain their guests. Even the balcony and pool area are very nice! This house is a project of gwarchitects.co.za – Greg Wright Architects who managed to make a stunning home for their clients in South Africa. How about you, what is your favorite feature of the house?