Hollywood Hills Residence Offers Wonderful Views of California
Every time we got to dream to have a house, if you'll ask my opinion, I would love to have a house that takes a full benefit of beautiful views and scenery which I think would also be your choice. Taking this into consideration would always bring us a wide smile on our faces every morning while looking to the beautiful sun that rises above the sky, making our eyes twinkle when we see thousands of sparkling lights from afar. Have you imagined having one on the top of a hill that overlooks your city, or may be in a top of mountain overlooking oceans and seas? Try to get some brilliant ideas from this featured house.
This dream house is rested out in a hill slope area with an approximate size of 4,500 square feet located in Sunset Strip, California. Major component of the design is the wide use of glasses in sliding doors, walls, and windows, and also high ceilings are obliged all over the area to acquire the stunning views over the busy city of Los Angeles. The house and the infinity pool are configured in L-shape to have a beautiful interaction of the construction between indoor and outdoor living. This is a one storey building which consists of 3 bedrooms, living rooms, dining and kitchen. Keeping the whole area simple with the use of simple colors of paint like white limestone, brushed aluminum and stainless steel that is perfectly matched with oak walls.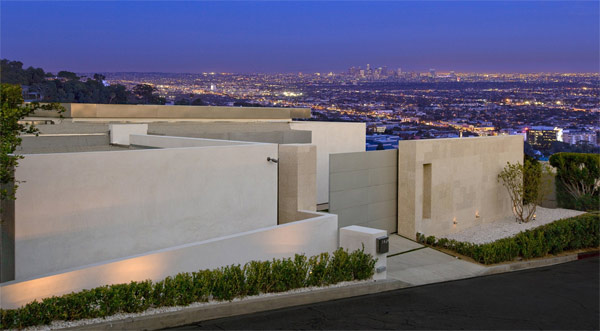 An ultimate stunning view from above, homeowners did a good choice choosing this spot.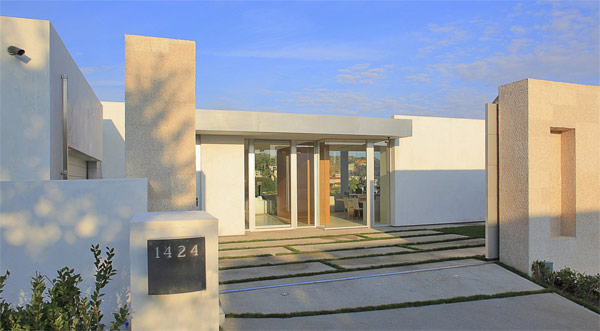 The entrance way reveals the layout of the one level house; formed with lines and glasses.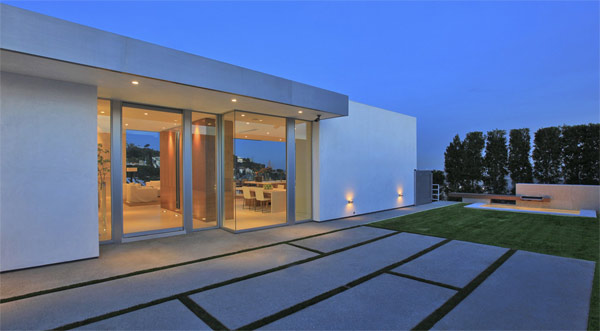 The front yard still gets the sense of nature with those green Bermuda grasses that are planked with tiles.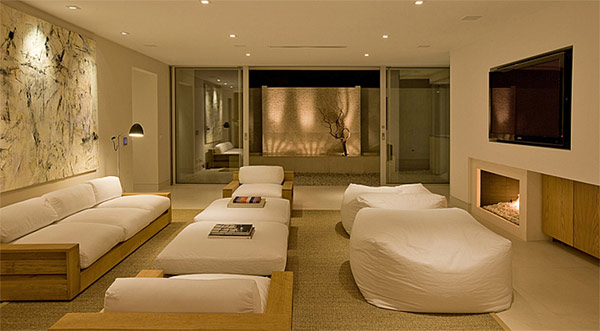 This living room achieved a clean look from those wooden chairs fabricated in white colors and a combination of white bean bags.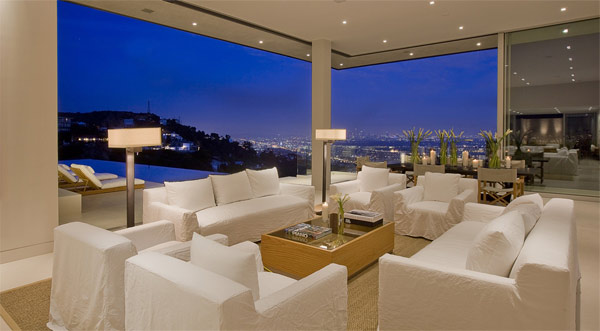 To take a full advantage of the views, higher ceiling was constructed.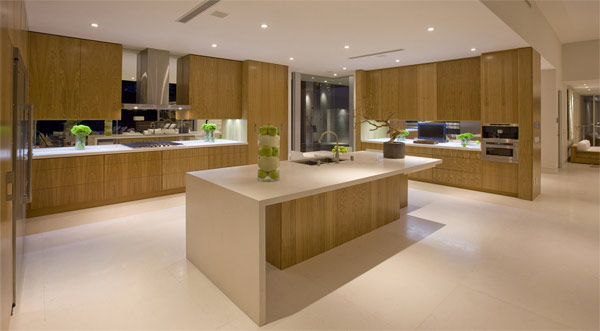 The kitchen displays a material of oak woods matched with stainless steel.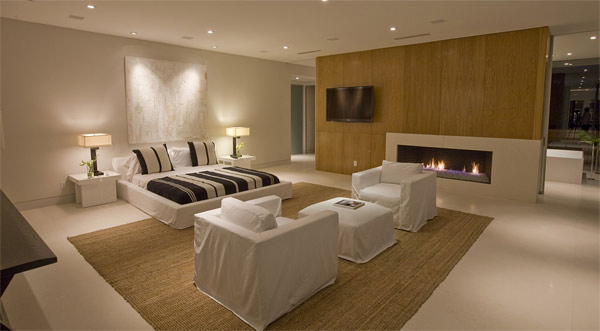 This bedroom gets a warm look finished with white color and oak walls.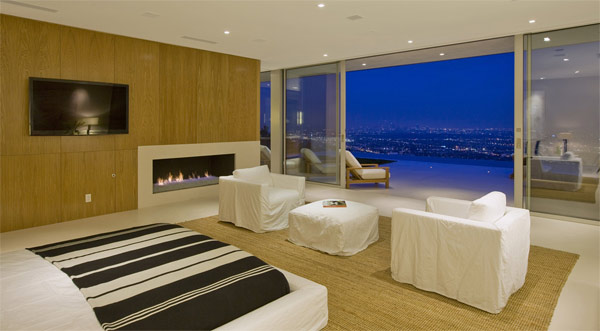 To complete the look of the bedroom, fire pit is added and sliding glass doors are used for more transparent views.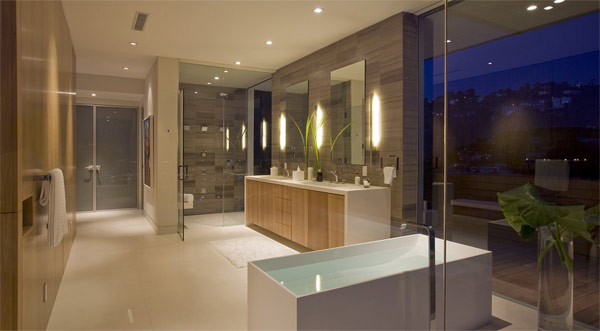 This double-sized master bath is adorned with a long, double vanity sink and shower room.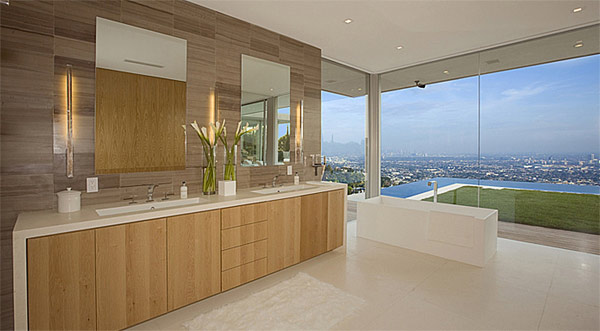 The freestanding bath is perfect on its placement, overlooking beautiful scenery during bath time.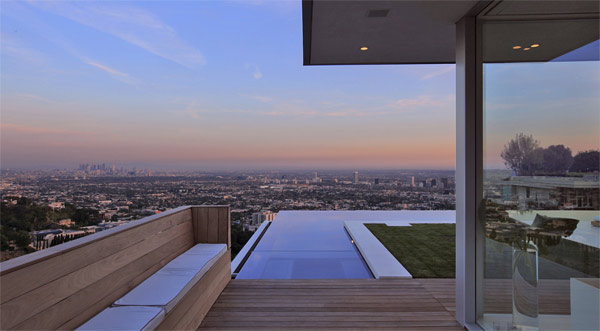 This long bench is a perfect area to witness the sunset.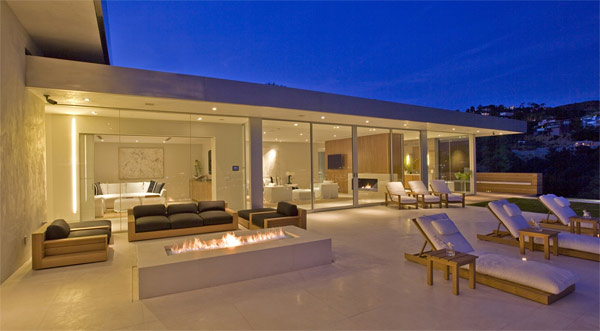 Additional outdoor sofa sets and lounge chairs are here to maximize the area.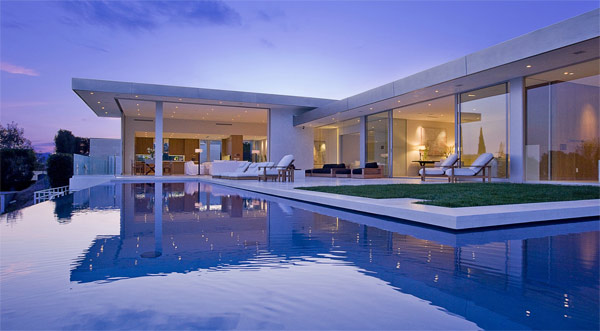 L shape – a unique shape idea of an infinity pool where you can enjoy a wider area to swim.
This house is originally built during 1970's inspired with a French design but due to its poor quality of configuration this was remodeled by McClean, giving a wonderful transformation that adapts a contemporary style. This design gives a real experience that every household would want to achieve: to experience to gaze widely to the beauty of nature.