Casa Cubo: A Modern Hillside Home in Spain
One advantage of having a home in the hillside is the views that we can get while on it. Being elevated from the ground allows us to get a good view of our surroundings especially of the panorama we can see below it or around it. That is why, when a home is on a hill, it would always take advantage of the views by having glass windows in its facade and in other parts of the exterior.
The Casa Cubo in Girona, Spain has a cubic volume that appears to float. The hillside where it is located was used to create a series of structured terraces that are surrounded by lush landscaping. At the bottom part of the house are rusty Corten steel that mask them on the ground. On the ground floor, you will find the bedrooms to allow for privacy while on the top floor are the lounging spaces to allow views of the landscape. Simplicity is seen in the interior with minimal palette of materials that includes maple wood. Stage decorator Anaí Ibarra, The Vintagelab, infused splashes of rich hues through the textiles and accessories that helped "revitalize the cool and comfortable atmosphere of the residence".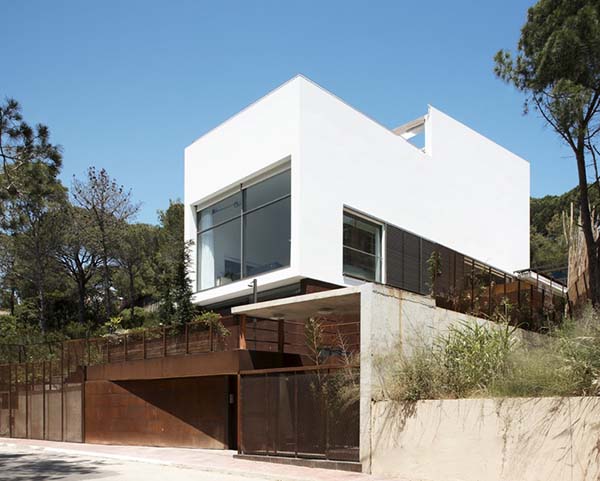 A combination of rusty Corten steel and concrete white for the upper cube is a good contrast.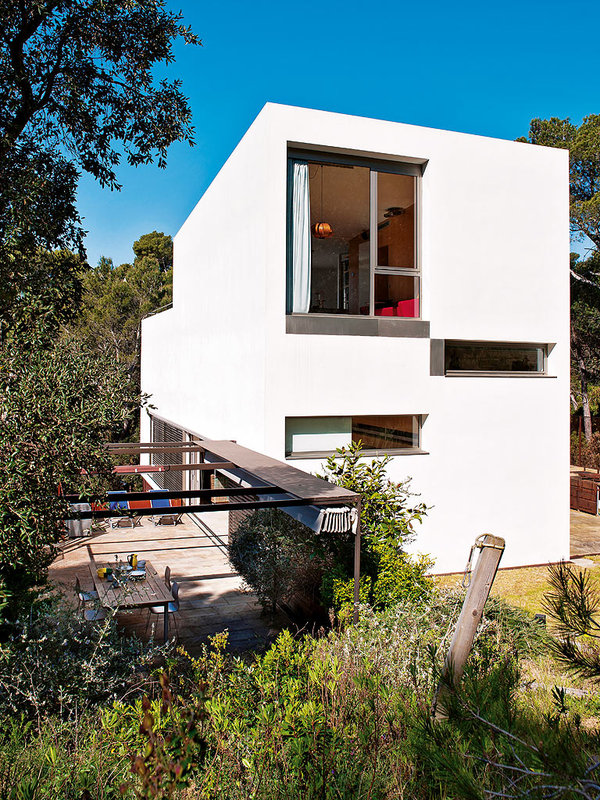 In the outdoor area of the house, there is a modern pergola where the family can dine in.
It also has a swimming pool with green flooring tiles.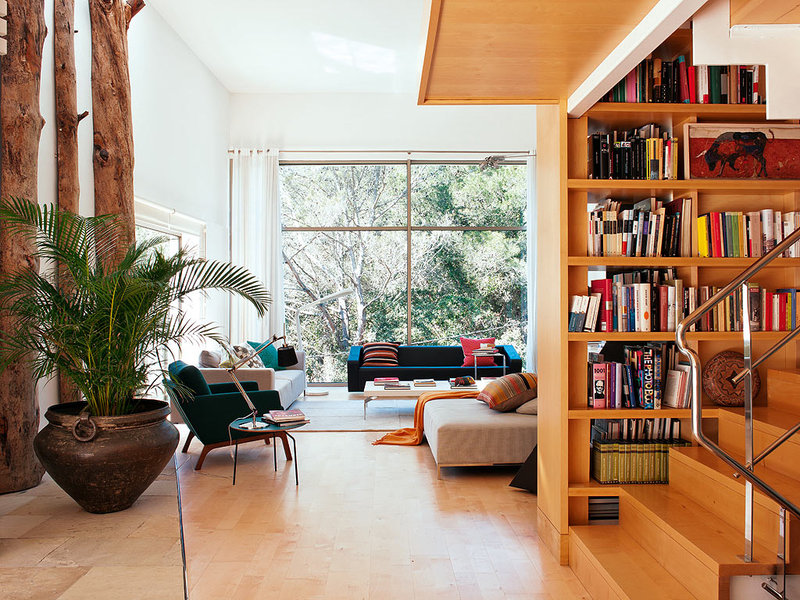 On the ground floor are the bedrooms where a tall and long bookshelf sits.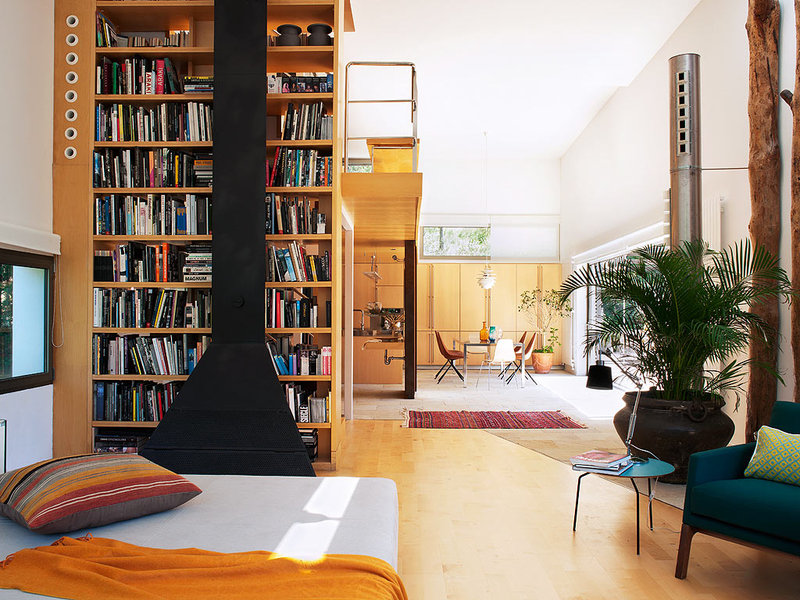 Maple wood flooring is used throughout creating a clear connection between indoors and out.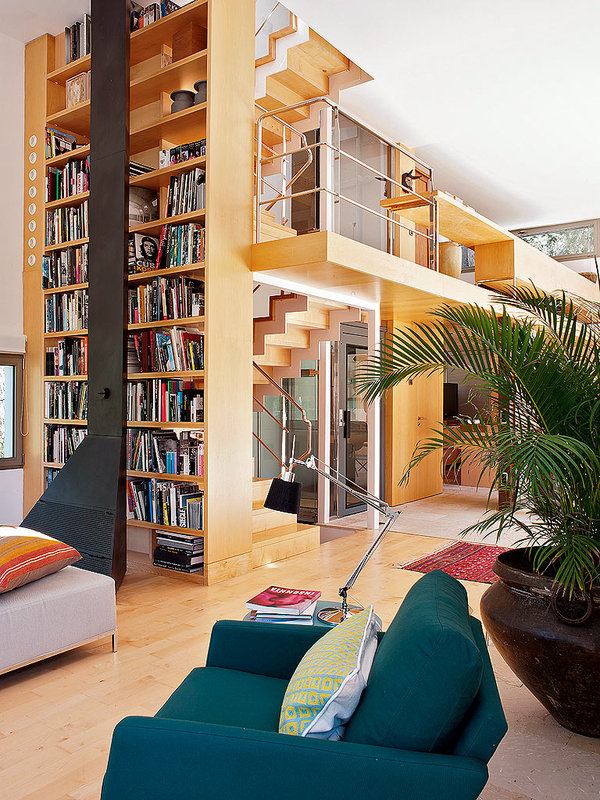 Note tithe beautiful usage of wood in the interior of the house especially with the combination of stainless and glass.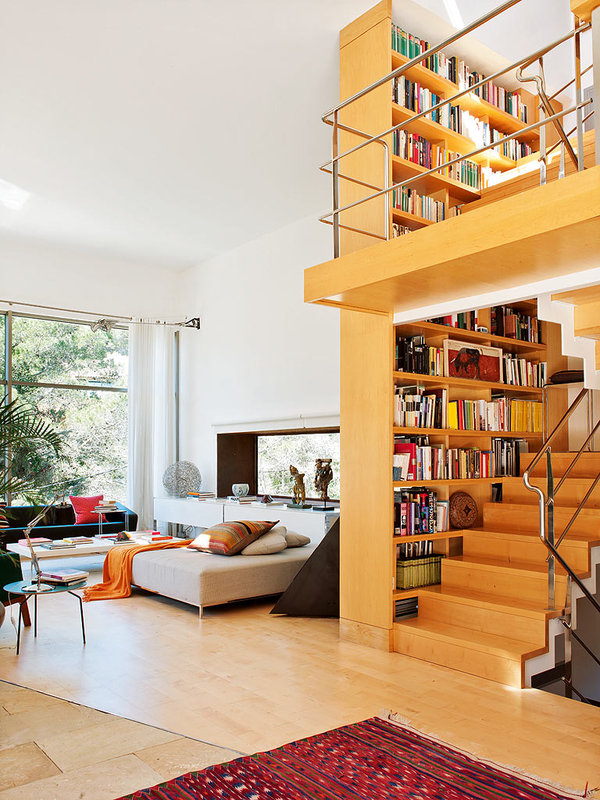 A beautiful staircase houses a wall of books that climbs up the entire length.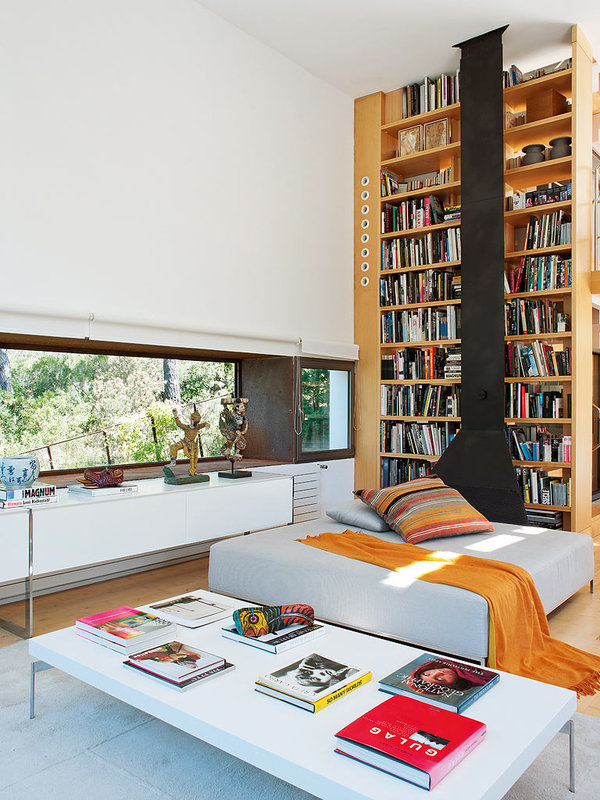 This is the bedroom with many interesting items displayed.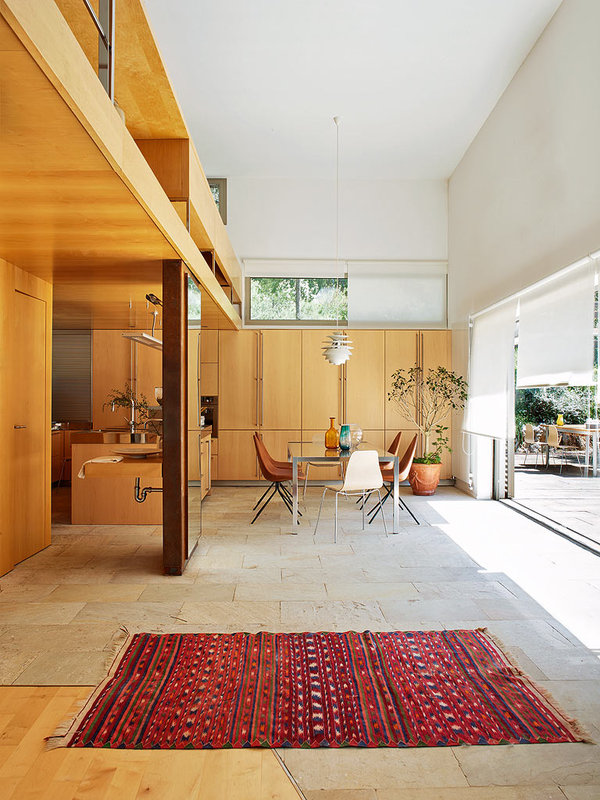 The kitchen used quartzite flooring that extends out to the adjoining terrace.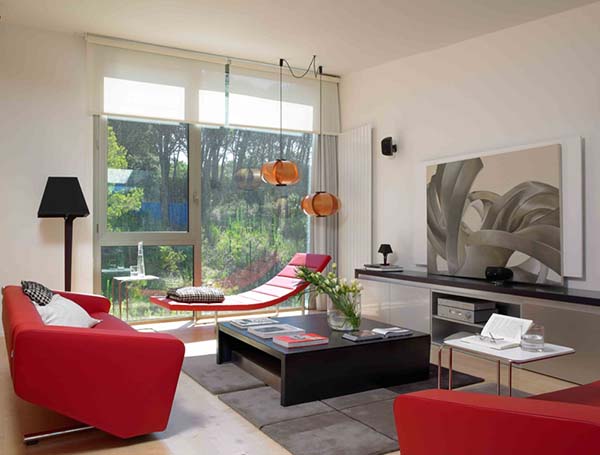 Love the furniture in this living area and that black and white wall art.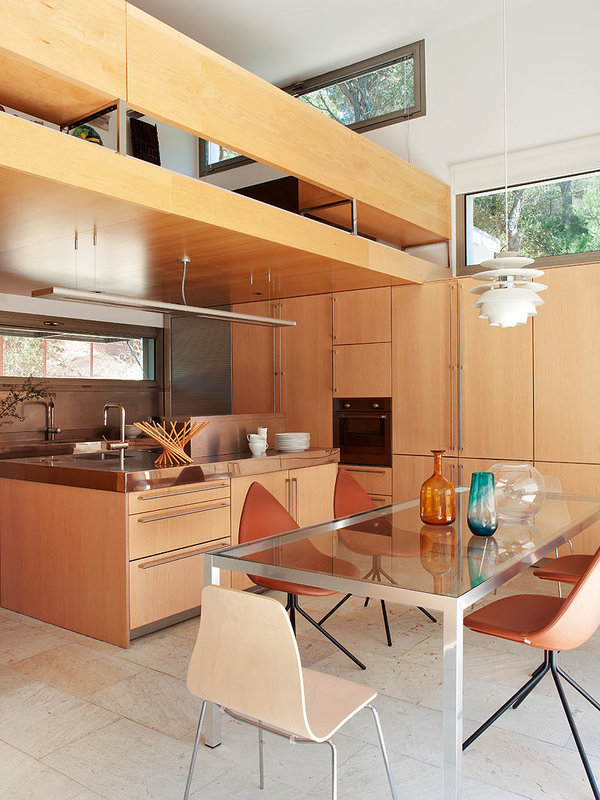 The kitchen also used wood for its cabinets combined with stainless steel.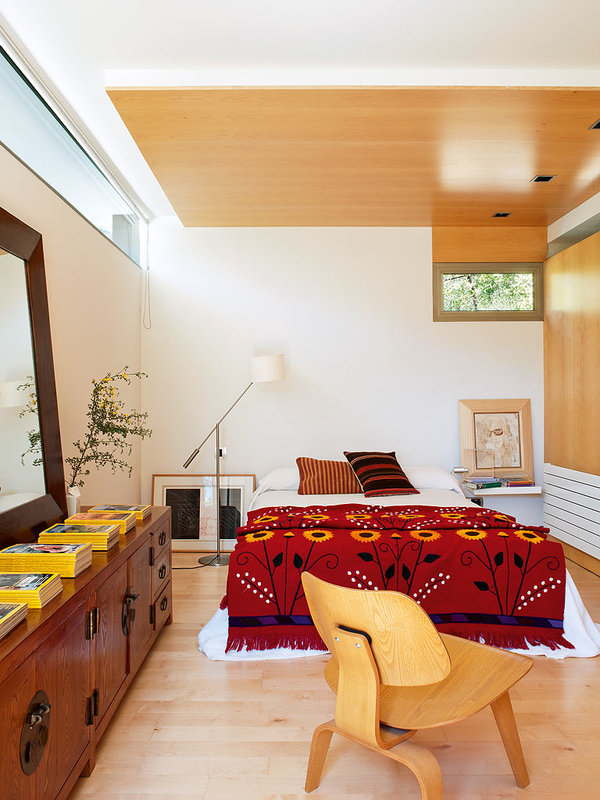 Another bedroom in the house that is very beautiful despite its simplicity.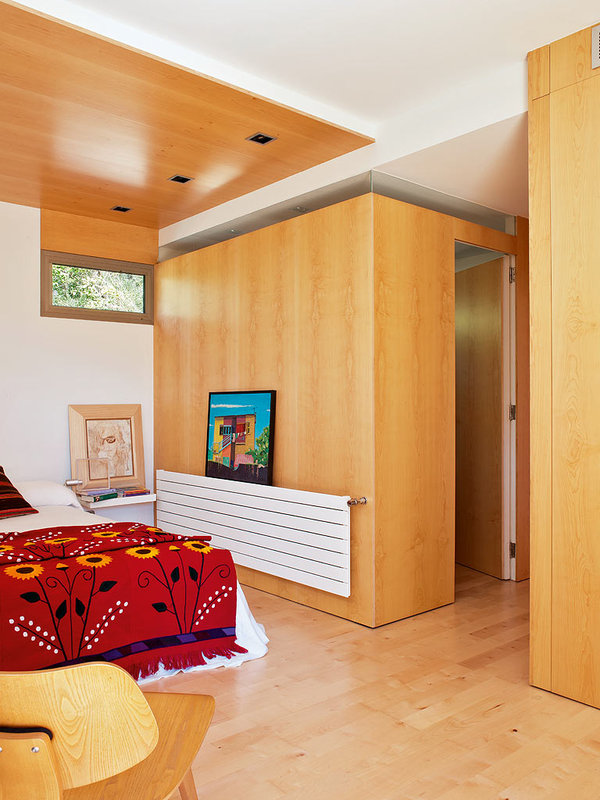 If I am not mistaken, that door leads to a bathroom.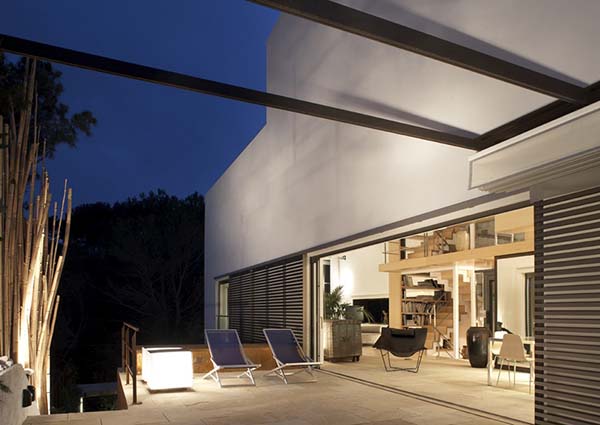 The terrace allows the family to spend time outdoors.
The house appears like a white cube overlooking the landscape nestled between the pines. Aside from the beautiful yet simple exterior, I love how the spaces were distributed in the interior as well as how it used wood for the design. This home is designed by Octavio Mestre who created a cozy dwelling in the hillside for the family. How about you, what do you love most about this house?