Suprisingly Beautiful Flintstones Romantic Retreat House in Malibu
Have you imagined living inside a cavernous home like the ones during the Stone Age? People in that era would dwell either in a rock home or in a cave. This is what you will see in the famous cartoon sitcom, The Flintstones. The sitcom is a humorous story of Fred and his family living in a Stone Age way of life. It also shows different adventures with his best friend Barney Rubbles. Well, you wouldn't barter living in a rock house that with the comfort in your current home. But you might change your mind after seeing this Malibu Romantic Flintstones Retreat House owned by American television and radio legend, Dick Clark. This house sits on a 23 acres lot in Malibu giving one a 360 degree view of mountains, seas and cityscapes.
This home would make you say "Yabaa-Dabba-Doo" like the famous expression of Fred Flintstone. One would have the feeling of being a modern day Fred with the aura and design of this house. One look at it would make you think that it is a massive structure but it is actually built using light materials combined with concrete. The inner walls are made of wood while the ceilings used steel beams covered with concrete to get that rock-like appearance. It has one bedroom and two bathrooms that both made use of modern appliances despite retaining a pre-historic look. The interior design of the house used irregular shapes and stone colors. While the exterior really looked like real rock especially that real stones where integrated to the concrete and scrubbed to expose it.
The house came from the idea of Architect Phillip Jon Brown who suggested to create a house that looked like a rock formation since it is situated next to the Santa Monica Mountains National Recreational Area. The idea was then made real with this home. Aside from its impressive design, this home also offers a breathtaking view of the Pacific Ocean, Boney Mountains and Los Angeles. One will love the place for it is like a secluded retreat right in the center of nature's gift of beauty, peace and serenity. For sure, you are eager to take a tour of the Flintstone House of Dick Clark. Scroll down and take a look at the different views of the house.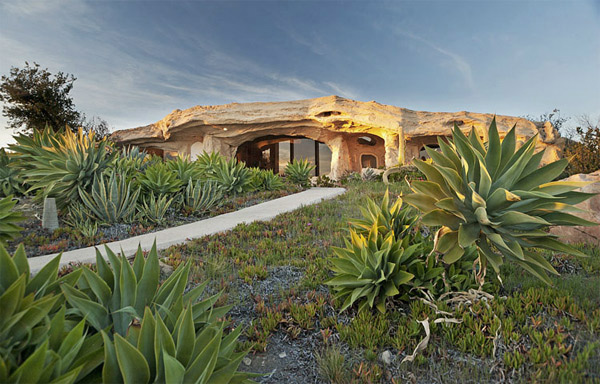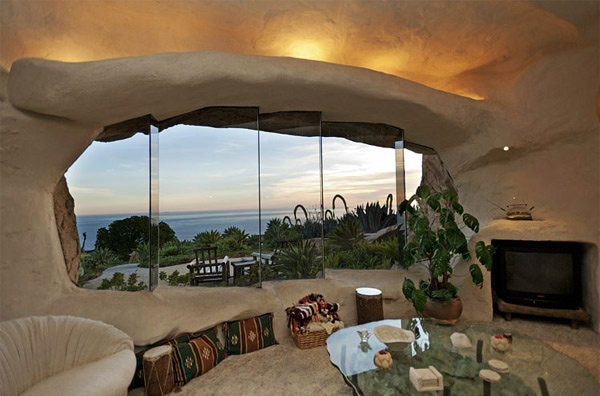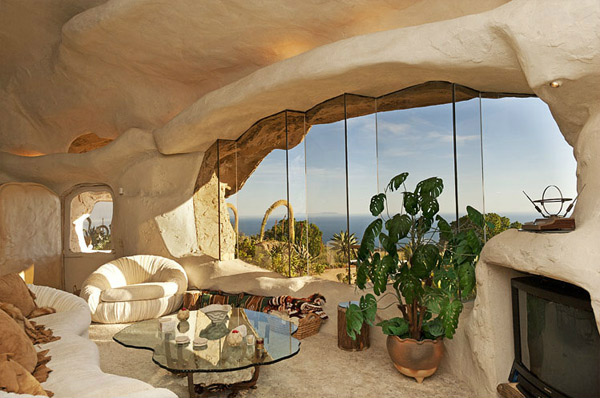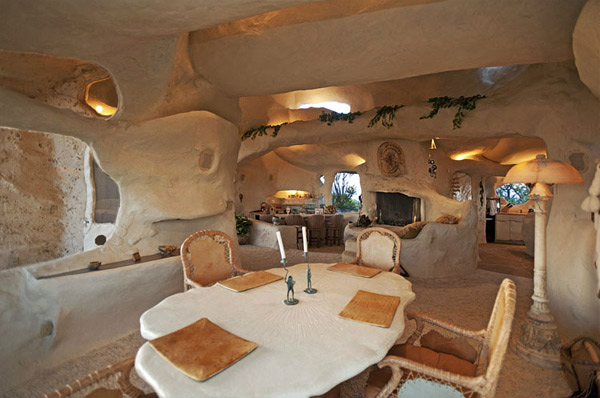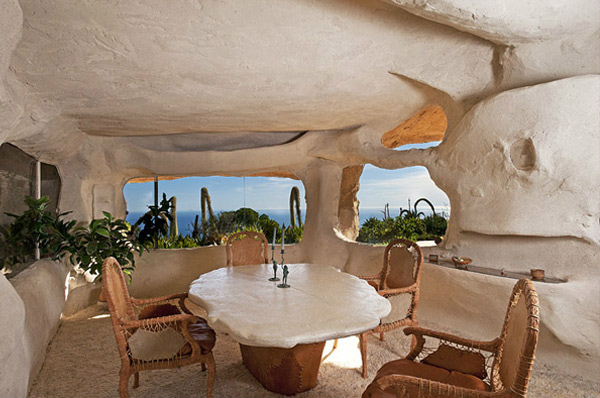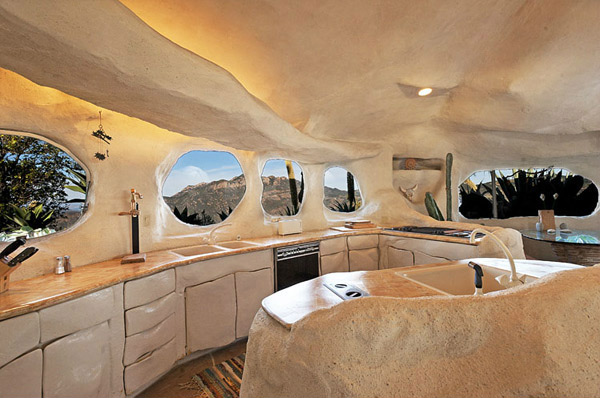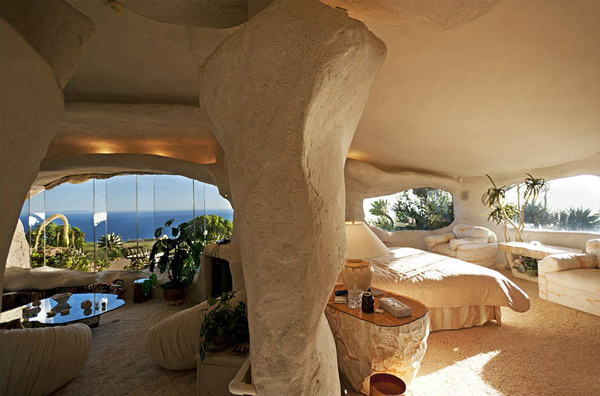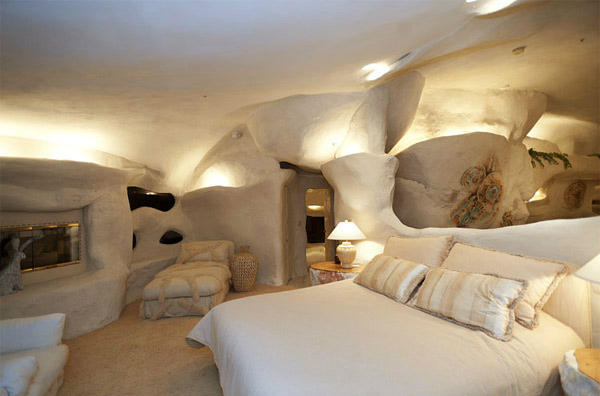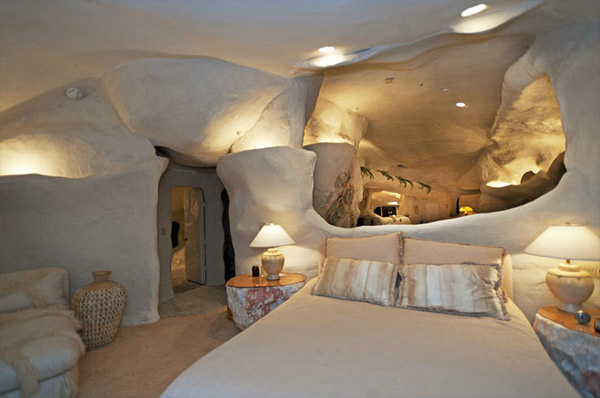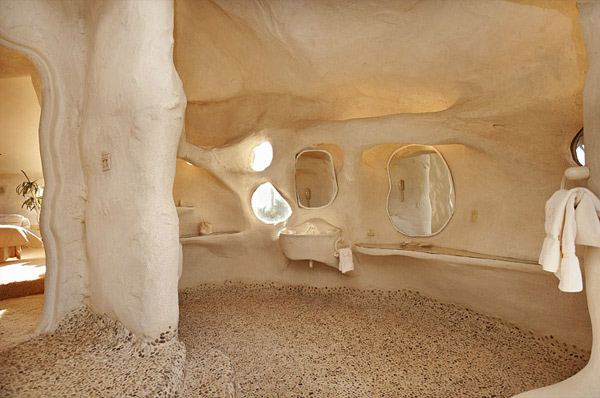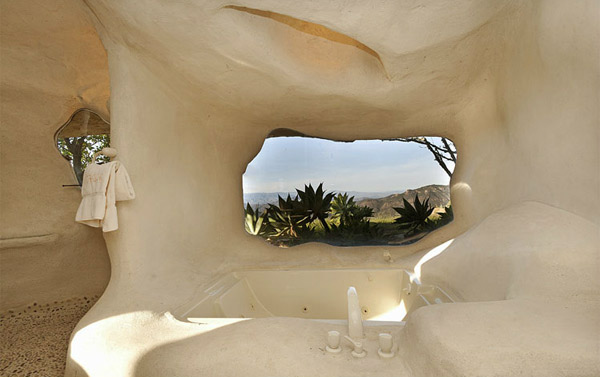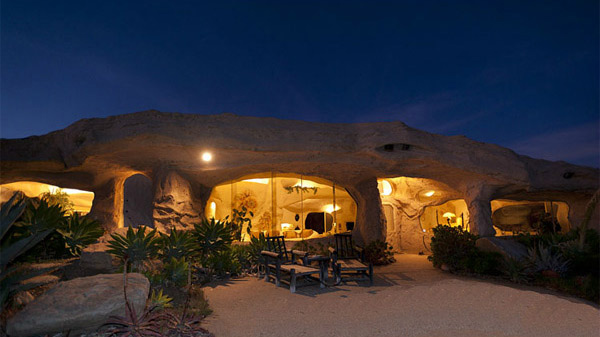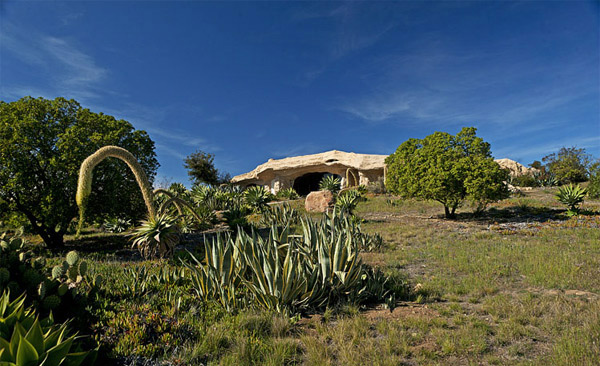 Surprised? Well, maybe you are but this home was really well built. It could have been a great challenge to the architects, interior designers and civil engineers on how to come up with a house made of rock. But for sure it had given the engineers a big deal of structural analysis since the home used irregular shaped columns and beams. The structural design of the house was surely well thought of and intelligently done to make sure that it will stood firm through time. This could not have been possible without the collaboration of design experts especially from Architect Brown who conceptualized the entire design. This Malibu Romantic Retreat House – maliburomanticretreat.com with a Flintstones design is currently for sale at $3.5 Million. If you are a die-hard fan of the sitcom and you have that big amount of money, you can buy the house and live as today's modern Flintstone.
House designs like this Flintstones house are the ones that get worldwide attention especially when they are built in an unusual manner. This manifests that man really can go beyond the norms of the society even in terms of building and designing structures. You can also take a look at unique home designs from Home Design Lover which can offer you inspiration on what to use for your own house design.