Upper West Side Penthouse: An Urban Modern Home in New York City
Many homes are located in the heart of the city. Even if they cannot enjoy the views of trees and waters or even mountains, at least they are able to get a wonderful view of the city. People who loves the urban life would certainly like to live in a place where they can see rushing cars and the mesmerizing city lights. I know you know some homes that are located in the city just like what we are going to show you today.
The Upper West Side Penthouse is located in New York City and got a major gut renovation. We can see in the images below that the work of the Turett Collaborative Architects (TCA) was really amazing. Floor-to-ceiling windows frame the various aspects of the New York skyline. In the interior, it used a neutral color palette where the homeowner's extensive South Asian art collection were displayed. Let us take a virtual tour of the Upper West Side Penthouse.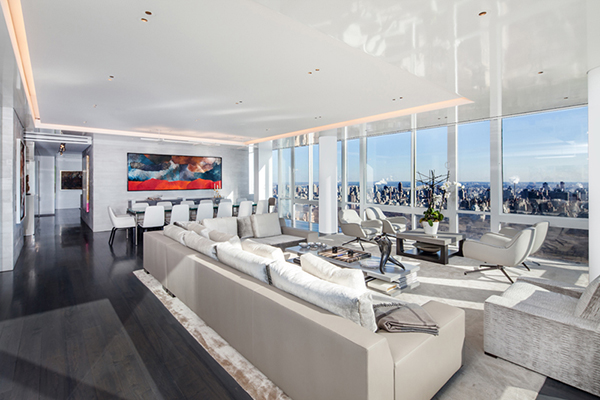 Note the glass windows that give this penthouse a transparent look and allows the dwellers to get a good look of the city.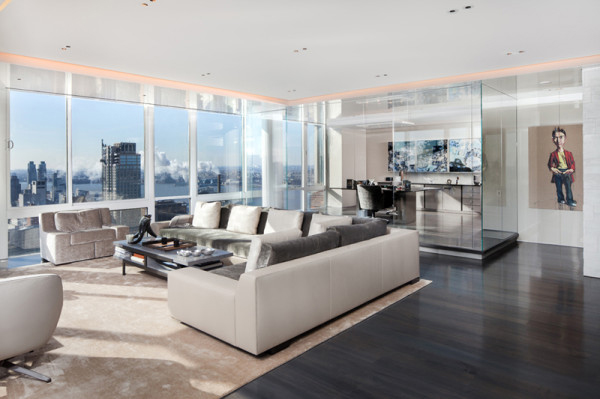 There is a glass enclosed study that provides a separate are for working. The location is perfect since it doesn't interfere with the views.
The interior has a fairly neutral color palette with dark wooden floors and white textured walls.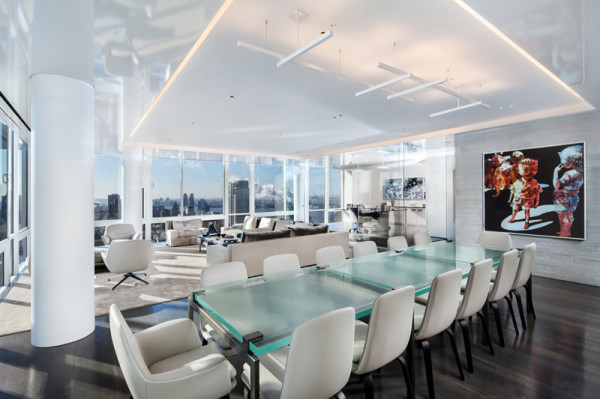 It has high gloss ceilings that reflect light. The views are seemingly extended to the ceiling.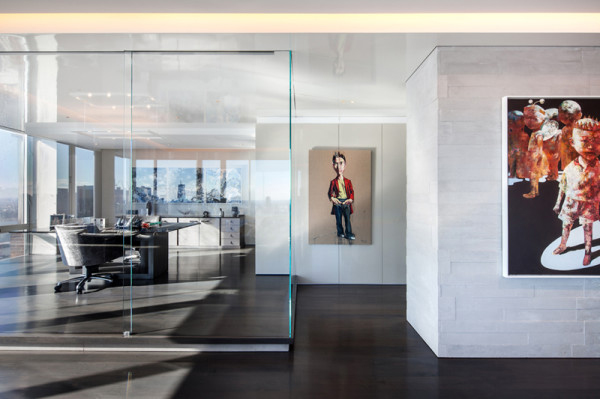 You can see here the enclosed office. Working here would really be nice especially with the views outside!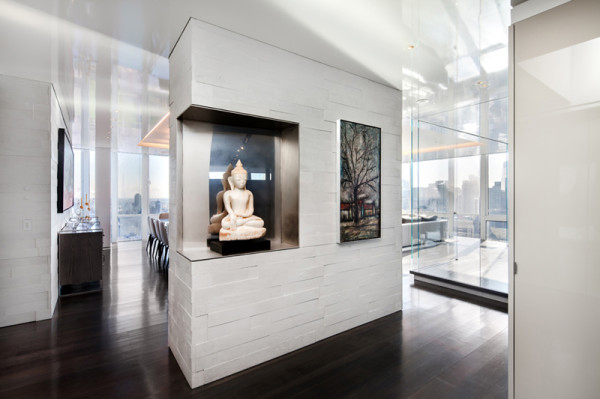 This is a concrete divider that doesn't just divide the space but also serves as a display area for sculptures.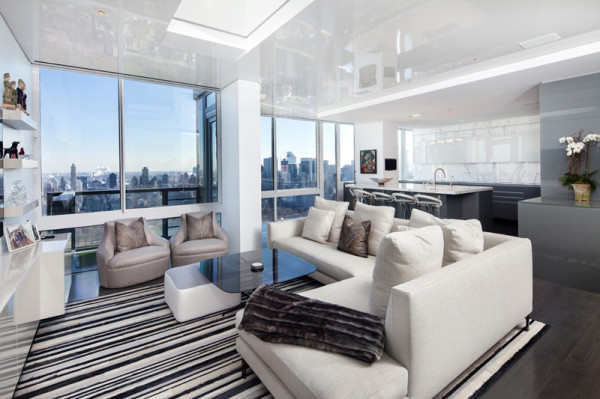 The living area has a modern striped area rug that defines the space.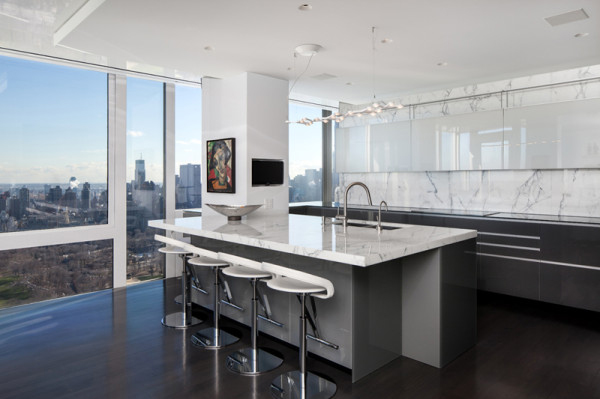 In the kitchen, there is custom cabinetry with reflective doors that hides the clutter.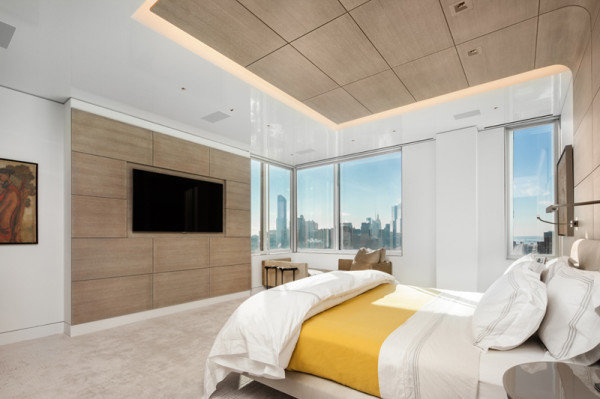 For the bedrooms, they are outfitted with sound-proofed windows so that it is free from the city noise. Sound system and electrical outlets are kept to avoid visual distractions.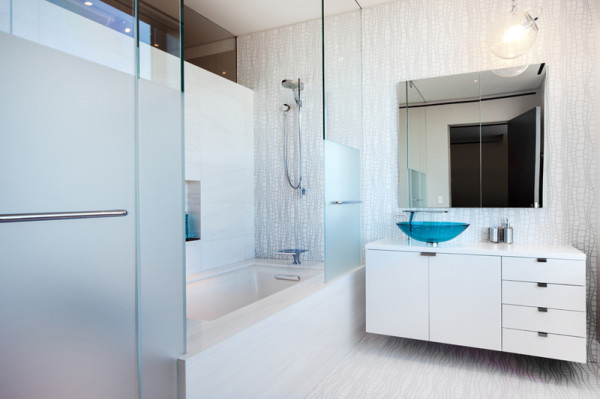 The master bathroom has an glass enclosed bath tub a modern vanity with blue sink.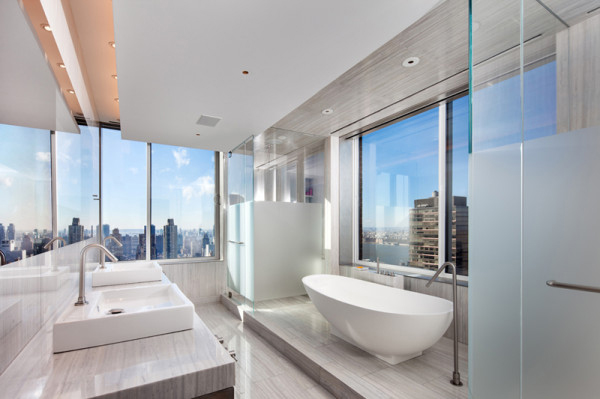 Another bathroom in the penthouse has a sleek slender bath tub that serves as the focal point of this long and narrow bathroom.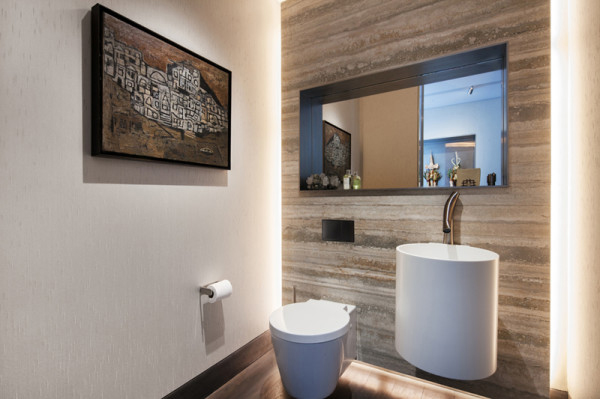 This one has a patterned wall and a wall painting for decor.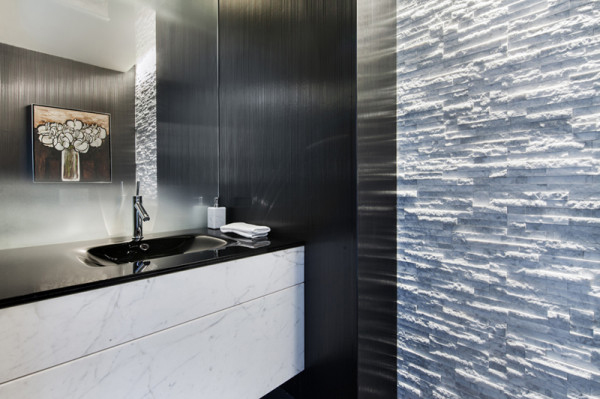 Seen here are the details of the textured wall with some white stones.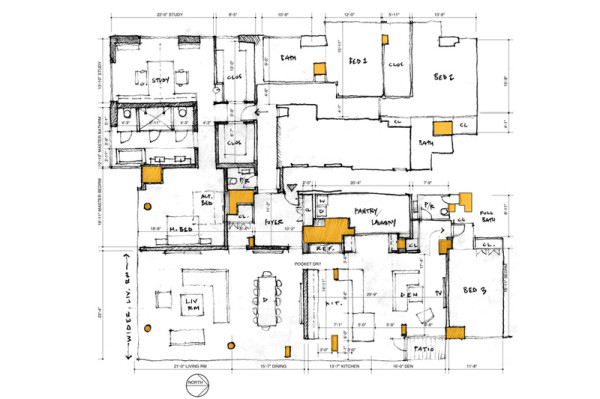 Floor plan of the penthouse showing us how every space of the dwelling was distributed considering traffic.
Gorgeous urban space right? I know you will agree with me that the Turett Collaborative Architects did an awesome job for this penthouse. We like how the South African decors were incorporated in the neutral colored interior with a modern design. And of course, who will not fall in love with the views of the city from above!