15 Ideas for Contemporary Gray Home Office Designs
It is indeed more comfortable to be able to work in your own home. With this, you could perform better since you are in your comfort zone and you will be more relaxed despite the pressure from work. Some people really have home-based jobs while others bring some of their work at home. That is why, it is best to have a home office to have a certain spot in our homes where we can work while other areas are intended for relaxation as well as family time.
So, if you want a home office, you could choose a room or even just a small area in your house. Merely placing a small table or a desk can turn a spot into a working hub. But it doesn't have to be boring. It can look lovely too! You can do that by adding decors and of course choosing a color scheme too. For today, we will show you gray home office designs for a more formal and simple look. But we think that once you see the images below, you would link simplicity with elegance!
Office With a View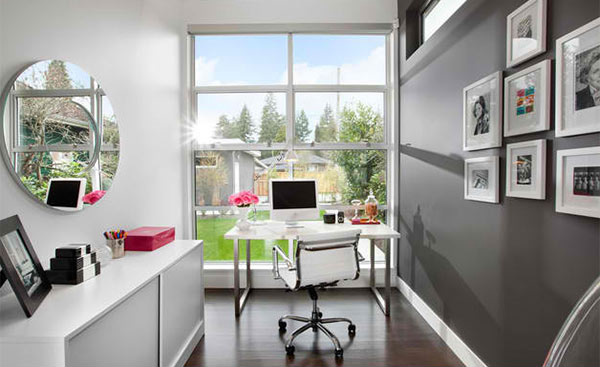 A beautiful home office that faces the window allowing the user to get a good view of the outdoor scene. We love that round mirror as well as the feminine touches in it.
Annapolis Plan at Victoria | Phoenix, AZ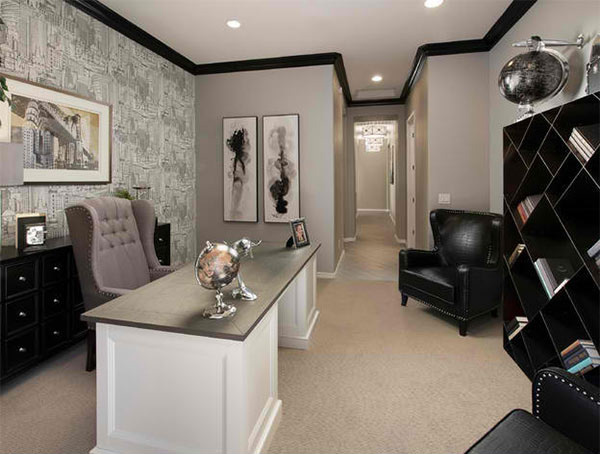 Aside from the textured wall, the shelf is also an interesting feature in this home office.
Lake View Luxury Home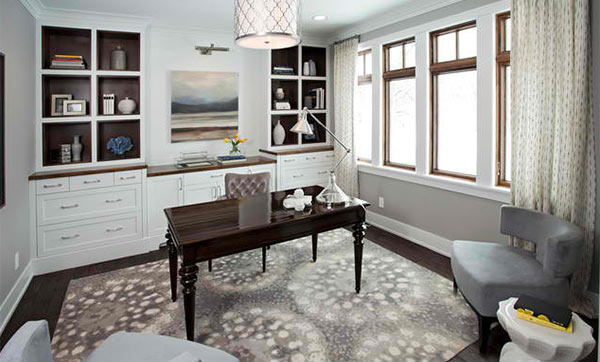 The carpet of this home office gives a sparking look to it and it sure has a big impact to the interior.
Whole House in Roswell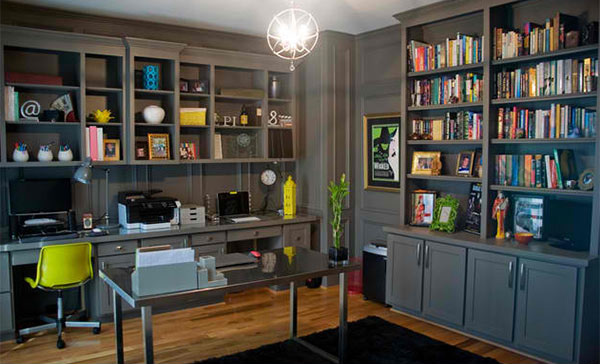 A home office can also be surrounded by shelves to store books and other things needed for work.
The Boulevard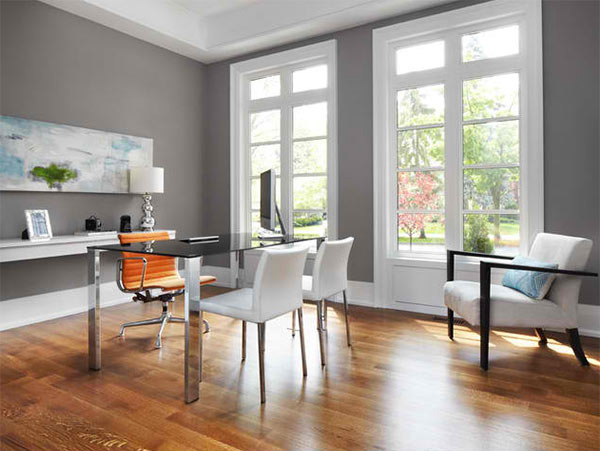 We love the simplicity of this one using white and gray colors. That orange chair is a stunner!
Great Neighborhood Homes
Add some exciting print to your bedroom with this zebra bench!
Dallas, TX: Ross & Megan Brown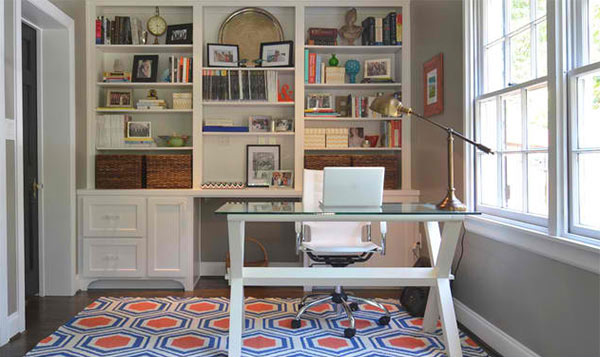 The Ava Wood Desk of Pottery Barn sits with pride on the rug made by Surya. What can you say about the decors?
East Lakeview Residence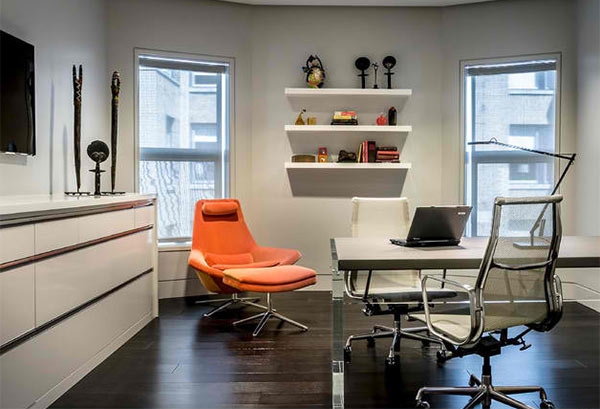 The wall color of this space is a Benjamin Moore and it is AC-25 Harbor Gray. The desk and the cabinet were custom millwork pieces. The desk was fabricated by Pease Acrylics and the top upholstered by Parenteau Studios. The storage unit was designed by KSD and fabricated by Legacy Wood Working.
Modern Home | Kimberly Demmy Design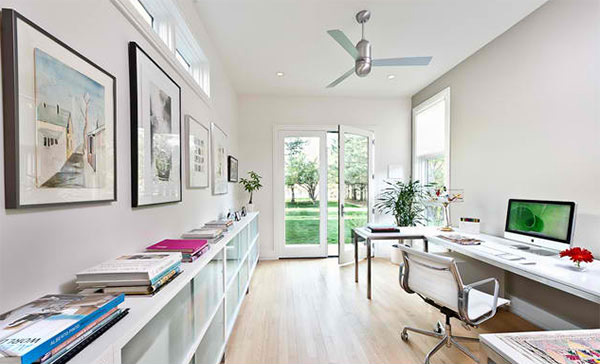 For this one, wall colors used are Dove White or White Dove by Ben Moore and Tudric Pewter by Ralph Lauren. The aura is very nice that it will really urge one to work!
Minnesota Residence
The Benjamin Moore Metallic Silver 2132-60 wall matches well with the gray shelving unit. This desk from Noir furniture and is really a showstopper plus that yellow chair!
Contemporary Home Office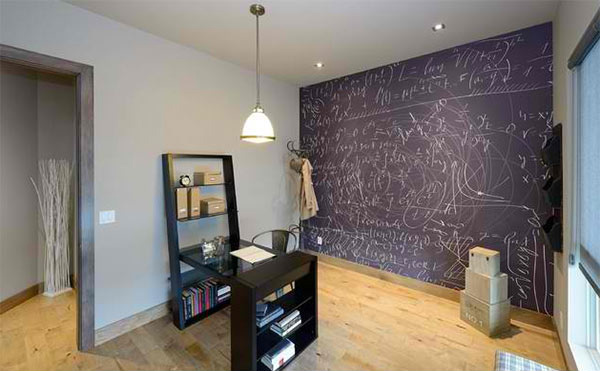 It may look simple but it is actually nice. Blackboard paint was used on one side of the wall showing how the wonder loves Mathematics!
Menlo Park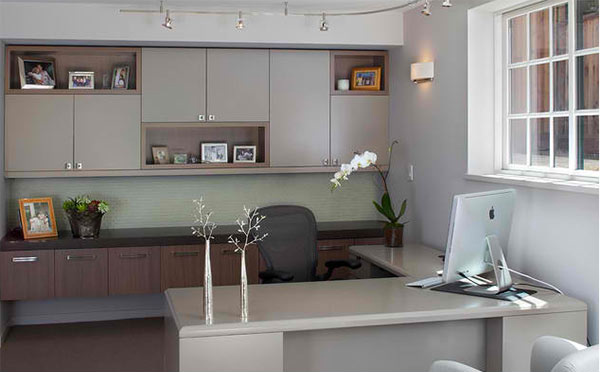 The neat cabinetry is manufactured by Atlas that looked well with the desk which was revamped by the designer with new paint.
Bohemian Apartment Homework Area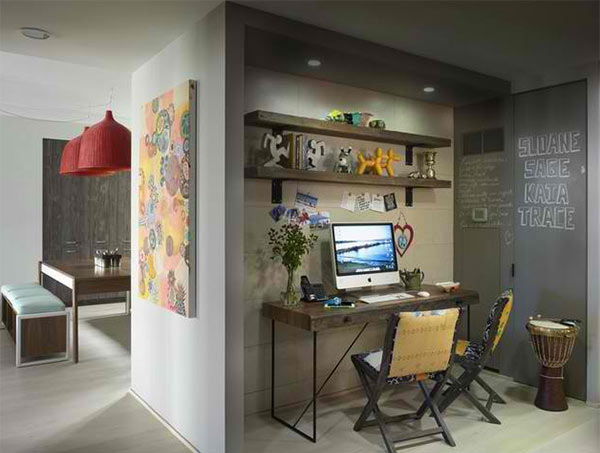 A small space can turn into a nice working hub just like this one with a Wright Industrial Desk.
Edgewood at Brambleton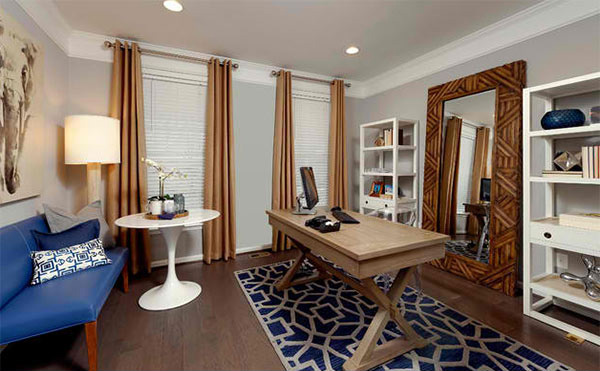 Bold patterns and comfortable colors are featured in this home office. We like that tall mirror standing behind the table.
Renovations – Quality Constructions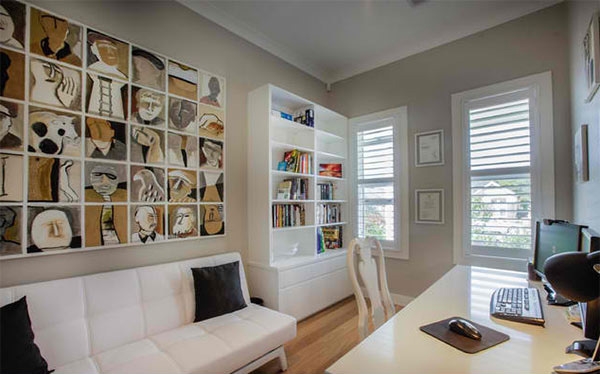 The color scheme of this room is as follows: Walls is Dulux B17B2, the skirting and architraves are Dulux PW179 and the ceiling is Dulux Ceiling White. So, if you want to get a similar color scheme for your home office, you will not find it hard to get the paint!
Love gray? If you do, then this list of gray home office designs is for you! Note that the interiors featured above are contemporary ones. But you can always adapt the kind of design you have in other areas of your home to establish coherence. But aside from gray, you can also choose a different color for your home office. For more ideas, check from home office design ideas that we have collated before.