A White Modern Stockholm Villa Offers a Lifetime Vacation Feel
When you think of a villa, you would always be reminded of a lovely house with a pool and all that. You would instantly look at it as a home that will make you feel that you are in an endless holiday. We have featured different villas before and we will show you another one. Most villas would be located near a body of water, usually the ocean. But what we will feature today is situated near the lake.
The villa is located in Saltsjö-Boo, just 10 km away from downtown Stockholm in Sweden. It appears to be designed for a family who wants to have a close connection with the environment. Opening towards the views of a nearby lake, it gives the house an airy feel. Form meets function in the design of this lovely modern white house. In the exterior, it reveals sleek lines and geometrical appeal. But in the interior, you will see coziness and comfort in every corner. Come take a look.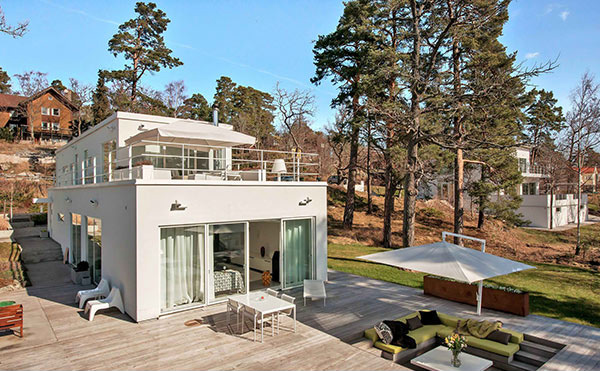 The house is simply white, clean and streamlined with its modern lines.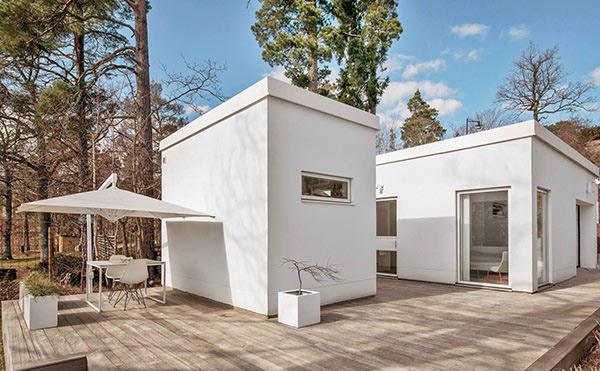 At the rear side you see an outdoor dining area. The house appear like boxes here.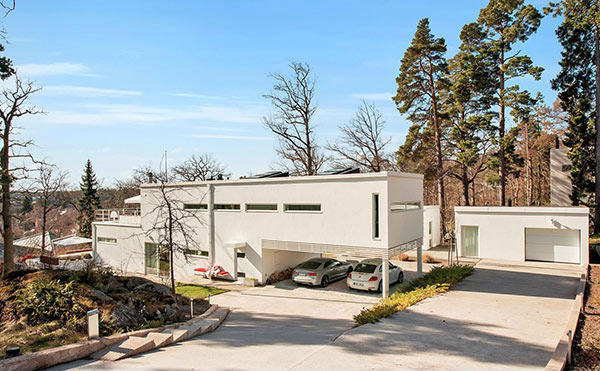 But if you think it is a small dwelling, you are wrong. This is the entire villa when seen from a distance.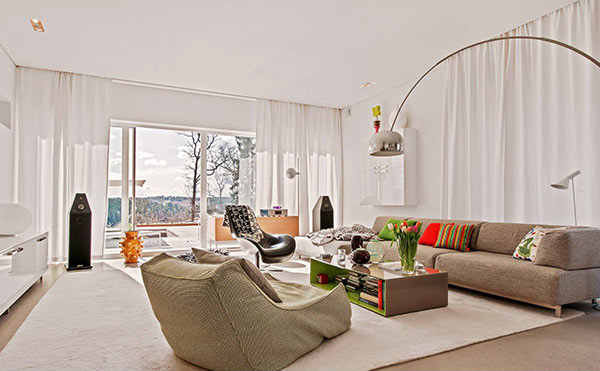 The interior is white on the walls to the ceiling. Even the drapes are white too. Adding dark accents and other colors make it appear lively.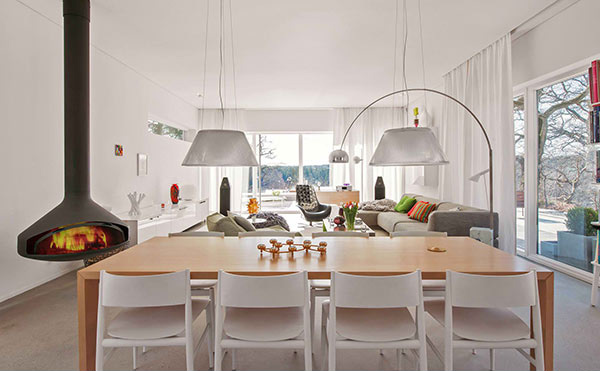 The interior has an open layout which adds to its airy feel especially with the glass windows around it. That suspended fireplace isn't just functional but seems to be a decor too.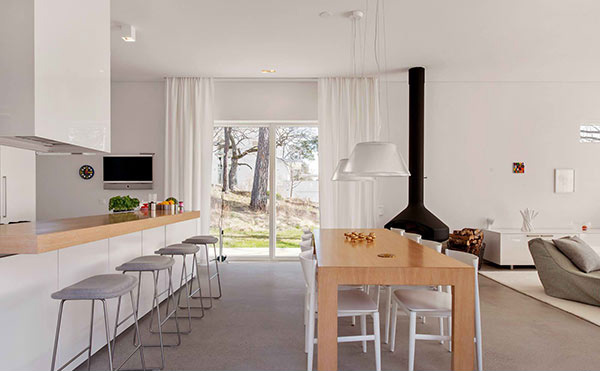 Beside the dining area is the kitchen with a bar. You can see how wood and white colors complement each other here.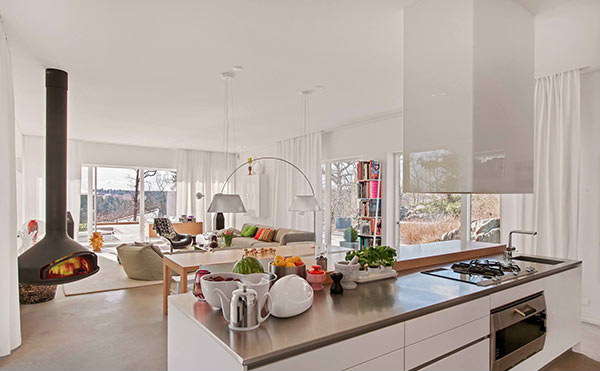 A well-equipped kitchen allows inhabitants to offer their guests more than just social interaction.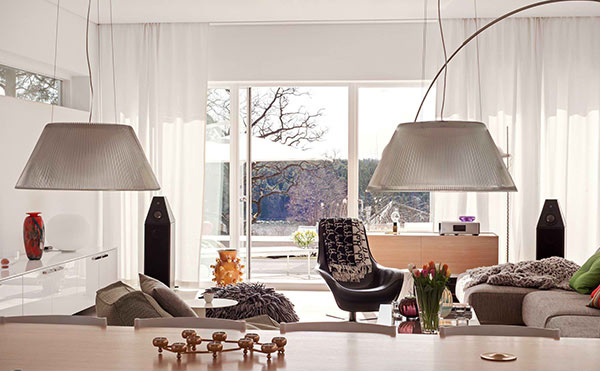 The furnishings in the open living area complete the lovely look of the villa. It uses different textures in it.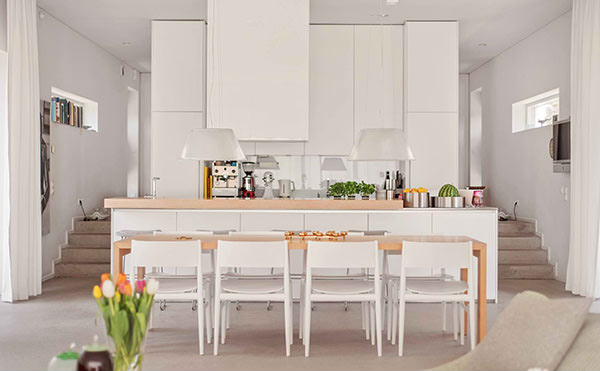 Notice that a part of the house is elevated with two stairs on both sides.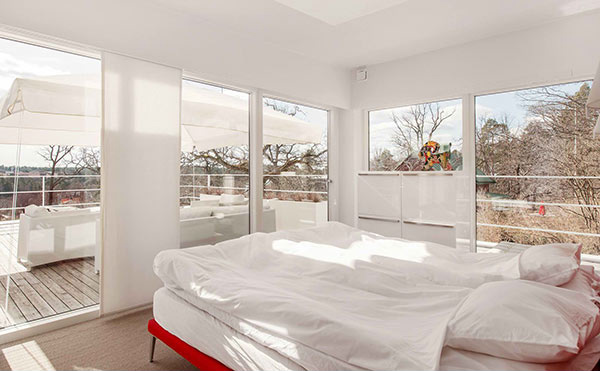 The bedroom is lovely in white with a red bed. It overlooks the lake which will make one feel like the lake sings a lullaby to them while asleep.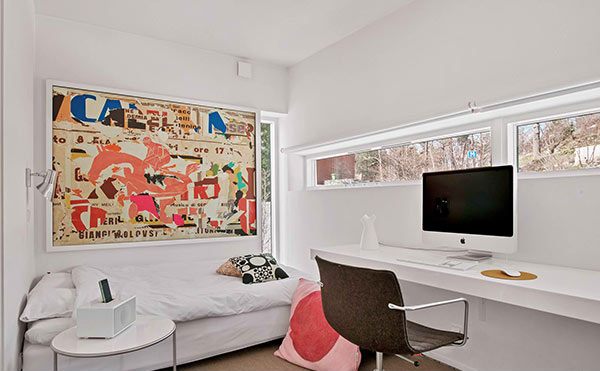 This sleeping area also has a work area with a very artistic wall art.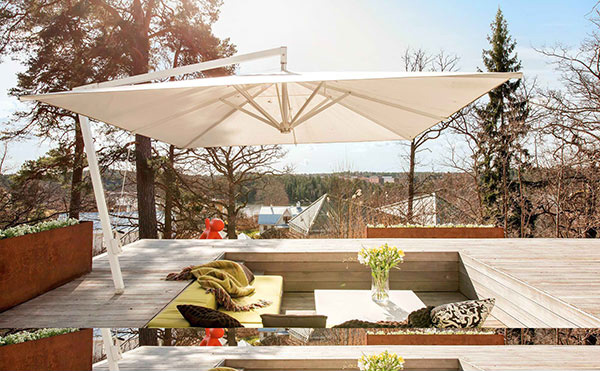 And this is what we love most in the house- a sunken seating area in the patio!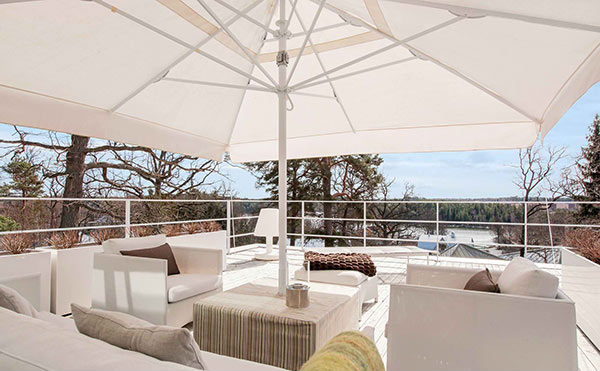 Its outdoor area will certainly make one feel like he is in a resort.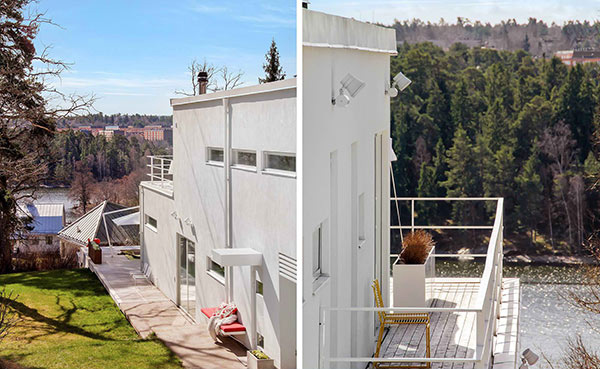 A view of one side of the house showing a balcony. Details of such are seen on the other picture.
A white house will always look nice especially when it is in nature's setting.
We could decipher that the house is designed for a family who love comfort, well, who doesn't love comfort anyway? The villa is found inSkeppsholmen and is for sale. We are certain that anyone who could get it will be able to get a different level of comfort and relaxation in it as if they are always on vacation.