Cozy Sleek Interior of Apartment LA in Brazil
Architect David Guerra designed the Apartment LA's interior located in Belvedere, Belo Horizonte, Brazil. A family moved to the city when their first child started schooling and lived in an apartment. They wanted to retain a cozy country aura in the house while adopting urban styles as the apartment is located in the big city. During the renovation, the wall that divides the living room and balcony were demolished to create a larger space. The balcony was then transformed into a kitchen with a bar where the family can eat their breakfast with a good view of the mountains.
The home's interior look sleek and warm with the use of natural colors with rustic and natural materials. It also had modern and technological elements in its interior. It also added some pops of fun and colors through some decorations and accessories. The flooring of the house was replaced by wide planks of mahogany except those for wet areas. The home interior renovation used wool, natural linen, nude tones, leather in different colors – honey, whisky and chocolate, wood and demolition wood, gray Mister Cryl, Silestone rock, stainless steel, yellow metal, bronze, mirror, glass and acrylic. All these add up to create a cozy and sleek interior for the family. Check out some shots below of how wonderful the interior turned out to be.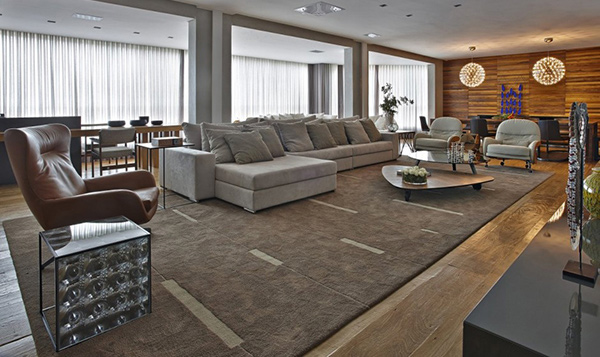 In the living area, there is a big sofa with a chaise. Most of its furniture had browns and grays in it and mixes of leather, glass and metals creating a cohesive look.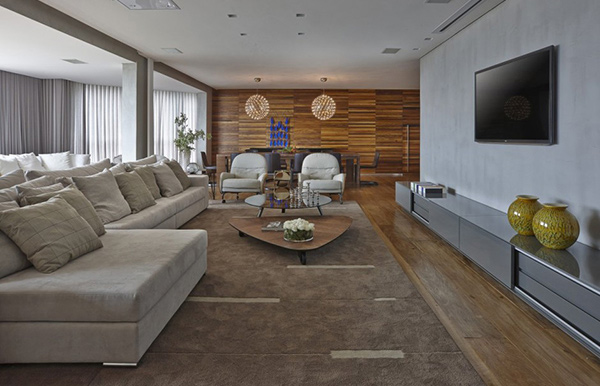 The home also had that industrial feel with its gray Mister Cryl Siltstone for the walls.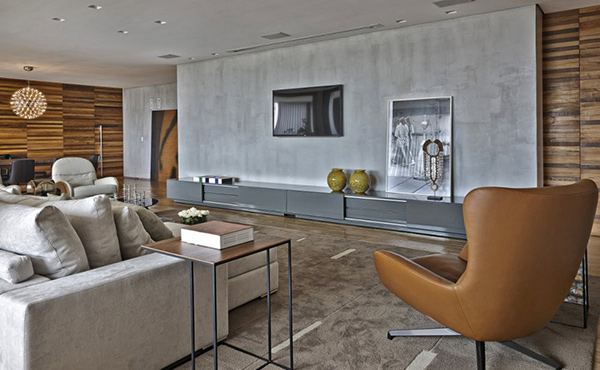 Furniture choices of the house depict the homeowner's aim to achieve comfort, elegance, relaxation and warmth in its interior.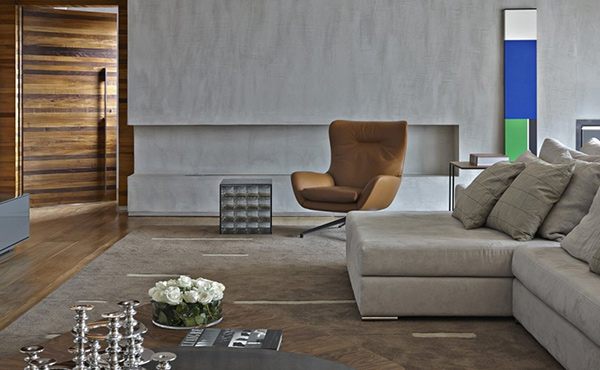 You can notice that some areas of these added fun elements in it like this colorful wall decor.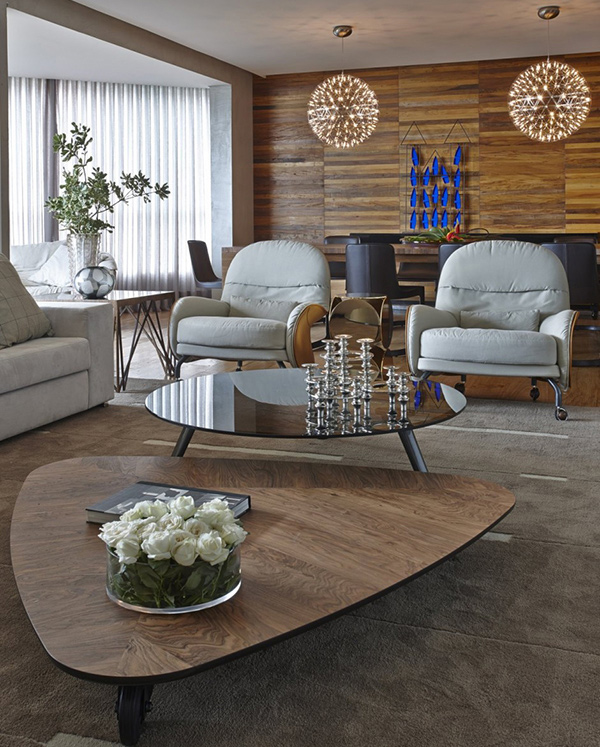 Wooden touches can be seen not just on the floor but on some parts of the wall too. You can see in this image two different coffee tables- a glass topped and a wooden one.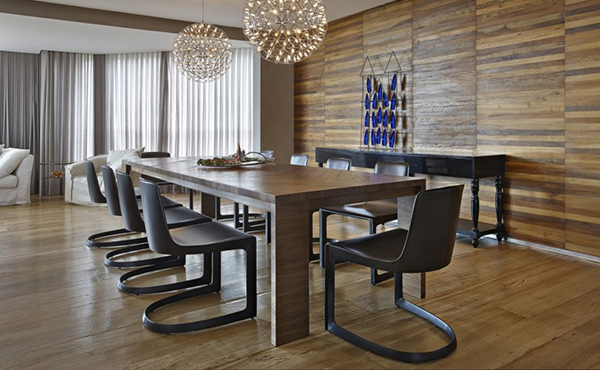 Moooi Raimond chandeliers are placed above the long wooden dining table with gray modern chairs.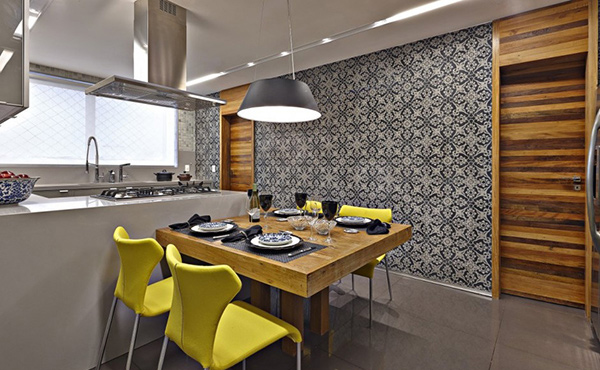 An eat-in kitchen is a good idea so the family can have more intimate time together while eating.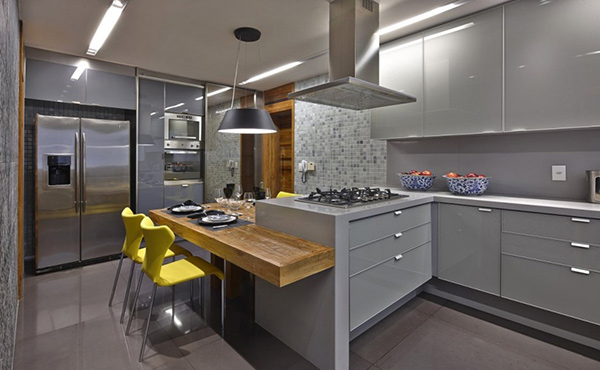 The kitchen bar is made from wood which looks just perfect for the grays in this area.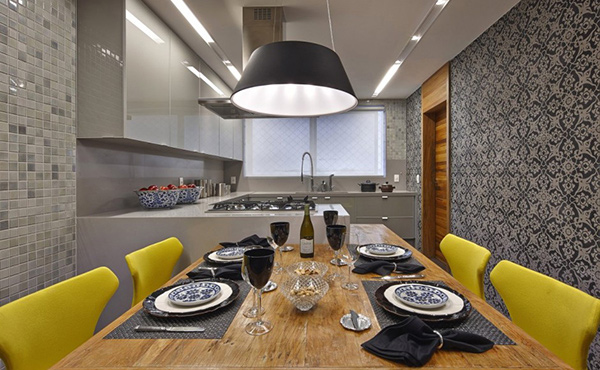 Bright yellow Papilio chairs from B&B Italia added zest and fun to this kitchen bar and eat-in kitchen area.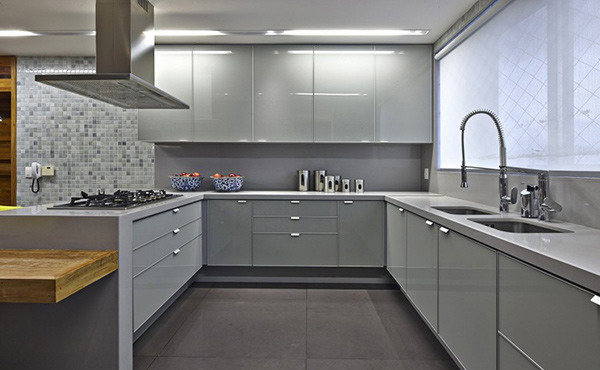 A block of graphite Silestone was used in the gourmet kitchen equipped with modern and hi-tech equipment.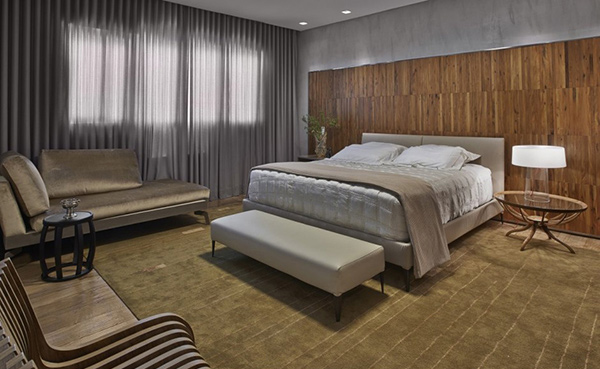 A carpet is rolled over the wooden planks for the floor while an oversized mahogany headboard adds drama to this bedroom. Nude and caramel tones were used here along with natural materials to make it more relaxing.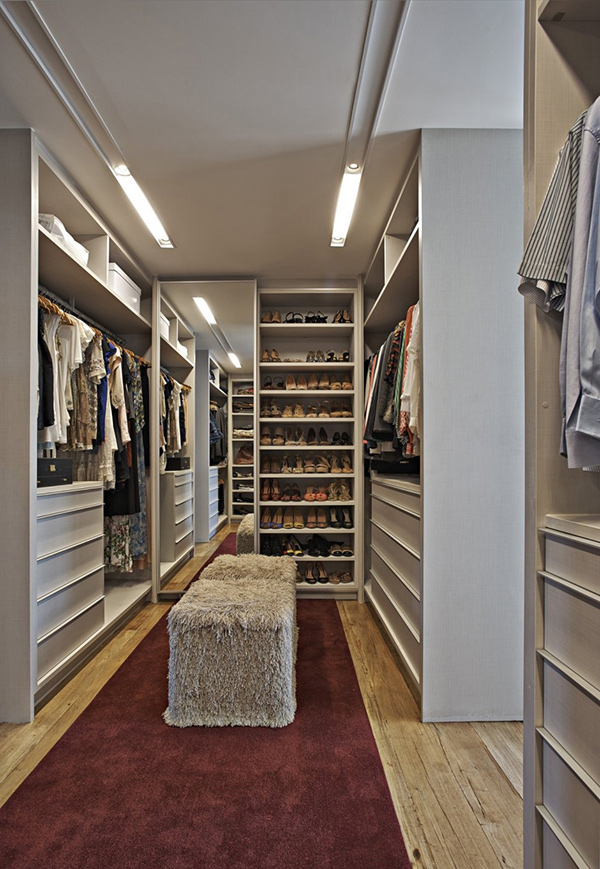 Having a walk-in closet like this one is everyone's dream for this keeps all your clothing, shoes and bags together without crowding your bedroom.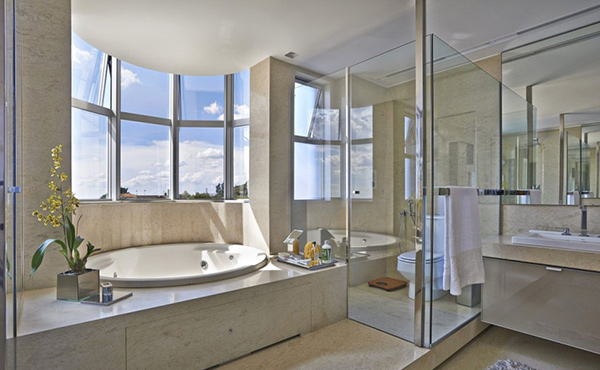 A shower area is separated to a bath tub that is located near a window. These windows here bring in natural light to the bathroom.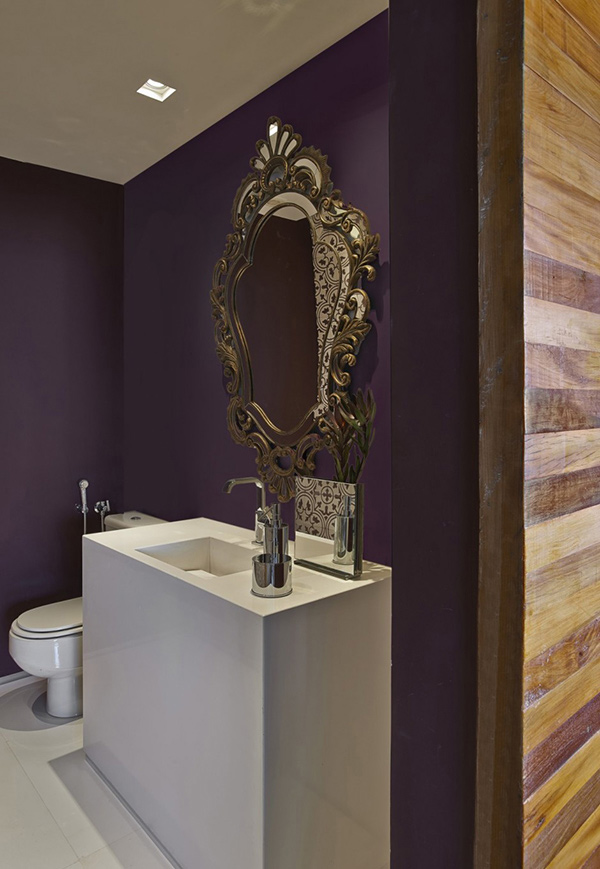 While the rest of the house maintained a natural tone, this bathroom used purple for the walls with a decorative mirror frame which allows it to stand out from the rest of the home's areas.
As always, it is better to redesign and renovate a new dwelling to fit to your needs. Doing this will make you have a comfortable stay in your house. The homeowners of Apartment LA did a good decision for the interior renovation. And of course, Architect David Guerra was able to create a lovely and cozy home for them giving them that country and modern vibe as one.