Contemporary Apartment with Neutral and Soft Palette Interior
When we talk about apartment, in other parts of the world it is known as 'flat' which means an independent lodging unit that inhabits only a part of a building. Most of the apartments are offering a studio type room, wherein it has a small space that is composed of a single room that acts as the main living space for living room, dining room, and kitchen. And also the area is divided by walls to secure the bedroom and bath. However, most of us are still having a hard time to decorate this small space. But luckily we are here to supply you with nifty ideas to decorate your studio type apartments perfectly.
This is a studio type apartment that is located in Taiwan and it displays a contemporary interior that is shaded with neutral palette ranging from light grey, beige to white hues which turn the area into a stylish, cool and bright space to live in. Although neutral shades were incorporated the overall look of the space was not that dull for it was enhanced with the texture of woods. And also, large glass door were added to some spots to perk up the light inside. As you go through the photos you can clearly see that every angle in each area was utilized well to provide a functional space.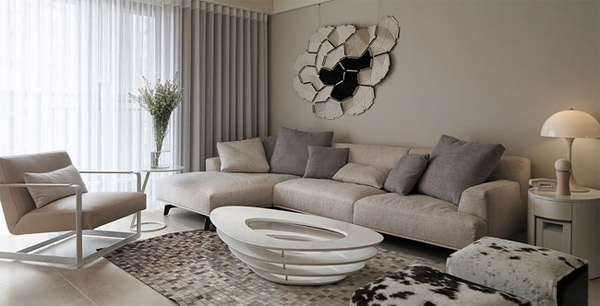 As you can see, white and neutral colors from the wall paint to the furniture displays a very relaxing and cool atmosphere in this living room.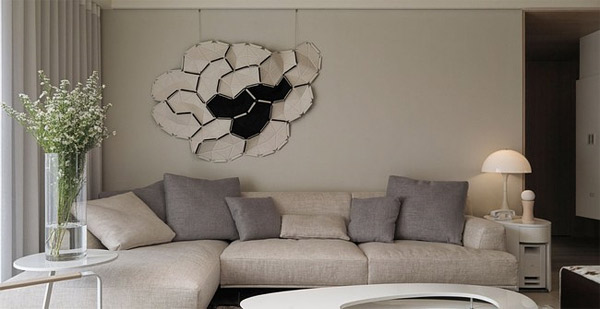 Of course, a living room is not complete without a comfortable sofa on it. And to polish the look, add a dramatic modern art mosaic to the plain wall.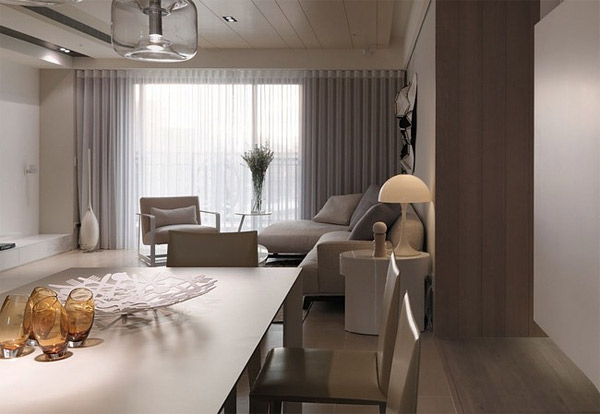 To allow ample amount of natural light to pass through the living space, large glass doors were installed. On the other hand, to maintain privacy to the area a sheared drape was added that matches accordingly with the style and color of the interior.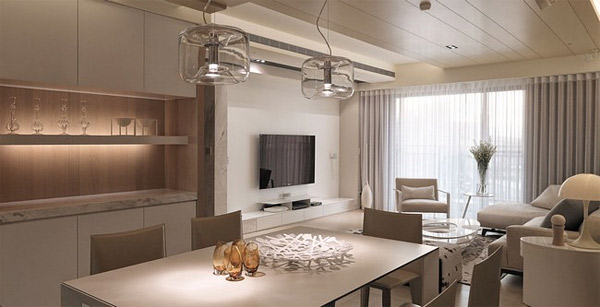 A flat screen television mounted to the wall would be a perfect appliance piece that would complete the entertainment brought by the living room.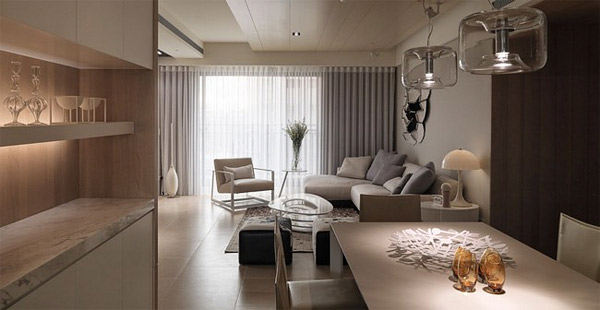 Given a small space to live in, it can be seen through this interior that there is a seamless flow of space without congestion from the living room to the dining room. And for an additional style and texture to the interior the ceiling was fitted with wooden slats.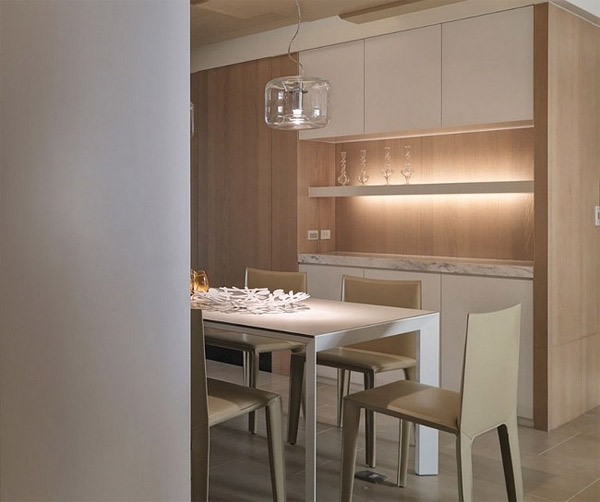 To conserve spaces in every transition of living spaces, the kitchen is defined by a built-in cabinet adorned backlights and a marble counter that makes it look elegant and stylish.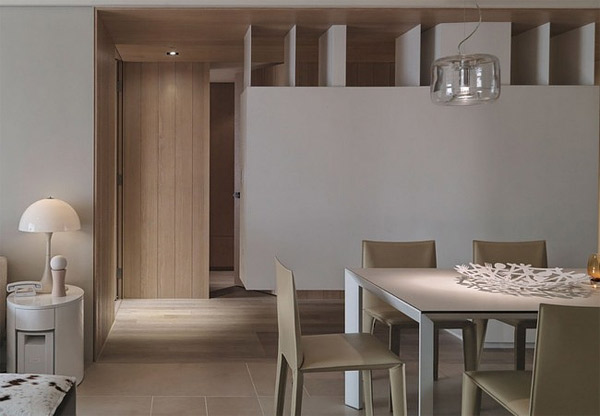 The dining room is embellished with a stylish dining table and chairs, completed with a unique style of pendant lightings. The wooden wall separates the bedroom beyond from the main living spaces.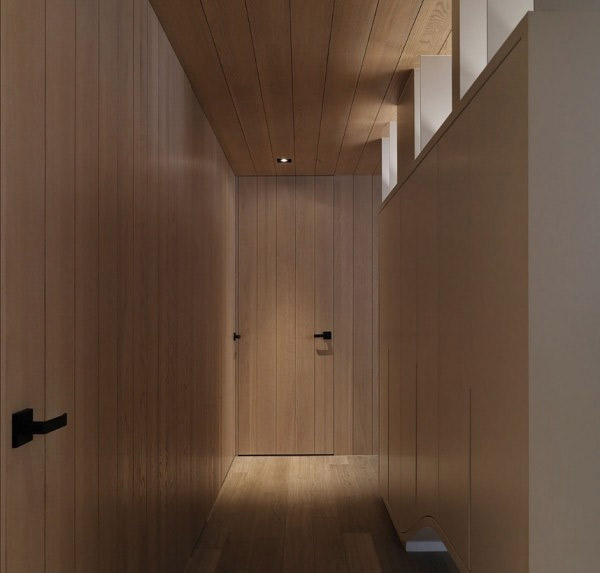 The hallway is designed with wooden slats with soft textures that build an even alteration between bedrooms and bathrooms.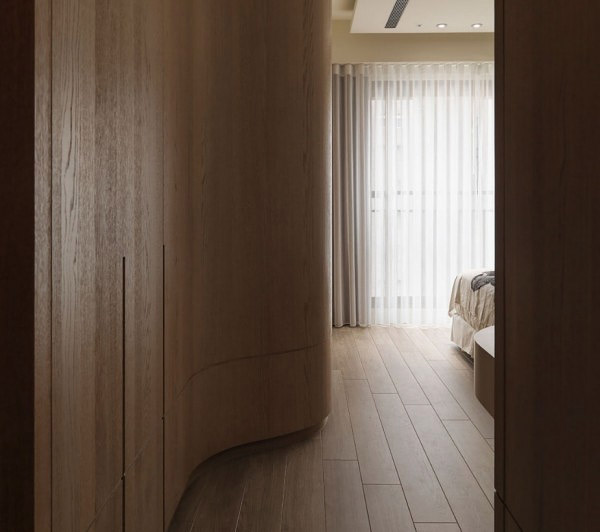 This curve style of the wooden wall adds changeability, attention and a grand feel to the master bedroom, in which the wooden floor compliments with materials used for the walls.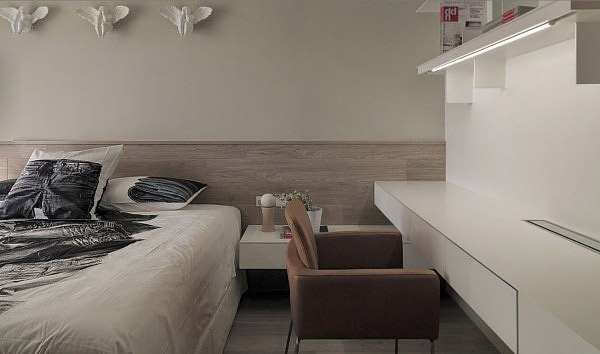 A minimalist bedroom must be designed with decors and furniture that is functional, just like having a built-in desk and vanity area. The designer also incorporated wood planks for the headboards.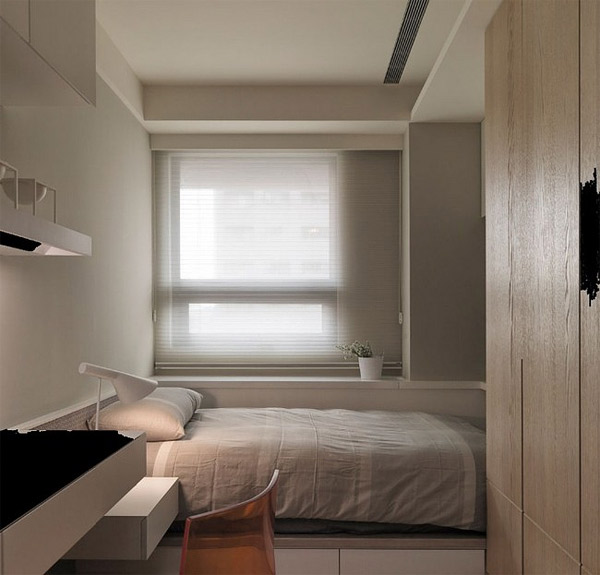 This serves as a guests room, minimally designed with a built-in, wall-to-wall bed.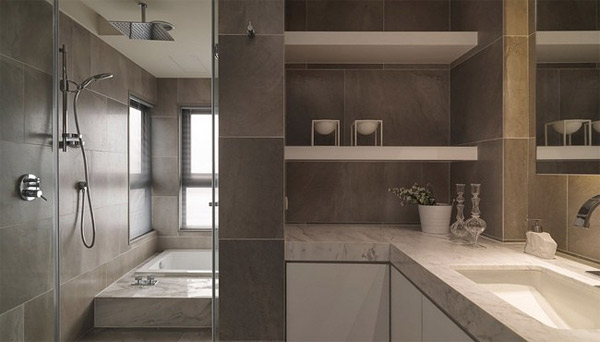 The master bathroom is equipped with bath tub and bathroom sink and vanity that are styled with natural stone and marble to offer a simple organic luxury.
This design is very applicable to anyone who is leaving independently. Most of all, the room is filled appropriately with spaces that greatly serve a purpose for dwelling. This apartment was creatively and beautifully done by a Taiwanese-based designer – W.C.H Studio.