Genteelly Designed Interior of a Private Apartment in Milan
There are many ways to design your apartments in your own chosen manner whether you got a small or bigger area, or wanted a traditional, or may be a modern or contemporary style. All of which are possible if you got lots of ideas. We have been showcasing here a series of interior designs for apartments. For today we have here another exceptional design that would inspire you and will bring out a new collection of ideas in making your spaces into a livelier place to live.
This faddist apartment is located in the most popular city of Italy – Milan. Enjoying the view of the city, it has been created with so much transparency but putting emphasis on exclusivity and sophistication to the overall plan. The apartment's design is achieved with a contemporary layout which was the request of the consumer. It is comprised of two main bedrooms and an additional two rooms for the maid and guests, each of which has to be installed with private bathroom. It also features a living room, dining area and wide areas of verandas. The area is very spacious that it has been designed with visible contrast which brings out more visual views toward all area of the living space.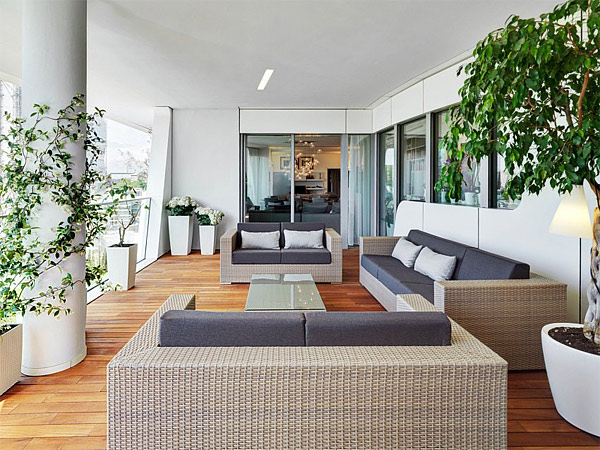 The cool design of this veranda is incorporated with wood floorings and surrounded with plants to have a touch of nature.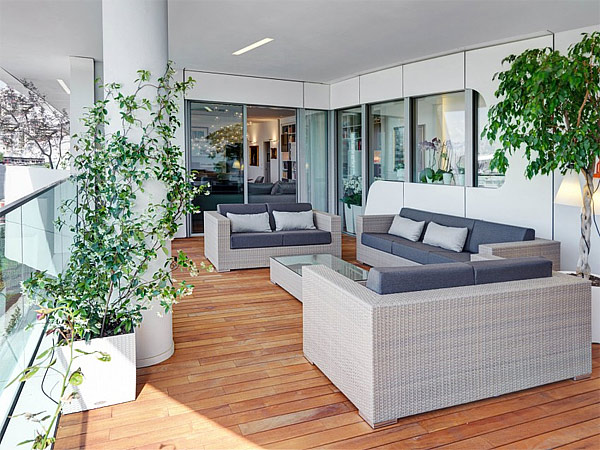 The glass railings of the veranda give a sense of transparency and to enjoy the broadness of the view.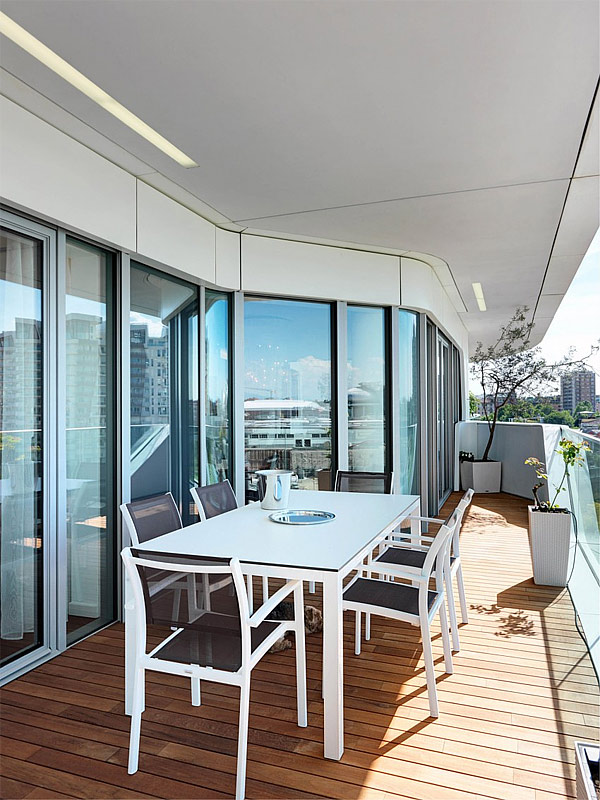 For recreational purposes, an additional extensive table was added that is made from wood and mixed with strong color of chairs.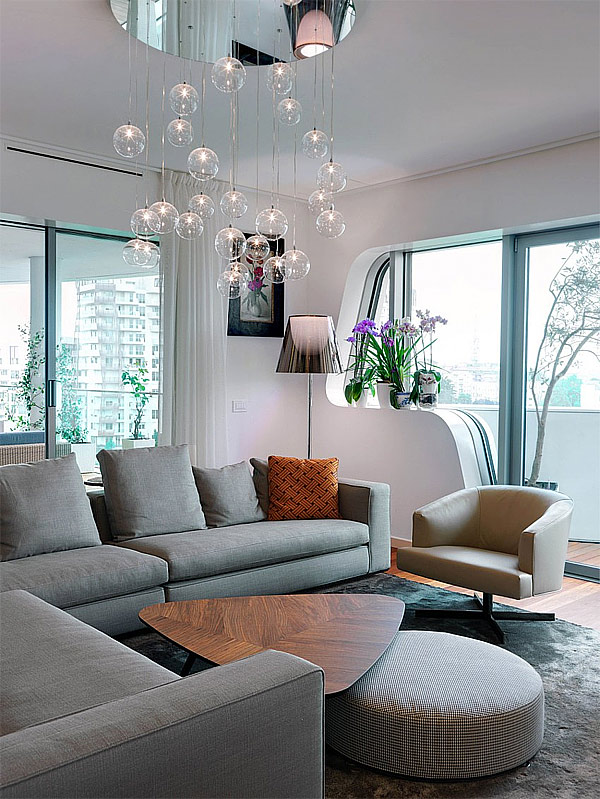 The living room is designed with fabrics of strong colors, the one that caught my attention was that center table that has a shape of a guitar pick.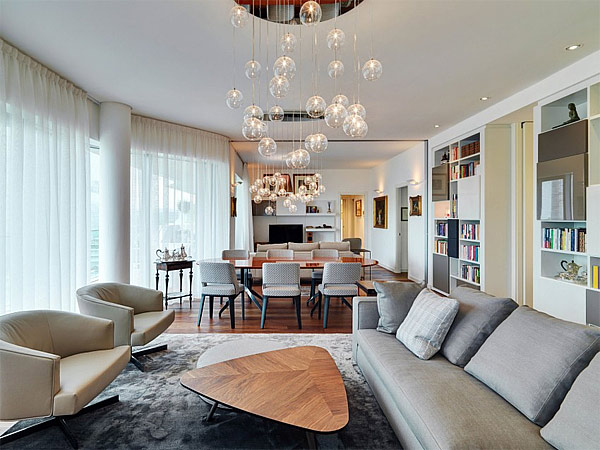 I like the chandelier, just like bubbles in the air! It brightens more the living room.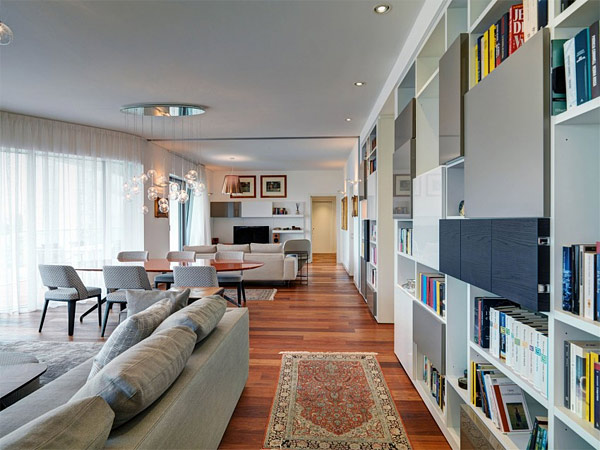 These long and geometric bookshelves are a nice storage that serves then a library.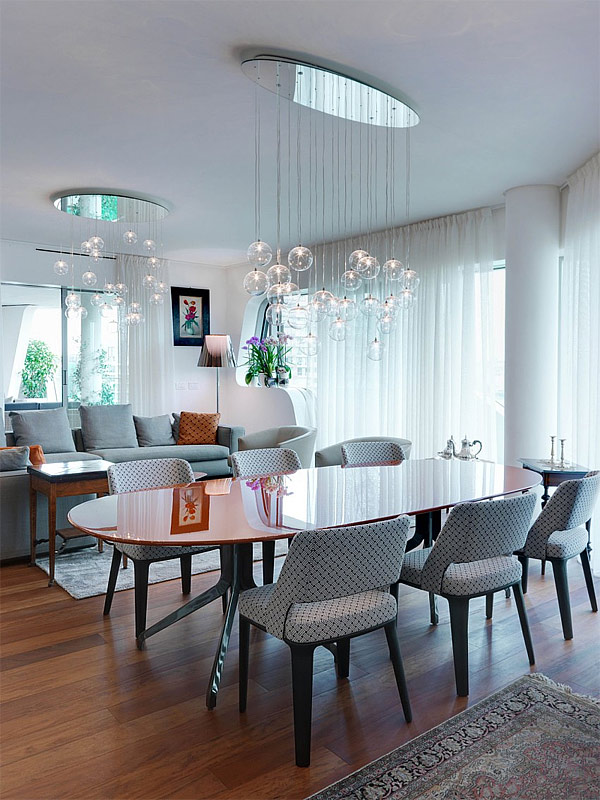 This beautiful oval dining table caters for a very scrumptious meal, looking elegantly with a bubble-like chandelier hanging at the center.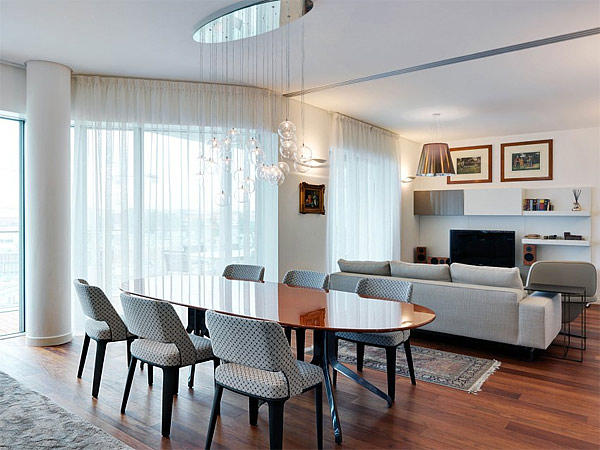 Since there are 2 living rooms, the one is separated from the dining area with a glass door that can be opened and closed for more private time to listen to music and watch television.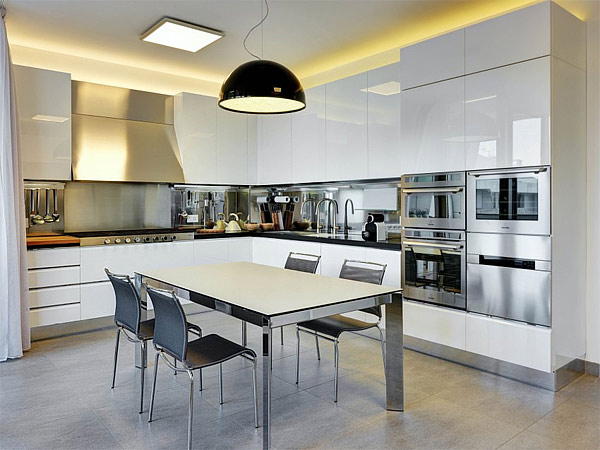 This kitchen is furnished with dark stone for the flooring that fits well with the sleek coating of the walls and cabinets; it indulges a warm atmosphere during cooking.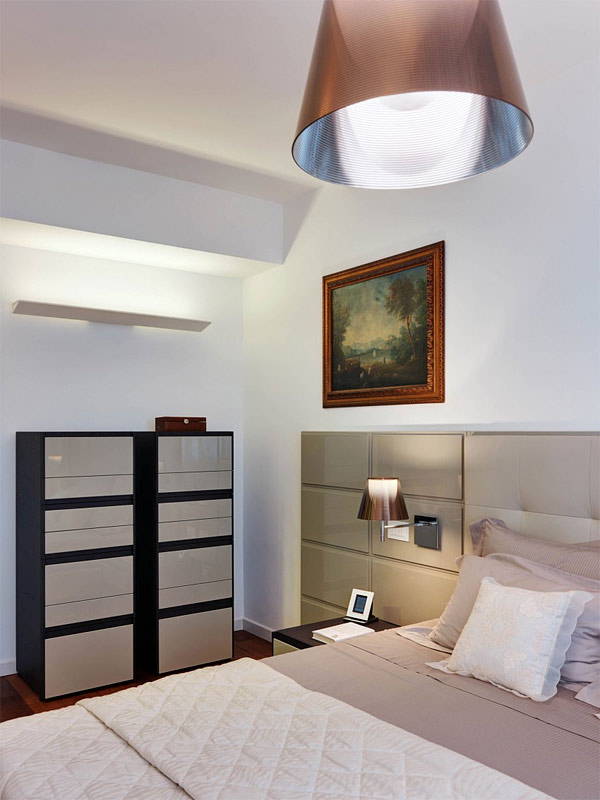 The high headboard of this bed is designed with two parts; soft leather that goes along with the bed, hard and lacquer wood that joins with the texture of the table and lamp.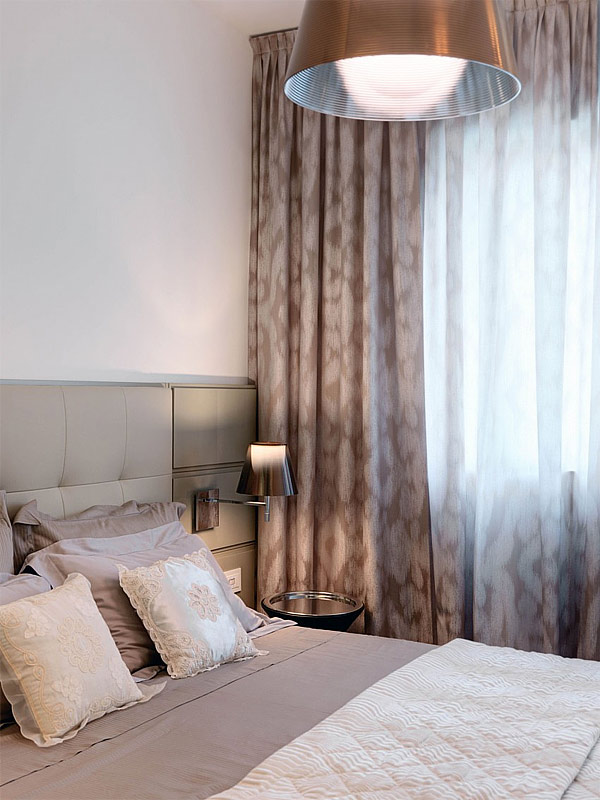 This bedroom gets the ambiance of a suite hotel, decorated with modern design of lamps and a curtain that gives a softer sense.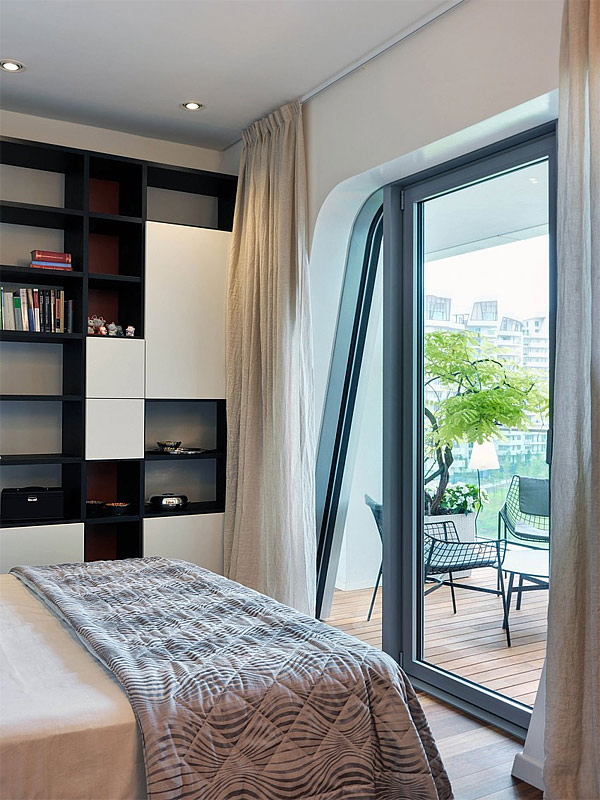 To have a clutter free area it is really a good idea to have shelves that serves storage for small objects. And never to incorporate wide frames of windows to have a beautiful views all the time.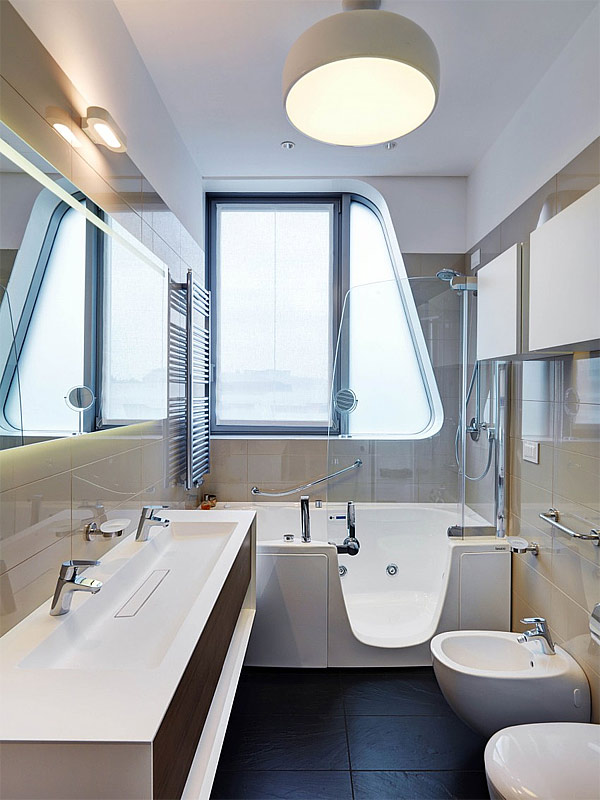 If the area is minimal but craving for bath tub, the idea of a whirlpool tub and a long stretched sink is a good suggestion that makes the space more effectual.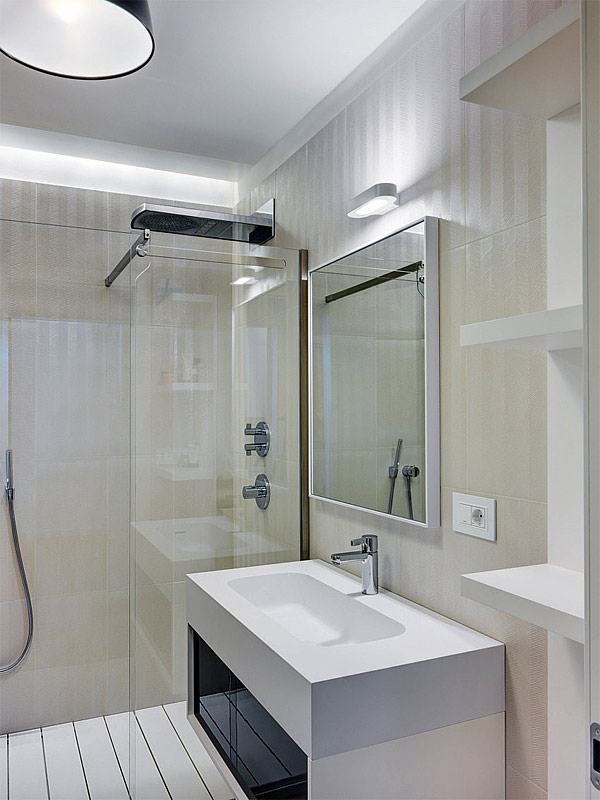 Bathrooms with no windows must be incorporated with well-designed light and walling that gives a better complexity of the area.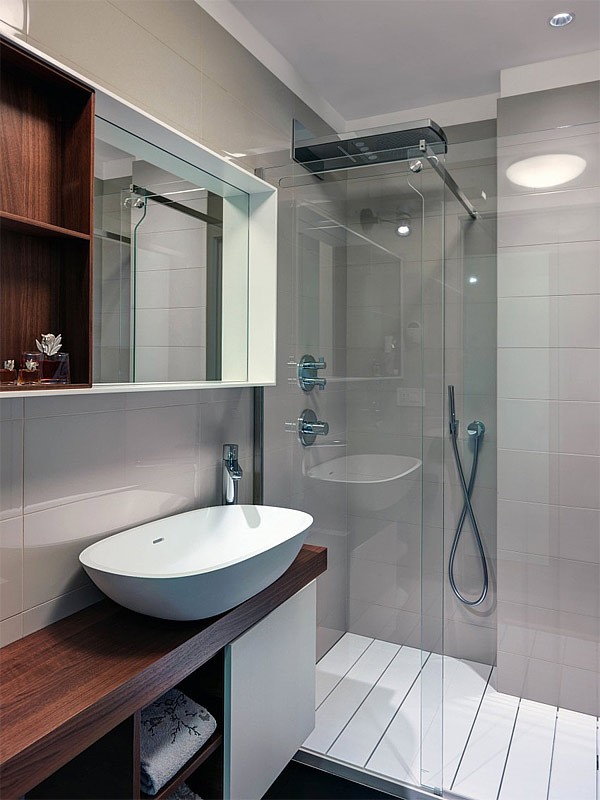 The combination of wood and glass glowingly balances the atmosphere of the environment.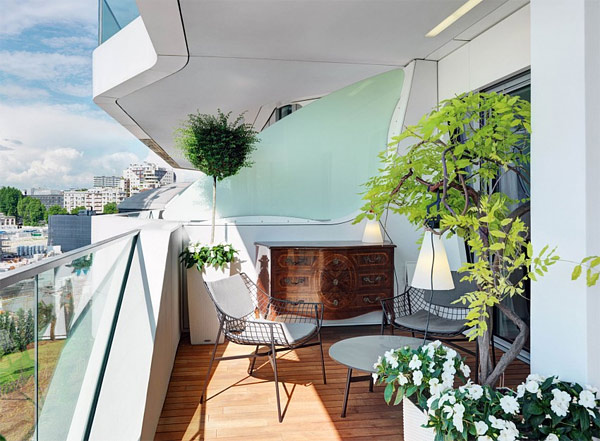 This veranda is connected with the bedroom placed with lounge chairs and coffee table intended for private moments.
This private apartment is under the management of the most prestigious Italian real state agency – Sigest – which is instructed by a company named City Life; it has an area of 255,000 square meters which was constructed at the core of "Fiera Milano" – a historic trade fare area. The interior decorators of Studio Marco Piva has been very delicate with the design from the materials of the floor and walls, to the lights, furniture, and even up to the very small details of decors was being studied carefully.