Penthouse in England Flaunts out a Gorgeous and Formal Interior
It would really be a nice feeling when you got to own a home most especially when it is designed perfectly. When I say a 'perfect design', I think, it would describe as a place that would offer you a great feeling of calmness. And also it is a space that needs to be functional and would be a big help on your daily life. But of course if you wanted to have a perfect interior design you can always rely on designers which can be a great help for you. However, even if you got one, the design of your interior would always depend on you. There must always be collaboration between the owner and designer because after all it's you who will be living in that space not your designer. Take a look unto this interior design that might offer you excellent concepts.
This is a newly-built penthouse located in Leman Street, Aldgate, London. This home is located at the seventh floor that covers an area of 163 square meters and its interior design is enthused by the panoramic photographs of the city of London. The designer used several, wide frame of glass windows visibly seen in the dining area, bedroom, and as well as in the bathroom. This is planned to have a tremendous effect and to bring transparency to its beauty. And also, it can be seen through this design that there is integration of strong and bold color to a soft texture for the purpose to outshine the design.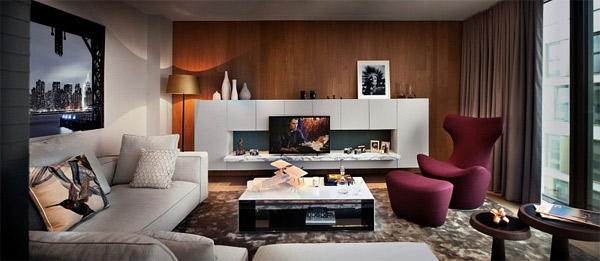 This living room got a gorgeous design with modern use of furniture and color interactions.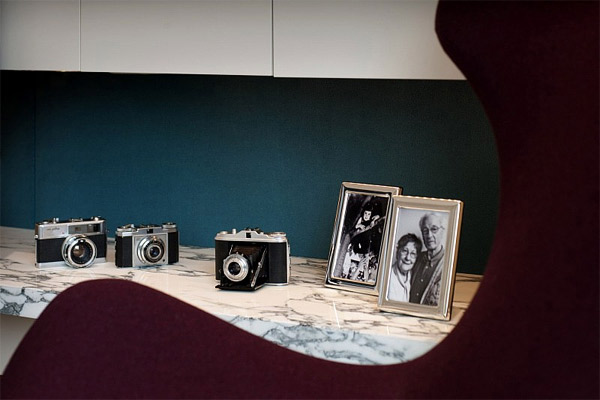 Display things that are no longer a purpose but still have a sentimental value for you.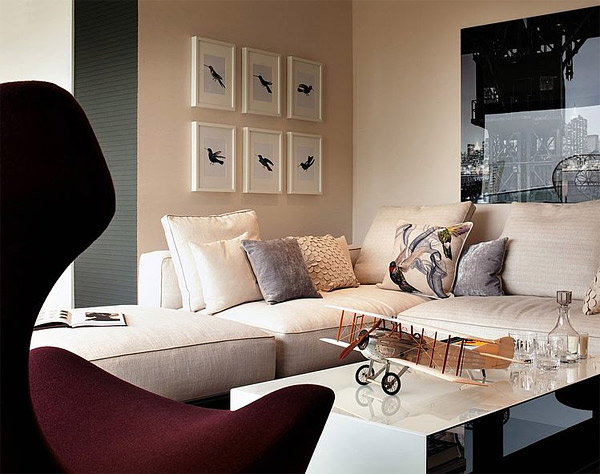 The living room got a superb look with the cozy couch and lounge chair, and also with the frames and decorative stuff.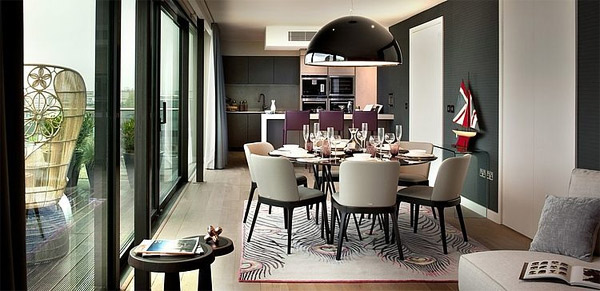 The dining table has just minimal in size but yet it done with formal setting.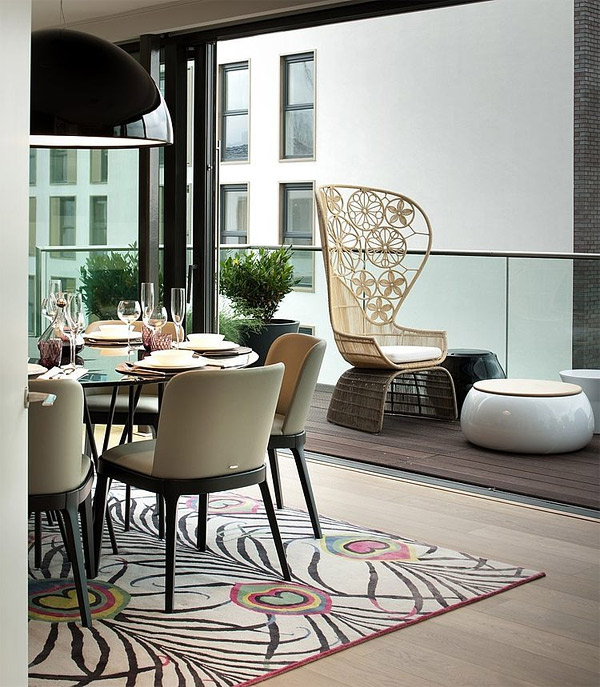 The terrace is connected to the dining room but yet separated by a large glass sliding door.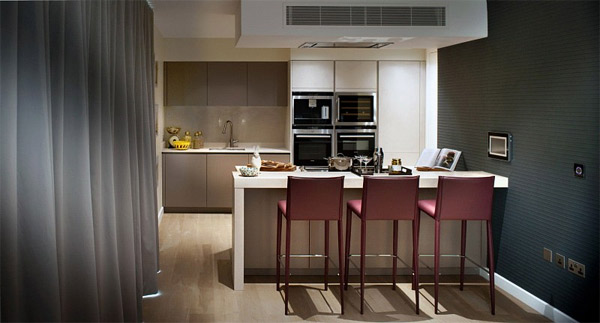 The kitchen got a small space however it looks very functional and stylish. The chairs are very chic which is just perfect for the island table.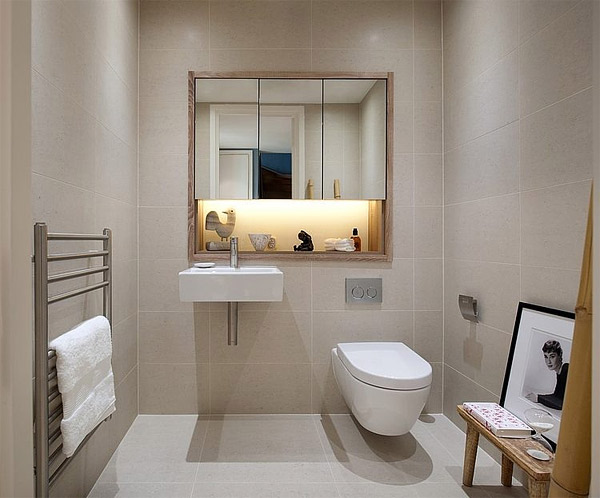 This serves as the powder room, equipped with a wall mounted sink and bathroom bowl for a more spacious space.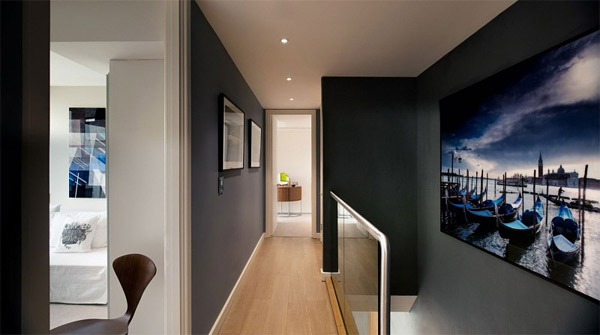 Hallway is part of your house and must also be decorated appropriately. The idea of putting a variety of frames to walls is a very stylish way.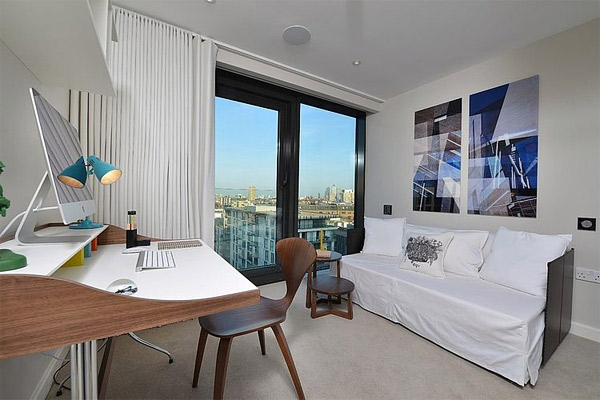 This room is the home office, simple yet serves with purpose. After a bulky paper works you can stretch out on that comfortable sofa.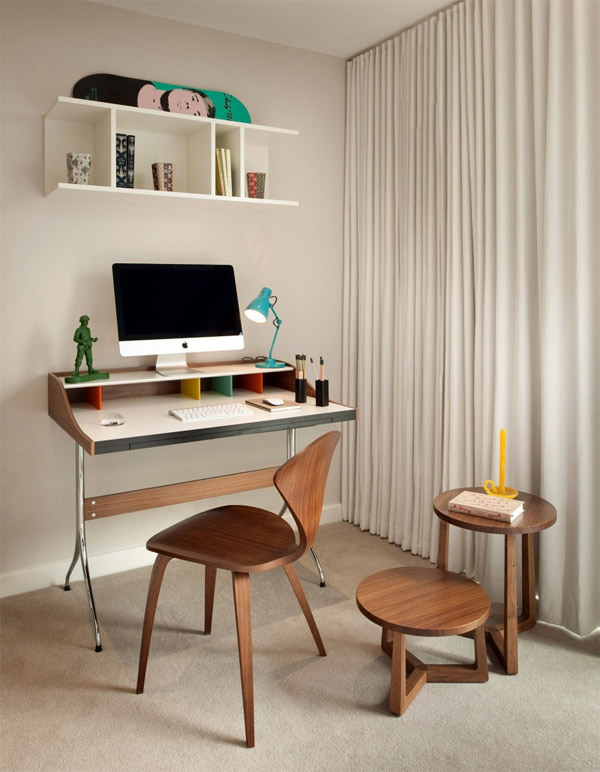 The desk is very functional and offers to have an organized area with those dividers.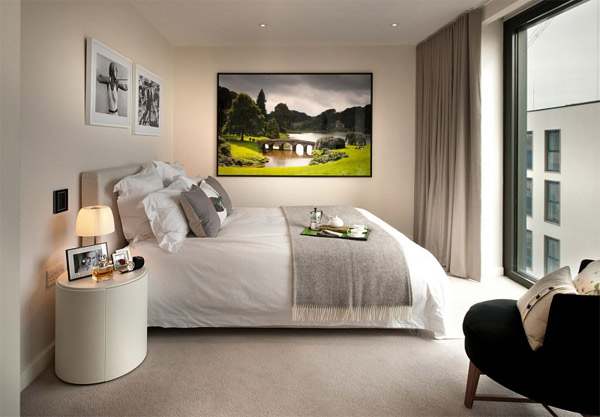 Bed facing to a beautiful view is a cool idea. And also a bedroom that has glass walls is very stylish in the same way.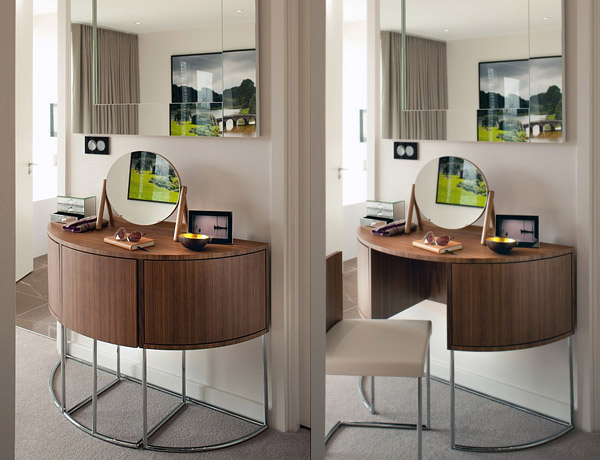 Look at this vanity, I super like the design! The design really conserves spaces.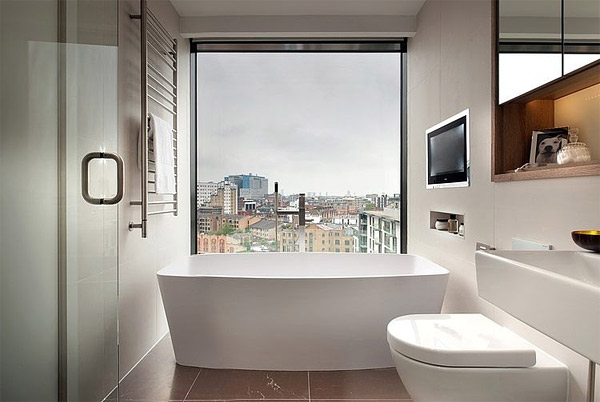 The free-standing bathtub is placed in a perfect spot. And look at that television on the wall, while having a bath on the tub at the same time you can enjoy watching your favorite show.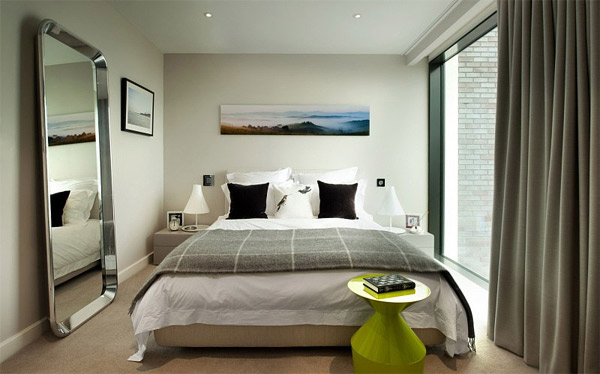 Wow! The mirror is cool. Incorporating glass walls to your room brings a cool atmosphere.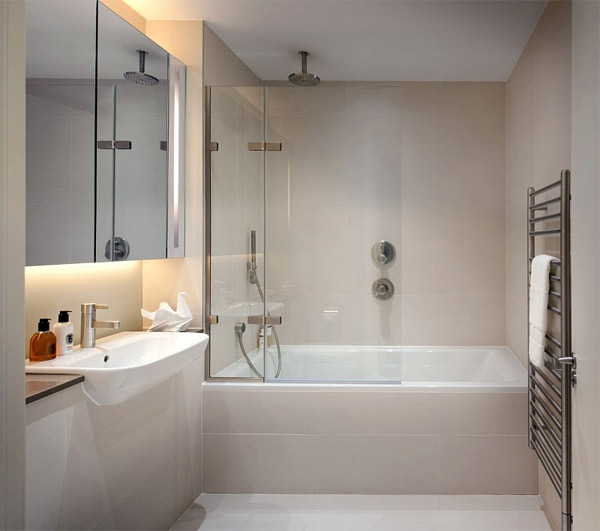 Even if you got small spaces for your bathrooms, bathtub would always be available if you got a magical thinking.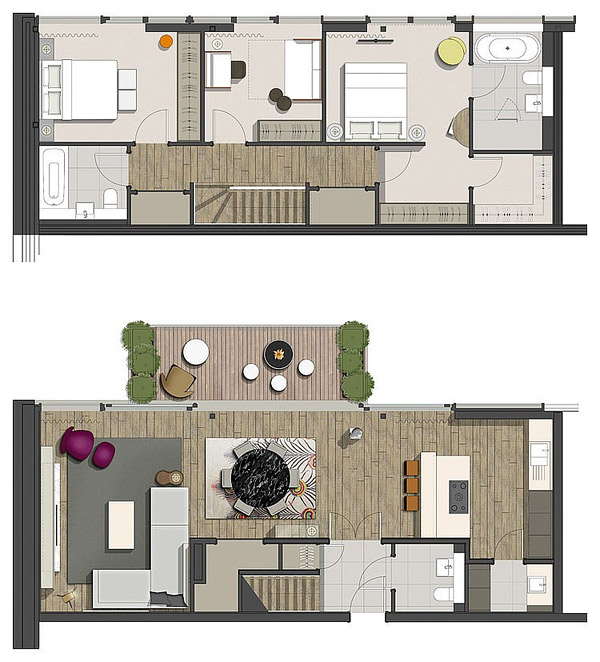 This is a two-storey floor plan of a penthouse.
The design of this penthouse was tasked for Thomas Griem, director of TG-Studio. According to Griem, most of the items and stuffs used for decorating were British made and was ordered from Italy and Spain. He also said that there main goal was to construct a balmy, comfy home while giving a well-appointed contemporary design.