Kid's Bedroom Furniture: Exciting Loft Bed Designs
A loft bed is a bed raised, as on supports, high enough overhead to allow the use of the floor area below for various purposes. It is another smart way of using the space of the bedroom. This would be good for adults but it would even be better for children. Let them enjoy having fun by playing under the bed. It can also be used as work or study area for kids who goes to school. It can be a big help in developing your kid's imagiantion.
Designers came up with various designs for children's loft beds. Each one looked very enticing, like urging parents to get one for their kids. They also made use of lovely colors, shapes and other looks that would make it look exciting for the children. We have collected 15 loft bed designs for kids. Take a look at the items below so you can see some impressive loft bed designs.
Loft in the Attic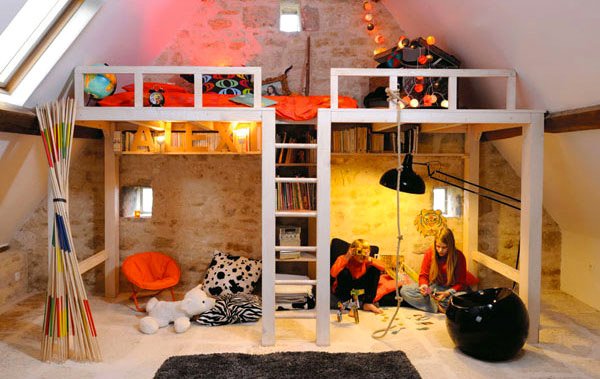 Carlo Mini-Sleeper
Cottage Twin Loft
A Room at Hand
Cottage Loft Bed
Espace Loggia Kid's Loft Beds
Room in Pocket Space
Tree Fort Bed
School House Firehouse Loft
New Jersey Jr. Loft Bedroom
Rhapsody Bed 1
Schoener Wohnen 1
Schoener Wohnen 2
Nick Studio Loft Bed
Universal Loft Bunk Bed
Aren't these beds lovely? Your kids would certainly be happy to have a bed like this where they can do their favorite hobbies. A bed where work, play and sleep can be integrated would be perfect for little children. It can even be a good way to enhance your kid's learning and development. You may also look into our tips in decorating kid's bedroom to totally make your kids happy.