The Exquisite Iporanga House in Sao Paolo, Brazil
Spotted here is a condominium inside a well preserved and protected area of the Original Atlantic Rainforest called Iporanga House. It is situated in Iporanga, Sao Paolo Brazil. This two storey house is intentionally planned as a summer house in Sao Paolo's coast. Yet this house is advantageously made in a cool and serene place. Since it is sited in a native forest, the client demanded a kind of house that will positively dwell in a land surface. The client also preferred to have a bigger and a comfortable area to live in.
The client requested for five suites, one for the couple, one for each of his three sons and one for their future guests in an area of less than 400 square meters to be constructed. So the designer decided to split the programs in three levels. It has a suspended volume, wood structured for the five suites so they would be on trees. Another plan is the concrete slab elevated from the ground to sustain all the social activities, living, dining room, the kitchen and the swimming pool as well. Underneath it there is a small enclosed area for services. You will see a small accommodation for a house keeper couple, laundry and a deposit.
Nevertheless, the wood frame is the "private" part of the house. The street side is enclosed by opaque boards which is made of wood that is covered with cement slad on both face. There are glass panels along with a nylon curtain, and aluminum sliding doors that leads to the opening to a common veranda found on the forest side. Moreover, this volume creates a shadow on the slab and they used that shadow for the social area. Well, to see more of the different areas of this Iporanga House, why don't you scroll down this page and be amazed of the images below.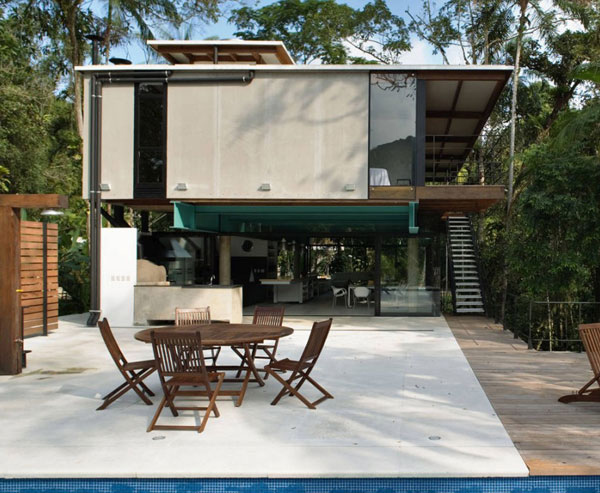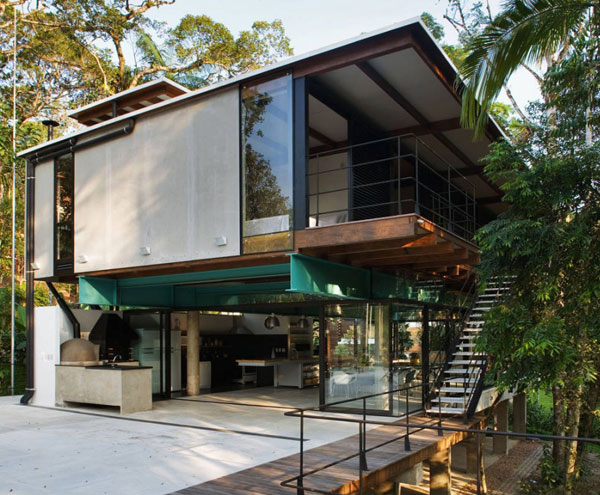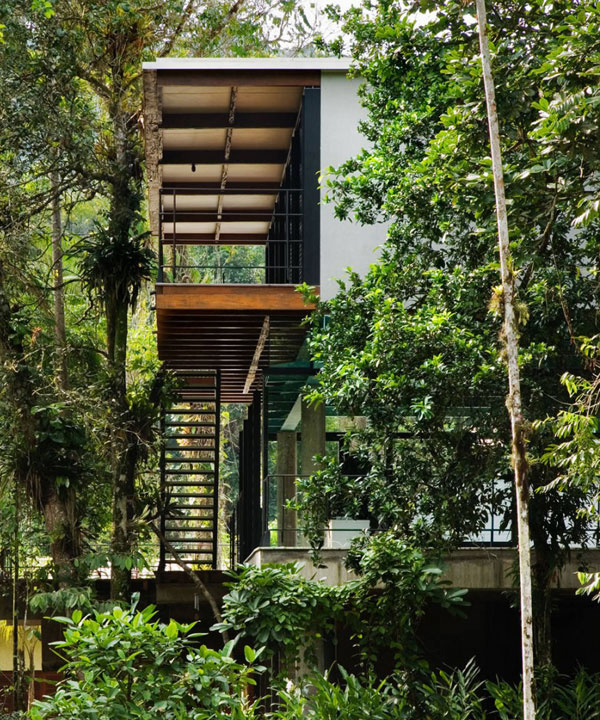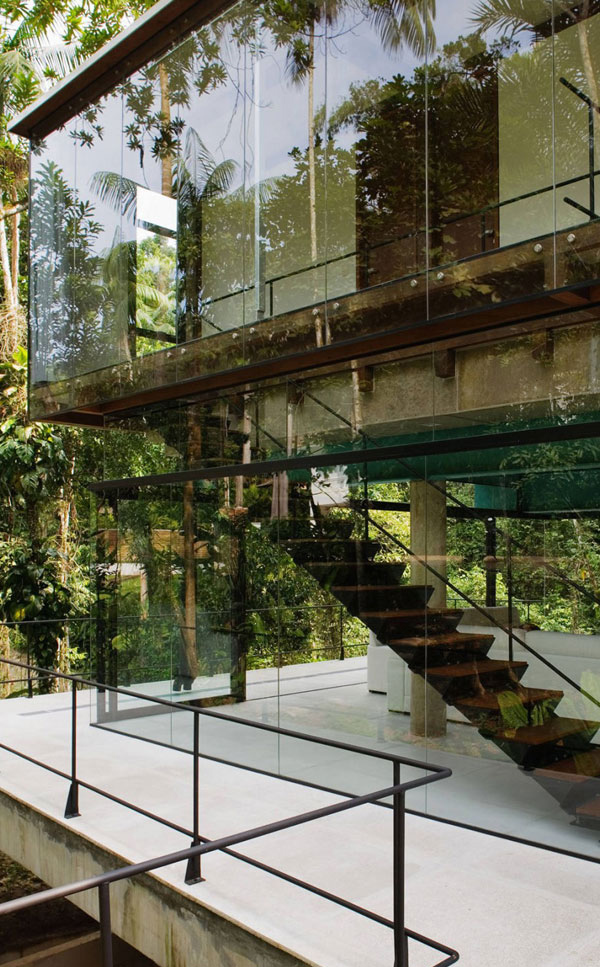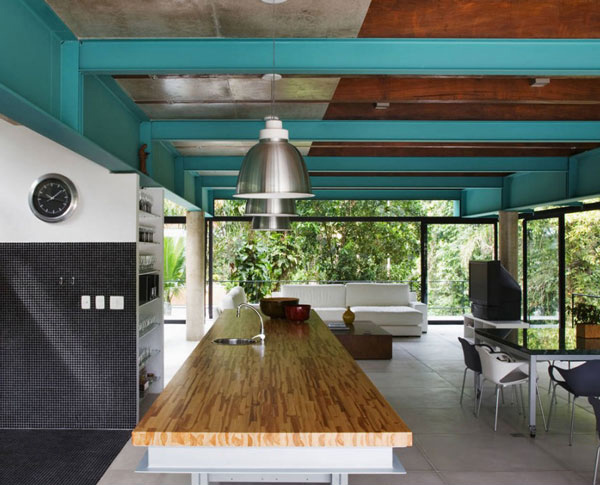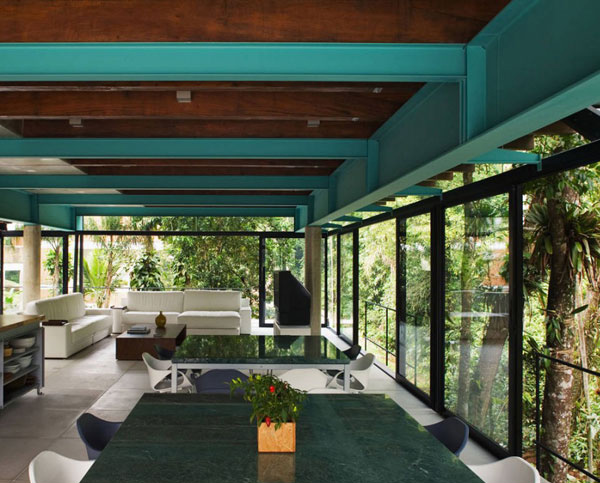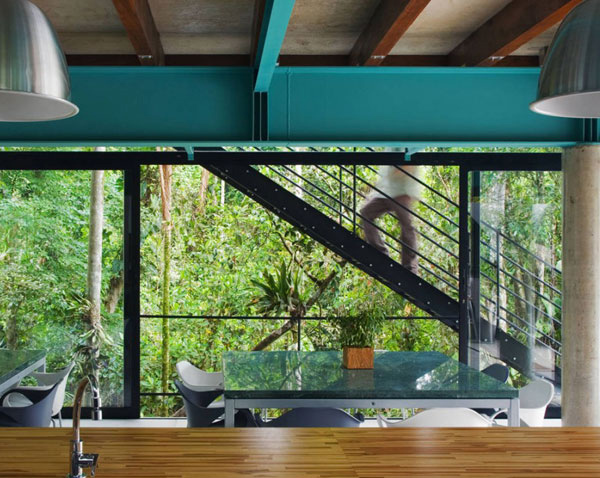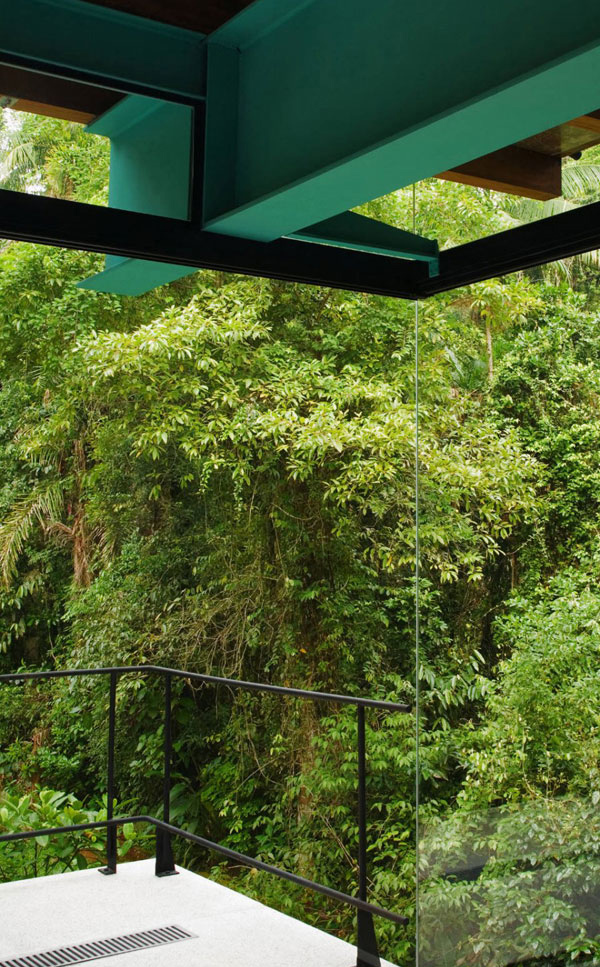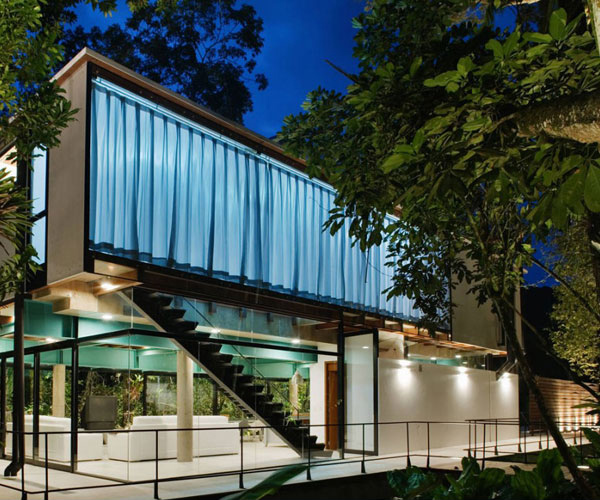 Now as you can see the middle floor, you will notice that this is almost an open space. It is protected on all sides by transparent temperate glass sliding panels for you to be able to see the forest at all times. Basically, this house is intended to minimize the difference between the inner and the outside space to make it work as one integration area. Thus the structural concept of this house was inspired by small brook bridges typical from this litoraneal area. It is elevated from the foundation in humid soil and concrete columns that support thesteel beams that supported the wooden frame.
Thus this contemporary Iporanga House is successfully designed by the Nitsche Arquitetos. The designers tried to make the edifice as putting together of each part more than in a loco procedure. In a way its main concern is to have less waste materials at the building site, provide more agility and to have a proper use of industrialized materials available. We can say that the designers are making use of the sustainable materials to make this project possible. The designers are not just intelligent but wise enough to come up with this beautiful house in Iporanga. We hope that once again you get some ideas on how to build your dream house while making use of the available materials that you have.